Welcome to Banff Awaits! I really appreciate you stopping by, and I am so excited to share this incredible place with you.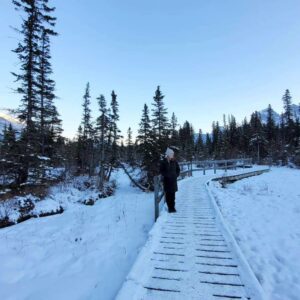 Hi I'm Lou
and I run this site sometimes with help from the rest of my family, Tony, my husband, our two teenagers, and our crazy husky, Luna, who you will see in lots of photos we share.
Originally from the UK, we moved to this part of Canada when the kids were young because we wanted the active outdoor lifestyle living near the mountains could provide. And having visited Banff National Park years before on vacation, we knew we wanted to live as close to Banff as possible.
We're fortunate to spend most of our weekends, holidays, and spare time in Banff and the Rockies, and we want to share with you what a great place this is to visit.
So, as your guide on all things Banff, you'll get our personal insights on exploring this amazing area, as well as other parts of the Canadian Rockies. We provide insider tips and recommendations on accommodation, places to eat, the best trails, campsites, and activities to enjoy in the park.
We hope our blog will inspire you to come and discover, or rediscover the beauty of this region for yourself.