Whether you're hitting the slopes or just taking in the snow-capped scenery, Banff is a beautiful place to spend some time in the winter.
But before you can enjoy all that the Rockies have to offer, you'll want to make sure you have everything you need to stay warm and comfortable in these mountains.
Spending lots of time in and around Banff during this time of year, we know the key to a great winter vacation is being prepared. From the right clothing to the right gear, having the right winter packing list is essential.
Here you'll get the lowdown on what to pack for Banff in winter to make your trip to the Rockies as enjoyable, warm, and stress-free as possible.
Before You Go to Banff: Tips for a Winter Vacation
Making sure you're prepared for the great Canadian outdoors will ensure, firstly, that you don't freeze to death and, secondarily, that you get the most out of your trip, especially if you haven't been to Banff before or you are not used to mountain temperatures.
Actually, you're not going to freeze to death, I thought I'd try and add a little humor about the cold. But in all seriousness, winter in Banff is cold, and January is usually the coldest month, with an average low temperature of -15°C. However, the weather does get a lot colder than this and will dip down to around -30°C, especially at night.[1]
But don't let that put you off, because the good thing about this time of year in Banff is the dry air and clear blue skies.
Both of these make the winter temperatures seem a heck of a lot milder than they actually are, meaning you get to enjoy this fantastic place.
And of course, there are the Chinook winds that pass warm air over the Rockies, significantly raising temperatures in just a few hours.
Aside from that, you can expect snow (and a lot of it) from mid-October right through to April or May, so you'll want to pack accordingly.
I recommend buying what you need BEFORE you get to Banff. Although the stores in Banff should (but not always) have everything you need, they will also be quite a bit more expensive, so shop around before you come and save yourself some money, especially if you're on a budget.
Another option is to wait until you get to Canada. Big-name stores such as Walmart, Canadian Tire, Costco, and Mountain Warehouse, to name a few, have stores in your city of arrival.
Packing essentials for a Canadian winter
The first thing you should think about packing for your trip to Banff is layers! There are three layers to consider: the base layer, the mid layer, and the outer layer.
It's important you have these as the weather can be unpredictable in the Canadian Rockies, so wearing layers can help keep you warm and comfortable no matter how cold it gets.
Using the layering system allows you to self-regulate your body temperature as needed. If you begin feeling too warm, simply remove a layer. If you start feeling cold, add another layer until you feel warm again.
Let's look at these essential layers, starting with the base layer.
Base Layer
The base layer is important for keeping you warm, no matter what you're doing.
This layer is worn underneath all other clothes and should be a snug fit so it can wick moisture away from your body, which helps regulate your body temperature and provide insulation from the cold.
Thermal underwear, including vests, T-shirts, long johns, and leggings made of either synthetic materials or Merino wool, is available from many different brands.
And while long johns or thermal leggings might not look the most attractive clothing to wear, you'll be glad you wore them on those colder days.
Synthetic base layer materials include polyester, polypropylene, and nylon and are extremely durable, breathable, and won't wear out as fast as wool.
A wool base layer, on the other hand, has a super-soft feel, great wicking properties, and keeps you warm. But it's not as durable as the above synthetic materials and is more expensive.
Whichever type you go for, both work equally well, keeping you warm when you need it.
What about cotton? If you wear a cotton base layer, you may find yourself sweating through it after only a short time because cotton holds onto sweat and moisture, so it doesn't get wicked away, and you're going to feel the cold. Don't be tempted to think a cotton T-shirt or vest will do the job. It won't.
Mid Layer
The mid-layer, of course, is worn over the top of the base layer. It helps your body retain heat and keeps you warm by preventing cold air from getting through.
Choose a mid-layer that isn't too bulky, is breathable, and will wick moisture away.
Fleeces, wool sweaters, and down-insulated jackets make good mid-layers.
Outer Layer
Finally, there's the outer layer, which is worn on top of the mid-layer. It keeps you protected from wind and rain while providing protection from the elements, which in this case means snow.
You'll want a jacket or parka that is waterproof and windproof, and just like the other two layers, it should be breathable.
Outer shells made of nylon or polyester are popular, and there are many different designs and different thermal ratings. Choosing something breathable, like a Gore-Tex jacket, is a good idea.
Ski jackets and bottoms are not just worn on the slopes but are also worn out and about in downtown Banff when those temperatures dip. These are a good option as they will keep you warm, and you can just wear them over your jeans and take them off when you get to the restaurant or bar.
Keep your Hands, Toes, and Head warm
Hands
These parts of your body tend to get cold first. So, gloves or mittens are a must, but there's another option you might want to consider, especially if you are going skiing, and that's wearing glove liners under your regular gloves.
Glove liners work in a similar way to a base layer and can help prevent frostbite by providing some extra insulation.
Toes
Keeping those toes nice and toasty can always be a challenge in snowy conditions, especially if, like me, you always have cold feet!
But there are some good options out there, and one of the best ways to prevent cold feet from ruining your day is by wearing Merino wool socks, which are naturally antimicrobial, anti-fungal, and breathable, making them ideal for keeping your feet warm.
I've had Merino wool socks for years now, and they're great for keeping those toes nice and toasty.
Head
A good quality toque or hat is essential for keeping your head warm and dry. A beanie can be bought anywhere, and you'll certainly find a good selection in the shops in Banff if you don't have one already.
You might also want to consider bringing a neck/face warmer, neck gaiter, or scarf. These are great for everyday use when it's really cold.
Winter footwear – snow boots
There are many types of winter boots and snow boots out there, and it can be difficult to know what type to buy that will keep your feet nice and warm.
It's even more important if you've got kids, as you don't want their little feet to get cold during their outdoor adventures.
First, make sure the boots you buy are water-resistant. Waterproof snow boots are extremely important because they keep your feet dry during those long days outside.
Next, check that they are insulated well enough to keep your toes warm while still keeping your feet comfortable. Insulation helps prevent heat loss.
Some boots will have a temperature rating that tells you the lowest temperature at which your feet should stay warm and comfortable.
If a boot has a -20 degree rating, for example, that means they are supposed to keep your feet warm at temperatures as low as -20 degrees.
My toes definitely disagree with that, so I wouldn't take that rating as being completely correct!
Other snow boots will have insulation measured in grams, and the light to mid-weight boots tend to have between 200 and 400 grams of insulation.
Finally, it's important to find a style that fits comfortably. A good fit allows you to move freely and prevents soreness and blisters.
Make sure the boots you choose have enough room for an extra pair of thick-layered socks.
So while trying on your boots, wear the socks you plan to wear to Banff so you can get an idea of the fit.
Tight boots equal frozen toes, and no one wants their day ruined by that.
Winter in the Canadian Rockies packing list
Now that we've gone into detail on what to pack for your winter trip, here's the list; some are already mentioned above, but they're added in again just so nothing is missed out:
Base layer – thermal underwear or leggings (essential)
Mid layer – Fleece, sweaters, hoodies, soft shell vest (essential)
Outer layer – Waterproof and windproof Jacket or parka (essential)
Gloves, glove liners, and/or Mittens (essential)
Merino wool Socks or similar (essential)
Neck/Face Warmer, neck gaiter, or scarf (essential)
Toque/Hat such as a Beanie hat (essential)
Hand and toe warmers will definitely come in handy, and they work. In really cold temperatures, I put one of these toe warmers in each of my boots, and they help keep my toes warmer than they would be without them.
We've used them when we're not going to be moving around much, such as when we went dog sledding and on the horse-drawn sleigh ride.
You can pick them up in any of the shops or supermarkets.
Moisturizing Sunscreen is another essential item to pack. It's best to use a high SPF because the sun reflects off the snow and ice. According to Hamilton Health Sciences, snow can double your exposure to UV rays. [2] UV rays are stronger at higher altitudes, and Banff is one of the highest towns in Canada.
Lip balm, lip chap, Vaseline, and moisturizer: The air in this part of Canada is dry, so take my word for it—you'll want lip balm, Vaseline, and face, hand, and body moisturizers. Your body will thank you for it.
Vaseline is not only a great lip balm substitute, but it's also great for putting on your face when it's really windy and you need something extra to go with your moisturizer.
Sunglasses: sunglasses shield your eyes from UV rays and help reduce glare from snow and ice. Banff has lots of bright, sunny days, so you'll need them.
Swimwear: This might not be on your list for a vacation to the Canadian Rockies, but you might want to relax in the hot springs or in your hotel hot tub after a long day of activity.
Travel adapter: If you're traveling to Banff from the US, then you don't need an adapter for your appliances. However, if you live outside of North America, you will need either a type A or type B plug adapter. Canada uses a 120V power supply and runs on a 60 Hz frequency.
Pick one up online before you get here as it will save you money, and also just in case everywhere has sold out.
Camera: If you're not using your cell phone to take all those great photos of the stunning scenery Banff National Park has to offer, then don't forget to bring your camera and a spare battery. Colder temperatures cause batteries to drain much faster.
Waterproof backpack: This always comes in handy, and you can just shove everything in it and not worry about losing anything.
Binoculars: the Rockies go on further than the eye can see, so pack a pair of binoculars and don't miss any views of the mountains. They are also great for viewing wildlife from afar.
Toiletries and medications: Don't forget to pack your essential toiletries and any medications you may need.
Outside gear: skis, snowboard, snowshoes, microspikes, etc. If you don't have these, you can always hire them when you get here, which you might be tempted to do as there are so many different winter activities to try.
I do recommend bringing a pair of ice cleats with you as the sidewalks can get slippery. They're also useful if hiking a trail that has hardly any elevation gain.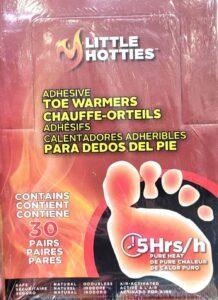 Does Banff have a dress code?
Banff is a laid-back ski town, so the dress code is definitely casual, and turning up to a restaurant or bar in your jeans and T-shirt is absolutely fine.
Of course, if you're going to eat at the 1888 Chop House at the Fairmont Banff Springs or The Rimrock's Eden restaurant, for example, then you probably want to turn up in something a bit more dressy.
Other than that, you'll find the restaurants and bars in Banff are pretty relaxed about what you wear.
Packing for a Banff winter
I hope these tips help you plan what to pack for your winter trip to Banff. It might get cold here, but that doesn't mean you will be too.
As long as you come prepared and wear the layers mentioned above, you will be fine and be able to enjoy your stay.