There are many ways to get to Banff National Park. You can fly into Calgary International Airport, rent a car and then drive, take an airport shuttle or the local Calgary public transit bus, or even arrange private transportation.
And once you're in the park, it's easy to get around, even if you don't have a car.
Our guide details all the different options available to get you to Banff and make your trip as smooth and stress-free as possible.
What airport do you fly into to get to Banff?
If you're traveling by air to Banff, then Calgary International Airport (YYC) is the nearest airport to the Canadian Rockies.
And if you're coming to Banff from outside of Canada, Calgary International has daily direct and non-direct flights from major airports around the world.
Air Canada, WestJet, and the low-cost airlines all offer flights to Calgary Airport from other provinces within Canada.
The best thing about Calgary Airport is that it's such an easy airport to navigate, and help is always on hand.
So, if you need any assistance, just ask one of the many wonderful White Hat Volunteers. You'll know who they are as soon as you see them because they wear white cowboy hats and red vests.[1]
Calgary International Airport is about 144 kilometers (89 miles) from Banff, accessible via the AB-1A W and Trans-Canada Highway/AB-1 W. This route will take around 90 minutes by car, and the scenery just gets better and better the closer you get to the park.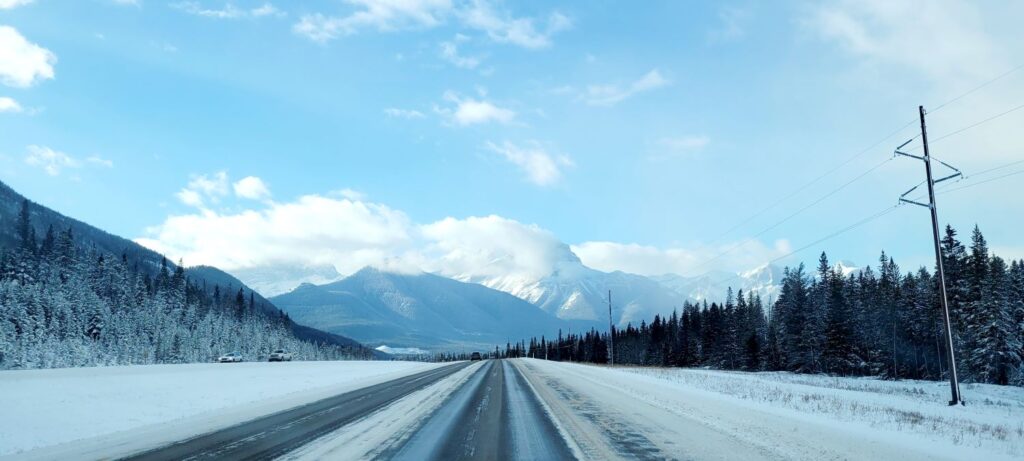 There is also Edmonton International Airport (YEG), which is around a 3.5-hour drive to Banff National Park.
Traveling from Europe?
According to Flightconnections.com, the following airlines have direct flights to Calgary:
WESTJET: There are seasonal flights from Dublin (DUB), year-round flights from London Gatwick (LGW), seasonal flights from London Heathrow (LHR), Rome (Fiumicino) (FCO), and Paris (CDG).
AIR CANADA (STAR ALLIANCE): There are year-round flights from London Heathrow (LHR) and Frankfurt (FRA).
KLM (SKYTEAM): Year-round flights from Amsterdam (AMS).
EUROWINGS: Flights from Frankfurt (FRA) are seasonal.
EDELWEISS AIR: Seasonal flights from Zürich (ZRH).
How to travel from Calgary Airport to Banff National Park
Once you've arrived at YYC, how do you get to Banff from there? Well, you now have the following options:
1. Hire a car and drive yourself
You can hire a car from one of the eight on-airport car rental companies. However, this will likely cost you more than if you took an Uber into NW or NE Calgary, and rented a car from the same big-name company.
Just don't tell them that you came from the airport, as they will often charge you the same airport price.
Car rental companies at the airport charge a premium, so picking up your car just outside the airport can save you a lot of money.
Directions from Calgary Airport to Banff
Exit the airport and head west on Airport Road NE, continue as it leads into Airport Ave NE and then 96 Ave NE/Airport Trl NE W.
Merge onto Deerfoot Trail NE/AB-2 N via the ramp to Deerfoot Trail and take exit 271 for Alberta 201 W/Stoney Trail.
Take the exit toward the Trans-Canada Hwy/AB-1 W. Keep on the Trans-Canada Hwy/AB-1 W taking the exit for Banff and onto Mt. Norquay Road and directly into Banff town.
Before you can enter Banff National Park, you'll need to buy a Park Pass, which you can get online, but we always get ours at the Banff National Park gates at the entrance to the park. It takes a couple of minutes, and you don't even have to get out of your vehicle.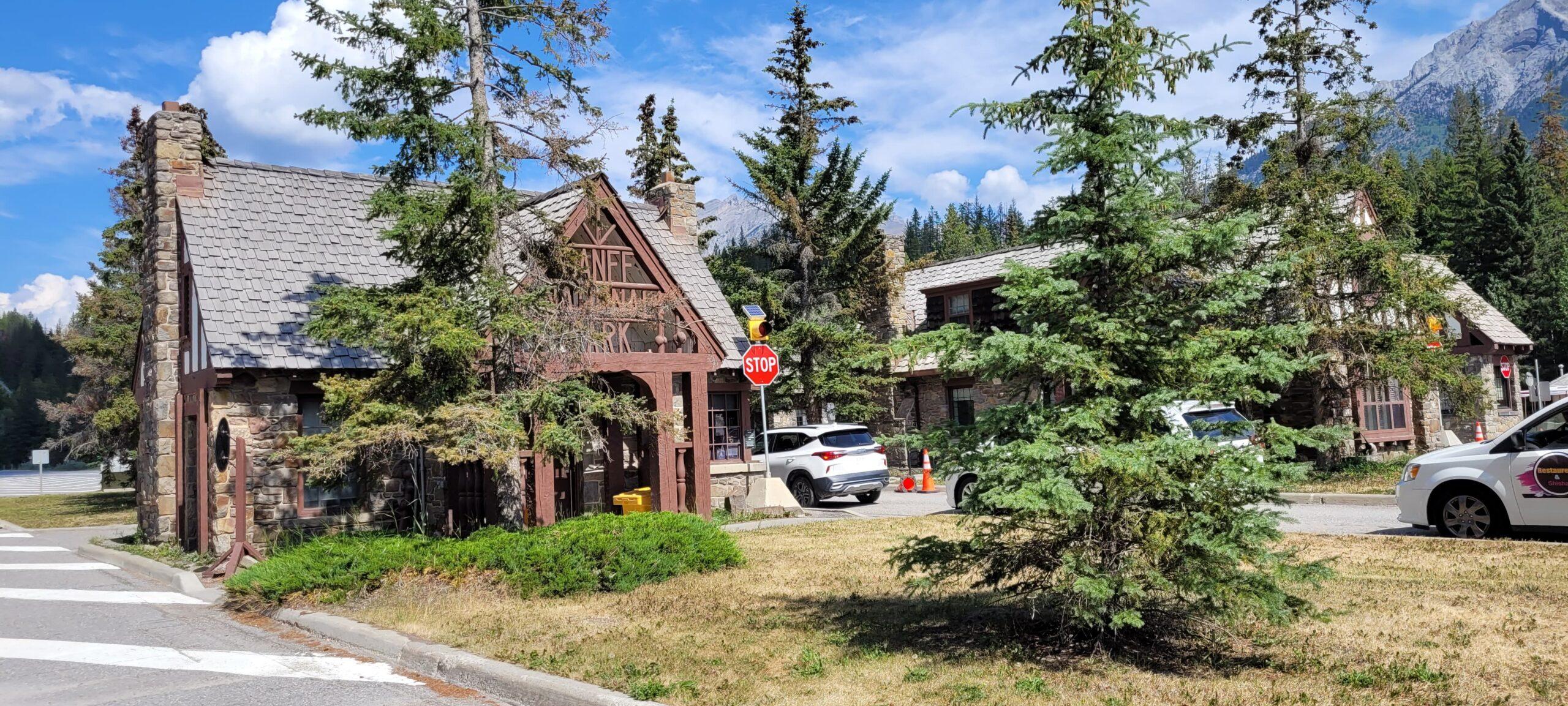 2. Get the airport shuttle to Banff: a convenient way to get to the Rockies
If having to hire a car and do all the driving is not for you, then getting to Banff via an airport shuttle is the answer.
Several reputable companies offer this service from Calgary International Airport to your hotel. They also offer convenient pick-up times and locations, as well as competitive rates.
Banff Airporter is a locally owned company that has been offering this service for 20 years. According to their website, they are the original Calgary to Banff airport shuttle, and we used them years ago when we first came to the park on vacation, and their service was second to none.
They are also one of the 'Preferred Partners of Banff Tours', so you know you're in good hands.
Where can you find Banff Airporter? Banff Airporter is located inside the airport on the arrivals level between exit doors 5 and 6. From there, you'll be taken to the shuttle.
What's onboard?
Reclining, high-back seats with a 110V plug-in
Individual temperature control
Large windows, so you get the best views of the Rockies
Blanket and water
Air suspension for a smooth ride
Rear air conditioning to moderate summer and winter air temperatures.
Schedule: From Calgary airport, you'll be taken to your hotel or wherever you're staying in Banff.
Or if you're staying in Canmore, they can take you to the Coast Hotel, which is their only drop-off point.
From Banff, you'll be picked up from your hotel or from The Coast Hotel in Canmore and dropped off at the domestic and international terminals at Calgary International Airport.
Banff Airporter runs a daily schedule with airport pickups to Banff throughout the day, starting at 10 am and the last pickup being at 22.30 pm.
How long does it take? It takes approximately 1 hour and 20 minutes to get from the airport to Canmore, and 1 hour 45 minutes to get from the airport to Banff.
The return journey pickup times from Banff to YYC begin at 5 am through to 19:30 pm; from Canmore 5:40 am through to 20:10 pm.
Rates (plus GST):
| | | |
| --- | --- | --- |
| | One-way (CAD) | Return (CAD) |
| Adult (18-64) | $77.99 | $155.98 |
| Senior (65+) | $70.19 | $140.38 |
| Child (6-17) | $38.99 | $77.99 |
| Children under 5 | FREE | FREE |
Brewster Express is another highly recommended and reliable company that will pick you up from YYC and take you to your hotel.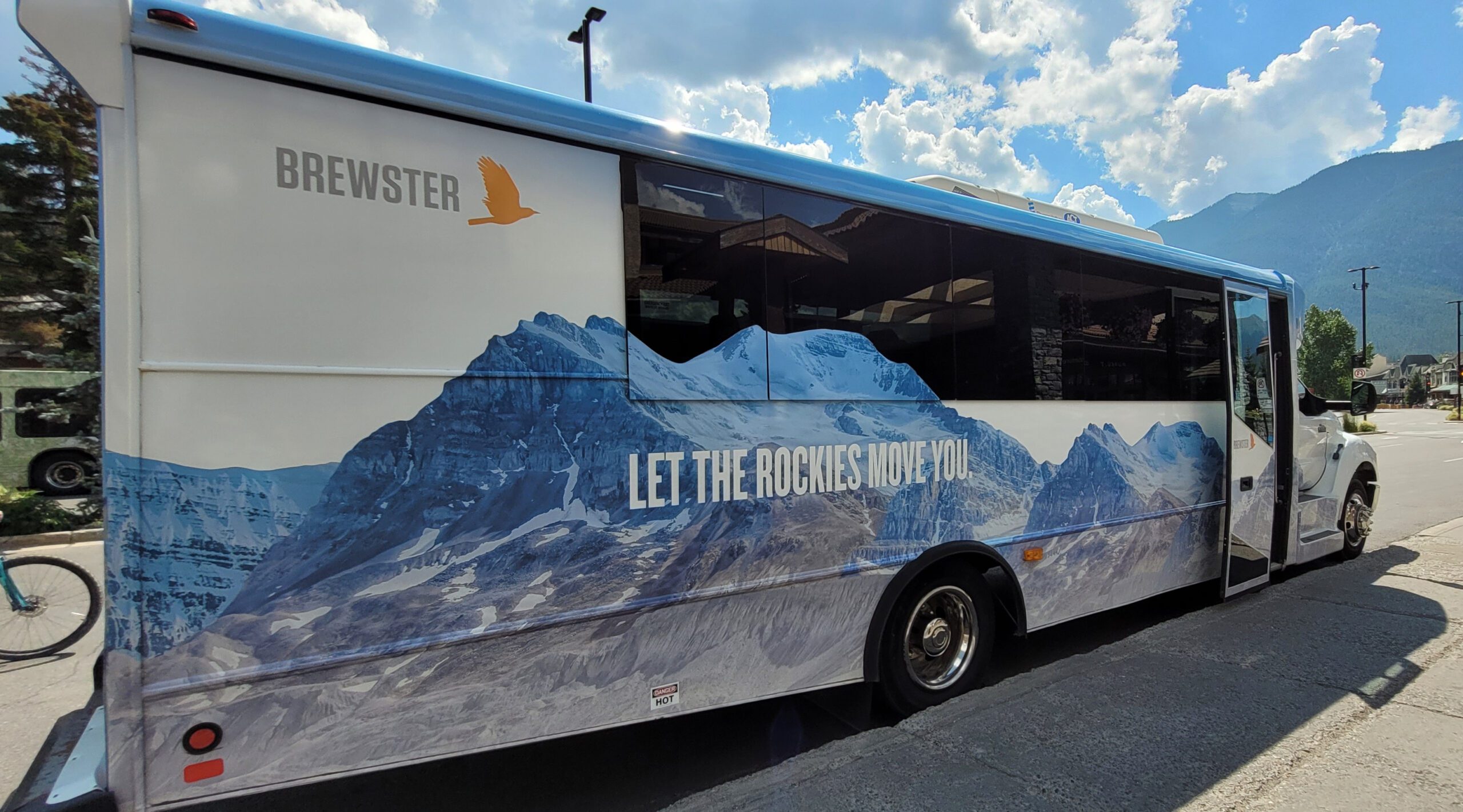 Part of the Banff Jasper Collection by Pursuit, which is a large tourism company that not only offers airport shuttle transportation but also some great tours of the Canadian Rockies and beyond.
They have multiple attraction package deals that save you money when you combine activities such as the open tour bus, the Banff Gondola (highly recommended), or the Columbia Icefield, for example.
Where can you find Brewster Express at YYC? The desk is located next to exit door number 5 on the arrivals level.
What's onboard?
Complimentary Wi-Fi
Electrical/USB plugs
Luxury seats and large windows to get the best views.
There is a summer and winter schedule, but the service is available every day of the year.
The winter schedule has a slightly reduced timetable (see below), but still has pickups and drop-offs throughout the day. They also operate runs to the park's ski resorts.
Brewster Express has the option of a downtown Calgary pick-up and drop-off, as well as Kananaskis and Jasper (summer only).
These are the pick-up and drop-off areas:
Banff
They drop off/pick up at all hotels in the town and at their Brewster Transportation location at 100 Gopher St, Banff.
Calgary
You can request your pick-up or drop-off at Calgary International Airport and the following downtown hotels: Marriott Downtown Hotel, Delta Hotels by Marriott Calgary Downtown, Fairmont Palliser, International Hotel Suites Calgary, Sandman Hotel Calgary City Centre, and the Westin Calgary Hotel.
Lake Louise
If you're staying in Lake Louise, you can get picked up or dropped off at the Samson Mall depot, the Fairmont Chateau Lake Louise, the Lake Louise Inn, Hostelling International Hostel, Deer Lodge, and the Post Hotel.
Canmore
The pick-up or drop-off here is at the Coast Canmore Hotel.
Jasper
Pick-up and drop-off points are at the train station, the Fairmont Jasper Park Lodge, as well as the Astoria Hotel, Best Western Jasper Inn & Suites, Chateau Jasper, Lobstick Lodge, Maligne Lodge, Marmot Lodge, Mount Robson Inn, Forest Park Hotel, The Crimson, Tonquin Inn, and the Whistler's Inn.
Rates (plus) GST: Fares for Calgary Airport to Banff
| | | |
| --- | --- | --- |
| | One-way | Round trip(Save 15%) |
| Adult | $74 | $126 |
| Child (6-15) | $37 | $63 |
| Infant (under 6) | FREE | FREE |
Courtesy: banffjaspercollection.com
Brewster Express doesn't offer a service from Calgary to Jasper during the winter months. Instead, you can use SunDog Tours, which will pick you up from Calgary airport and hotels and take you to Jasper. SunDog Tours runs this service on Monday, Thursday, and Saturday.
There is not a SunDog Tours desk at Calgary Airport, but you can check in at the Brewster desk.
3. Make your vacation even more relaxing with a private charter transfer to Banff
Aside from hiring a car and driving yourself to Banff, using a private transfer to Banff will be the next most expensive option.
Private transfers are available if you want your own personal driver and vehicle to pick you up from the airport or take you on a tour of the Rockies.
The cost of these services is usually based on the number of passengers, distance, length of travel time, type of vehicle used, etc.
These prices can vary widely depending on the company that provides them.
Banff Sedan is operated by Banff Airporter and offers a range of luxury vehicles to meet and greet you at international arrivals or the domestic baggage claim area at Calgary Airport.
From there, you will be taken to your location in Banff, Canmore, or Lake Louise. Their range of fleet vehicles caters to just one passenger all the way up to 24 passengers.
Rates (plus GST): Calgary airport to Canmore/Banff
| | | | |
| --- | --- | --- | --- |
| G90 Sedan (MAX 3 passengers) | Cadillac Escalade SUV(MAX 5 passengers) | Sprinter Custom (MAX 10 passengers) | Premium Coach (MAX 24 passengers) |
| $430.64 | $455.49 | $728.78 | $1072.78 |
Prices from banffsedan.com
Banff Tours offers the airport shuttle ride that I mentioned above, and they also offer private tours of Banff as well as private charter services from the airport to your hotel.
They state that all of their vehicles are less than 5 years old. Their fleet of vehicles includes deluxe SUVs and luxury sedans, Mercedes-Benz Sprinter vans, and mini-coaches.
Rates (plus GST): Calgary airport to Banff
| | | | |
| --- | --- | --- | --- |
| Luxury Sedan (1–2 passengers) | Delux SUV (3-4 passengers) | Sprinter Van (5-10 passengers) | Mini Coach (11-24 passengers) |
| $440 | $468 | $654 | $958 |
Coutesy: banfftours.com
Radventures is a relatively new, locally owned company in Banff. Not only do they provide airport transfers to your hotel, but they also offer tours and budget campervan rentals.
Looking at the online reviews, it seems like Radventures offers a fantastic service, so you might want to give them some consideration as well.
From Calgary International airport to Banff/Canmore and vice versa, the price is from $360 (each way) for a private service in either a minivan, luxury SUV, or a 14-seater passenger minibus.
4. Getting from downtown Calgary to Banff
If you're spending a few days checking out downtown Calgary and then heading to Banff, there are a few options available to get you there.
Shuttle service to Banff
One option that has already been mentioned is the Brewster Express shuttle service which has various drop-off and pick-up locations in downtown Calgary.
Remember, Brewster Express offers a comfortable ride with luxurious seats, wi-fi, and USB points.
Another option is taking public transport, which is definitely a lot cheaper than taking a private shuttle service.
Take the On-It Regional Transit bus for only a few dollars
On-It is owned and operated by Southland Transportation Ltd., which is also responsible for getting thousands of children to school every day on one of the yellow buses (the same as those you see in American movies).
From certain locations in Calgary (Crowfoot LRT, Downtown Calgary, and the Bridlewood-Somerset LRT), you can get the 55-seat coach-style public transport bus to Banff and Canmore and back again.
The On-It seasonal service runs on Fridays, Saturdays, Sundays, and statutory holidays from May to September and is only $10 each way (2022/23 prices).
For that price, seats fill quickly, and although you can buy a ticket on the day of travel, it's best to book in advance.
You can take one undercarriage luggage item, but it must not exceed 62 inches (L+W+H), as well as one personal item that can go in the overhead storage bin but must not exceed 16 cm x 33 cm x 43 cm.
As well as being an inexpensive way to get to Banff, your On-It ticket gets you free travel on Roam Transit Routes 1, 2, 4, and 6 in Banff on same-day travel. All you have to do is show the Roam driver your ticket for them to be able to transfer it over.
The On-It bus might not be the most suitable as it doesn't have an airport pickup and there are multiple stops along the way, but it is the cheapest way to get to Banff.
Fare for one way:
$10 One-way for ages 5+ years old
Under 5 years old: free

Tickets are sold at each On-It stop by either the driver or customer service representatives. Tickets can be purchased with cash or a credit card (online payment accepts Visa, MasterCard, Visa Debit, and MasterCard Debit.)
And last but not least is the Banff Express.
The Banff Express runs twice a day: once in the morning and once in the evening. Pick-up and drop-off are at the same locations to and from:
Calgary: Eau Claire Market (Good Earth Coffeehouse)
HI Calgary City Centre Hostel
Calgary: Foothills Hospital McCaig Tower (West Entrance)
Canmore: Visitor Information Centre
Banff: Heritage Train Station, or wherever you are staying.
One-Way Fares (plus GST):
Banff-Calgary – Adults $40 and children 12 and under $22.
Canmore-Calgary – Adults $35 and children 12 and under $22
Although the Banff Express is more expensive than the On-It Transit bus, it does offer more features for your comfort and convenience.
Is there a train service connecting Calgary to Banff?
Unfortunately, there isn't a train from Calgary to Banff. There have been discussions of building a line in the future, but nothing has been put into action as yet.
Getting to Banff from Edmonton International Airport (YEG)
Another option is to take a flight to Edmonton International Airport, which makes sense if you're planning on hiring a car and spending some time in Jasper National Park first.
The drive from YEG to Jasper is 366 km (277 miles) and will take around 4 hours on the Yellowhead Highway (AB-16).
From Jasper to Banff, the drive takes between 3.5 and 4.5 hours and is one of the most scenic drives in the world. You will wind your way through the Canadian Rockies, past glaciers, lakes, and mountain peaks, otherwise known as the Icefields Parkway.
The Icefields Parkway (HW-93), which is 288 km (179 miles) long, will take you to the Trans-Canada HW/AB-1 and then to Banff.
Alternatively, if you are driving directly from Edmonton airport to Banff without stopping at Jasper, then taking the AB-2 S (Queen Elizabeth II Highway) and Trans-Canada Hwy/AB-1 W into Banff will probably be the best route, but a rather boring route in terms of scenery, or lack thereof!
Directions from Edmonton International Airport to the Town of Banff
The driving directions taken from Google Maps are as follows:
Leave the airport and follow the signs for Airport Road. Continue on Airport Rd and use the right lane to merge onto AB-2 S via the ramp to Calgary. Stay on AB-2 S for 173 km and exit 271 for AB-201/Stoney Trail in Calgary.
Keep on the 201, take the exit, and merge onto the Trans-Canada Hwy/AB-1 West, which takes you to Banff. Take the exit toward Banff Town/Tunnel Mountain and head straight into Banff town and onto your hotel.
This is a distance of 387 km (240 miles) and is around a 3-hour and 34-minute drive.
Traveling from Vancouver to Banff National Park
The drive from Vancouver to Banff is around 9 hr 36 min (846.9 km / 526 miles) via Trans-Canada Hwy/BC-1 E
The quickest way to get from Vancouver to Banff is, of course, to fly into Calgary airport and either hire a car to get to Banff or get one of the airport shuttles named above.
But if you prefer to drive, then why not make a road trip out of it and stop off at some of the best towns British Columbia has to offer along the way, such as Kamloops, Salmon Arm, Revelstoke, and Golden?
If you stop off in Revelstoke, I seriously recommend going to The Village Idiot pub and getting one of their homemade pizzas. Our teens said it was the best pizza they'd ever had!
Maybe driving all that way isn't for you, so another option to consider is getting a bus from Vancouver to Banff.
This costs around $161 each way with Rider Express and takes around 13 hours and 30 minutes. Online reviews about this company seem to be mixed, so consider them carefully.
There is another option, albeit an expensive one, but without a doubt worth it, and that's taking the train from Vancouver to Banff. But it's no ordinary train; it's the Rocky Mountaineer.
The Rocky Mountaineer is an iconic Canadian luxury train that provides travelers with a once-in-a-lifetime experience of rail travel.
The journey begins in Vancouver, British Columbia's largest city, where you board the train for the scenic trip westward to Banff.
There are various packages, promotions, and prices that are too long to list here, but you can find out more on the Rocky Mountaineer website.
How do you get to Banff from the US?
If you're flying, Calgary International Airport (YYC) is where you want to fly to, as it's Banff's closest major airport.
Direct flights to YYC from the US are offered by the following airlines in select cities:
Air Canada (Star Alliance), WestJet, Alaska Airlines, American Airlines (One World), Delta (Sky Team), and United Airlines (Star Alliance).
Once you've landed in Calgary, you can either hire a car, take one of the airport shuttles, or hire a private charter transfer as described above.
Book ahead to make sure you get your specific date and time.
If you're driving from the States, there are a few border crossings that you can use to enter Canada. The closest ones to Banff National Park are the Chief Mountain Customs Office and the Coutts Border Crossing.
Sweetgrass/Coutts Border Crossing
The drive from Sweetgrass, MT to Banff is 4 hr 22 min (421 km / 262 miles) via AB-4 N
This border crossing is a busy trade route connecting the Canadian, US, and Mexican markets, so it operates all year round.
This route is mainly all Trans-Canada Highway driving, so you can travel through at speed to get to Banff.
Chief Mountain Border Crossing
The drive from Chief Mountain, MT to Banff is 4 hr 21 min (412 km/256 miles) via AB-2 N and Trans-Canada Hwy/AB-1 W
This route is definitely the more scenic of the border crossings, as it passes Waterton Lakes National Park.
If you have the chance, stop in the beautiful town of Waterton for the night, as the lake is surrounded by the most gorgeous mountain backdrop.
The small town has lots of great quaint shops and none of the big chain fast food restaurants like Mcdonald's. And you're almost guaranteed to see a bear or two!
The Chief Mountain border closes for the winter and reopens in May.
What transportation is available in the town of Banff?
There are several ways to get around Banff National Park. You can take a shuttle bus, rent a car, or even ride a bike.
A car is definitely going to give you the freedom to come and go as you want. But to be honest, you can easily get around the park using the local transportation system, Roam Transit.
Not only is it a really inexpensive way to see the best places in the park, but you'll also be traveling on an environment-friendly hybrid bus.
Children 12 and under travel free, which, let's face it, it's always expensive when taking the kids on vacation, so this is a definite bonus.
Another great thing about Roam Transit is that their buses have a fold-out ramp and a low floor for wheelchair users.
The 9 routes offered by Roam connect Canmore and Banff with other popular areas in the park, such as Lake Louise, Johnston Canyon (along the scenic 1A Bow Valley Parkway), Lake Minnewanka, Cave and Basin, Tunnel Mountain, and Sulphur Mountain (Banff Gondola).
Aside from the local bus service, a lot of the hotels in Banff run a complimentary shuttle service into town.
If you're visiting Banff during the winter for a bit of skiing, you can catch one of the ski shuttle buses to take you to one of the three ski areas: Norquay, Sunshine Village, or the Lake Louise Ski Area.
Is there Uber in Banff?
No, there's no Uber at the moment, but there are taxi services available.
Can you drive through Banff without a pass?
If you're just passing through Banff National Park, for example, traveling from Calgary into British Columbia without stopping at any of the sites, then no, you don't need to buy a pass.
You will need a National Park Pass if you plan on visiting or staying in the park, which can be bought at the gate entrance to the park, at the Banff Visitor Center at 224 Banff Avenue, Banff, or online as mentioned above.
I hope you found this guide on getting to Banff National Park useful. It's a lot to read, I know! No matter where in the world you are coming from, you have several transportation options to explore, depending on your budget and preferences.
Whatever transport option you choose to get here from wherever you're coming from, with proper planning and preparation to ensure a smooth journey, your trip to the Canadian Rockies will be a memorable one.