Everyone visiting Banff should do the Tunnel Mountain hike because the trail is perfect for families, solo hikers, and anyone looking for an easy trail with some amazing scenic views from the summit.
This is a popular hike and a great option to squeeze in between other activities because it only takes around 2 hours to complete right from Banff Town.
Whether you're looking for a quick workout or just some time to take in the panoramic views of the Bow Valley, Tunnel Mountain is one of the best short hikes in Banff National Park you can do.
Here's why we think you should add this iconic Banff trail to your list when visiting this part of the Canadian Rockies.
Written by Lou
Tunnel Mountain Trail Information
Time: 1.5 – 2 hours return maximum
Distance: 4.6 km (2.8 miles)
Elevation gain: 260 m (853 ft)
Distance from Downtown Banff: 3.3 km (2 miles) return
Location: Parking at Tunnel Mountain Lower parking area: St. Julien Road or Upper parking lot: Tunnel Mountain Drive (location pin)
Tunnel Mountain Hike Overview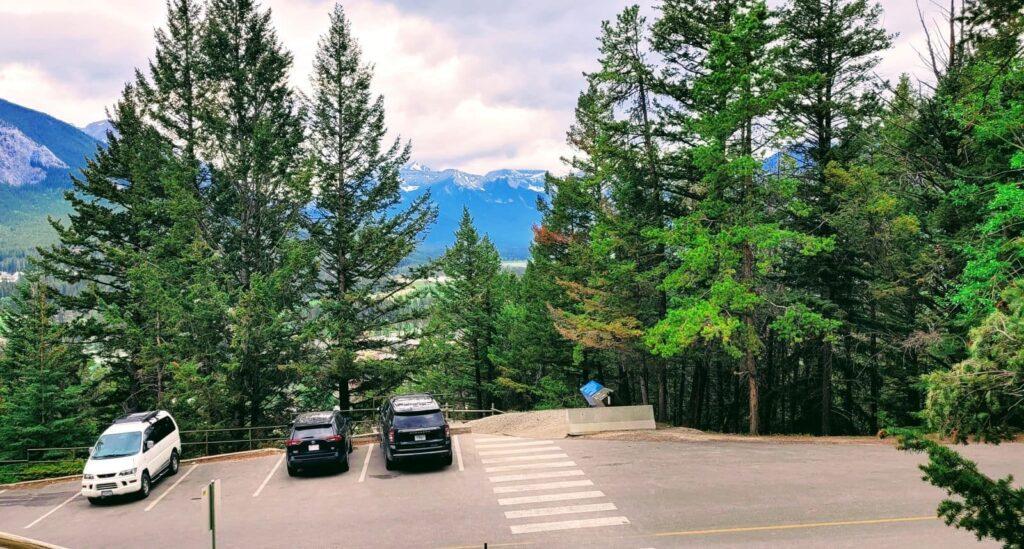 You must buy a Banff Park Pass to enter Banff National Park before doing any hike.
The trailhead is conveniently located close to Banff Townsite, making it an accessible hike.
It covers 4.6 km out and back, the trail has an elevation gain of 260 m (853 ft).
The trail is great for beginner hikers, but it's also popular with hikers of all levels.
Even though it's an easy trail, take it from me, you'll still get a bit of a workout as it's all uphill.
Despite its relatively short distance, the Tunnel Mountain Trail has some beautiful viewpoints that showcase the stunning panoramic views of the surrounding mountains, including Mt. Rundle and Sulphur Mountain (and the gondola).
Ways to Get to Tunnel Mountain Trail
Getting to the Tunnel Mountain Trailhead from downtown Banff is easy and convenient whether you walk, drive, or take public transportation. These are your options:
Walking: If you're staying in Banff Townsite and want to walk, it's only around 1 km to the trailhead, which is a 15-20 minute walk at most from Banff Avenue. It's an enjoyable walk through some of the residential areas.
Driving: You can drive to either of the two parking areas – lower and upper trailhead parking. Both are within a five-minute drive from Downtown Banff. The lower parking area has more spaces than the upper one.
Public Transportation: Another option is to take Roam Transit bus route #2. The bus will drop you off at Tunnel Mountain Drive and runs between Downtown Banff and the Fairmont Banff Springs Hotel.
You can also pick the bus up at the Tunnel Mountain Campgrounds and hotels in the summer.
It's an affordable and eco-friendly option that takes the stress out of navigating the area and finding somewhere to park during busy times.
The Tunnel Mountain Summit Hike
The trail is one of the most popular, oldest, and most accessible in Banff National Park.
From the St. Julien Road parking area, there is a short uphill walk to the upper parking lot (Tunnel Mountain Drive), where you can also park in the summer if you want to shorten the hike.
There is a lookout point here with great views over the valley.
After crossing the parking lot and climbing the steps leading directly into the forest, you'll follow the trail with multiple switchbacks.
Just before the steps is a Parks Canada information board about the hike that is worth checking in case you need more information.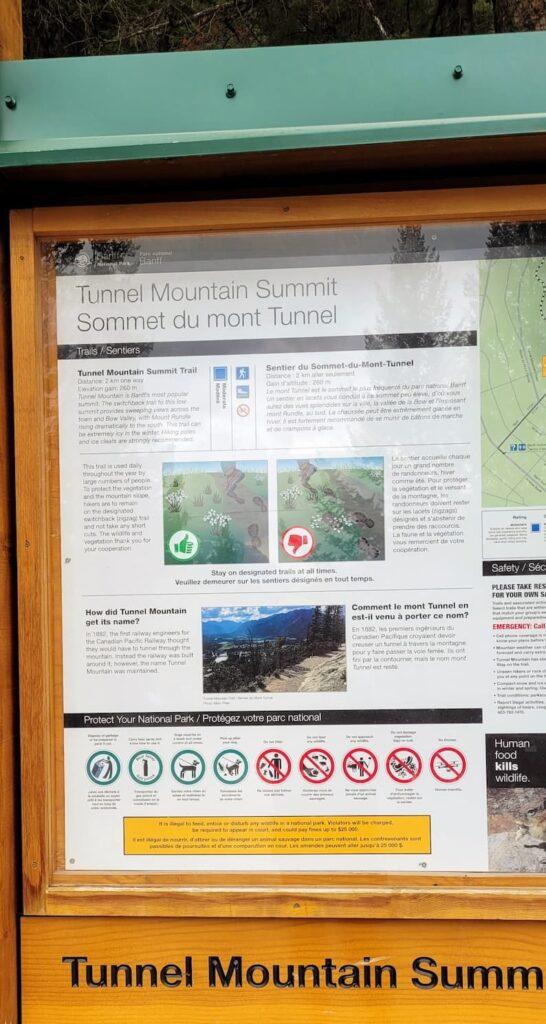 The trail is quite distinct, well-packed, and well-marked, so you can enjoy the hike without worrying about getting lost.
The good thing about it being so well maintained is that there are plenty of wooden railings along the switchbacks.
So, if you need a little rest, you can just lean on them for support!
The beginning of the trail is probably the steepest part of the hike, but it's nothing too difficult.
Once you've made your way through the switchbacks, the trail narrows slightly, but it's still wide enough for two people to walk next to each other.
If you've got small kids, keep them to the left-hand side as it's a steep drop-off to the right.
At around 1 km in, you'll see the Fairmont Banff Springs Hotel and views of the Bow Valley as the views open up through the trees.
There are lookouts along the trail where you'll also have the most amazing view of Mt. Rundle.
You'll come across tree roots and exposed rock towards the summit area, so watch your footing as it's easy to trip when you're sidetracked by the views.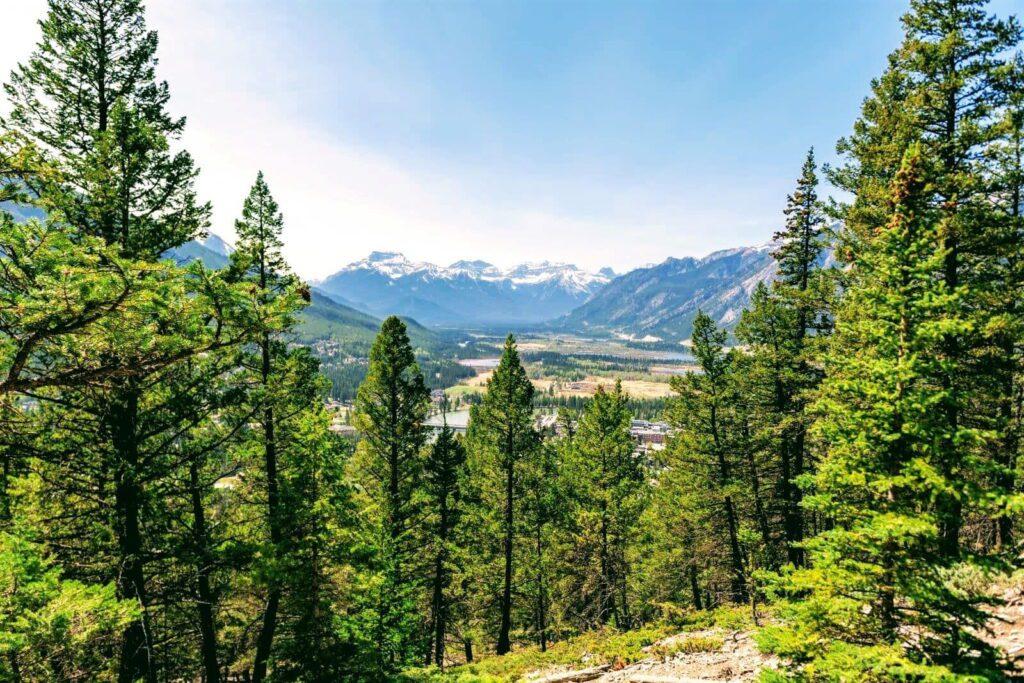 When you reach the top, you'll see the two red chairs put here by Parks Canada. Stop here, take a seat, and take in those views.
From the chairs continue over to the official summit that is marked by a Parks Canada sign.
The top is a great spot for a picnic, as the views provide the perfect backdrop. You can relax for a while before making your way back down.
You'll have views of Banff Townsite, Vermillion Lakes, Mt. Norquay, Mt Rundle, and Cascade Mountain.
The descent is much easier going than the ascent.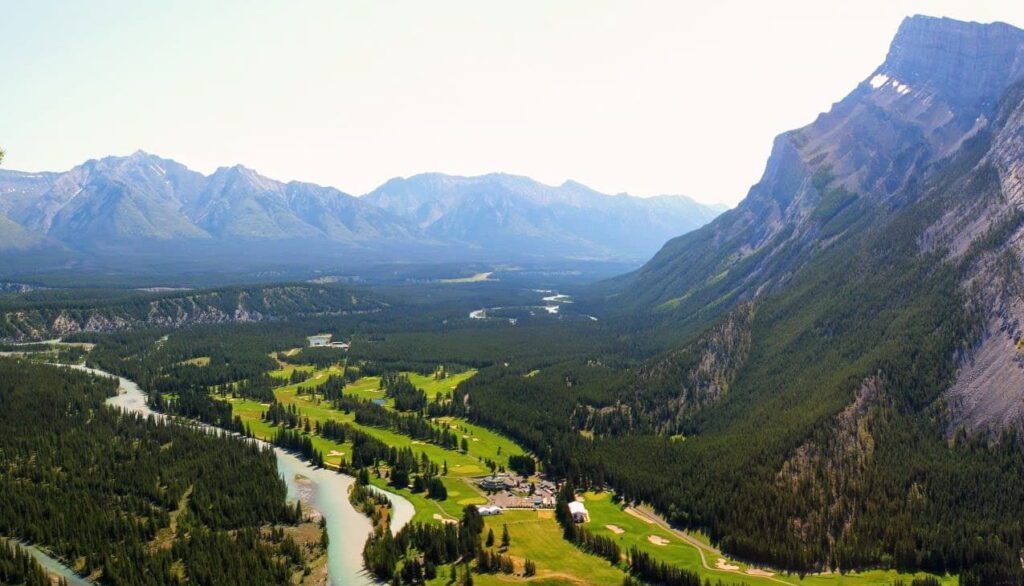 Why is it called Tunnel Mountain?
The name was given by Canadian Pacific Railway surveyors who were exploring the area in the late 1800s.
They thought of building a tunnel through the mountain for train tracks, but it never happened.
Nonetheless, they kept the name Tunnel Mountain.
Interestingly, the mountain was initially called Sleeping Buffalo Mountain by the Stoney Nakoda people, who had lived in the area long before the Europeans arrived.
Despite the longstanding use of the name Tunnel Mountain, there is currently talk about changing it back to its traditional one.
You can see why it was called Sleeping Buffalo Mountain, as it looks like a buffalo lying down as if it was asleep!
Why You Should Hike Tunnel Mountain
Tunnel Mountain is a fantastic hiking destination for many reasons. It's easily accessible from the town of Banff, and the short and easy trail can be hiked in just a couple of hours. The trail offers excellent views and is suitable for hikers of all levels.

The trail is significantly less steep compared to other hikes in Banff, and the altitude increment rate is moderate, so it's a good choice if you're new to hiking.

The out-and-back type of trail is well-defined and well-packed, although there are some exposed rocks closer to the top.

Switchbacks are a significant feature of the trail that make the climb less steep.

While it is an ideal family-friendly hike, Tunnel Mountain is also suitable for solo hikers who want an easy, scenic ascent surrounded by nature.

Best Time to Hike Tunnel Mountain
As you can hike it all year round, the best time to go depends on your preference and the kind of experience you want to have.
The winter months from November to March offer a unique chance to experience the trail in a blanket of snow, so you might need some snowshoes and microspikes.
However, the summer months from June to August offer the best hiking weather with warm temperatures and longer hours of daylight – but the trail gets busy, busy, busy!
If you're in Banff during the summer, then hike early in the morning or later in the afternoon/evening.
We did it on Victoria Day in May at around 8 am, and there were only a few others on the trail, so it was nice and quiet.
No matter when you choose to go, check the Parks Canada website for trail conditions before you head out.
So, while the Tunnel Mountain trail may be busy, the views you get make it worthwhile.
Kids and Pets on Tunnel Mountain
You'll see people on the trail with dogs and kids, but there are a few things to consider beforehand.
Although Banff National Park is very dog friendly, your pup must be kept on a leash at all times – this goes for all trails in the park.
If you bring your dog on the Tunnel Mountain hike, bring dog poop bags and enough water because your pup may get thirsty.
The trail can get quite steep in some areas, which may be challenging for some dogs and kids.
I mentioned above that there are some steep drops along the trail, something to be aware of if you have younger children who like to wander off ahead.
Keep a close eye on your children and pets since you're in bear country.
Although the chances of running into a bear or other dangerous wild animals are rare, it is something to consider.
Is Tunnel Mountain a Difficult Hike?
Even though the hike is labeled as easy, it can still be a bit strenuous and leave you slightly out of breath if you're not used to walking uphill.
So, be prepared and take your time.
The trail is well-maintained and lacks any significant obstacles.
At around 2 hours for the round trip, this trail is great if you want a quick and easy hike.
If you're looking for something even easier, and still close to downtown Banff then Vermillion Lakes, Johnson Lake, and Cascade Ponds are ideal because they're not uphill and are easy to walk around.
On the other hand, if you want to work up more of a sweat, there are plenty of more challenging hikes in the area, such as the Sulphur Mountain trail, which is a more strenuous climb to reach the summit instead of taking the gondola to the top.
Biking On Tunnel Mountain
Mountain biking in Banff National Park is a popular activity. But biking is not allowed on the Tunnel Mountain hiking trail.
You can bike close to the trail on the Tunnel Mountain Drive 15 km loop.
The starting point is at the east end of Buffalo Street, passing Surprise Corner where you'll get fantastic views of the Bow River and the historic Fairmont Banff Springs Hotel before joining Tunnel Mountain Road, past the campgrounds, and then down to Banff Avenue.
The trails are rated as easy to moderate difficulty, so they are suitable for bikers of all levels.
Bike rentals are available from various shops in town, such as:
Black Diamond Bike & SUP Rentals
Cross-Country Skiing On Tunnel Mountain
Although you can't ski on the actual trail itself, you can cross-country ski on Tunnel Mountain in the wintertime, starting at the Tunnel Mountain Trailer Court Campground.
One of the unique aspects of cross-country skiing on Tunnel Mountain is that you can ski after the sun sets as the trails are lit.
I'm told it's great for stargazing while skiing here.
The above stores also rent skis and more information about cross-country skiing can be found here.
Tunnel Mountain Trail Safety
Even though Tunnel Mountain Trail is a popular hike in Banff, you should still take necessary safety measures to ensure that you have a safe and enjoyable experience.
Overall, we think the Tunnel Mountain hike is a must-do for anyone visiting Banff National Park because it has stunning scenery, it's perfect for families, solo hikers, and experienced hikers alike, and it's an easy hike to get in if you're also short on time.