If you're new to hiking or you're visiting Banff National Park for the first time and want to get a few trails under your feet, it can be overwhelming to know what to pack for hiking in Banff, and what to expect.
Thankfully, the gear you need for a great day out hiking in Banff is relatively simple and won't cost you a fortune.
Our list covers all the hiking gear, safety tips, and trail essentials, whether you're an experienced hiker or just starting out.
Written by Lou
What To Wear Hiking in The Canadian Rockies
When packing for Banff, it is important to consider the seasons and temperatures that you may experience.
During the summer months, it's mostly hot and sunny, but there may be a few days when you get cooler temperatures.
And during the winter months, especially January, it is cold with lots of snow, so you're packing list will be different from the summer.
In either case, you'll want versatile clothing items that can work for hiking in different weather conditions.
And the best way to ensure a great hike is to dress in layers of lightweight clothing that will include clothes made of synthetic materials that wick moisture away from your skin and dry quickly.
Layering for Hiking
What is layering?
Depending on the weather, it's important to bring layers of clothing that you can put on or take off as needed. Pack a base layer (next to the skin) made of merino wool or synthetic material to wick away moisture from your skin, an insulating mid-layer over the top of the base layer, like fleece or down, and an outer layer that is waterproof and wind-resistant.
Banff Summer Hiking Packing List
Here's a list of essentials to include in your summer Banff hiking list:
Hiking boots/runners
Hiking socks
Backpack
Water bottle
Lightweight clothing
Wind and water-resistant jacket
Hat
Sunglasses
Sunscreen
Lip balm
Swimwear
Bug spray
Bear spray
First aid kit
Trash bags
Travel Insurance
Trekking/hiking poles (optional)
Navigation device
Fully charged cell phone
High energy snacks
Let's look at these in a bit more detail.
Footwear – Hiking Boots/Runners/Sneakers
First and foremost, pack comfortable shoes suitable for hiking and walking long distances. You'll want a pair with good traction and support for uneven terrain.
On the more moderate and challenging hikes, hiking boots will give you more stability and foot and ankle protection.
Trail runners are great if you're doing one of Banff's easy hikes on flat terrain.
They come with lighter and more flexible materials than hiking boots and offer better mobility and agility.
If you're hiking a paved trail then a pair of sneakers will do – we always wear them and have no trouble.
Hiking Socks
Hiking socks provide cushioning and wicking to keep your feet comfortable and dry, even after hours of hiking.
Most hiking socks are made of a blend of materials, such as Merino wool, polyester, and spandex.
If you're wearing hiking boots, my tip is to buy a pair of socks that sits above the top of your boot, as they will help prevent your boot from rubbing into you.
The last thing you want is your hike ruined by a blister.
Backpack
You'll need a backpack to hold all your supplies for a day hike in Banff.
Choose one that's comfortable, lightweight, and with plenty of pockets and compartments for organizing your gear.
A backpack that is too small won't hold all the gear you need, while a backpack that is too big will be bulky and uncomfortable, so make sure to choose the right size.
Look for features like adjustable straps, multiple compartments, and water-resistant materials that will keep your gear dry in case of rain.
Water Bottle
Hiking is thirsty work, so bringing a reusable water bottle on your hikes is essential to stay hydrated during the hot summer days in Banff National Park.
Choose a lightweight, durable bottle that can easily be stuffed into the side pocket of your backpack.
I recommend a 32 fl. oz (0.9 litre) water bottle, which should keep you hydrated enough for a day hike.
For longer hikes consider a hydration pack that can hold 2-3 liters of water.
Lightweight Clothing
For summer hikes in Banff, pack lightweight, breathable clothing made of synthetic materials that wick away moisture and are quick-drying, like polyester, nylon, or merino wool.
These fabrics will help keep you cool and comfortable when temperatures rise.
Bring at least one long sleeve shirt for sun protection, bug protection, and layering (see above), as well as lightweight hiking pants.
It's best to avoid wearing cotton as it doesn't wick away sweat, it absorbs moisture and takes too long to dry.
Bring layers of clothing so you can easily adjust your temperature along the trail.
A base layer won't be needed in the summer, but if hiking at higher altitudes, then you'll probably need one.
Pack breathable hiking pants, shorts, and t-shirts for hot days. And leggings, a sweater, and a lightweight jacket for cooler evenings.
Wind and Water Resistant Jacket
During the summer, the weather in Banff is usually hot and sunny.
But the weather in the mountains sometimes has other ideas, so pack a lightweight waterproof, and windproof jacket with a hood to guard against unexpected rain showers or strong winds in higher elevations.
Hat
During the summer, there's often not a cloud in the sky.
A hat or cap is essential for keeping the sun off your face and neck, especially when you're at higher altitudes where the sun's rays are stronger.
Sunglasses
Sunglasses are essential in Banff National Park.
The sun can be very strong and bright in the mountains, so protect your eyes from harmful UV rays with sunglasses.
Not only do they provide protection from the sun, but they also help you enjoy the stunning views of the Canadian Rockies without squinting or straining your eyes.
Sunscreen
The UV index is high in the summer, so sunscreen is vital.
Go with a moisturizing sunscreen with an SPF of at least 30, and reapply it often if you're in the sun all day or swimming in mountain lakes.
Lip Balm
I find that the sun, wind, and dry mountain air can cause lips to become dry and cracked, so have some moisturizing lip balm with SPF protection handy for keeping your lips hydrated.
Swim Wear
Speaking of swimming in mountain lakes, don't forget to pack a swimsuit if you plan to visit any of the lakes, hot springs, or your hotel swimming pool.
Bug Spray
From June to August all manner of horrible biting bugs emerge in the Park.
If, like me, you seem to be a mosquito magnet, then whatever you do, don't forget the bug spray.

Bear Spray
The other spray you'll need, but hopefully not have to use, is bear spray.
The chances are you'll be nowhere near a bear and never have to use it, but if you hike on the quieter trails, you don't want to risk not having it.
Banff is home to grizzly and black bears, so make sure you know how to use it and keep it easily accessible in case of a bear encounter – we were glad we had it to hand when we came close to a bear one year, but luckily didn't have to use it.
Remember, bear spray is a last resort – always make noise on the trail and be aware of your surroundings to avoid an encounter in the first place.
A bear bell can help you avoid surprising a bear.
Attach the bear bell to your backpack and it will jingle as you hike.
The noise will alert bears to your presence and give them time to move out of your way.
If you're coming to Banff from Calgary, you can stop off at any Home Depot or Home Hardware and buy a can.
Or you can buy a can at any of the outdoor stores in Banff.
If you want to keep costs down or you won't be doing much hiking, then you can also rent bear spray for around $10 a day from some stores such as Ultimate Sports in Banff and Wilson Mountain Sports in Lake Louise.
First Aid Kit
A first aid kit is a good idea for any hike – even short ones.
Have the basics like band-aids, blister plasters, antiseptic wipes and cream, painkillers, and small scissors.
Trash Bags
Please put a small garage bag in your backpack and take any rubbish away with you.
The last thing we want to do is ruin this beautiful area with litter or cause any danger to the wildlife here.
Travel Insurance
While we don't often consider the risks associated with hiking, the reality is that accidents can happen.
Travel insurance can provide peace of mind and can also cover any emergency medical expenses that may arise while you're out on the trails.
If you're visiting Canada from abroad, then you don't want to be without insurance, as any treatment is expensive.
Trekking/Hiking Poles (optional)
Trekking poles are great for longer hikes as they help you maintain balance and provide extra support on uneven terrain.
Navigation
Most hikes have directions along the trail, but if you are out on the more remote trails, it's important to know how to navigate.
Make sure you have the right map for the trails you plan to hike.
A GPS-enabled device can come in handy if you're unsure of your location or want to track your route, but it's always a good idea to take a paper map with you too.
Fully Charged Cell Phone
Cell phone coverage isn't the best once you get outside of town, but it's still a good idea to have a full phone battery when you're out hiking.
Another reason is to take a screenshot of the trail route, which you can refer to if there's no service, so having a full battery is essential.
Your cell phone also has a flashlight that you might need to use.
High Energy Snacks
When you're out on the trails, having enough snacks is key for keeping your energy levels up.
Pack some energy bars, trail mix, or dried fruit for a quick snack on the go.
I also recommend leaving a cooler in the car and packing it with snacks, Jerky, sandwiches, and cold drinks for when you've finished your hike – hiking can really work up an appetite!
What to Pack for Winter in Banff
Packing for the winter season in Banff requires a bit more planning, but with the right gear, you'll be ready for a memorable hike.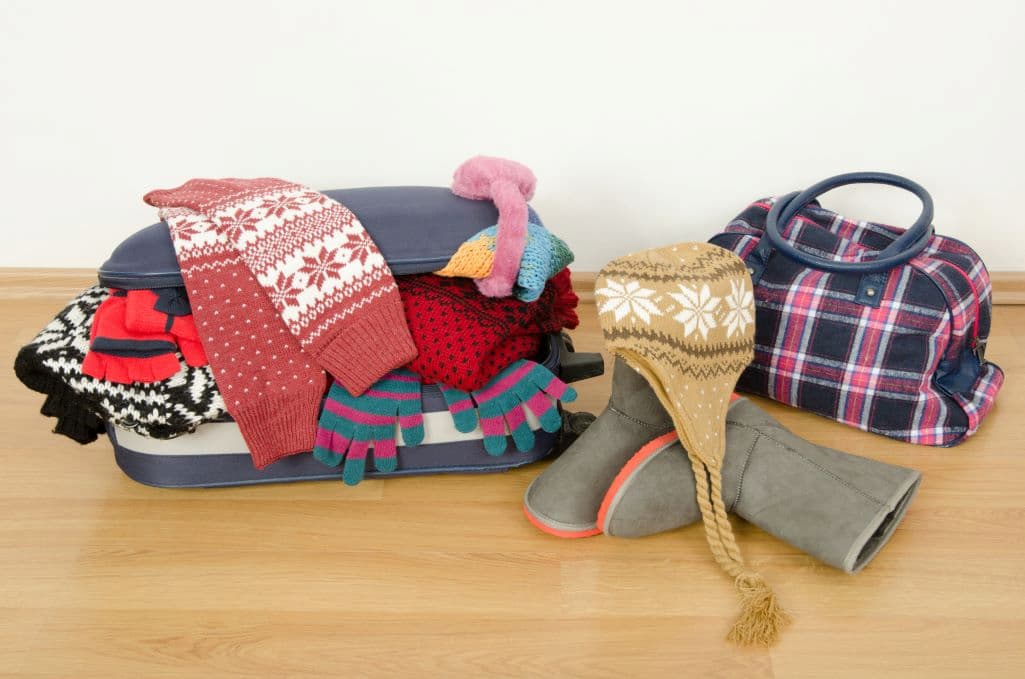 We've got an article with a detailed list of essential items to pack for winter, which you can find by clicking the link.
Here's a quick overview anyway:
Base, mid-layer, and outer-layer clothing such as thermal long underwear, fleece, and insulated and waterproof ski pants, outer jackets, or parkas – dress in layers to manage temperature changes effectively.

Start with a base layer made of synthetic materials that wick sweat and keep you dry. Add a mid-layer for insulation and a warm layer for cold weather.

Top it off with a hiking jacket that is waterproof and breathable.

Waterproof and insulated boots.

Packing for Spring and Fall in Banff
If visiting Banff National Park during the spring or fall season, again, you need to pack so you stay comfortable and avoid getting caught in unpredictable weather conditions.
As with the other seasons, it's all about layers, starting with a t-shirt (not cotton) or a long-sleeve base layer.
Next, add a fleece or midweight jacket, a windproof/waterproof outer layer, warm socks, and waterproof hiking boots.
Don't forget a warm hat, gloves, and scarf, as they will come in handy when the temperature drops.
Now we've covered the packing essentials, we need to look at how to stay on the trails.
Hiking Safety Tips
Take the Weather Forecast Seriously
The weather is one of the most crucial things to consider when hiking in Banff.
Even if the day starts bright and sunny, weather conditions can and do quickly change to rain, snow, or hail.
It can even catch you out in June with a good dumping of snow.
Stay up to date on the forecast and adjust your itinerary to avoid being caught in a sudden storm.
Bring gear for all types of Banff weather conditions, including a waterproof jacket, extra layer, fleece jacket, and warm layer.
It's better to have too many layers than not enough, and investing in quality clothing ensures its reliability on the trail.
Research the Route
Before hitting the trails, take some time to research the route.
Look for information on the trail's length, difficulty level, and any potential hazards.
Also, check the trail conditions and potential closures.
This information will help you plan your trip and make informed decisions along the way.
Also, make sure that someone knows where you are going and when they should expect you back.
Hiking Essentials for Banff National Park
Leave No Trace
When hiking anywhere in Banff NP, it is important to practice Leave No Trace principles.
This means leaving nothing behind and packing out all that was packed in, which includes food waste, packing materials, plastics, and anything else.
Don't leave food scraps behind, although they are organic or compostable, this overlooks the fact that these scraps can attract predators like bears.
Plastics and other items will take centuries to decompose, if at all, and even organic materials like dried fruit will be around months after you left them in the park.
Stay on the Trail
Minimize your impact on the park's natural environment by staying on the designated trails, paths, and boardwalks.
By limiting your impact, you help to protect the delicate landscape that makes Banff such a stunning place to explore.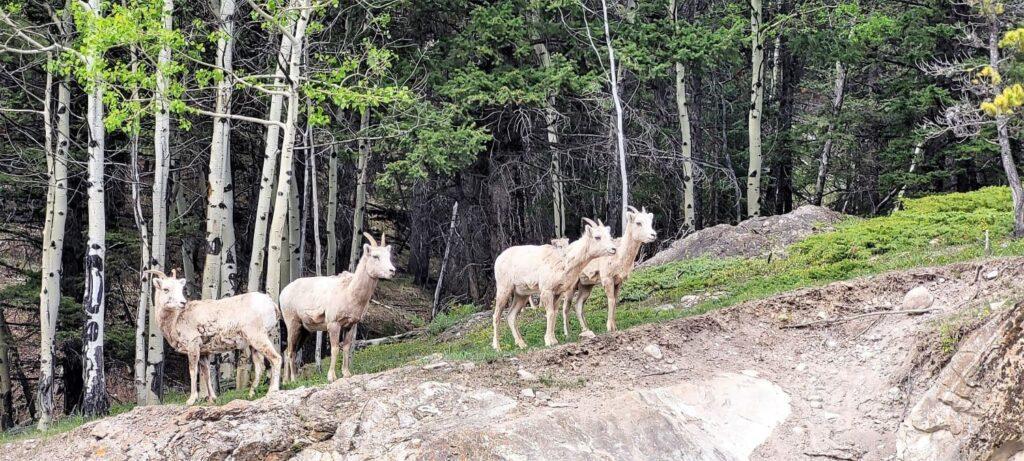 Respect the Wildlife
It's also important to respect wildlife and their habitats and not to approach or feed them.
Remember, these wild animals need their space and should be admired from a safe distance.
Feeding them can mess up their natural habits and even cause health issues.
And getting too close to them can be dangerous for both you and the animals.
Hiking with your dog
We take out dog Luna on the trails with us as Banff National Park is very pup friendly.
You'll see lots of people hiking with their dog, but there are always a few things to keep in mind when doing so.
Here are the important items to pack and safety considerations to know when hiking with your dog:
Not all hiking trails in Banff National Park are dog-friendly. Check the park's website or inquire at the visitor center to find out which trails allow dogs. See our page for dog friendly hikes in Banff for ideas.

Dogs must be leashed at all times in the Park, except in the designated off-leash parks. This is to ensure the safety of your dog, other hikers, and Banff's wildlife.

Pack water and food as just like you, your dog needs plenty of water and food during a hike. Pack enough water, a portable water bowl, and snacks or a meal for them, depending on the length of your hike.

Bring Poop Bags and pick up after your dog. Not only is it unsightly and unpleasant for other hikers, but it also helps prevent the spread of disease among wildlife.

What To Bring Hiking in Banff
Packing the right clothing and gear for a Banff hike doesn't have to be complicated, as long as you've got the essentials.
And if you don't have everything you need, don't worry, there are several outdoor stores in town that can supply you with whatever you're missing.
Don't forget that you must have a Banff Park Pass to enter the park and do any hiking.
We hope you've found this useful. Why not check out our page for other ideas on what to do in Banff on the days you're not hiking?