If you love to dine al fresco but don't want to leave your dog, then Banff has that covered! From May to October, the town closes the main streets to traffic, opening them up just to pedestrians, making it the perfect time to try out some of the dog-friendly restaurant patios in town.
One of the things we love about Banff is how dog-friendly it is, which means our dog gets to come along with us when we go out for a bite to eat, which she loves!
You'll be spoilt for choice as there are lots of pet-friendly patios in Banff, ranging from small cafes, and family-friendly restaurants to upscale establishments.
Here is the most comprehensive list on the internet of pet-friendly places to eat in Banff that welcome well-behaved, leashed dogs.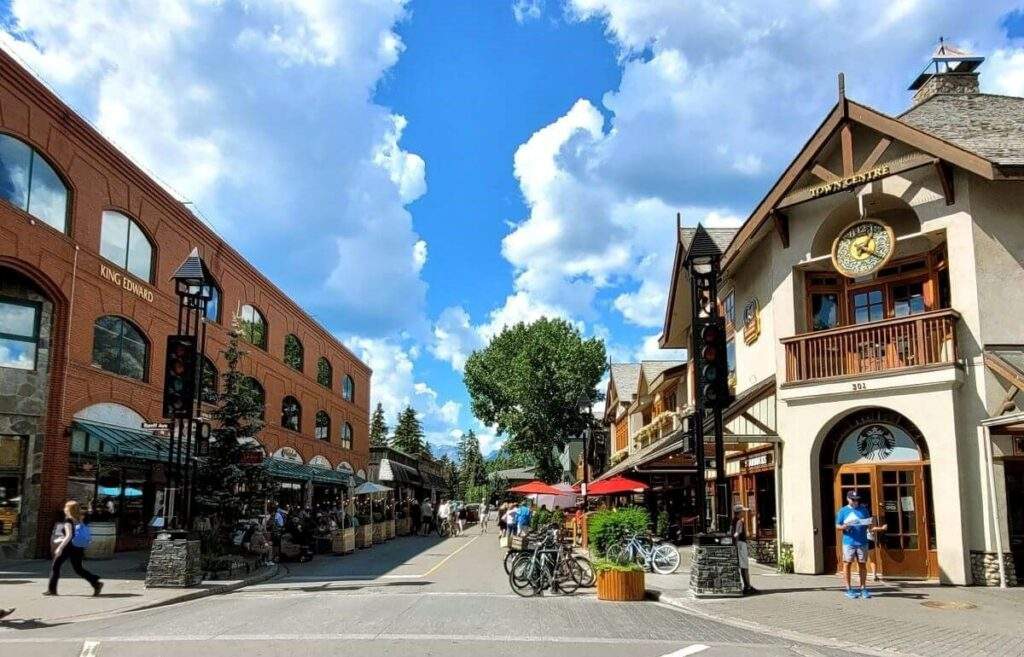 Written by: Lou
Banff's dog-friendly patios
OUR RECOMMENDATIONS
1. Magpie + Stump Restaurant
Location: 203 Caribou St, Banff, T1L-1A8
This is one of our favorite places to go as the food and atmosphere are great. It's a popular family-friendly spot with delicious Mexican cuisine. The outdoor patio is pet-friendly and has an excellent vibe.
The menu offers traditional Mexican food, such as tacos, fajitas, nachos, and more. They are known for their in-house salsa and chips, made fresh daily.
2. Tooloulou's
Location: 204 Caribou St, Banff, T1L 1A6
Tooloulou's is hands down the best place for breakfast—good portion sizes and good prices! I highly recommend the breakfast poutine.
You can enjoy al fresco dining on the outdoor dog-friendly patio at this vibrant restaurant that serves a fusion of Cajun, Creole, and Canadian dishes.
There is a selection of dishes, such as jambalaya, gumbo, crab, and crawfish, as well as vegetarian and gluten-free options. A visit here is a must, and not just for breakfast.
3. Three Bears Brewery & Restaurant
Location: 205 Bear Street, Banff, T1L 1B1
Three Bears Brewery & Restaurant is an excellent choice if you're looking for somewhere you can take your dog.
This popular restaurant offers pet-friendly dining on the outdoor patio, which has plenty of seating and umbrellas for shade.
The menu features classic pub favorites, such as burgers, wings, and pizza, all made with locally sourced ingredients.
Along with the great food options, there is also a variety of craft beer on tap, perfect for washing down your meal.
4. Bear Street Tavern
Location: 211 Bear Street, Banff
If you're looking for a dog-friendly restaurant with a patio in Banff, then look no further than Bear Street Tavern. This cozy tavern has a relaxed atmosphere and offers pub-style food, such as wings, soups, salads, and pizza.
The outdoor pet-friendly courtyard patio isn't just open for patio season, it's open year-round and heated so you can sit outside with your dog on the cooler days and in the winter months.
The friendly staff are always happy to provide your pup with water bowls and treats.
5. Fairmont Banff Springs hotel
Location: 405 Spray Avenue, Banff
This iconic pet-friendly hotel offers an upscale dining experience for you and your dog on the outdoor pet-friendly patios with stunning views of the Canadian Rockies.
They don't just have one pet-friendly patio, they have five! So whatever you fancy eating, you can choose where you and your pup can dine, including at STOCK food & drink, the Rundle Bar, and the Waldhaus Pub & Biergarten.
6. The Juniper Hotel + Bistro
Location: 1 Juniper Way, Banff. T1L 1E1
The Juniper Hotel lets your pet stay with you at the hotel and offers a spacious dog-friendly patio to enjoy delicious meals with your pup, all with spectacular mountain views.
As their meals are made from scratch, it's no wonder they have won numerous "Diners' Choice" awards. The menu features fresh, locally sourced ingredients.
The Juniper is not only one of the best places in Banff to stay, but it's also one of the best places to eat, with or without your dog.
7. The Bison Restaurant & Terrace
Location: 211 Bear St, Banff, T1L 1E4
Located in downtown Banff, The Bison is a popular spot for delicious Canadian cuisine.
As they welcome dogs on their terrace, you can sit outside in the summer months and indulge in mouth-watering dishes featuring local ingredients, such as Alberta beef, bison, and wild game. The menu changes seasonally, so there is always something new to try. This is on our list of places to eat in Banff as we've heard such good things about the food here.
8. The Maple Leaf Grill + Lounge
Location: 137 Banff Ave, Banff, AB T1L 1C8
For a fine dining experience with your furry friend, head to The Maple Leaf. The outdoor patio does not take reservations, but feel free to just turn up with your dog and grab a seat.
The menu features premium steaks, fresh seafood, wild game, and local vegetables. Don't miss their extensive wine list and indulgent desserts.
If you don't come here for dinner, come for brunch—it's good!
9. High Rollers
Location: 110 Banff Avenue, Banff
When patio season comes around, High Rollers is a great place to get a bite to eat with your dog, as it's right in the heart of downtown Banff.
High Rollers has a vibrant and fun atmosphere. It's known for its delicious pizzas, and they also serve burgers and wings. As you enjoy your meal, your dog can relax under the table and soak up the sun.
10. Hello Sunshine
Location: 208 Wolf Street, Banff
This modern Japanese restaurant in downtown Banff is a great place to dine. It has retro and eye-catching decor inside and a pet-friendly patio area outside with views of the mountains (of course!) and space for your pup(s) to relax.
Even though the restaurants have pet-friendly patios, pets are not allowed inside any restaurant or place that serves food due to the provincial Food and Liquor laws.
Exemptions apply for service dogs, which are allowed into both indoor and outdoor dining areas.
Dogs must be on a leash at all times.
11. Whitebark Cafe
Location: 401 Banff Ave, Banff, AB T1L 1A9
Located on Banff Avenue and in the lobby of the Banff Aspen Lodge pet friendly hotel, Whitebark Cafe is a popular spot for breakfast, lunch, and brunch.
This pet-friendly eatery has an outdoor heated patio where you can sit with your dog.
They offer a variety of pastries, homemade muffins, banana bread, cookies, and coffee drinks to grab and go or sit and relax.
Their menu is made up of locally sourced ingredients, and their food is made to order. They have a selection of gluten-free and vegan foods.
12. Farm & Fire
Location: 333 Banff Ave, Banff, T1L 1B1
Part of the pet-friendly Elk + Avenue hotel and situated steps from town on Banff Avenue.
Farm & Fire is a must-visit pet-friendly restaurant located on Banff Avenue. Their patio is a cozy spot for you to enjoy some of the best wood-fired pizzas in town.
They use locally grown and ethically sourced ingredients in their pizzas, making them extra delicious. This eatery also offers a variety of starters, salads, desserts, and a selection of craft beers and coffees from the Banff Roasting Company.
13. Brazen
Location: 138 Banff Ave, Banff, T1L 1A7 – inside the Mount Royal Hotel
Brazen is a pet-friendly restaurant with a focus on farm-to-table cuisine. They have a small but inviting outdoor patio to enjoy in the summer months, perfect for you and your furry friend.
Their menu showcases a variety of dishes for brunch and dinner. They also have a selection of craft beers, wines, and cocktails.
14. Evelyn's Coffee Bar
Location: 215 Banff Ave, Banff, T1L 1A4
Evelyn's Coffee Bar is a great spot for coffee lovers and their four-legged friends. With an array of specialty coffees, teas, smoothies, bakery items, and light lunch options, as well as vegan and gluten-free options. All of their food is made fresh daily.
Evelyn's is the perfect place to sit and have your morning coffee with your pup while taking in the beauty of Banff. As this cafe is popular and the patio area outside is small, it's best to go early in the morning or late in the afternoon so you have a better chance of getting a seat on the patio.
15. Pacini Banff
Location: 345 Banff Ave, Banff, T1L 1H8 — inside the Moose Hotel + Suites
An Italian restaurant with a dog-friendly patio, complete with umbrellas so your dog (and you) can get some shade in the summer months.
Their menu includes a variety of pasta dishes, salads, and pizzas, along with a wide selection of wines. Don't miss their famous all-you-can-eat Bread Bar® and the selection of spreads.
16. Coyotes Southwestern Grill
Location: 206 Caribou St, Banff, T1L 1A6
This family-friendly restaurant offers a variety of delicious menu options and features an outdoor dog-friendly patio area.
The atmosphere of Coyotes Bar and Grill is warm and inviting, and the staff are always friendly and accommodating.
Menu items include steaks, burgers, pizzas, and pasta. The restaurant also offers a selection of local craft beers and signature cocktails.
17. Chili's Grill & Bar
Location: 461 Banff Ave, Banff, T1L 1B1— inside the Fox Hotel + Suites
Chili's is a pet-friendly restaurant that serves American and Mexican cuisine. The outdoor patio is spacious and has plenty of room for your family and dog.
Their menu includes a variety of dishes, from fajitas, burgers, and sandwiches to quesadillas and more. They also offer a selection of drinks, including cocktails, draft beers, and Margaritas. If you stay in the pet-friendly Fox Hotel, you won't have far to return to your hotel room.
See our list of Banff's pet-friendly hotels and which ones we recommend
18. Maclab Bistro
Location: 107 Tunnel Mountain Dr, Banff, T1L 1H5
This hidden gem is often overlooked when looking for somewhere pet-friendly because it's not in the downtown area.
Although dogs are not allowed on the patio, there is a dog-friendly greenspace with picnic tables right next to it, so you can still enjoy your food from the takeout menu there.
Maclab is located at the Banff Centre for Arts and Creativity on Tunnel Mountain Drive and is in the most amazing setting.
The patio overlooks the Bow Valley and offers stunning views of the Canadian Rockies.
Come here with your dog and enjoy some great food, drinks, and even live music.
19. Wild Flour Bakery
Location: 211 Bear St #101, Banff, T1L 1B8
Baked Goods & Coffee
For a casual breakfast or a quick snack, visit Wild Flour Bakery Cafe on Bear Street. This cozy little cafe offers freshly baked goods, including croissants, muffins, and sandwiches. They also serve coffee, tea, and other refreshing beverages.
Their patio is small, but you and your furry friend can still enjoy the lovely views of downtown Banff and enjoy a pastry and coffee before setting off for a day's hike. Don't forget to get a freshly made dog treat as well.
Want to explore Banff with your dog?
Check out our extensive list of pet-friendly activities for some great ideas
20. Park Distillery Restaurant + Bar
Location: 219 Banff Ave, Banff, T1L 1A7
This award-winning restaurant in Banff has it all: delicious food, excellent drinks, and a pet-friendly patio that is heated on colder days.
Your dog can accompany you on the patio while you dine outdoors, enjoying the fresh mountain air. Park Distillery specializes in Canadian cuisine with an impressive selection of cocktails, spirits, and beers. They also distill vodka, gin, and rye whiskey, which are all highly praised.
When you're in Banff with your pet and want to indulge in a delicious meal and a drink, this is the place to be!
21. The Eddie Burger + Bar
Location: 137 Banff Ave #6, Banff, T1L 1B7
If you're craving a juicy burger, Eddie Burger + Bar is a pet-friendly restaurant that should be on your list. With its vibrant atmosphere, tasty burgers, and pet-friendly patio, Eddie Burger + Bar is the perfect spot to satisfy your burger cravings. They also offer a variety of craft beers, making it the perfect place for lunch or a casual night out.
22. Chuck's Steakhouse
Location: 101 Banff Ave, Banff, T1L 1B3
This family-friendly Banff Avenue steakhouse has a dog-friendly patio where you can all sit and enjoy some nice food while surrounded by the amazing views of the Cascade and Rundle mountains.
Chuck's Steakhouse offers a cozy, rustic atmosphere in which to enjoy your favorite American-style steakhouse specialties. They offer a great menu of steaks, burgers, ribs, and more, as well as an extensive wine list and specialty cocktails.
23. Alpha Bistro
Location: 1029 Banff Ave, Banff, T1L 1E8
Alpha Bistro is at the pet-friendly Rocky Mountain Resort, and whether you're staying at the hotel or not, this is a great place to come for breakfast or dinner.
The pet-friendly outdoor patio is perfect in the summer as you are away from the town, so you really do get the most amazing views of the Rockies.
The restaurant's menu offers a wide range of dishes, from salads to seafood, steak, and pizza. You can indulge in good food, refreshing wine, and delicious desserts. The atmosphere is upscale yet casual and is popular with locals.
24. The Balkan
Location: 120 Banff Ave., Banff, T1L 1A4
The Balkan offers freshly cooked Greek cuisine and is a popular spot for dog-friendly dining in Banff.
Open from 11:30 am to 9:00 pm, this restaurant has an outdoor patio with plenty of seating and shade to keep your pup comfortable while you enjoy delicious food.
The Balkan is the perfect spot for a casual lunch or dinner with your pup in tow.
25. The Keg Steakhouse + Bar
Locations: Banff Downtown (117 Banff Avenue Banff, T1L 1A4) and Banff Caribou (521 Banff Avenue Banff, T1L 1A4)
Last but not least, we have The Keg Steakhouse + Bar, which has two locations in Banff. Both restaurants offer seasonal outdoor patios that are pet-friendly, and they have water bowls available for your dog.
You can indulge in classic Canadian dishes, such as prime rib, sirloin, and filet mignon, or try seafood or chicken.
We like The Keg, but the portions seem to be a bit smaller in size the last couple of times we visited the downtown location.
Pet-friendly restaurants in Banff
I think you'll agree that there is no shortage of pet-friendly patios in Banff National Park, and I hope this list helps find the perfect spot for you and your furry friend to enjoy.
Why not check out our Canmore pet friendly restaurant patios page? I highly recommend visiting this beautiful mountain town with your dog.
For more information on visiting Banff, like our Facebook page to stay updated.
If you're a restaurant in Banff and I've missed you, sorry, contact me and I'll add you.
FAQs
Should I bring my dog to Banff?
Dogs are allowed in Banff, but they must be on a leash at all times, except in the off-leash dog park. Banff is pet-friendly and there are many dog-friendly hotels, restaurant patios, and hikes for you to enjoy with your pup.
Are dogs allowed in stores in Banff?
There are a number of pet-friendly stores in Banff, including the Banff Doghouse (my dog's favorite), Rocky Mountain Soap, Monod Sports, Patagonia, Rude Boys Snowboard Shop, and Big Bear Trading Company. You can see which ones are pet friendly as they usually have a sign in the window, or a bowl of water outside to greet your four-legged friend.