Banff is truly one of the most spectacular destinations to visit in the entire world.
It has breathtaking mountain views everywhere you look, turquoise blue lakes, long hot days, clear blue skies, and plenty of sunshine, making it the perfect place for an amazing summer getaway.
Although famous for its winter sports, Banff has a heck of a lot to offer during summertime as well.
You can hike to breathtaking viewpoints, paddle on Lake Louise, or discover the park on horseback.
There's a ride on the Banff Gondola for the best panoramic views, or you can take leisurely drives through the mountains along the Bow Valley Parkway to spot wildlife.
The best part about spending your summer in Banff is that you'll never run out of things to do. I know we haven't!
So to help you plan your trip, I've put together this list of the best things to do in Banff in the summer, including some of our favorites.
I guarantee you'll be spoilt for choice.
Written by Lou
Some links may be compensated, at no cost to you
Is Banff worth visiting in the summer?
Yes, without a doubt, Banff is worth visiting any time of year, especially in the summer.
The weather is great, and the scenery is stunning. Once you get to Banff, you'll find the town has a lively atmosphere, and there are plenty of things to do to keep you entertained.
It's also the busiest and most expensive time of year to visit, so be prepared to part with a fair amount of cash, but it is 100% worth it.
What to do in Banff in summer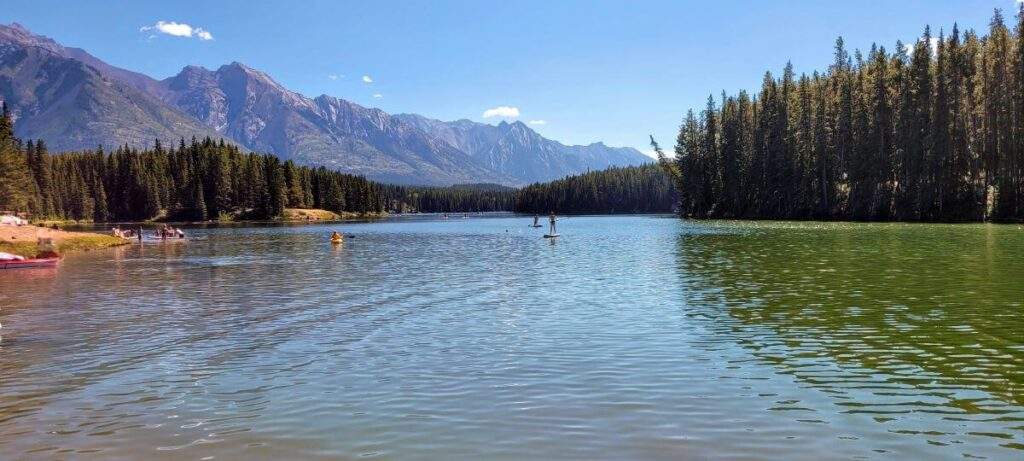 1. Canoe on a lake or the Bow river
A popular activity in Banff NP is to rent a canoe, stand-up paddleboard (SUP), or kayak in the summer.
As non-motorized boats are not allowed on Banff's lakes (except Lake Minnewanka), you've got lots of ideal paddling spots to choose from, and canoeing on one of the many lakes is a great way to experience the Canadian Rockies.
The two popular lakes to explore are Vermillion Lakes and Two Jack Lake, no matter your experience level.
You can rent a kayak, canoe, or SUP from the Banff Canoe Club.
You can then paddle the Bow River upstream into Echo Creek and drift along into the Vermilion Lakes, where you'll see great views of Mount Rundle in the background.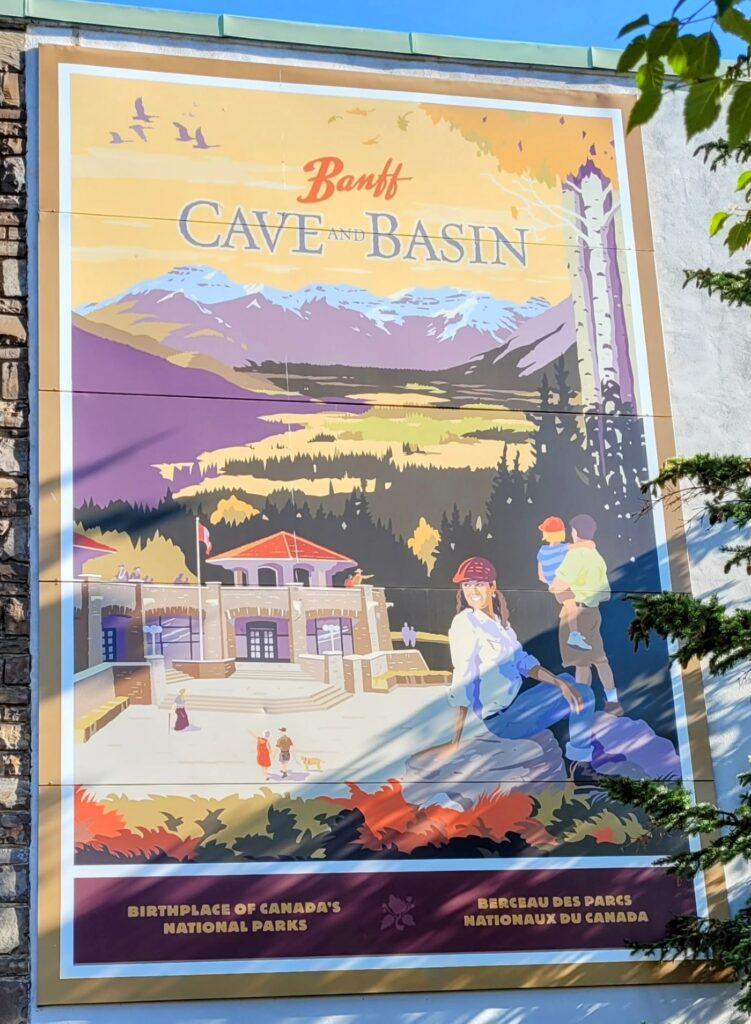 2. Cave and Basin National Historic Site
The Cave and Basin are where Canada's national park system began.
It's a great place to learn about the history of Banff National Park and see the natural hot springs.
There are some interesting exhibits, and the cave itself is a unique experience.
Don't miss the short interpretive trails around the area, where you can learn about the local ecosystem and wildlife.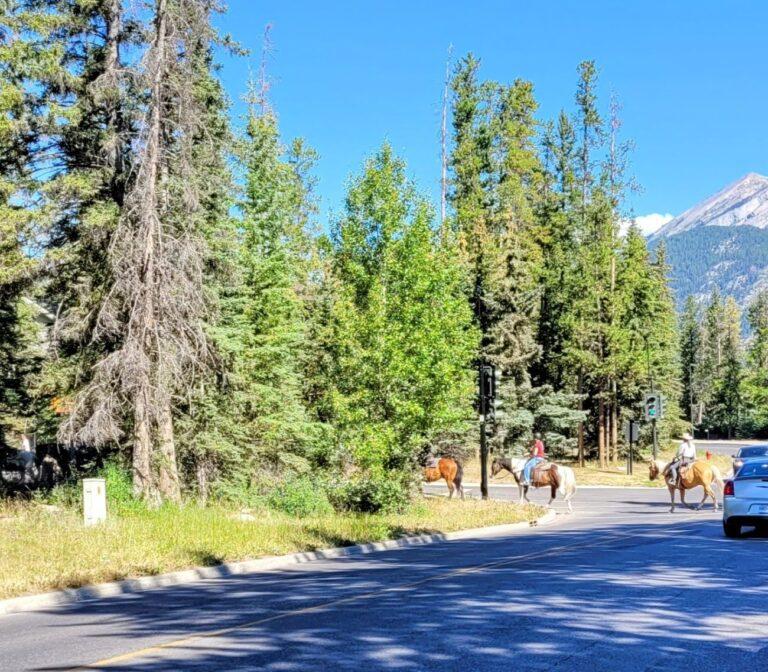 3. Go horseback riding in the Rockies
If you want to feel like a true cowboy or cowgirl, go horseback riding in the Rockies.
Even if you're a first-time rider, don't worry because the friendly guides will give you a crash course on controlling your trusty steed.
There are numerous guided horseback riding adventures, giving you the experience of an authentic Western adventure on horseback, ranging from a one-hour Bow River ride to a 2-day overnight backcountry lodge trip.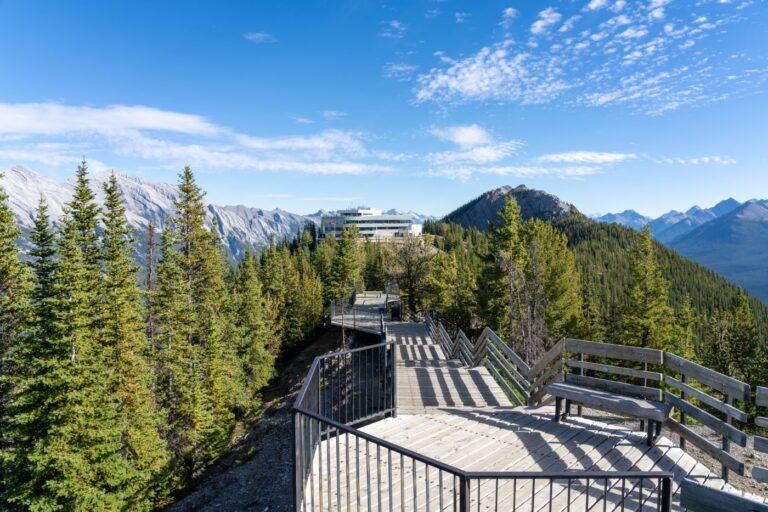 4. Banff's best view: Gondola ride to Sulphur Mountain
No visit to Banff is complete without a ride on the Banff Gondola.
Although this can be a pricey activity if there are a few of you, the price is worth it.
The views from the gondola are nothing short of breathtaking. You get to see Banff and the surrounding mountains in a new way. Trust me, it's worth the ride alone.
The leisurely 8-minute ride takes you up 7,486 ft (2,281 m) to the summit, where you get panoramic views of the Rockies from the observation deck.
If you want the WOW factor, then this is it!
But there's more to the Sulphur Mountain summit than just the views.
Related reading:
How to get to Banff National Park
You can explore the interpretive center and learn about the history and ecology of the area.
Take a stroll along the boardwalk to Sanson's Peak, which offers even more stunning views. Stay and grab a bite to eat and savor the scenery.
And if you're feeling adventurous, you can even hike back down the mountain on one of the trails instead of taking the gondola back down.
5. Ride the Sightseeing Gondola at Mount Norquay
The Mount Norquay gondola is one of four gondolas you can ride in Banff National Park.
This gondola is the perfect way to take in the stunning views of Banff and the surrounding mountains.
The chairlift ride takes you up to nearly 2,133 m (7,000 ft) and takes around 8 minutes, giving you the best panoramic views of Banff and the Bow Valley.
While on the gondola, lookout for wildlife, such as bears.
Once you reach the top, grab something to eat and drink in the Cliffhouse Bistro, which is the old 1950s tea room, and just enjoy the view.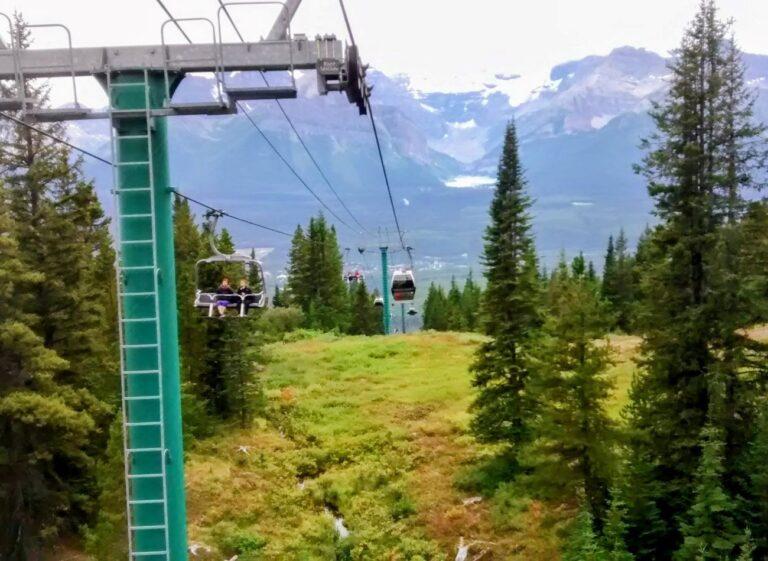 6. Ride the Lake Louise Gondola
If you're looking for another gondola experience, don't miss out on the Lake Louise Gondola.
This scenic 14-minute ride takes you up the mountain to an elevation of over 2,000 m (6850 ft), with some of the most breathtaking views of the surrounding Rocky Mountains and glaciers.
Keep a lookout for bears below, as this is a prime location to see them.
We got a glimpse of one just before it disappeared into the trees.
Once you're up there, you can walk around the boardwalk, take in the scenery, visit the interpretive center, or take one of the trails.
But if that's not your cup of tea, don't worry. You can just sit back and relax with a drink and a snack. We went to the Whitehorn Bistro and the kids loved the hot chocolate (yep, even on a hot day).
I assure you, the views alone are well worth the visit.
You must have a valid park pass to visit Banff National Park. You can purchase passes online or at park entrances and visitor centers. Visit the Parks Canada website for more information and to purchase your pass.
7. Experience Banff Sunshine Sightseeing Gondola
The Sunshine gondola has room for eight people, which means you don't have to have separate cabins if there are a few of you.
The 15-minute gondola ride starts at 1,659 m (5,442 ft) and takes you up to 2,159 m (7,080 ft) to the Village terminal. The views up there are stunning!
Once you reach the village, there are so many trails to explore.
If you want to see Sunshine Meadows (mentioned above), take the Standish Chairlift for even more amazing views.
Get information on booking here.
8. Hike Sunshine Meadows
Sunshine Meadows is an alpine paradise located at Banff Sunshine Village Ski Resort.
The transition from snow-covered ski hills to wildflower-filled meadows is stunning, and it's known for being one of the best wildflower hikes in the Rockies.
As I mentioned above, you can ride the 8-passenger gondola to the village terminal from June to September.
From there take the Standish Chairlift to 2,385 m (7,825 ft), then walk to the Standish Viewing Deck, trek the loop, and soak in the panoramic views of the mountains and of Rock Isle, Laryx, and Grizzly lakes.
There are several different trails you can take that range from easy to moderate.
You can hike back down to the village and grab a bite to eat at one of the restaurants or cafes.
You can book a 1 hour or 2 hours hosted trail walk to get the best experience, but it's best to reserve these in advance as they fill up quickly in the summer.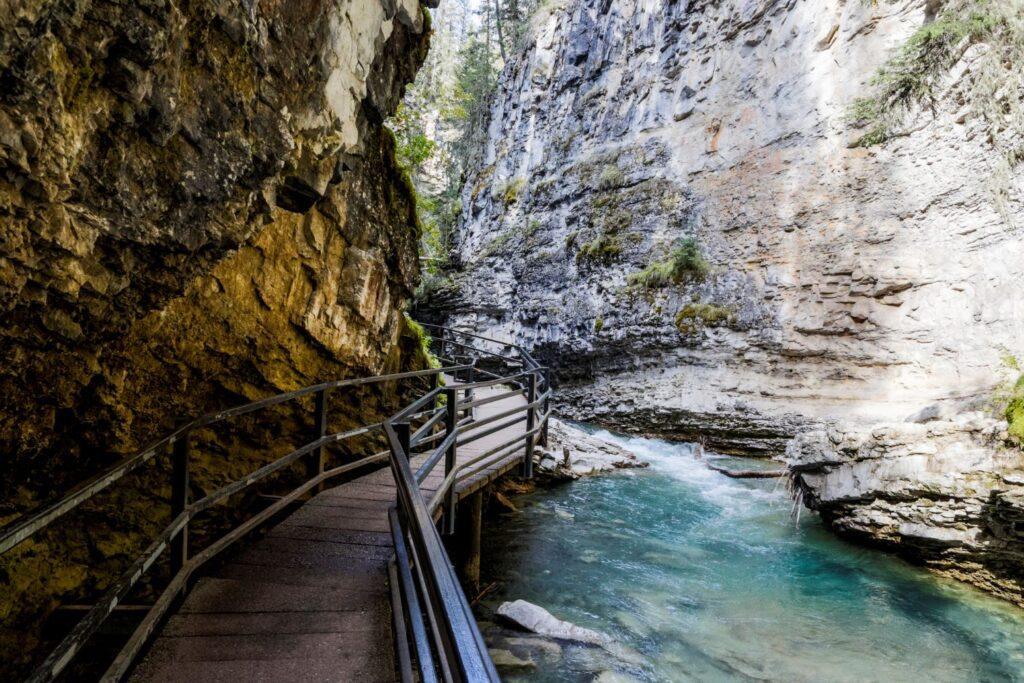 Johnston Canyon is a stunning place to explore and is just 30 minutes from Banff along the scenic Bow Valley Parkway.
Follow the 1.1 km (0.75 mi) trail with suspended Iron walkways to the Lower Falls, surrounded by towering canyon walls.
Step into the cave area and see and feel the power of the waterfalls.
You can continue on the trail to the Upper Falls, the larger of the two.
If you're still up for more walking, continue for 3 km (1.8 mi) to the 5 blue-green Ink Pots (minerals pools).
Whether you visit Johnston Canyon in the winter or summer, you'll be glad you did.
It gets very busy here as it's one of the most popular places to visit in Banff in summer, so get here early before the parking lots fill up.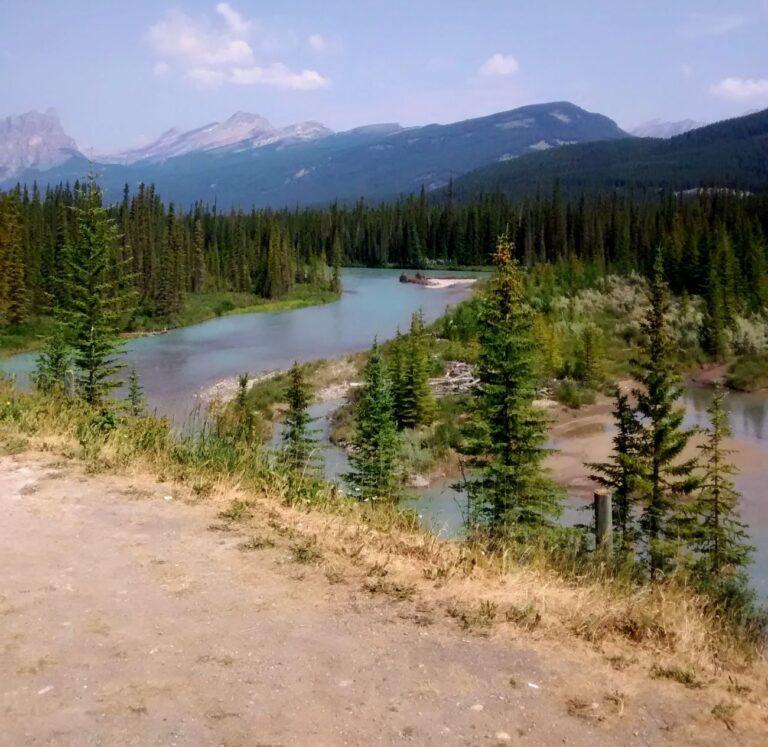 10. Explore the scenic Bow Valley Parkway
Drive the Bow Valley Parkway for one of the best ways to see Banff National Park.
This 48 km (30 mi) route from Banff to Lake Louise offers countless viewpoints, trails, and iconic landmarks like Castle Mountain and Johnston Canyon.
Keep your eyes peeled for wildlife, as this route is well known for its abundance of animals, and, yes, that includes bears.
Note: As part of the Bow Valley Cycling Experience, no public vehicles are allowed on the Parkway's 17 km eastern end, from the TransCanada Highway junction to Johnston Canyon between May 1 to June 25 and September 1 to 30 in 2023, and 2024. Check for updates on closures on the Parks Canada site.
11. Experience Banff's lively patio scene
Downtown Banff really comes alive in the summer and has a great relaxed, lively atmosphere.
The town closes the 100 and 200 blocks of Banff Avenue and a section of Caribou Street to make a pedestrian-friendly zone, which is great as Banff in the summer records around 30,000 people per day along Banff Avenue.
The restaurants and bar open their outdoor patio seating areas, so enjoying some drinks on a patio is a must.
If you're in the mood for a pint, Banff Ave Brewing Co. is the spot, with a large selection of craft beers and tasty bites to snack on while you sip.
If you bring your pet to Banff, you'll be pleased to hear that most restaurant patios are dog-friendly.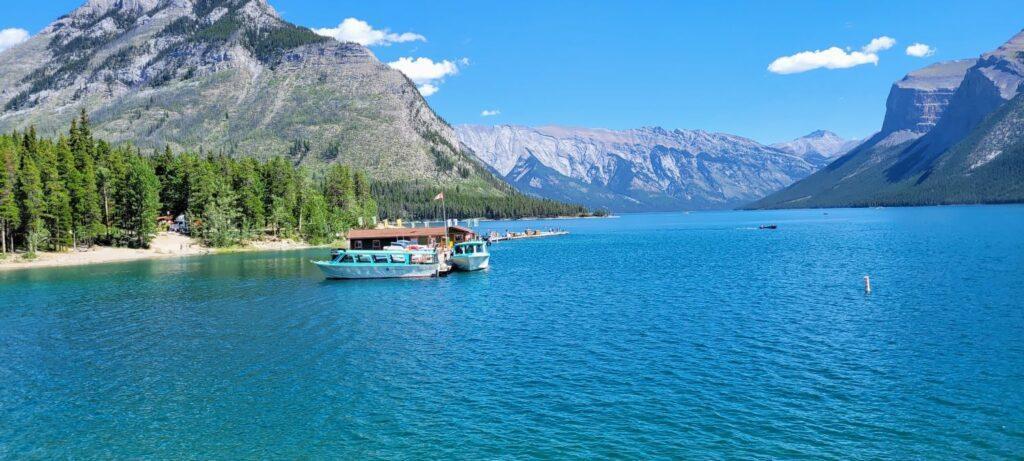 12. Explore Lake Minnewanka
Lake Minnewanka is Banff National Park's largest lake and the only one where motorized boats are allowed.
You can hire a boat, canoe, or kayak by the hour and even go fishing.
There are family recreational picnic areas so you can make a day of it with (or without) the kids!
The 24 km (15 mi) Lake Minnewanka loop scenic drive is worth doing.
It only takes 30 minutes, and the views of the lake and mountains are breathtaking, especially at dusk when wildlife is more active.
You can also take a Lake Minnewanka cruise to explore the lake and enjoy those stunning mountain views.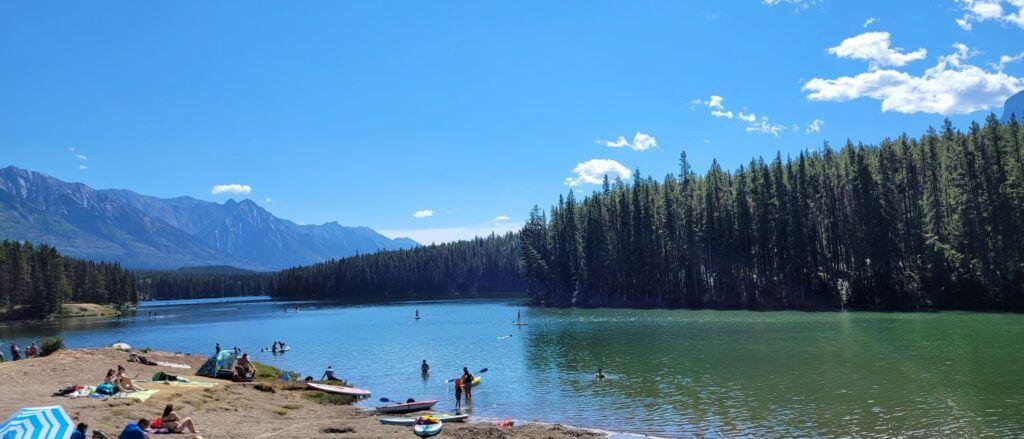 13. Enjoy Two Jack Lake + Johnson Lake
These two lakes are reached via the Lake Minnewanka loop.
Two Jack Lake is surrounded by hiking trails, picnic areas, campgrounds, and some great views of Mt Rundle.
There are two campgrounds at Two Jack Lake – Two Jack Main and Two Jack Lakeside.
We stayed at Two Jack Main because the lakeside campground gets booked up quickly because of the location.
Johnson Lake is a popular spot in the summer where you can cool off in the water or float around on a kayak.
14. Drive the scenic Icefields Parkway
From Lake Louise to Jasper, along the Icefields Parkway (Highway 93 North) is one of the most scenic drives you will ever take.
The 231 km (143 mi) road trip can be driven in as little as 3 hours one-way, but it will take you far longer as you'll want to stop and take in the beauty of glaciers, turquoise lakes, and mountains along the way.
Don't miss iconic viewpoints like Peyto Lake, Athabasca Glacier, and the Columbia Icefield. Wildlife sightings are common, so be on the lookout for bears, elk, and moose.
This drive is one of those Banff summer activities that are truly a once-in-a-lifetime experience.
15. Bow Lake and the viewpoint
Bow Lake is one of the largest lakes in the park, and you can't miss it when driving along the Icefields Parkway.
The glacier-fed lake is a stunning blue color and is surrounded by views of Crowfoot Mountain, Mt Thompson, and the Bow Glacier.
A trip to Bow Lake offers you hiking, photography, and picnicking, and one of the highlights is the hike to Bow Glacier Falls, where you'll get stunning views of the lake, glacier, and waterfall.
If you're short on time, take the 400m loop to the lakeshore, where there is a cozy lodge where you can grab a bite to eat or get a drink, which we'll move on to next.
Read how we do
Banff on a budget
16. The lodge at bow lake
Situated right on Bow Lake is this rustically beautiful lodge.
The Lodge at Bow Lake (previously called Num-Ti-Jah) was built in 1922 by Jimmy Simpson in true mountain style.
It has been modernized for its reopening in June 2023, and I hope it is still in keeping with its original style.
Even if you don't get to stay here overnight (it's super expensive), make sure you visit for a drink, a bite to eat, or visit the gallery.
What I love about this place is that there is no Wi-Fi or TVs, so you can disconnect from the chaos of the world, even if it is just for a little while.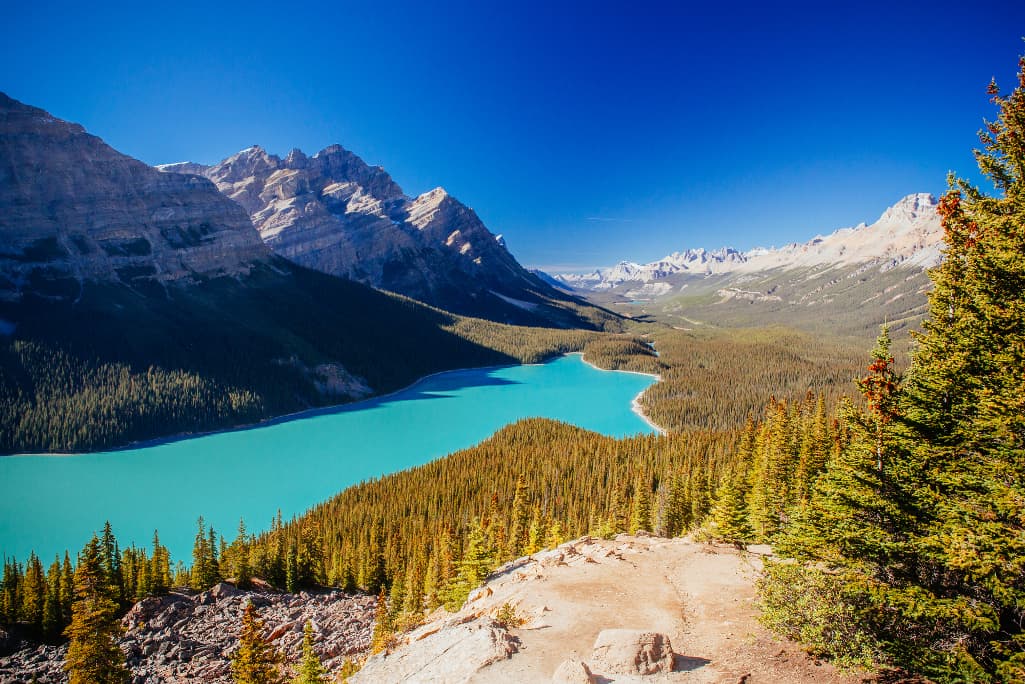 17. Visit beautiful Peyto Lake
A little further along the Icefields Parkway is Peyto Lake, named after the early 20th-century trail guide and trapper, Bill Peyto.
Peyto Lake is one of the most stunning and picturesque lakes in Banff National Park. Its turquoise blue color and surrounding mountain scenery make for a perfect photo opportunity.
One of the best ways to experience Peyto Lake is to hike up to the Peyto Lake Lookout.
This well-maintained trail begins at the parking lot and takes about 15-20 minutes to reach the lookout point. The hike is relatively easy and suitable for most fitness levels.
Once on the lookout, you won't be able to take your eyes off the panoramic views of the lake and the surrounding mountains of the Mistaya Valley.
18. Mistaya Canyon
The canyon is a striking natural wonder where you can see the rugged beauty of the Canadian Rockies.
The drive is 137 km (85 mi) from Banff on the Icefields Parkway and is accessible via a short 0.5 km (0.3 miles) trail from the parking area.
The hike is suitable for most fitness levels and leads to impressive rock formations, swirling waters, and views of Mount Sarbach.
It's best to stay on the bridge as this is the only viewing point with a barrier.
19. Marvel at Athabasca Glacier
Located in the Columbia Icefield, the Athabasca Glacier is a must-visit destination in Banff National Park.
The glacier covers an area of 6 square km (2.3 sq m) and is one of the most easily accessible glaciers in the world.
While you can take the short hike on the trail to the tip, you will only be allowed onto the glacier if you've booked either a guided tour or a tour in a specially designed ice explorer vehicle.
The experience is both humbling and awe-inspiring as you witness the sheer size and power of the glacier, learn about its history, and sadly witness the effects of climate change. It also highlights the significance of preserving our natural wonders.
20. Take the Skywalk Tour
While in the Columbia Icefield, why not check out the glacier Skywalk?
The Skywalk is a jaw-dropping feat of engineering with views from 280m (920 ft) above sea level.
You'll step out onto the glass floor and look straight down into the Sunwapta Valley and take in the 360-degree views of the surrounding mountains.
Not only will you be treated to some incredible sights, but you'll also learn about the history and geology of the area.
21. View Sunwapta Falls
A 177 km (100 mi) drive from Lake Louise, located along the Icefields Parkway, the falls are easily accessible from the parking lot to the Upper Falls.
You'll get a fantastic outlook from the Upper Falls, and you can then follow the trail and make your way to the Lower Falls.
The walk is short and the landscape is spectacular. You'll see the beautiful glacial-fed river and its surrounding dramatic rocky terrain.
22. Discover Maligne Lake
Maligne Lake is the largest natural lake in the Canadian Rockies at 22 km long (14 mi). It is one of the most popular attractions in Jasper National Park.
Located 48 km (30 miles) southeast of Jasper, this stunning lake has plenty of things to do, such as scenic cruises to iconic Spirit Island, exploring hiking trails like the Mary Schaffer Loop and Bald Hills, or paddling through the serene waters in a canoe or kayak which you can rent on a first come, first serve basis, or book online ahead of your visit.
Keep an eye out for wildlife, like elk, deer, and bears which everyone wants to see when they come here.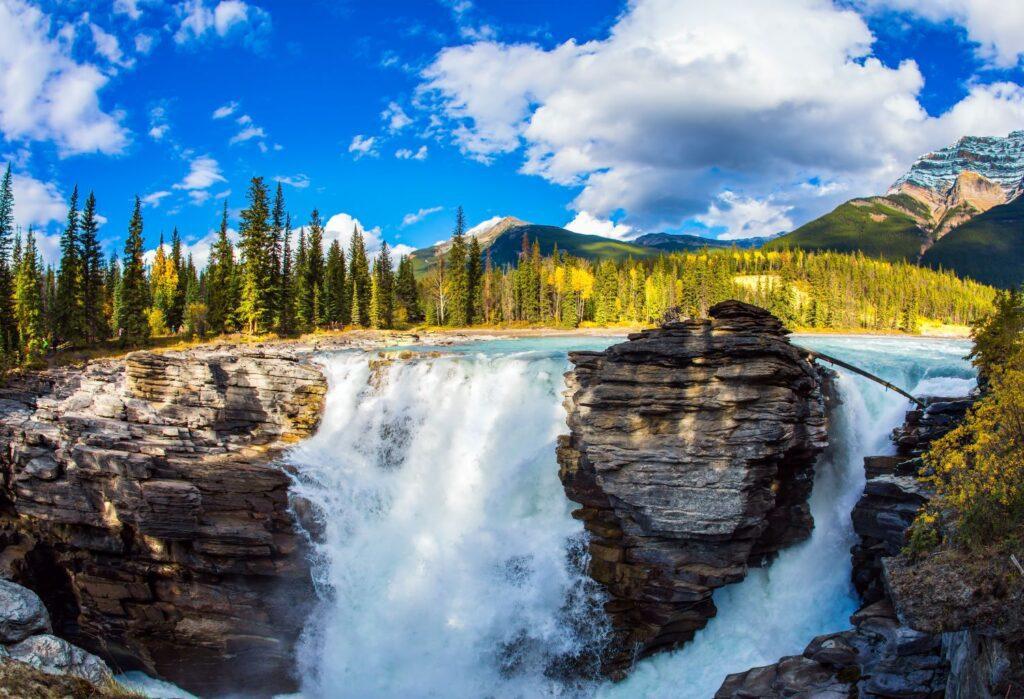 23. Athabasca Falls
A 31 km (19 mi) drive from Jasper is the thundering Athabasca Falls, just a short walk from the parking area along well-maintained pathways.
You'll feel the mist spraying on your face as you watch the water crash down over a 23-meter (75 feet) drop.
Take a stroll on the trails around the falls, stopping at various viewpoints to take in the stunning scenery.
It's a must-visit attraction in the Canadian Rockies.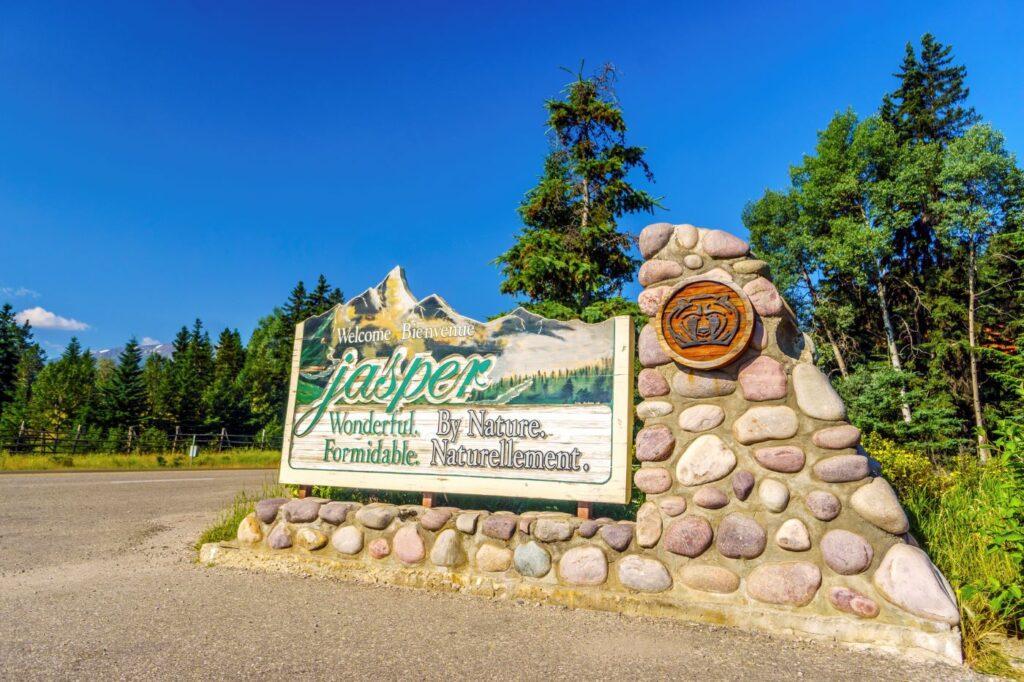 24. Spend time in Jasper
A 288 km (179 mi) drive from Banff brings you to Jasper.
Once you arrive, you'll be greeted by a pristine wilderness that is simply breathtaking.
The park is home to stunning natural wonders, including the iconic Athabasca Glacier and Maligne Lake that I mentioned above.
You can hike through the forests, go white water rafting, kayaking, mountain biking, and more.
The town of Jasper is smaller than Banff, but it has many restaurants, shops, and hotels and is the perfect base for exploring the park.
25. Visit Yoho National Park
Yoho National Park in British Columbia has some of the most amazing mountains, glaciers, and waterfalls you'll ever see.
While here, you've got to visit the stunning Emerald Lake, Wapta Falls, Takakkaw Falls, and Lake O'Hara.
26. Canoe on Emerald Lake
Emerald Lake, known for its stunning emerald-green color, is one of the most beautiful lakes in the Canadian Rockies. It's just over a 1-hour drive from downtown Banff and is in Yoho National Park.
A great way to experience Emerald Lake is by canoe. You can rent a canoe by the hour at the lake and drift along while surrounded by mountains and forests, making it a picturesque setting for a paddle.
If canoeing isn't your thing, then stroll around the shoreline instead. It's an easy 5.2 km (3.2 mi) trail suitable for all skill levels.
If your budget allows, book a stay at the Emerald Lake Lodge, but book early as this gets reserved quickly.
No matter how you decide to experience Emerald Lake, it's one experience that shouldn't be missed while visiting Banff in the summer.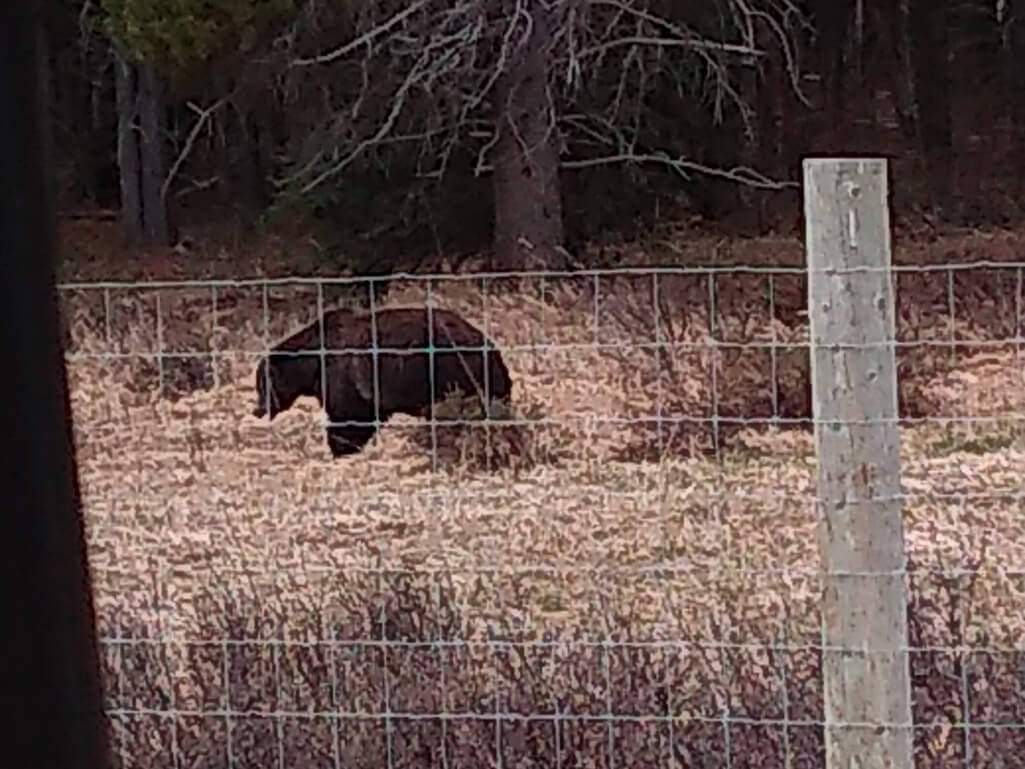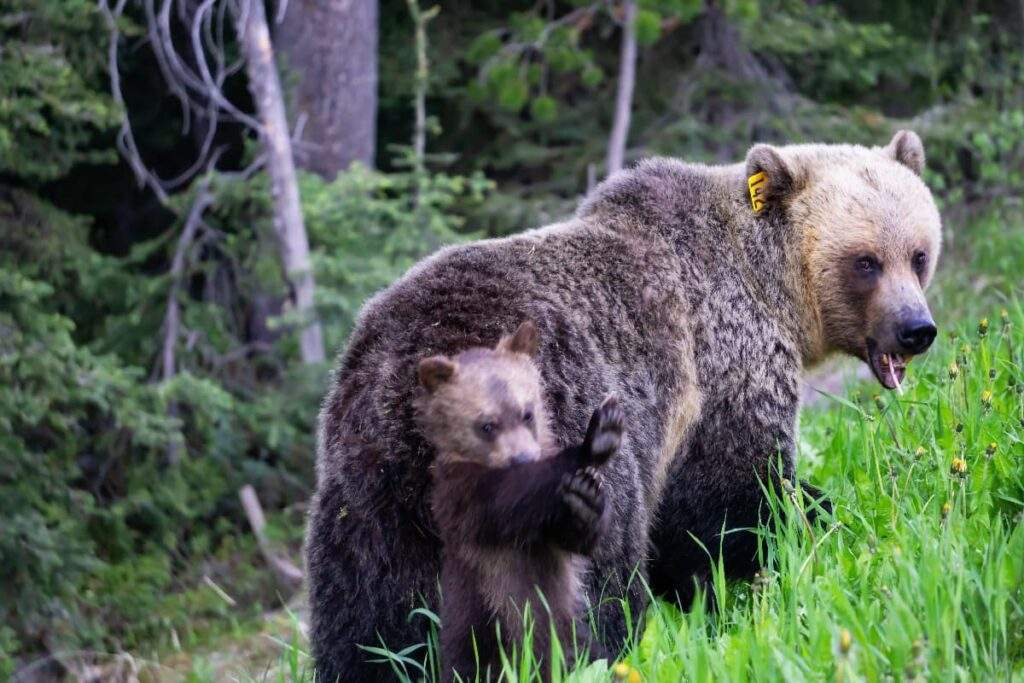 27. Look for Banff's wildlife
Banff National Park is renowned for its incredible wildlife, drawing visitors from all over the world hoping to see its majestic creatures.
Animal sightings are common, from bears and elk to mountain goats, bighorn sheep, and coyotes. You may even see moose and wolves if you're lucky!
The best places to spot wildlife in Banff are Bow Valley Parkway and Icefields Parkway.
Taking a guided tour of the park can also be a great option to maximize your wildlife viewing experience.
28. Visit the Fairmont Banff Springs Hotel
A luxurious stay awaits at the Banff Springs Hotel, which dates back to 1888.
From the moment you walk into the "Castle in the Rockies," you'll feel in awe.
The hotel offers many activities and amenities, from swimming in the outdoor pool to exploring the shops and restaurants within the hotel.
You can also go on a self-guided tour of the hotel. It's one of Canada's most iconic sites as it sits in a prominent position overlooking the Bow Valley below.
The hotel is pet-friendly, so you don't have to worry about leaving your dog behind. In fact, there are many pet friendly hotels in Banff to choose from.
Even if you don't stay here (it's expensive $$$$, especially in the summer), you can still walk around the ground floor area where the shops are.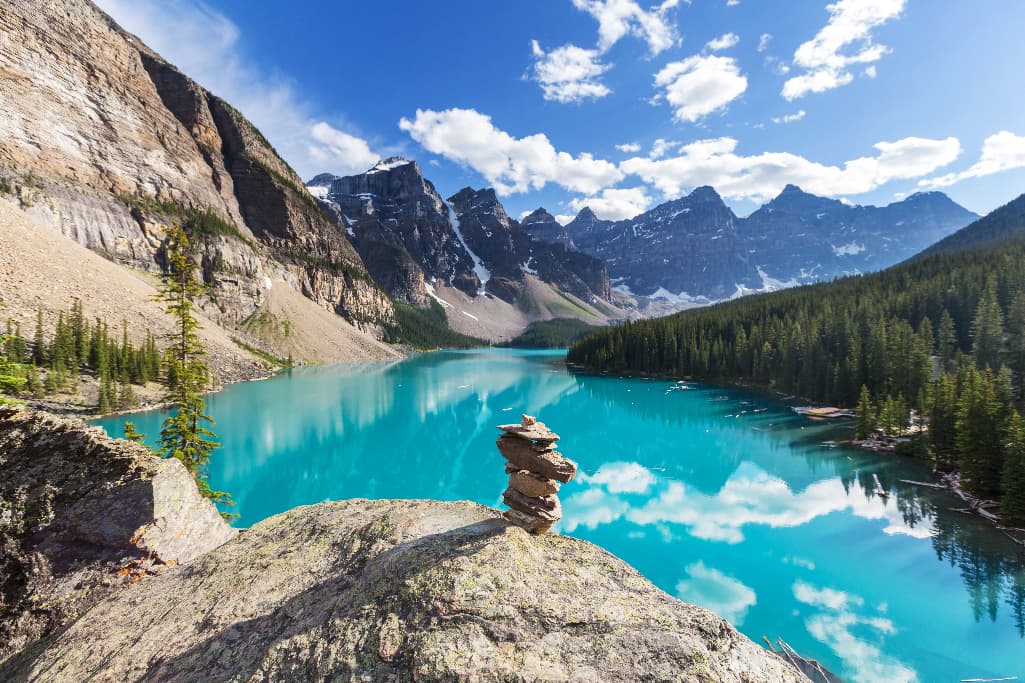 29. Visit Moraine Lake with the twenty-dollar view
Moraine Lake is one of Canada's most photographed lakes. And when you're standing there looking at it, you'll see why.
This lake was once featured on the back of the Canadian twenty-dollar bill. On sunny days, the reflection of the surrounding peaks in the still blue water creates a postcard-worthy view that makes it so popular.
You can no longer drive on Moraine Lake Road (2023), but you can take a Parks Canada shuttle or a Roam Transit bus.
You can reserve a Parks Canada shuttle in advance or 48 hours before departure, and the fare includes the route between Moraine Lake and Lake Louise, so you can see both on the same day.
If you want to see the sunrise, you'll have to book with one of the tour companies as the public transit options do not run that early.
Moraine Lake is stunning and certainly worth a visit. If you want to see the sunrise here, also consider staying at the Moraine Lake Lodge. That way you can be sure you won't miss it.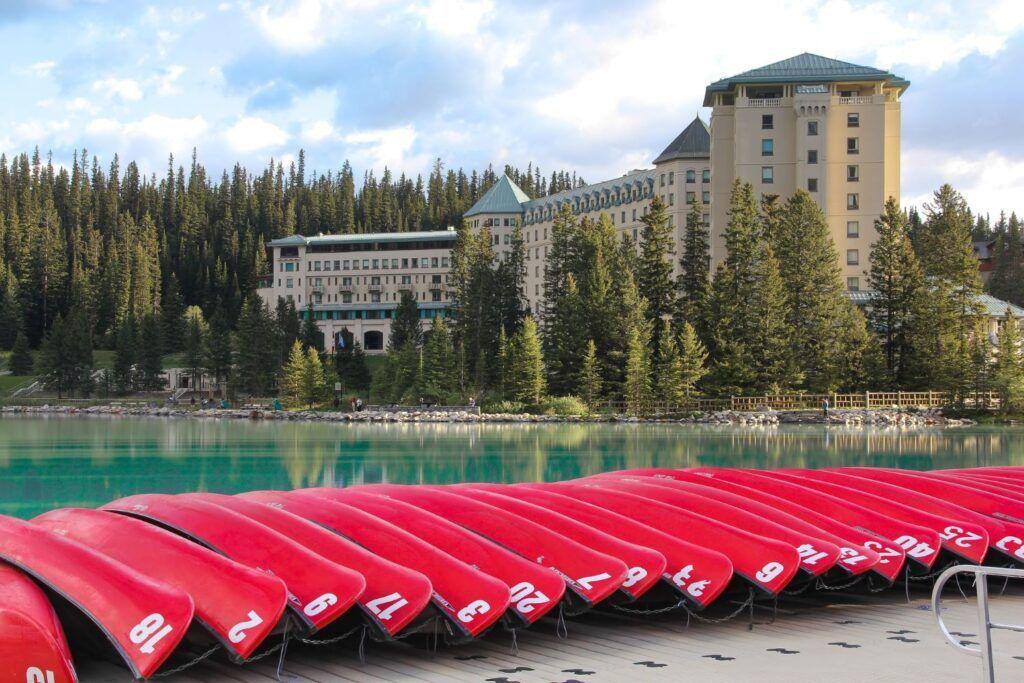 30. Visit the iconic Lake Louise + Fairmont Chateau Hotel
Visiting Lake Louise in the summer is like stepping into a postcard. The scenery is so beautiful that you'll be completely amazed by the turquoise waters and the towering mountain peaks.

Hiking is one of the main attractions here, and there are trails suitable for all, ranging from a stroll along the lake shore to a more challenging hike to the Plain of Six Glaciers.
Bring your bear spray and stay alert, as this is bear country!
But if you're not up for a hike, you can rent a canoe and paddle on the lake while taking in the gorgeous scenery.
Or, you can treat yourself to a fancy afternoon tea at the iconic Fairmont Chateau Lake Louise, where you can sip a cup of tea and nibble on some scones while enjoying the view.
31. Take a self-guided tour of Downtown Banff
There's so much more to Banff than it just being a mountain town and tourist destination.
It's steeped in history that is brought to life through the 5 interactive self-guided tours provided by The Town of Banff.
Using your smartphone as a personal guide, you'll get the chance to visit historical landmarks and learn fascinating stories about Banff's past and its people at your own pace.
32. Brave Mt Norquay's Via Ferrata
This activity is open from June to October and is definitely not for everyone, you wouldn't get me doing it in a million years.
But If you're looking for a new way to test your fear of heights, look no further than Via Ferrata, which means "iron road" in Italian.
This is an assisted climb along the cliffs above Mt Norquay, where you'll be led by an experienced guide.
It's like rock climbing and involves climbing ladders and crossing suspension bridges while being safely harnessed to the mountain.
Even if you don't have any experience in rock climbing, this activity is still suitable for beginners as there are different difficulty levels to choose from depending on your comfort and fitness levels.
33. Vermillion Lakes Scenic Drive
If you're looking for a relaxing way to take in the scenery, drive along the Vermillion Lakes scenic road just outside Banff town.
This 4.3 km (2.7 mi) drive has spectacular views of Mount Rundle and Sulphur Mountain.
As these wetlands are vital for migratory birds, the area is one of the richest bird and wildlife places in the park.
This is a great spot to take some photographs or just relax and take in the scenery, especially in the evening when the sun starts to set.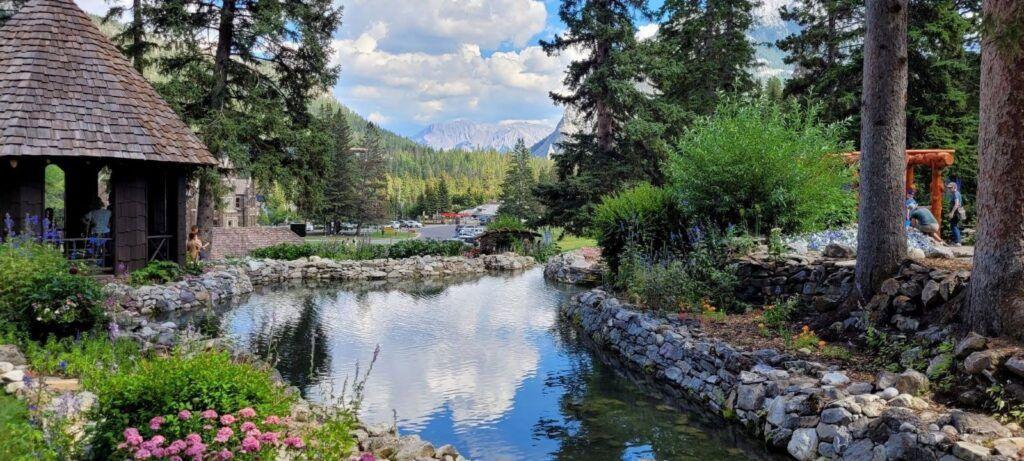 34. Wander around Cascade Gardens
The Cascade of Time gardens is so pretty and tranquil that you'll likely want to spend a good part of your summer day here.
These gardens are located at Cave Avenue, just a few minutes walk from the town as you head towards the Fairmont Hotel.
The building on the grounds is the Parks Canada Administration Building, a popular spot for taking photos as you capture the long road down Banff Avenue with the impressive Cascade Mountain at the bottom.
Cascade Gardens features a variety of plants, trees, water features, and walking paths.
Take some time to wander through the area and enjoy the wonderful scents.
If you're like me and seem to attract every mosquito around, then you'll definitely need bug spray here.
35. Get creative at Banff Centre for Arts + Creativity
If you're an art enthusiast the Banff Centre for Arts and Creativity at 107 Tunnel Mountain Drive is a must-visit.
This unique facility offers workshops, performances, exhibitions, and classes to visitors of all ages.
The center features a variety of different galleries that showcase the works of established local artists as well as international ones.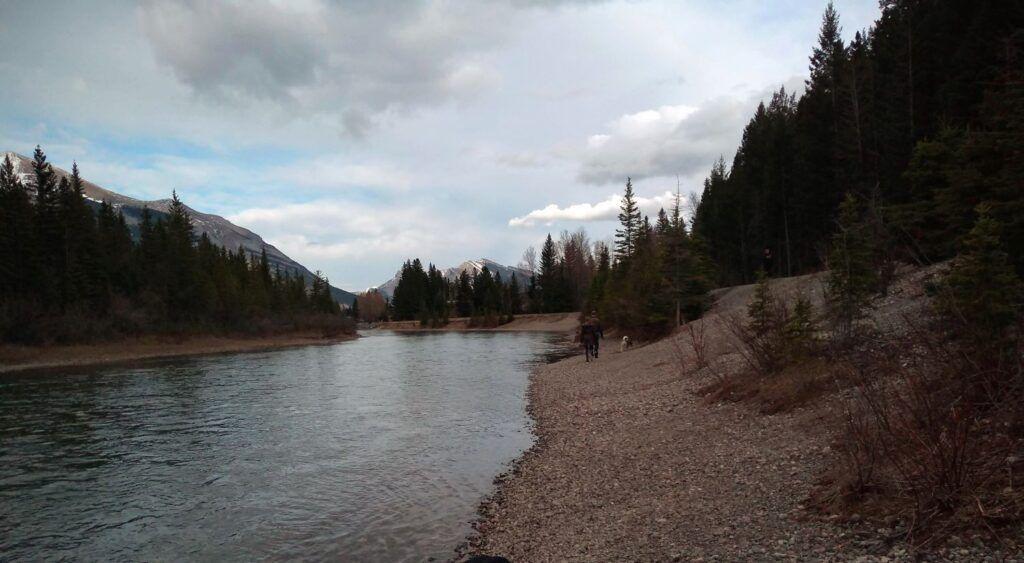 36. Spend a summer's day in Canmore
Canmore is a small mountain town with a big personality that you'll pass on your way to Banff, as it's just 15 minutes east of the park.
Canmore is the perfect day trip destination when visiting Banff in the summertime and it offers much of what makes Banff special while adding its own unique flavor to the mix.
Visit the downtown core for unique boutiques, art galleries, restaurants, and cafes, or head to the trails for hikes and biking paths.
The Rocky Mountains in Canmore offer some amazing views that you won't find in Banff – like the iconic Three Sisters mountain range.
If you want to explore further afield, there are several other parks and hiking trails nearby, such as the Spray Valley Provincial Park or the Kananaskis Country.
We love Canmore, it's less touristy (for now), it's cheaper to stay here, and it has just as much beautiful mountain scenery.
37. Go camping in Banff's great outdoors
Camping in Banff National Park is the perfect way to immerse yourself in nature, it's also one of the ways to keep costs down as it's much cheaper than staying in a hotel.
Reservations can be made online at Parks Canada.
It's important to book as soon as registration opens, as the spots fill up immediately – as I keep finding out!
The park offers a range of camping experiences, from backcountry camping to fully serviced sites and equipped campsites, so you don't even need to bring your tent.
There are various campsites in and around Banff, including Tunnel Mountain Village I and II, Two Jack Lakeside, Two Jack Main, Johnston Canyon, and Lake Louise.
38. Explore Kananaskis Country
Kananaskis Country is made up of five provincial parks and borders Canmore and Banff National Park.
The gorgeous landscapes of K-Country provide ample opportunities for outdoor recreation. Hiking trails range from strolls in the meadows to more challenging mountain treks.
If it's a less strenuous activity you're after, a scenic drive is just as rewarding.
One idea is to take a trip to Elbow Falls or book a stay and spa at the Kananaskis Nordic Spa.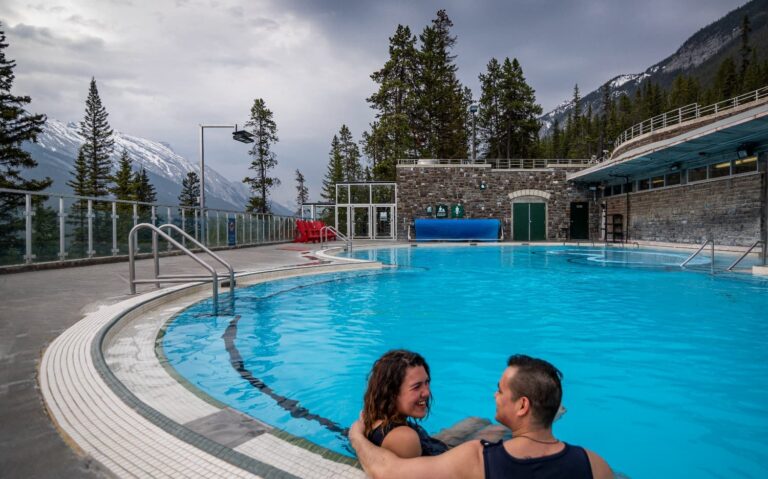 39. Relax in Banff's Upper Hot Springs
The warm, mineral-rich water is the perfect antidote to a day spent hiking or exploring the Rockies, with the added bonus of having striking views from the hot springs.
The springs are located near the top of Sulphur Mountain (1 Mountain Ave, Banff), where you can soak in the warm water surrounded by towering mountains and pristine forests – it's the ultimate way to recharge your batteries.
If you visit in the winter, I highly recommend coming here and soaking in the hot springs while the snow is falling.
40. Hike to the Banff Hoodoos
If you want to see something unique in Banff, look no further than the Hoodoos Trail.
What are hoodoos, you ask? Well, they're quirky rock formations that look like tall, skinny pillars.
You can walk the 4.8 km (3 mi) one-way easy trail that starts at Surprise Corner at the east end of Buffalo Street and leads you through the woods to the viewpoint, where you'll see beautiful views of the surrounding mountains, river, and hoodoos.
41. Go whitewater rafting
Who needs a fancy theme park when you can get an adrenaline fix on the river?
A whitewater rafting tour is for you if you want to do an exhilarating activity while in Banff.
Horseshoe Canyon offers some of the best whitewater in Alberta.
The canyon boasts class III and IV rapids, perfect for beginners and experienced rafters.
One of the tour's highlights is the opportunity to jump off a cliff into the river below.
Don't worry, it's completely optional, but it's an experience you won't forget – rather you than me!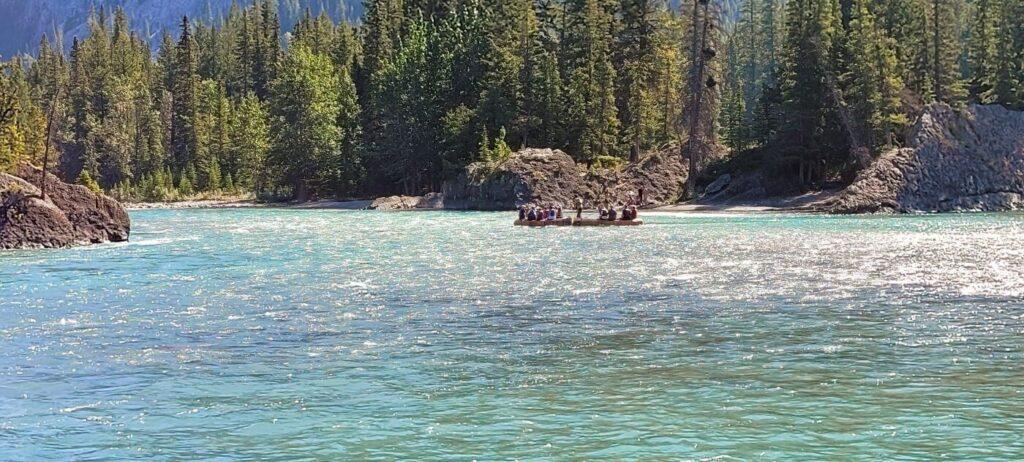 If you'd prefer something that is slower-paced, then a raft tour is what you're looking for. These are gentle enough for everyone in the family, from children to seniors.
You'll just float down the Bow River and take in your surroundings.
42. Tee off at Banff Springs Golf Club
If you're a golf enthusiast, play a round at the Fairmont Banff Springs Golf Course.
This stunning 27-hole championship course has some of the most spectacular views you'll ever see while playing golf.
The course itself is challenging but fair (so I've been told), with a variety of holes that will test your skills.
If you're not up for a full round, try the 9-hole Tunnel Mountain Course, which is perfect for beginners, or if you just want a quick game.
Golfing attire must be worn.
43. Hike a few trails
There's one thing there is no shortage of in Banff and that's hiking trails.
There is over 1600 km (994 mi) of trails to explore.
From easy walks to challenging hikes, there's something for you no matter what level of hiker you are.
One of the most popular and easy hikes is the Johnston Canyon hike I mentioned above, which takes you through a narrow canyon with impressive waterfalls.
Another popular hike is the Plain of Six Glaciers, where you can hike to a teahouse with stunning views of glaciers and mountain peaks.
If you're looking for a more challenging hike, try the Larch Valley hike, which takes you through a beautiful forest of larch trees and offers panoramic views of the surrounding mountains.
Whichever hike you take, bring plenty of water, sunscreen, and bear spray, and always be aware of your surroundings.
44. Radium hot springs
These hot springs are a 1.5-hour drive from Banff. The mineral-rich waters at Radium Hot Springs in BC are heated naturally, and the temperature ranges from 37°C to 40°C (98°F to 104°F.), making it the perfect temperature for a soak.
There's also a cool pool, so you can switch between the two.
In addition to the hot springs, there are also hiking trails, picnic areas, and more outdoor activities.
The Sinclair Canyon Trail is a popular, easy-to-moderate hike suitable for all, with great views of the surrounding mountains and nearby Sinclair Creek.
45. Miette Hot springs
Located in Jasper National Park, Miette Hot Springs is another great place to relax and unwind after hiking or exploring.
The natural hot springs are the warmest in the Canadian Rockies, with water temperatures reaching up to 54°C (129°F), but cooled to between 37 and 40°C (98 and 104°F) before reaching the pool.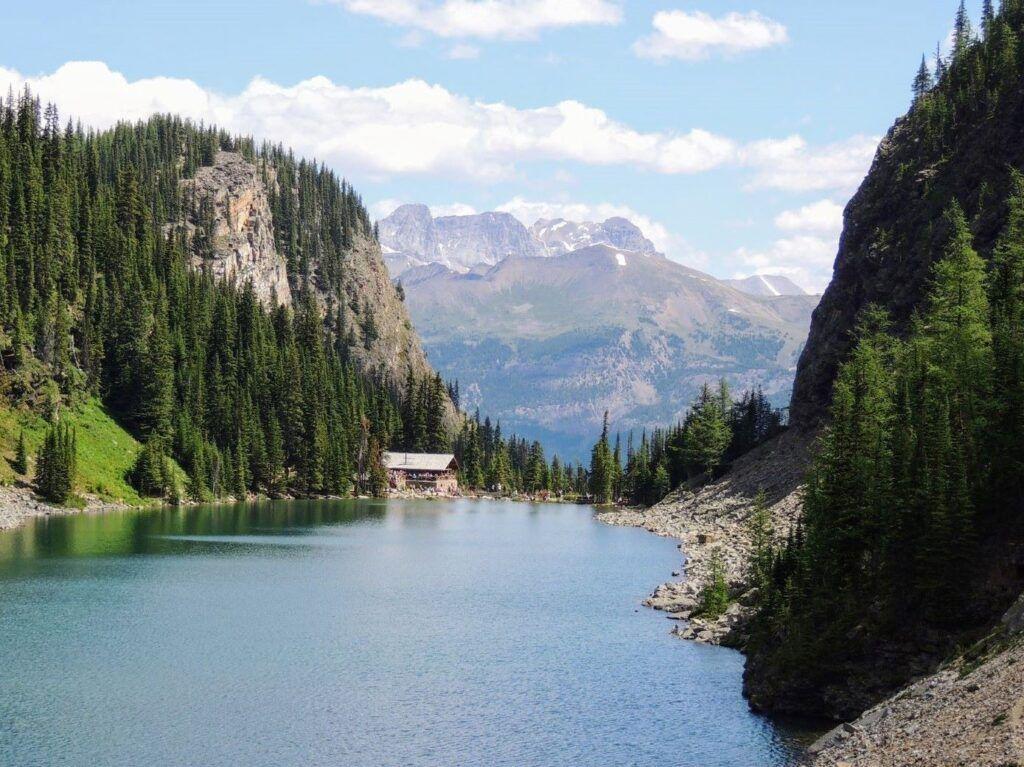 46. Trek to Lake Agnes Tea House
Many people love hiking this trail, it's one of the most popular hikes in Banff NP.
The trail is a 7 km (4.5 mi) round trip and takes about 2-4 hours to complete.
The trailhead starts at the Lake Louise parking lot and climbs steadily through the forest until you reach the Lake Agnes tea house.
The tea house is a quaint little building that has been serving hikers since 1901.
They offer a variety of teas, sandwiches, and homemade baked goods.
From there you can continue on the trail to the Little Beehive or the Big Beehive.
If you're feeling up for it, you can trek to the next tea house, the Plain of Six Glaciers Tea House.
The trail is 5.3 km (3.3 miles) one way and can be steep and challenging sometimes, but the views are worth it.
Make sure you bring plenty of water and snacks, wear sturdy shoes, and dress in layers as the weather can change quickly in the mountains.
And don't forget to bring cash as both tea houses prefer cash payments only.
I have heard that Lake Agnes Tea House now takes credit cards but not debit cards.
Tunnel Mountain is a popular hike that starts just a short walk from the town.
This 4.8 km (3 mi) round trip is perfect if you want to view the Rockies without committing to a full-day excursion.
The trail is relatively easy and only takes about two hours or less to complete, depending on how often you stop to take in the views.
At the summit, you'll see incredible panoramic views over the town and the Bow Valley.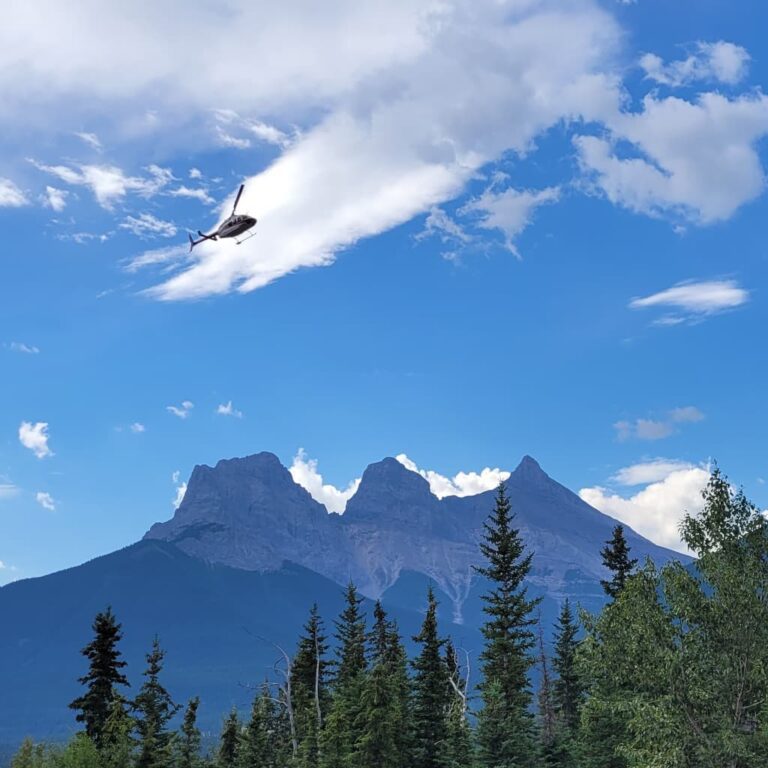 48. Soar up high in a helicopter
If you have a fear of flying, don't let it stop you because this is a once-in-a-lifetime opportunity to see the natural beauty of the Canadian Rockies in such a unique way.
You'll get a bird's eye view of glaciers, mountains, and turquoise lakes.
Flights range from around 20 minutes to several hours, with other excursions included.
The tours are operated by experienced and knowledgeable pilots and are offered by Rockies Heli and Alpine Helicopters in summer and winter.
The operators of Alpine Helicopters are also specialists in mountain rescue.
49. Go mountain biking
Banff National Park has over 360 km (224 mi) of trails, making it a mountain biker's paradise.
The best way to experience these trails is by renting a mountain bike in Banff. There are several bike rental shops in the townsite, including Banff Cycle, and Snowtips-Bactrax.
Most of these shops offer a range of bikes, from entry-level hardtails to high-end full-suspension bikes.
They also supply helmets, pads, and other safety gear to ensure a safe and enjoyable ride.
Parks Canada is making the 17 km (10.5 mi) section of the Bow Valley Parkway from Banff to Johnston Canyon accessible to bikes only in May, June, and September as part of a three-year pilot program, so you can explore the area safely by bike.
50. Conquer a Canmore Cave tour
Want to explore the depths of the earth? This Canmore cave tour is for you.
The tour takes you on an underground journey through Rat's Nest Cave just outside of Canmore.
It's a great way to escape the summer heat and explore a hidden world beneath the mountains.
The tour starts with a hike up to the cave entrance, where you'll don a helmet and headlamp before descending into the cave.
The tour guides are knowledgeable and will point out interesting features and formations along the way, including limestone passages, underground waterfalls, and even fossils.
51. Sample some craft beers
A brewery is a perfect place to grab a cold one after a long day of hiking.
Lucky for you, Banff and Canmore have some fantastic breweries that are sure to quench your thirst and tickle your taste buds.
We like Banff Avenue Brewing Co, right in the heart of the town.
They have a good selection of craft beers, and also cocktails, and wine.
If you're visiting Canmore during your summer trip to Banff, then a visit to The Grizzly Paw is highly recommended. As is Sheepdog Brewing if you've got your dog as they've got a great dog friendly patio.
Not only do they have a great selection of beers (including their famous Rutting Elk Red Ale), but they also have a delicious menu of pub fare – try the poutine, you won't be disappointed!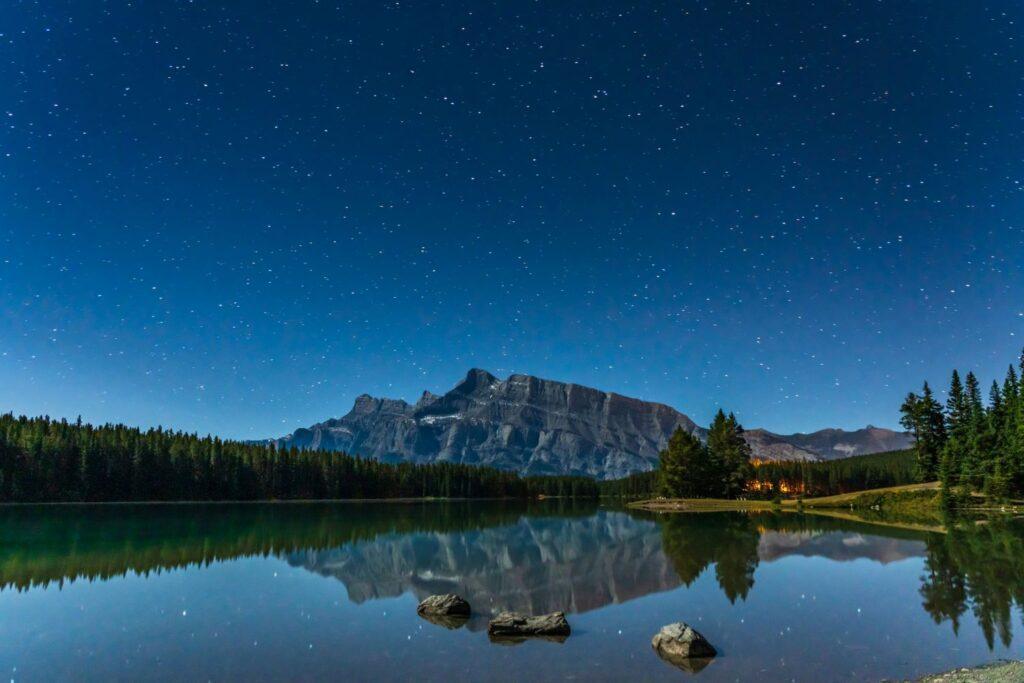 52. Stargaze in the mountains
Alberta is one of the best places for stargazing in the world as we have two of the largest Dark Sky Preserves here.
So, it's only natural that Banff is the perfect place for stargazing with over 6,000 sq km of protected wilderness and little to no light pollution.
During the summer you can see thousands of stars, constellations, and even the Milky Way.
There's also a chance you'll see the Northern Lights.
Some of the best spots to stargaze include:
Lake Minnewanka
Vermilion Lakes
Two Jack Lake.
You'll need some warm clothes and a blanket as it still gets chilly at night, even in the summer.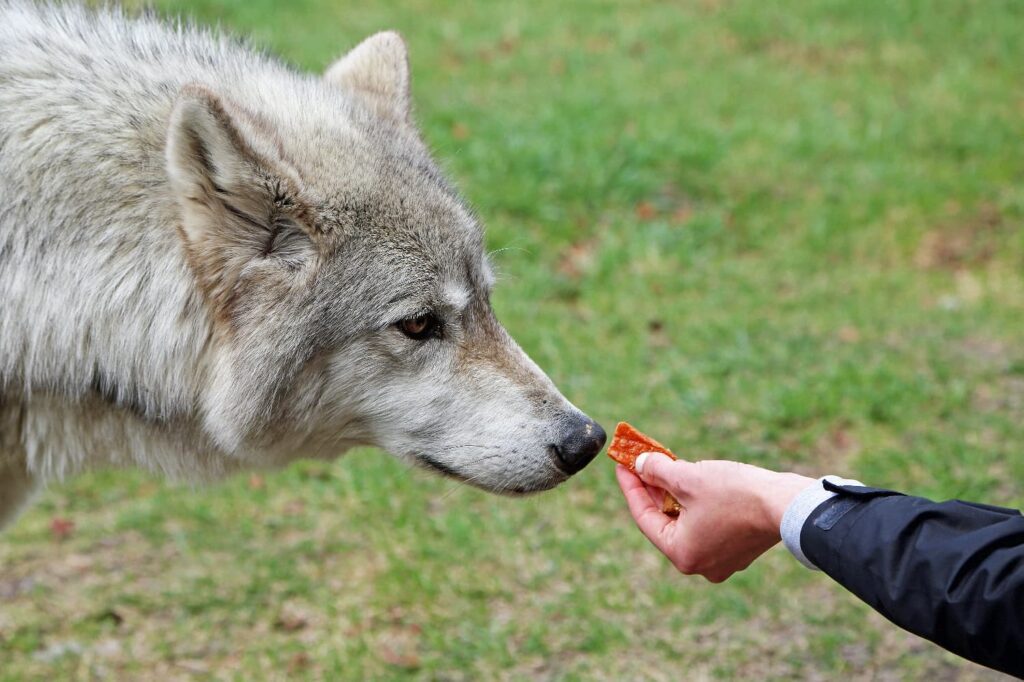 53. Visit Yamnuska Wolfdog Sanctuary
Just under an hour's drive from downtown Banff to outside Cochrane (263156 Range Road 53, Rocky View County,) is Yamnuska Wolfdog Sanctuary.
Here you'll have a unique experience as you can get up close with wolfdogs (a hybrid of wolves and domestic dogs).
This sanctuary offers guided tours where you can learn about the history and behavior of these amazing animals, and you can even interact with them (depending on the tour).
The sanctuary also offers educational programs focusing on the importance of the conservation and preservation of these animals.
It's a great opportunity to learn about these beautiful creatures and support a local non-profit organization dedicated to their care and well-being.
54. Go Backcountry camping
One of the best ways to fully immerse yourself in the beauty of the park is through backcountry camping.
With so many trails and campgrounds, there are plenty of options if you want to get off the beaten path and experience the park's wilderness.
To backcountry camp in Banff, you'll need to obtain a backcountry permit.
It's important to plan ahead and research the area you'll be camping in as well as familiarize yourself with the park's backcountry regulations.
But the rewards of backcountry camping are worth the extra effort.
You'll have the opportunity to see wildlife, hike to remote alpine lakes, and stargaze far away from any light pollution.
Just remember your bear spray.
55. Take a dip in a lake
You'll certainly feel refreshed after taking a dip in one of Banff's lakes.
And let's be real, who needs a fancy pool with all those chemicals when you can have an all-natural swimming experience in one of Banff's beautiful lakes?
Just remember that none of the lakes are supervised.
Johnson Lake and Cascade Ponds are not glacier fed, so they will be warmer.
Cascade Ponds has public bathrooms, fire pits, and picnic tables, which brings us nicely to the next thing you can do in Banff in the summer – a picnic.
56. Have a lakeside picnic in the sun
Banff NP has plenty of picturesque picnic spots to choose from and Cascade Ponds, Two Jack Lake, Vermilion Lakes, and Johnson Lake are all great options for a relaxing lunch or dinner with a view.
While you're there, take a dip in the refreshing waters or rent a canoe or kayak to explore the lake.
Remember to clean up afterward and leave no trace.
57. See Boo the Grizzly Bear
A 1.5-hour drive west of Banff will take you to this refuge, home to Boo, the resident grizzly bear.
Boo was rescued as a cub and now lives in an enclosed habitat at the Kicking Horse Mountain Resort Grizzly Bear Refuge.
This may sound like a typical zoo, but it's not.
Boo is given the freedom to roam and live a mostly natural life, all while being safe and protected.
When you visit the refuge, you get an up-close and personal look at one of the most majestic and powerful animals on the planet.
If you don't want to drive to the refuge, this tour is a good option instead.
58. Explore Banff's past at a museum
Western Canada's oldest natural history museum is here in Banff and it is a great place to explore and learn about the history and geology of the area.
The Banff Park Museum National Historic Site (91 Banff Ave) features thousands of botanical and zoological specimens and it provides a fascinating insight into the area's past.
Other museums include the Buffalo Nations Luxton Museum which focuses on the culture and history of the area's First Nations people.
The Cave & Basin Historic Site (mentioned above) also offers a unique look into Banff's past.
The Whyte Museum of the Canadian Rockies is another one to visit.
This museum has a variety of artifacts and artworks related to the cultural and natural history of the region.
59. Visit the ghost town of Bankhead
Bankhead is a ghost town located on the Lake Minnewanka Scenic Drive loop just a few minutes outside of Banff.
Back in the early 1900s, Bankhead was a coal-mining town with over 1,000 people, but by the 1920s, the town was abandoned.
While the town itself no longer exists, there are still remnants of its past scattered throughout the area.
You can see the old coal mine lamphouse, the remains of the briquette building, and even hike through the abandoned mine site.
There are interpretive signs along the way to tell the story of what once was and it's a fascinating place to explore and learn about the area's history.
Plus, the views of the surrounding mountains are pretty incredible.
It's worth a stop if you have some extra time in Banff and are looking for something different.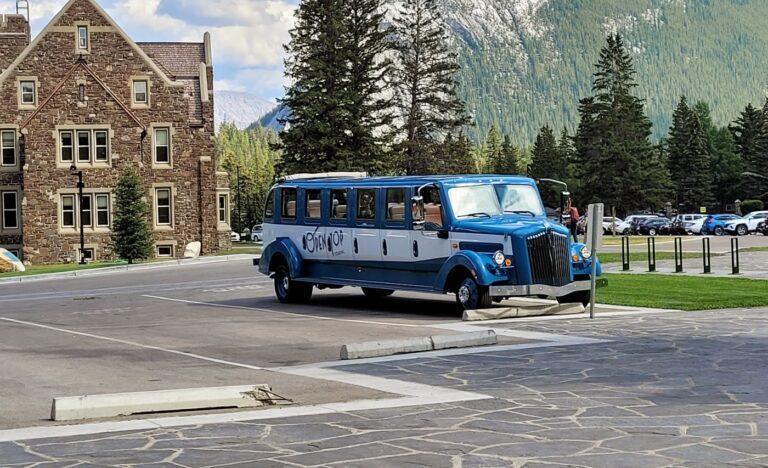 60. Take a vintage open-top tour
Touring the sights of Banff in style is easy with the new Open Top Touring tour by Pursuit.
The Legendary Banff tour lasts 90 minutes and you are taken around the sights to learn the history of Banff in a 1930s vintage-style vehicle with an open-top roof.
Even your guide is dressed in a period costume.
This tour is also a good option if there is a group of you visiting as it holds up to 20 passengers.
61. Get pampered in a Banff spa
After a long day of exploring the great outdoors, there's nothing quite like a relaxing spa treatment to soothe those tired muscles.
Banff is home to several spas that offer a range of services.
The Fairmont Spa Banff Springs (formerly the Willow Stream Spa) is a favorite among locals and visitors, offering a range of treatments and services.
The Red Earth Spa at the Banff Caribou Lodge is another great option, with a focus on natural and organic products.
If you're looking for a more budget-friendly option, the Banff Upper Hot Springs is a great spot to soak in the mineral-rich waters with stunning mountain views.
Whatever your preference, you're going to leave feeling refreshed and fabulous.
62. Wander around Banff Farmers Market
The Banff Farmers Market is the place to be on Wednesdays.
You can find it at the west parking lot of Central Park from 10 am-6 pm from May through October.
This market is a great way to support local farmers and artisans while picking up some treats for yourself.
Along with traditional things such as local produce, and craft vendors, there are also beer gardens, live music, and some amazing food vendors.
If you want a unique souvenir from Banff, something not in every gift shop, this is where you'll find it.
63. Scuba dive in the Canadian Rockies
Scuba diving in the Canadian Rockies might not be the first thing that comes to mind when planning your summer trip to Banff, but Lake Minnewanka offers a unique opportunity to explore the submerged town of Minnewanka Landing.
You can also scuba dive in the shallower Two Jack Lake.
If this is something you're interested in, check out the Parks Canada site for current information.
Banff National Park in summer
Well, there you have it, as you can see there's no shortage of things to do in Banff in summer.
You'll find everything you need for an unforgettable holiday in the Canadian Rockies.
This list is only an example of some of the things you can do, and with the long summer nights and beautiful Banff summer weather, you'll have loads of activities to check off your bucket list.
FAQs: Summer in Banff
What are the best hikes to do in Banff National Park in the summer?
There are so many great hikes to choose from in Banff National Park, but some of the most popular ones include the Johnston Canyon Trail and the Lake Agnes Tea House Trail.
All hikes in the park offer stunning views of the surrounding mountains.
What is the best way to see wildlife in Banff National Park in the summer?
To maximize your chances of seeing wildlife in Banff, head out early in the morning or later in the evening and drive along the Bow Valley Parkway, Icefields Parkway, or Vermilion Lakes Drive.
What are some family-friendly activities to do in Banff National Park in the summer?
Summer in Banff National Park offers many family-friendly activities, including canoeing or kayaking on one of the park's many lakes, taking a gondola ride up to the top of Sulphur Mountain and exploring the interpretive centre, or exploring Banff Upper Hot Springs.
Many hiking trails are suitable for kids and teens.
When visiting Banff National Park in the summer, it's important to pack for weather conditions.
Bring a warm layer to wear for chilly mornings and evenings, as well as sunscreen, bug spray, a hat for protection from the sun, and bear spray.
It's also a good idea to bring comfortable hiking boots, a reusable water bottle, and a backpack to carry any snacks or other essentials you may need on the trails.