The Johnston Canyon hike in Banff is easy and scenic, and it's ideal for everyone. 
Just a 30-minute drive from downtown Banff on the Bow Valley Parkway, you can hike Johnston Canyon's well-maintained trail all year round.
But before you hit the trail, make sure you're prepared. We give you all the info to make the most of your hike, such as the best times to visit, what to expect during different seasons, and what to wear and bring with you.
We've hiked Johnston Canyon in summer and winter, and it's a beautiful trail in any season. It's definitely worth the visit, despite its popularity. 
So, here's everything you need to know about the Johnston Canyon hike.
Written by Lou
Johnston Canyon Trail Information
Hiking time: 45 minutes – 4 hours
Distance from Johnston Canyon trailhead: Lower Falls – 2.4 km (1.5 miles) out and back.
Upper Falls – 5 km (3.1 miles) out and back.
Ink Pots – 11.4 km (7 miles) out and back.
Elevation gain: Lower Falls 30 m (98 ft). Upper Falls 120 m (393 ft). Ink Pots 330 m (1082 ft) 140 m loss (459 ft).
Distance from Downtown Banff: 25 km (16 miles) west of Banff.
Lake Louise to Johnston Canyon: 34.5 km (21 miles)
Location: Johnston Canyon Day Use Area, Bow Valley Pkwy, Improvement District No. 9, AB T1L 1K2 (Location Pin)
Difficulty rating: Easy
What makes it easy? Trail is well-maintained with paved catwalks.
How To Get To Johnston Canyon
Getting to Johnston Canyon from Calgary and Banff is easy and convenient.
By car, take Highway 1 heading west from Banff and take exit 50, turning right for Castle Junction, which takes you onto the Bow Valley Parkway (Highway 1A). From there, you'll find signs leading you to Johnston Canyon.
From Lake Louise, take the Trans-Canada Highway east to towards Banff, taking exit 50 towards the Bow Valley Parkway, and Johnston Canyon.
The drive from Banff and Lake Louise will take approximately 30 minutes and a couple of hours from Calgary.
Alternatively, and this is the route I prefer, is to get onto the 1A Bow Valley Parkway, and get to Johnston Canyon that way as it is a scenic road trip in itself.
When driving, be cautious of wildlife on the road. Big Horn sheep are common in this area, but you might also see bears, moose, and elk.
Keep in mind that as part of the Bow Valley Cycling Experience, no public vehicles are allowed on the Parkway's 17 km eastern end, from the TransCanada Highway junction to Johnston Canyon between May 1 to June 25 and September 1 to 30 in 2023, and 2024. Check for updates on closures on the Parks Canada site.
Taking public transportation will help you avoid the summer crowds and parking headaches at Johnston Canyon.
The Roam Transit's Route 9 from the Banff High School Transit Hub runs from May through to October, with a weekend service outside of these months. Taking the bus means you don't have to worry about driving and parking, and it only costs around CAD 5 each way.
Johnston Canyon Parking
There are two parking lots for this hike. As you come from Banff along the Bow Valley Parkway, you'll see signs for parking (P2) on the left-hand side.
This is the second parking lot that was built to deal with the increase in visitor parking. The first one (P1) is on the right leading to the trail.
P1 gets full quickly in the summer (so get here EARLY, before 8 am) because it's close to the trailhead and lodge, so if you can't find a spot here, head back out towards the P2 lot.
Alternatively, you'll see cars parking on the Bow Valley Parkway. It's not ideal but it's your last option if you arrive late and the parking lot is full. Just watch out for other vehicles and cyclists.
Johnston Canyon Trail
Lower Falls
The relatively flat paved and well-maintained trail to the Lower Falls is a short and easy hike, taking approximately 1.1 km to reach from the Lodge.
It's easy to navigate as it winds alongside Johnston Creek and into the forest where you'll walk along suspended steel catwalks that are bolted into the limestone rock face.
When there aren't too many people on the path, it's really peaceful as you walk through the deep canyon's walls and all you can hear is the tranquil sound of the rushing water.
There is a bridge at the end of the Lower Trail in front of the falls that takes you to the entrance of the cave through the canyon bedrock.
You get a great view of the falls while standing on the bridge. But you get a better and up-close view of the cascading falls from the other side of the cave as the falls are only a few meters away.
Be prepared to wait here in the summer when it's busy as people queue for their turn, but it's worth it to see and hear the thundering falls.
You will see the mist rising from the falls and up into the canyon, and you will no doubt feel the mist from the waterfall when you're standing there, but on a hot summer's day, this is nice and refreshing.
The cave is low and narrow, and I'd say it's not a good idea to try and bring a stroller in as people coming back from viewing the falls will have trouble getting past it.
You can then make your way back to the Lodge and out onto the Parkway.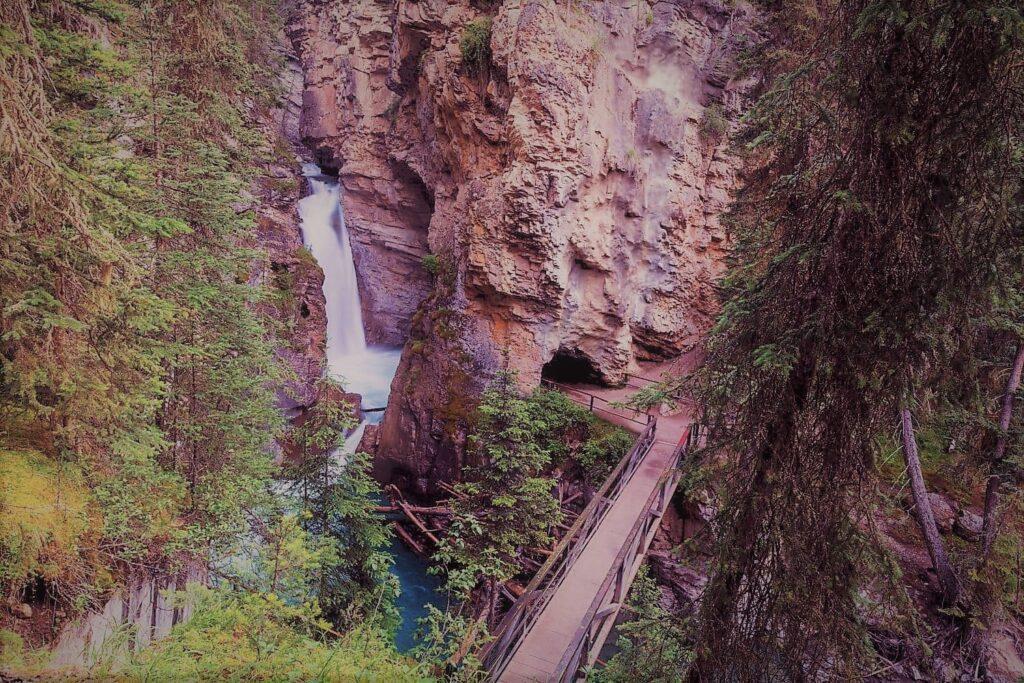 Upper Falls
If you have time, extend your hike and go to the Upper Falls. It's an extra 2 km (1 mile), and it takes about an hour in total (including stopping for pictures).
The trail is steeper than the lower part, with some elevation gain of about 120 m (393 ft), but you get some great views of the Lower Falls as you make your way up this lovely forested trail.
You won't see as many people on this trail as most visit the Lower Falls only.
The well-maintained trail takes you along more catwalks and it has viewpoints overlooking the canyon and several beautiful, smaller waterfalls.
You'll be able to tell when you're approaching the Upper Falls due to its sound. It's louder than the Lower Falls as it cascades down about 30 meters (98 ft) into the pool below.
There are two viewing platform options when you get to Marguerite Falls, and I recommend doing both of them.
You can see the base of the falls by following the catwalk down to the viewing platform, the view is just spectacular and you'll no doubt notice the canyon walls now have a vibrant yellow hue to them.
The other viewing platform can be found by following the trail up to the top of the falls. The view here is quite different as you can look down on the falls thundering into the pool of water at the base below.
If you have more time, continue to Ink Pots.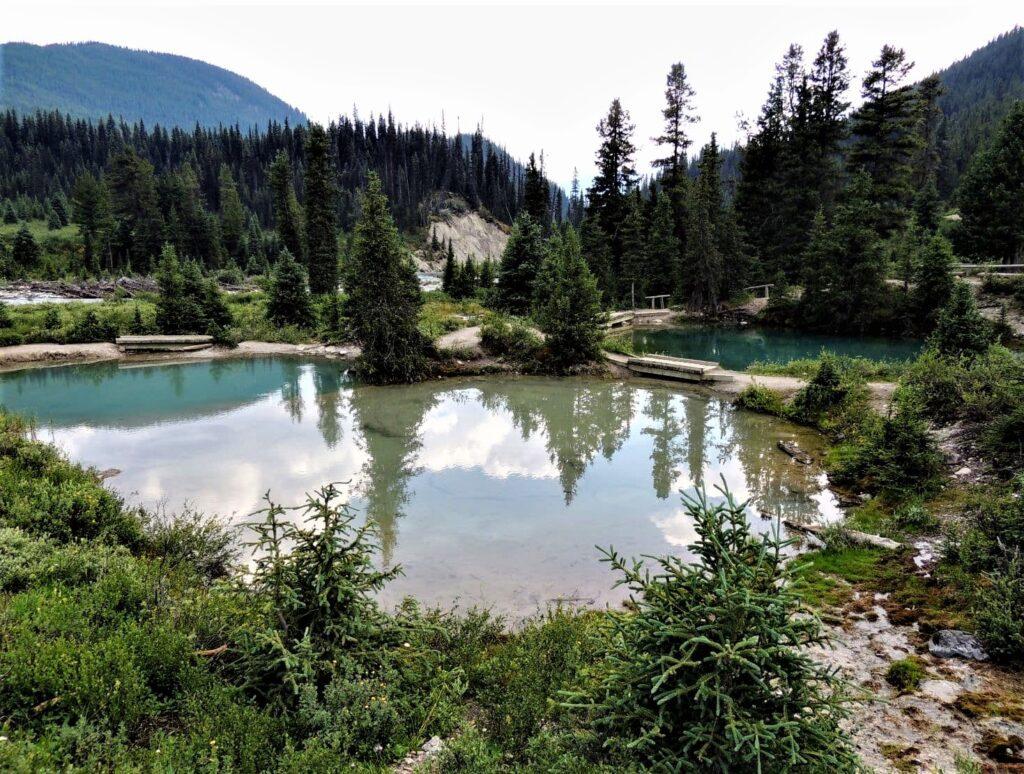 The Ink Pots
After visiting the Upper Falls, you can continue for another 3 km to the Ink Pots, which are a series of five small mineral pools.
The trail to the Ink Pots is not as scenic but it's still a nice walk through the forest. You'll come across a few hilly sections, but it's nothing too demanding.
The pools are a unique feature of the hike and are fed by underground springs. Each pool has a different color depending on how fast it fills – the milky-green pools fill more slowly while the clear, deep blue pools often fill at a faster rate.
No matter the time of year or weather conditions, the pools maintain a consistent temperature within 4°C (39.2°F).
The trail to the Ink Pots is less crowded, and they are located in a meadow that gives you panoramic views of the valley and surrounding mountains.
There are a few benches where you can rest after your hike and before making your way back to the parking lot.
Once you've finished your hike, you'll probably feel a bit peckish or would like to extend your stay here. Let's look at the food and accommodation options you have here.
Places to eat at Johnston Canyon
The Johnston Canyon Lodge is a great option for something to eat. There is a variety of snacks and light meals, such as sandwiches, wraps, and salads. They also have some hot food options like pizza.
There's also ice cream and milkshakes if you want something sweet.
The Shack
The Shack is a little wooden hut that is a popular place in the summer to get ice cream.
Everyone seems to want an ice cream when they've finished the trail, and The Shack has several different flavors to choose from.
You can also grab a coffee, baked foods, water, and snacks to go, such as muffins, chocolate bars, and fruit.
Market Cafe
If you're getting to Johnston Canyon early, then the Market Cafe is a good place to fuel up beforehand.
They serve coffee, milkshakes, freshly baked goods, sandwiches, and other snacks which you can enjoy on the vintage diner/French cafe-style outdoor patio.
There is also a large selection of Canadian souvenirs at the gift shop.
Blackswift Bistro
From what I'm told, the atmosphere is cozy and inviting inside the rustic cabin setting. The staff are friendly and welcoming, and the food is absolutely delicious.
You can sit outside on the patio in the summer and take in the beautiful views of the canyon while you enjoy your meal. Or, if you're visiting in the cooler months, sit inside by the river stone fireplace.
There is a breakfast, lunch, and dinner menu and a great selection of beers, wines, and cocktails.
Accommodation at Johnston Canyon
If camping is more your style, then from May 25 to September 25 you can reserve a spot at the Johnston Canyon Campground which is located close to the trailhead.
The 132-site campground has fire pits, picnic tables, showers, and flush toilets.
The campground is an ideal spot for a night under the stars.
It's 29.25 CAD per night, which is great if you want to keep costs down. And if you want a fire pit, it's an extra 9.25 CAD (subject to conditions). These costs are in addition to your entrance to Banff National Park.
If camping is not your thing, then the Johnston Canyon Lodge and Bungalows (aka Johnston Canyon Resort) is a good choice if you want a rustic hotel-style experience between May through October. We haven't stayed here (yet) but I'm told it's great as the cabins are cozy, close to the trail, and you don't have to worry about parking as each cabin has it's own parking spot.
There are 42 cabin/bungalows for 1 to 4 people, and your dog can stay for an extra 25 CAD a night if you let them know beforehand.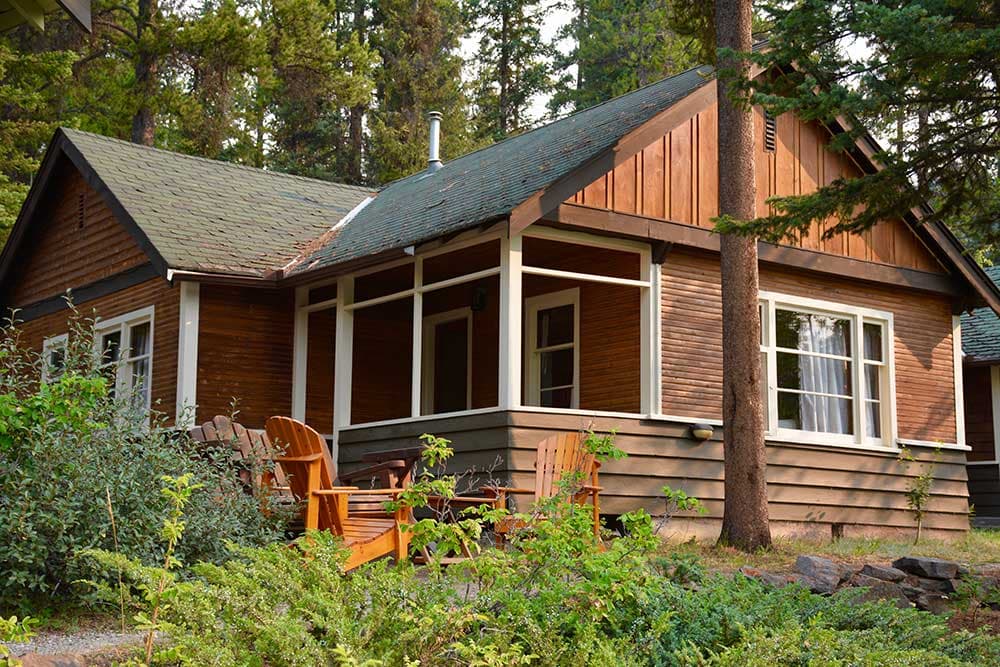 Images courtesy of Johnston Canyon Lodge and Bungalows
As well as the above onsite places to eat, these cozy lodges are a perfect place to relax after a day exploring Johnston Canyon.
The great thing about staying here is that you can do the trail later in the evening when most people have left.
As you can imagine, accommodation here is popular so a nearby alternative just an 8-minute drive up the Bow Valley Parkway towards Lake Louise are the Castle Mountain Chalets. These are self-catering cabins and suites with magnificent mountain views.
As Banff and Lake Louise are only a 30-minute drive or so in either direction, you'll also find some great places to stay in both.
Why You Should Hike Johnston Canyon
You should hike this beautiful part of the Canadian Rockies because it's an easy trail to navigate and suitable for all levels.
The two beautiful waterfalls can be reached by a short hike. The first is the Lower Falls, which is a short 20-minute walk from the parking area.

The second waterfall, Upper Falls, is another 2 km further along the trail and has an impressive 30-metre drop.

The Ink Pots are another highlight of the Johnston Canyon trail, with five picturesque mineral pools set in a meadow and surrounded by the Rocky Mountains.

Another reason to visit is the accessibility to the well-marked trail. Located on the Bow Valley Parkway, Johnston Canyon is easy to reach and a perfect spot to stop on a road trip.
Best Time to Hike Johnston Canyon
The best time to hike Johnston Canyon depends on what kind of experience you're looking for. We visit in winter and summer as luckily, the trail is accessible year-round, so you have a lot of options.
Each season offers something different, but here are some pros and cons to consider before you go.
In the summer months from June to September, the weather is warm, the trail is dry, and the crowds are heavy.
You'll need to arrive early to get a parking spot and avoid the busiest times. Also, don't forget to bring plenty of water, sunscreen, and insect repellent.
If it's fewer crowds and cooler weather you prefer, consider hiking in the fall from around mid-September to November.
The stunning fall foliage in the forest and lack of bugs are definite pros. But, be prepared for unpredictable weather, such as sudden heavy snowfall, so bring layers.
From December to February/March, Johnston Canyon becomes a winter wonderland making it popular with ice climbers.
The trail is quieter, except for around Xmas and New Year when it's busy again (but not summer busy).
You can experience the beauty of the frozen falls and creek, and it really is beautiful. The cons are the need for proper gear like extra layers, and hiking poles, and the potential for slippery trail conditions.
Every time we go in the winter, we see several people slip over on the trail, so don't forget your microspikes (these can be bought or hired in town).
The frozen waterfalls, canyon walls, and deep canyons create a dramatic scene, making it a popular destination for ice climbers.
You'll need to be well-prepared for this hike, as the trail can be icy and slippery. Don't forget to bring extra layers to stay warm, and consider renting snowshoes if there's been a recent snowfall.
Spring is a great time to visit from around the end of March to May. The weather is milder and the crowds are low, which makes for a pleasant hiking experience.
As the snow and ice melt, the river becomes a force of nature, creating stunning rapids and waterfalls. The cons are that the trail can be muddy and wet, and the weather is unpredictable.
As I said above, the best time to hike Johnston Canyon depends on your preferences. The busiest times are during the summer months.
Visiting during seasons other than summer will give you a different experience, but also comes with unique pros and cons.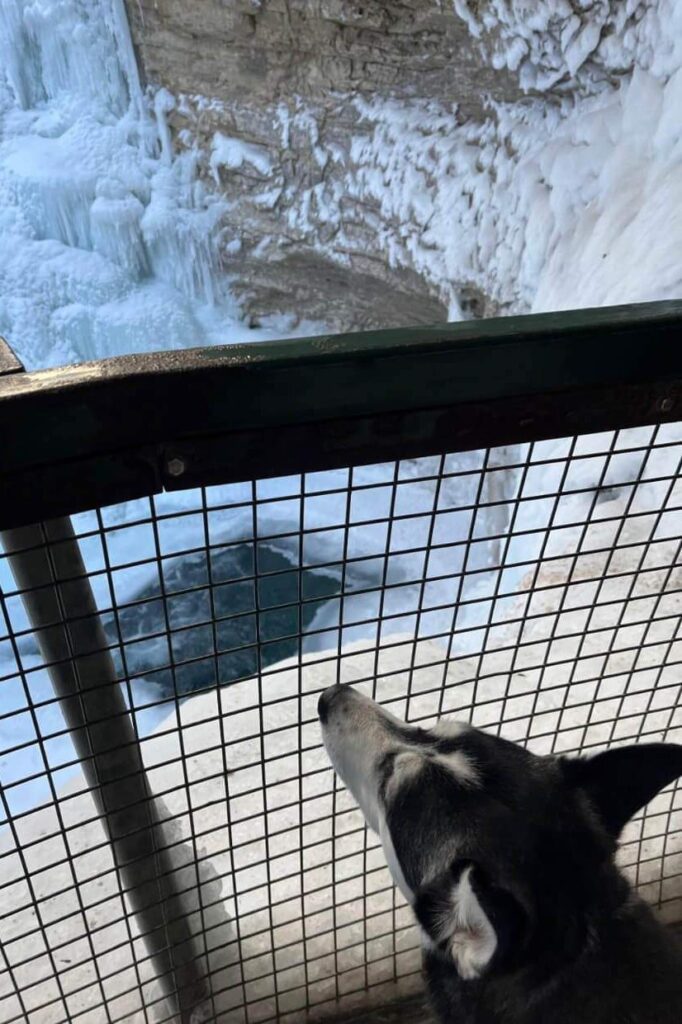 Are Dogs Allowed at Johnston Canyon?
They sure are! Banff is dog friendly so you can take your pup to Johnston Canyon, but it must be kept on a leash at all times and should stay on the designated trails.
Check the Parks Canada site for more information, if needed.
It's important to pick up after your pet when necessary, so don't forget your poop bags.
The trail is well-marked and offers plenty of opportunities for you and your dog to take a break and enjoy the scenery – our dog loved standing at the viewpoints and having a good look around.
Remember to bring plenty of water for both you and your pet. And keep in mind that temperatures can reach extreme highs or lows depending on the season, so plan accordingly.
Biking Johnston Canyon
Looking for an alternative way to reach Johnston Canyon? Biking could be the perfect solution.
You can bike the Bow Valley Parkway from Banff Train Station to Johnston Canyon. This scenic route is around 23 km (14 miles), with beautiful views of the surrounding mountains all the way along.
Keep in mind that there are some restrictions on biking the Bow Valley Parkway, so be sure to check current regulations before embarking on your journey.
Note: During the annual spring wildlife closure from March 1 to June 25, you won't be able to travel by any mode along the 17 km (from Johnston Canyon Campground to the Fireside Picnic Area) stretch of the parkway overnight, from 8:00 pm to 8:00 am.
There are a few essential pieces of equipment to bring with you. A lock is a must-have, so you can secure your bike while at the canyon.
Dress in layers and bring extra clothes in case the weather changes. Wear a helmet and bring a repair kit, just in case of any issues with your bike.
If biking the whole way seems daunting, consider an e-bike. This option allows you to bike to the canyon without the workout.
Is there an entrance fee for Johnston Canyon?
No, there is no entrance fee for Johnston Canyon, but you will need to buy a Parks Canada pass before you enter Banff National Park.
How Early To Arrive At Johnston Canyon
If you're visiting the canyon in the summer, you'll want to make sure you get there early!
Although the parking lot has lots of spaces, it fills up quickly, especially in peak season. We recommend arriving before 8 am to get a spot and avoid the crowds.
Insider Tips for Hiking Johnston Canyon
Here are a few tips to make your trip to the Canyon even more enjoyable:
Before leaving for Johnston Canyon, check the trail conditions and information on trail closures, weather, and wildlife sightings. Sometimes the trail is closed for repair, so check beforehand.
But, as with any hike, you need proper safety measures in place before venturing out into bear country, and carrying bear spray is essential when hiking in Banff National Park. Although the chances of running into a bear at Johnston Canyon are extremely slim, it has happened.
As you make your way along the canyon, you might feel the temperature drop as you are surrounded by tall canyon walls and trees. So, bring a sweater or light jacket along with you – even on warm days.
Wearing base and extra layers of clothing is also recommended in the winter, as is a pair of good quality warm socks – I'm speaking from experience here!
Always leave no trace, take your garbage with you, and stick to the designated trail paths.
Johnston Canyon In Winter
This popular hiking trail is just as beautiful in the winter as it is in the summer, with snow-covered trees and frozen waterfalls adding to the already stunning scenery.
Temperatures in the canyon get cold, and I can't stress how important it is to dress in warm layers. We recommend wearing a waterproof and windproof jacket, ski pants or insulated pants, warm boots, gloves, and a hat. It's also helpful to bring along hand and foot warmers on the days that the temperature really dips down.
We did the trail when it was -26C (-15F) and those foot warmers would really have come in handy.
As I've mentioned, you'll need microspikes to stop yourself from slipping on various parts of the trail.
Once you're on the trail, you'll see frozen waterfalls and ice formations along the canyon walls. The creek is also frozen but you'll see or hear water trickling along in some parts.
Most people only visit the Lower Falls in winter, don't forget to check out the Upper Falls, which are equally stunning when frozen.
Winter also brings something different that you can try, and several tour companies offer winter activities, such as Johnston Canyon ice walks.
Hiking Johnston Canyon in Banff National Park
Hiking the trails at Johnston Canyon to both falls and the Ink Pots is something everyone wants to do when they visit Banff National Park.
And you'll see why, this natural attraction is a beautiful and relatively easy hike with stunning views.
Plan your trip wisely, check the weather before you leave for your Johnston Canyon hike, and pack clothing for all seasons.
Now that you know everything there is to know about hiking Johnston Canyon, we hope you enjoy the trail as much as we do. If it's an easy hike in Banff you're after, then check out our recommendations by clicking the link.
Let us know on our Facebook page about your trip to Banff.