If you're wondering if you can see the northern lights in Banff, the answer is YES!
Most of us dream of seeing them at some point in our lives. Though it is a common misconception that you have to trek far up north to see them, the spectacular aurora borealis can actually be seen from Banff.
Banff National Park and the Canadian Rockies offer some of the best viewings for these magical light displays.
It's fine-tuning the timing, having a clear sky, strong solar activity, and little light pollution that makes sighting the aurora borealis ideal.
Here's how you can optimize your chances of seeing the northern lights in Banff National Park and elsewhere in Alberta.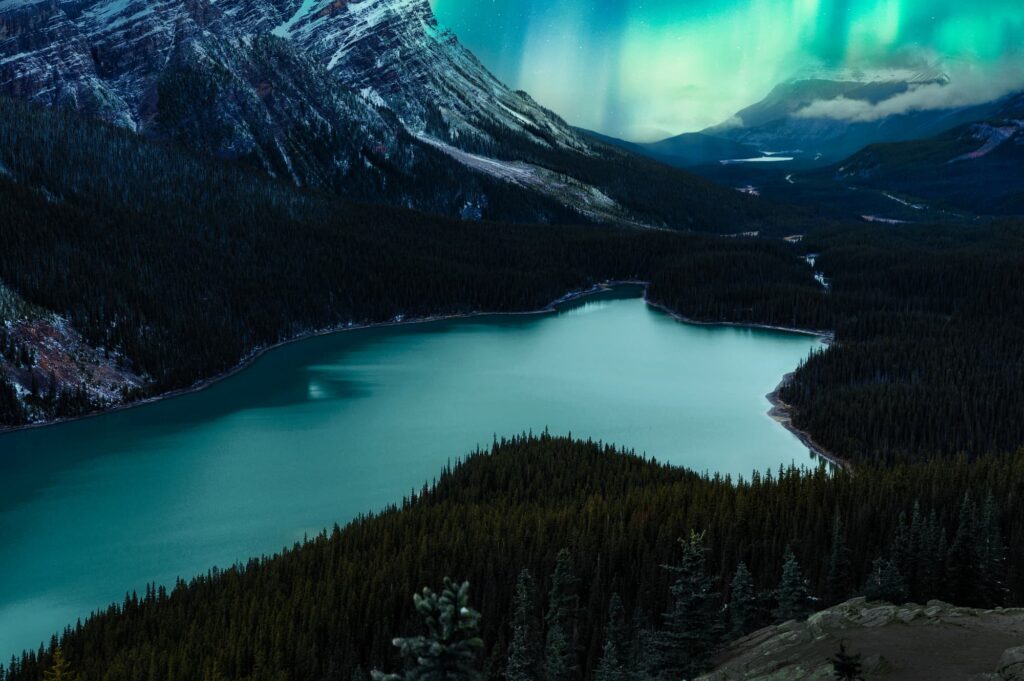 The northern lights + STEVE
What are the northern lights?
The northern lights, or aurora borealis, are a natural phenomenon caused by electrically charged particles from the sun interacting with the earth's atmosphere.
These interactions create vivid displays of light in the night sky visible in certain parts of the world.
This produces an incredible display of light and an array of colors, such as green (the most common), pink, dark red, blue, and purple.
STEVE: Strong Thermal Emission Velocity Enhancement
STEVE is another amazing phenomenon, which you might not have heard of.
What makes STEVE so unique is that it doesn't look like regular auroras, it has a distinctive violet ribbon of light, which you can sometimes see with the northern lights.
STEVE was discovered by Chris Ratzlaff in 2016, who is the founder of the Alberta Aurora Chaser Facebook group, which I highly recommend joining.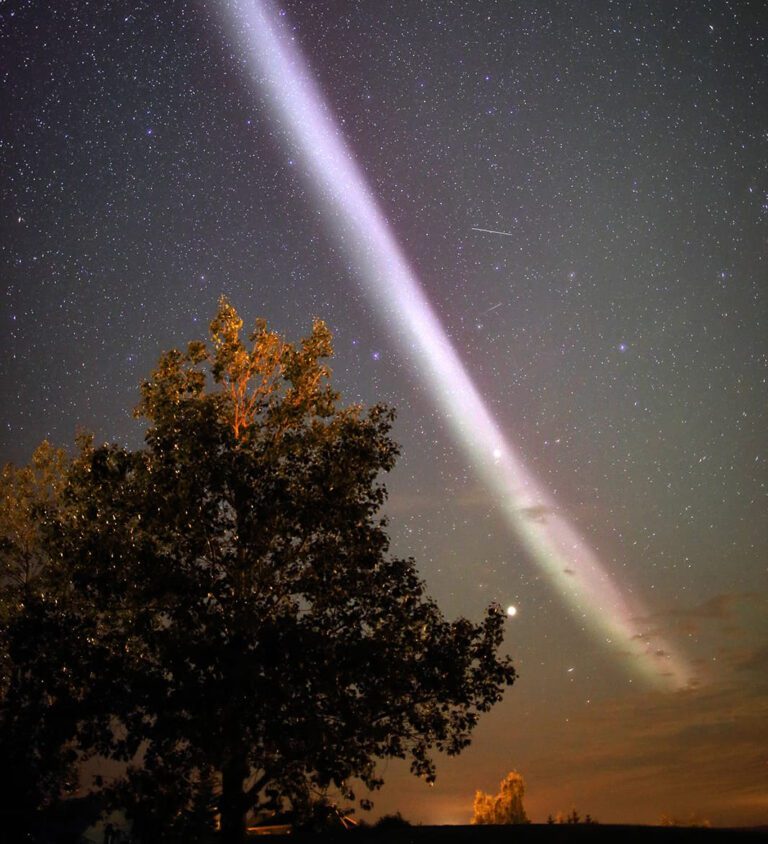 When is the best time to see the northern lights in Banff?
People think you can only see the northern lights in Banff in the winter months, but you can actually see them any time of the year. All you need are the right conditions.
Between September and April is the best time to spot them as the nights are longer and darker. From 9 pm to 3 am is when the lights are most likely to be seen.
During a new moon phase, auroras tend to be even more visible since there's less light pollution from the moon.
Clear skies are vital, as clouds or other weather conditions will prevent you from witnessing them.
What are the chances of seeing the northern lights in Banff?
Compared to more northern parts of Canada, the chances of seeing the northern lights in Banff are not as high.
As much as we would like to be able to plan for them, seeing them is dependent on several unpredictable elements.
But it is still possible. Good weather, clear skies, and a strong aurora forecast increase your chances of seeing a display.
An important predictor is the KP index, which measures geomagnetic activity on a scale of 0-9.
A high KP index gives you a much better chance of seeing the northern lights from Banff. However, even if the KP index is high, you still need a cloudless night.
The location also plays a key role, so to boost your chances, head out of town and away from any light pollution.
Where to see the northern lights in Banff
Luckily, there are plenty of places around Banff National Park to view the aurora.
Whether you're searching for seclusion or socializing with other stargazers, the following are the best spots in the park:
Head to Vermilion Lakes if you're looking to catch a glimpse of the Northern Lights without venturing too far away from Banff town.
You'll get to view nature's own light show over Mount Rundle.
Cascade Ponds are only a 5-minute drive north of town nestled within a forest and offer an amazing view of the night sky and aurora borealis.
Lake Minnewanka has one of the best views of the night sky with practically no light pollution, even though you are only a 10-minute drive from Banff town.
This is the most popular place with stargazers and others hunting aurora.
Two Jack Lake is also near the town of Banff and offers some great views of this natural phenomenon.
Castle Junction is another popular spot and is halfway between Banff and Lake Louise, at the foot of Castle Mountain.
You can get here either on the Trans-Canada Highway (Highway 1) or the Bow Valley Parkway (Highway 1A).
Icefields Parkway winds through Banff National Park from one end to the other, it provides magnificent views along its entire length. This is especially worthwhile driving to at night when you want to see the northern lights.
Peyto Lake is on the Icefields Parkway/93 N and is another great spot to watch aurora displays.
Drive up Highway 93N to Bow Lake, which is a 25-minute drive north of Lake Louise. Here you will find perfect dark skies with pretty much zero light pollution.
No matter which location you choose, if the KP index is high enough then anywhere around Banff is good for seeing the dancing lights.
The best northern lights trackers + alerts
To give yourself the best shot at seeing the northern lights in Banff, check out these helpful resources. They will help you track and receive aurora alerts for when the lights are most likely to be visible.
AuroraWatch provides real-time monitoring in the Edmonton area, but when solar activity is high, this will also cover most of Alberta.
Sign up for alerts and choose to receive "Red Alerts Only" or "Both Yellow and Red Alerts." I get both alerts, which always seem to be in the middle of the night when I'm asleep!
You can also follow them on Twitter for live updates.
Aurora Forecast provides a detailed 3-day aurora forecast for the northern hemisphere, including predictions of when and where the lights will be visible.
Alberta Aurora Status allows you to put in your location and gives the current status as well as a 3-hour KP prediction.
Space Weather Live is great for checking out the current auroral activity. You can also follow them on Facebook.
My Aurora Forecast + Alerts is an app, but its accuracy seems to be hit or miss at times.
Alberta Aurora Chasers is an active Facebook group that I belong to. It was founded by Chris Ratzlaff, the guy who discovered STEVE, as mentioned above.
The community is great and shares real-time sightings and locations from all over Alberta, including Banff.
Where else can you see northern lights in Alberta?
Alberta is known as "big sky country," as the sky seems to go on forever, making it the perfect place to view the majestic northern lights.
The other good thing about Alberta is that you don't have to drive too far to get away from the city lights.
Here are some other parts of the province where you have a good chance of seeing a light display.
Jasper National Park
Jasper is a must-see destination for stargazers. With its incredibly expansive 11,000 square kilometers of space, Jasper is one of the largest dark skies preserves in the world.
Popular aurora borealis viewing spots include Lake Annette, Pyramid Lake and Island, and Maligne Lake.
As if this wasn't enough to entice you, Jasper also plays host to the Dark Sky Festival every October, which features celebrity speakers and interactive events.
Wood Buffalo National Park
This national park is located in the far north of the province, near the Northwest Territories, and is said to be the world's largest dark sky preserve.
With over 40,000 square km you can be sure there will be complete darkness.
Beaver Hills Dark Sky Preserve
This 300-square km dark sky preserve is just east of Edmonton and incorporates Elk Island National Park and the Cooking Lake-Blackfoot Provincial Recreation Area.
The preserve also hosts events throughout the year, including stargazing parties and educational programs.
Cypress Hills Interprovincial Park
This park is situated in the southeastern corner of Alberta and straddles the border with Saskatchewan. It's one of the darkest and most accessible dark sky preserves.
Fort McMurray
Located in Northern Alberta, Fort McMurray is in a remote location and lacks light pollution, so this city offers amazing views of the aurora borealis.
Lakeland Provincial Park
Just east of Lac La Biche is this 590 square km dark sky preserve that has five observing sites that you can get to by car.
Waterton Lakes National Park
This stunning national park is located in the southwest corner of Alberta. It is designated as an International Dark Sky Park as it borders Glacier National Park in the US.
As it is much farther south, there is less chance of seeing the lights, but it is not impossible.
Even if you don't see them, this is still a great place for stargazing. We've seen the Perseid meteor shower here, and it was amazing because the sky was so dark and you really got to see so much more.
Tips to keep warm and safe
When packing for a night of aurora watching in the Canadian Rockies, be prepared for the cold temperatures, even in the summer months.
As you might be waiting outside for hours for the lights to show, you're going to want to keep nice and toasty, so remember your toque (hat) and gloves. Layers and a warm jacket are a must.
Warm socks and sturdy boots are just as important. Even if you bring a camping chair, you'll still be sitting or standing still most of the time.
And don't forget to bring a hot drink and some snacks to keep your energy levels up.
Make sure you grab a headlamp or flashlight (and spare batteries) before you go so you can see where you're walking.
Take bear spray and be aware of any wildlife in the area.
Inform others about your whereabouts, and ensure your phone has service and is charged.
Tips for photographing the northern lights in Banff?
As I'm not a professional photographer and I've only used my cell phone to capture the aurora, I've searched for the best tips on how to photograph the northern lights. These are:
Invest in a tripod to keep your camera steady while taking long-exposure shots and it ensures clear images even if there's movement around you.
A remote shutter release will prevent camera vibrations while capturing the northern lights. A self-timer can be used, but a remote release is more precise.
An ultra-wide-angle lens with a wide aperture (f/2 or f/2.8) is perfect for capturing both the northern lights and the landscape in one shot, allowing more light to reach the sensor for the best results.
Adjust shutter speed to 4-20 seconds based on activity (faster for fast displays and slower for slow ones), and set ISO between 1600-6400 based on night sky brightness. Experiment and review for the best settings.
Set manual white balance using Kelvin mode (3000K-4000K) for natural-looking northern lights. Avoid auto or preset modes.
Whether you're using a professional camera or your cell phone camera, make sure you take time to enjoy the moment, that's the most important thing.
Banff northern lights
Seeing the northern lights in Banff is a truly special experience. With clear skies, dark nights, and very little light pollution, this part of the Canadian Rockies makes for a perfect spot for viewing the aurora.
Plus, you can't beat enjoying them with the majestic background of the Rocky Mountain peaks.