Banff has something special that draws me in, especially in the winter. And if you come here during this time of year, you'll know exactly what I mean.
The beauty of snow-covered Banff National Park is more than enough reason to make the trip, but there are so many things to do that you'll be spoilt for choice.
Here you have everything you want in a winter getaway, ranging from skiing and snowboarding at the award-winning Lake Louise Ski Resort to soaking and relaxing in outdoor hot springs while the snow gently falls around you.
I admit it can be hard to decide what to do, so to make it easier, I've put together this mammoth guide with over 30 of the best things to do in Banff in winter.
This guide is over 5000 words, so it's a long one. Bookmark it and return to it as needed, but make sure you read it all the way through because I've saved the best for last!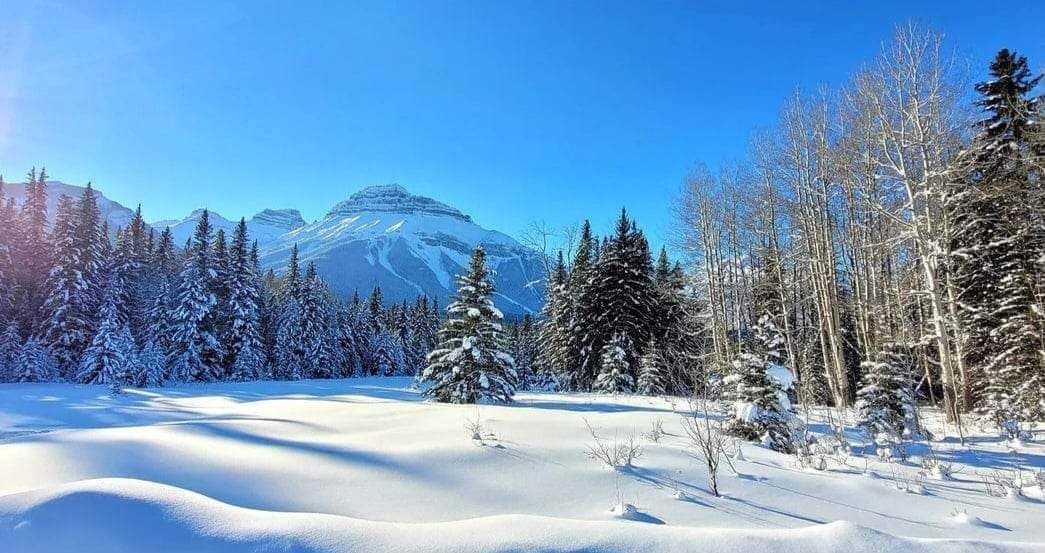 Where is Banff National Park?
Just in case you're a little uncertain about where Banff National Park (BNP) is exactly, it's located in the Canadian Rockies region in the province of Alberta in western Canada.
Banff National Park is a little over a 1.5-hour drive from Calgary International Airport (YYC), which is the nearest airport to Banff.
Is Banff a good place to visit in the winter?
Absolutely! Banff National Park is an amazing place to visit in any season, but there's something really special about experiencing it during the winter. With the park being open all year, you have the opportunity to witness its breathtaking beauty, from the snow-capped mountains to the frozen lakes and forests.
I would say Banff truly comes alive during the winter months. And with a wide range of winter activities, there's something for everyone, even if you come here just to relax and take in the mountain scenery.
I assure you, it's an experience you won't soon forget, especially if you visit over the Christmas period when it is especially magical with all the festive decorations.
Not only is Banff one of Canada's most popular destinations, but it was also named one of the "Best of the World Destinations" in 2017 by National Geographic Traveler magazine.
More recently, Travel + Leisure magazine included hotels in Banff National Park and Jasper in their "Top 10 Resort Hotels in Canada for 2021" list.[1]
Another reason the park is a great winter destination is because of its world-class skiing. But what if you're not a skier?
Well, don't let that put you off, as Banff isn't just about hitting the powder, and I should know as it's been a long time since I've been skiing. There are lots of activities for skiers and non-skiers, as you'll see from this list of things to do in Banff in the winter.
How cold does Banff get in winter?
There's no denying that Banff gets cold, with an average temperature of around -15 °C (-5 °F) and temperatures that can drop into the -30s, especially at night.
The coldest months are January and December, and these months see the most snowfall, so that means even more stunning scenery to look at.
You might be thinking that that's way too cold, but it really isn't if you dress in layers and know what to wear.
Read our guide on what to wear to stay warm in Banff in winter.
There is also another reason why you can feel comfortable in those temperatures, and that's because of the amount of bright blue skies and sunny days this mountainous region gets, as well as the dry air conditions.
With the sun nearly always shining, it doesn't feel anywhere near as cold as the thermometer says it is.
If you come prepared, you'll find the cold temperatures don't really bother you all that much.
Discover Banff's winter wonderland activities
Some of the following things to do in Banff during the wintertime are free, and some are not. Either way, you're going to have plenty to choose from.
Our Tip: If booking several tours, bundle them up to get cheaper rates. Also, book in advance to get a discount. Check Groupon.ca for deals, as we've often found discounts on activities there.
1. Take a stroll around Banff Townsite
When you first arrive in Banff, the chances are you'll want to explore the town and get familiar with it, so taking a walk around the town is probably a good place to begin your Banff winter vacation.
The town itself is not too large, and it's easy to get around on foot.
If you need any more information on the town or the park, then stop by the local Visitor Information Centre at 224 Banff Avenue. The staff here are super helpful and will be able to answer any questions you have.
The main streets in town are Banff Avenue and Bear Street, which have a variety of shops, pubs, and restaurants.
Whether you're looking for souvenirs or a bite to eat, you'll find what you're after on these two streets.
There are also many hotels and lodges in and close to the town, so you can stay close to all the action.
As the town is nestled in the mountains, you'll be treated to the most spectacular views from every corner.
You'll see Mount Rundle to the east and Cascade Mountain, which can be seen when looking down Banff Avenue.
One place I recommend visiting, which I mentioned on my Banff on a budget page, is The Spirit of Christmas store on Banff Avenue.
It's open all year and sells gifts and ornaments not only for Christmas but also for Easter, Halloween, and the four seasons.
You'll get that warm, festive feeling when you walk around this store.
2. Discover the highlights of the Banff Centre for Arts and Creativity
Paid and free activities.
Location: 107 Tunnel Mountain Drive, Banff.
The centre offers visitors a wide range of arts programs, workshops, performances, and exhibitions, which you might be interested in checking out.
3. Check out each of Banff's museums
Paid entry to each museum.
There are several museums within walking distance of the town where you can learn about the rich history of the park.
Banff Park Museum National Historic Site, at 91 Banff Avenue, is the oldest natural history museum in western Canada.
You can find out all about the park and its wildlife through a collection of interesting exhibits and displays.
Buffalo Nations Luxton Museum, at 1 Birch Avenue, is open daily from 10 am to 6 pm.
Here you will be able to admire historical objects and learn about the culture and traditions of the First Nations of Western Canada, including the art forms they created and how they lived.
Whyte Museum of the Canadian Rockies can be found at 111 Bear Street, and is open Thursday through Monday, 10 am to 5 pm.
This museum is dedicated to preserving the culture of Canada. It collects, preserves, and presents artifacts about the area's history and the indigenous peoples.
4. Go hiking on Banff's many trails
Free activity.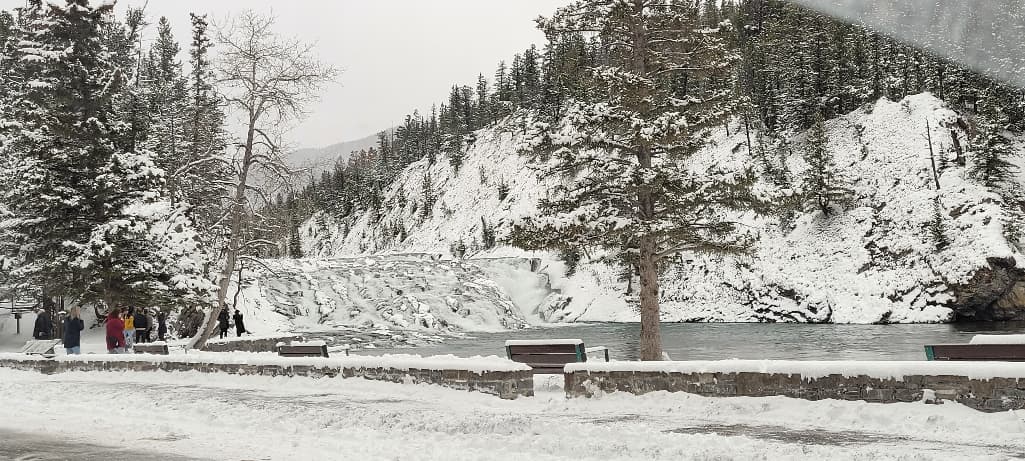 There are so many trails in Banff National Park that it would be impossible to cover them all on this page.
The town of Banff is in a great setting, as it's situated on the lower slopes of Tunnel and Sulphur mountains and is located at the junction of the Spray and Bow rivers.
This means there are some fantastic trails that let you take in the scenery, starting right in town.
There are some great trails that you can do from the town itself. Our favorites include:
Bow Falls Trail
This is just a short walk from town (1.2 km) and is next to the iconic Fairmont Banff Springs hotel.
During the winter, the 10-meter-tall (33 ft) falls are frozen, and the surrounding scenery is simply stunning.
Vermillion Lakes
You can drive from town to the lakes in around 5 minutes. I find this area really tranquil, and you have a great view of Mount Rundle.
This area looks especially beautiful at sunrise and sunset.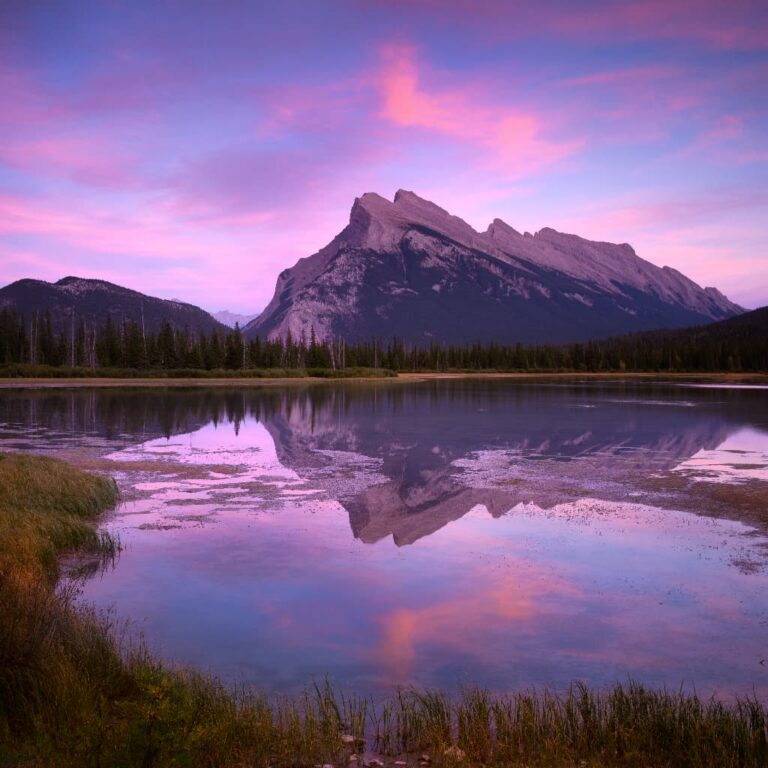 Tunnel Mountain
Tunnel Mountain has an elevation gain of only 260 m and is said to be Canada's most hiked mountain. It's a fairly easy hike that can be accessed straight from town.
There isn't actually a tunnel here, although the Canadian Pacific Railroad company wanted to build one through it, but it never happened.
Tunnel Mountain Trail offers some great views of Banff Townsite, Sulphur Mountain, and across the valley, as well as the Fairmont Banff Springs Hotel.
These are just a few of the many trails you can do but remember, you might need to wear ice cleats as these trails get slippery and packed with snow.
5. View the Rockies from above with a helicopter tour
Prices vary depending on what tour you choose.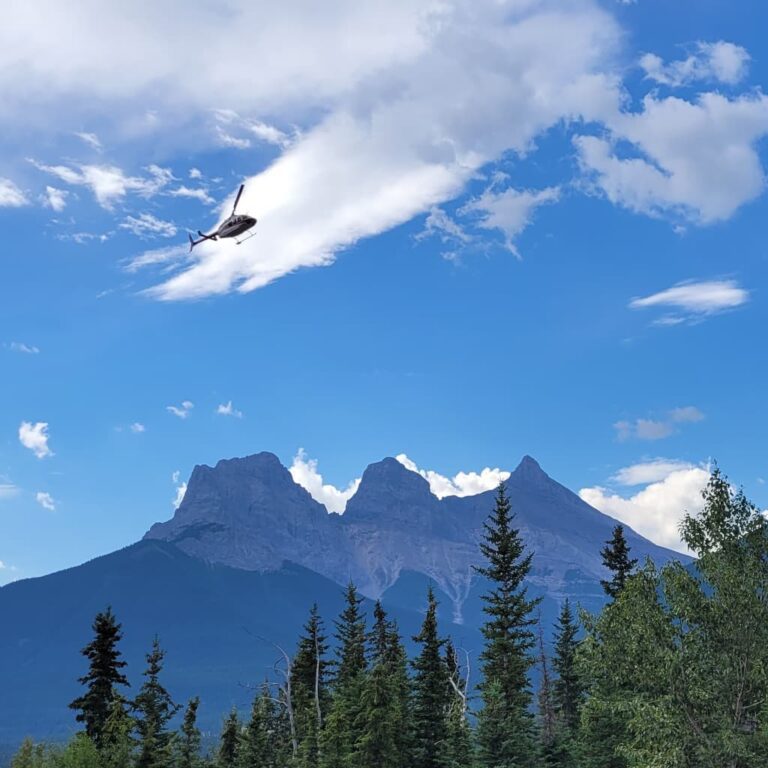 There are several companies, such as Alpine Helicopters, that offer tours over the Rockies.
You'll fly over some of Banff National Park's and Kananaskis' most breathtaking scenery.
And depending on which tour you choose, you could be soaring above the Columbia Icefields, flying along the Continental Divide, or getting a bird's eye view of the Gloria Glacier at Mount Assiniboine, known as the "Matterhorn of the Canadian Rockies" because of its resemblance to the Matterhorn mountain in the Swiss Alps.
Some tours can be combined with heli-hiking and sightseeing stopovers, but whichever tour you choose, your pilot will give you plenty of tips and information while you're taking in those amazing views.
These tours are kid-friendly, and you can also bring your dog along on the Rockies Heli tours as they are pet-friendly.
Prefer to keep your feet firmly on the ground? The next one might be more for you then.
6. See the ice bubbles at Abraham Lake
Free activity.
If you're looking for the wow factor during your visit, then this is it, or at least one of them!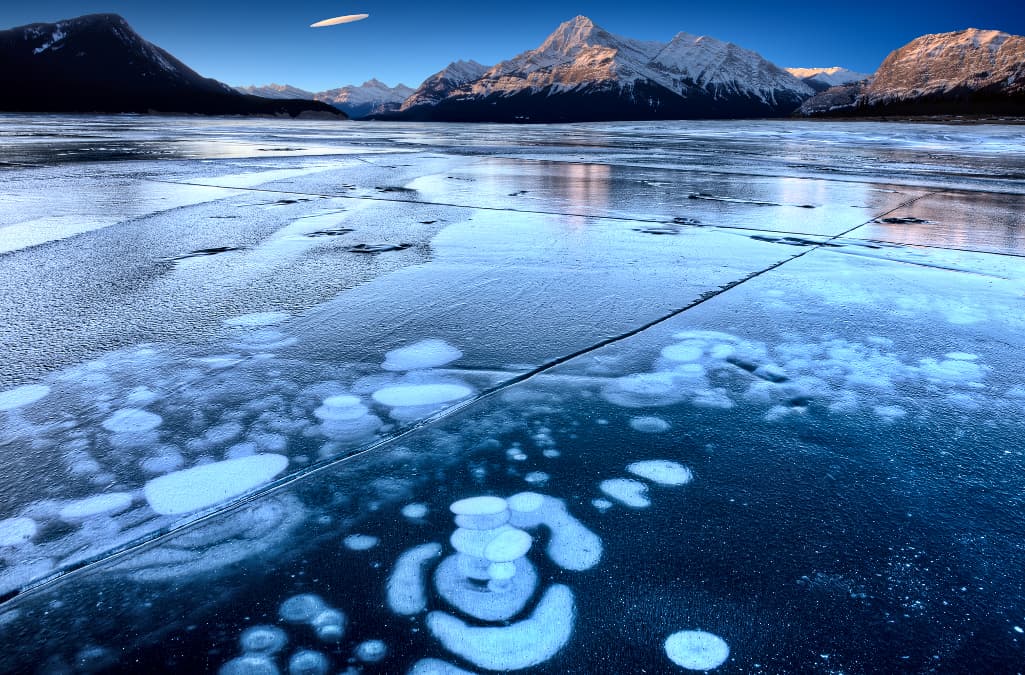 Abraham Lake is known for its unique, crystal-clear ice bubbles.
This artificial lake is just a 2-hour drive north of Banff National Park on the Trans-Canada Highway and is well worth the visit.
This lake freezes during the winter months, creating a beautiful view for photographers. You can also take a helicopter tour over the lake to get a better look at the frozen bubbles.
The bubbles form from decomposing organic matter in the lake's sediments, producing methane gas.
As the gas pockets rise, they freeze and become trapped under the frozen surface, creating these beautiful, ethereal bubbles.
Visiting Abraham Lake to see the ice bubbles is a truly unique experience. It's like nothing you've ever seen before, and none of the pictures you see online do it justice.
Walking on a frozen lake is super slippery, so wearing ice cleats/microspikes is a must.
Abraham Lake is best visited in the later winter months, say, from late December to mid-February, which is when the ice looks at its clearest.
7. Visit Banff's birthplace at the Cave & Basin National Historic Site
Paid activity.
Located at: 311 Cave Ave, Banff. Open from October 16 to May 14, Wednesday through Sunday, and on Holiday Mondays: 11 am to 5 pm.
The Cave and Basin is known as the birthplace of Banff National Park. You can visit where it all began in 1883.
Take a look at the original hot springs, smell the sulfur, and learn all about the history of the springs and the area in as little as an hour.
8. Unwind at Banff Upper Hot Springs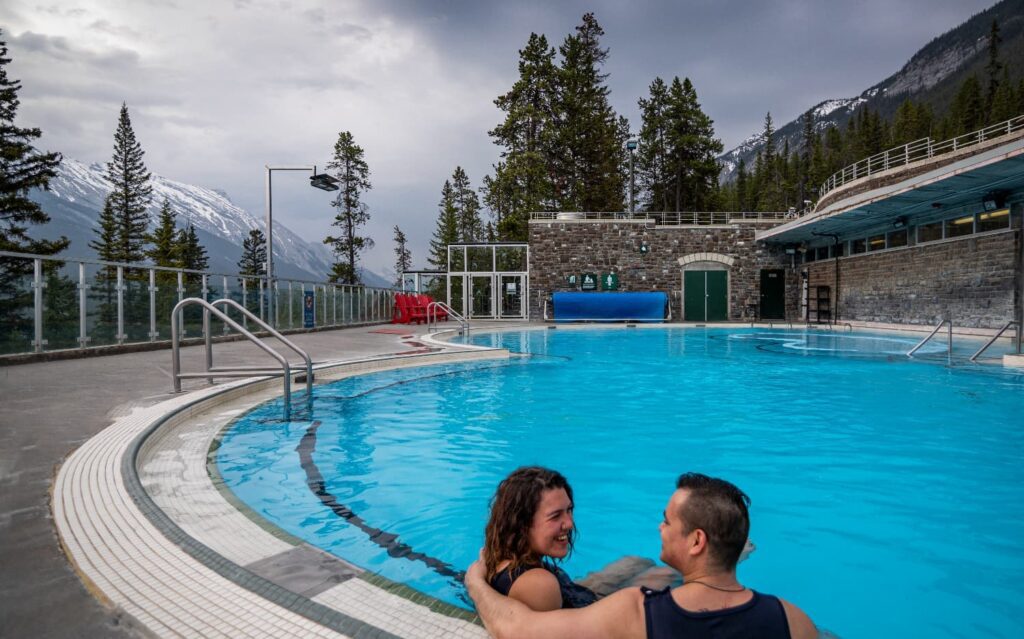 Paid activity: $16.50 for adults. Youth (3-17) $14.25. Child (Under 3) Free. Senior $14.25. Family $53.00
Location: 1 Mountain Ave, Banff. Open all year round, including statutory holidays, from 12 pm (noon) to 8 pm with the last entry at 7.30 pm.
Whether you've had a long day on the slopes or you just want somewhere to relax and unwind, then these hot springs will be just what you need.
Sit in the naturally heated and mineral-rich hot pool and just take in the surroundings while the snow is gently falling – I guarantee you'll love this!
The wheelchair-accessible hot springs are located near the top of Sulphur Mountain.
9. Ski the big 3: Ski or snowboard at one of Banff's world-renowned resorts
Prices vary according to package and equipment rental.
Banff is popular in the winter months because it offers some of the best skiing in North America, and it also has one of the longest ski seasons, lasting from mid-November to mid-April.
Did you know that Canada's best ski resort is right here in Alberta? The Lake Louise Ski Resort was voted Canada's Best Ski Resort in 2022, which is the 8th time in the last 10 years[2]
So if you're looking to ski some of the finest powder there is on some of the best terrains, then you're going to love one, or all three, of the following ski resorts: Banff Sunshine Village, The Lake Louise Ski Resort, and Mount Norquay.
If you're a beginner, then I recommend Sunshine Village. The instructors are great and when I learned to ski there, they had the patience of a saint – which they needed as I was so bad at it!
The SkiBig3 lift ticket gives you access to 7,748 acres of snow-covered slopes for all skiing and snowboarding abilities.
There are many things to do in Banff during the winter, but skiing is, without a doubt, the biggest attraction.
All three ski areas are easy to get to either by car, shuttle, or bus from downtown Banff.
10. Night skiing at Mount Norquay – ski or snowboard under the stars
Paid activity.
Looking for something else to do as well as skiing? Then discover the slopes in a new light and go skiing at night instead.
Available for all ages and abilities on floodlit runs on Friday and Saturday nights between 5 pm and 9 pm.
This is the only ski resort in the Canadian Rockies that offers night skiing, which gives you a totally different experience.
11. Have a fun time tubing down the slopes
Paid activity.
Feel the wind in your face as you zip down the hill on an inflatable tube.
If you want to try something other than skiing or snowboarding, you can still get the same rush from the slopes by tubing.
It's the perfect activity if you want to enjoy the winter scenery and get a little adrenaline rush at the same time.
This unique form of sledding is so much fun, and you don't get a chance to feel the cold too much.
Mt Norquay and Lake Louise Ski Resort both have tube parks. Mt Norquay also has night tubing as well as night skiing, as mentioned above.
Children have to be aged 4 and up and at least 42″ tall to tube at Mt Norquay, and 3 and up at the Sunny Tube Park at Lake Louise.
12. Go cross-country skiing through Banff's most scenic trails
Free activity (except for equipment hire).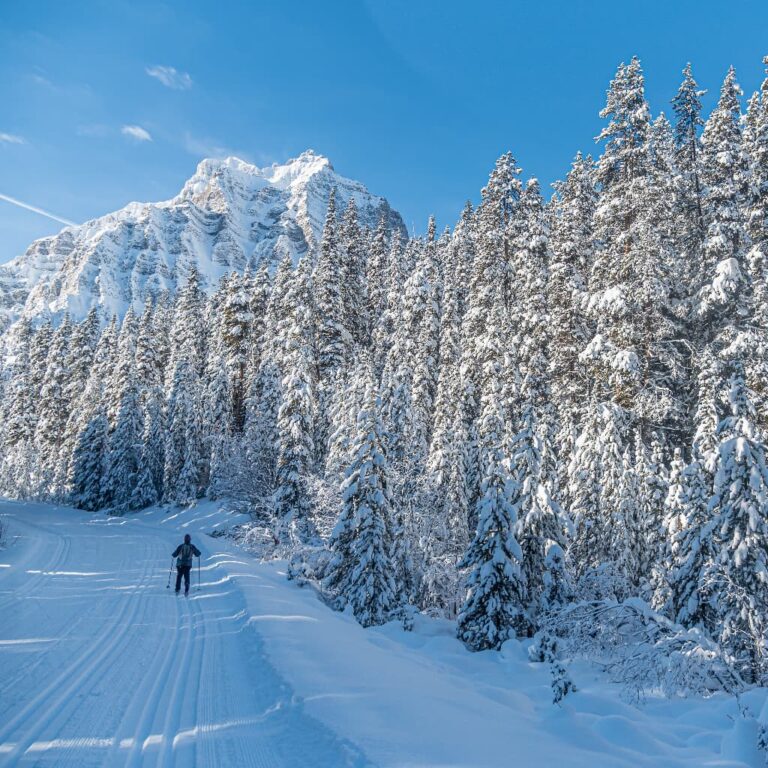 Cross-country skiing, or Nordic skiing, is a great activity for getting active while admiring the beautiful views of the Rockies.
The terrain in Banff National Park is perfect, and skiers of any level can enjoy many shared trails that range from easy, such as the Spray River East Trail, to more moderate trails, such as the Redearth Creek Trail.
13. Banff is the perfect place to go snowshoeing
Free activity (equipment hire extra).
One of our favorite things to do during the winter months in Banff is snowshoeing. It's relaxing, it's peaceful, and it's just plain fun.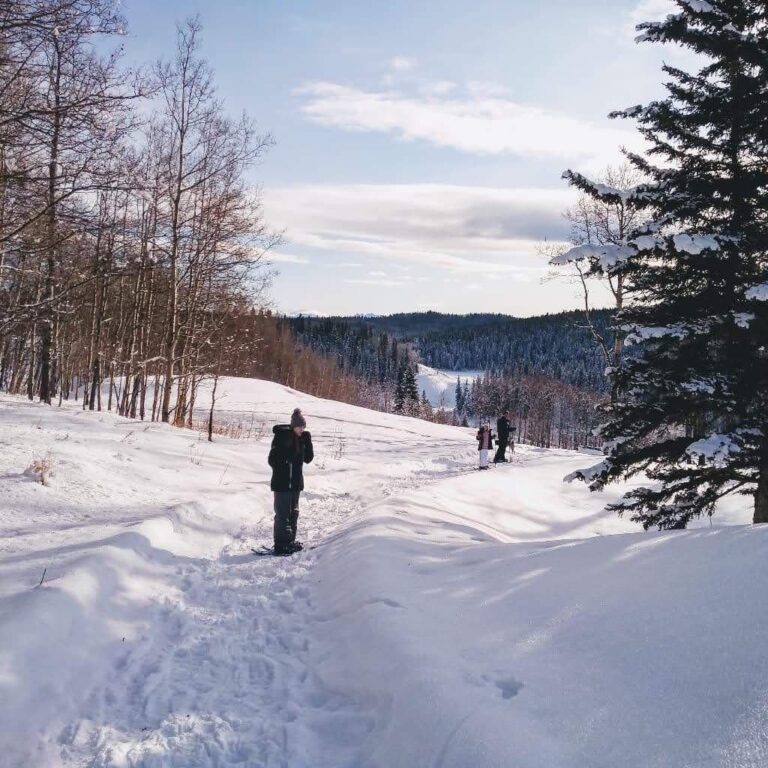 Snowshoes make walking through the snow easier, and the good thing about snowshoeing is that anyone can do it. It's also a great way to enjoy the mountains.
There are numerous easy and moderate trails you can do, such as Cascade Ponds and the Ink Pots, respectively.
Or, if you prefer, take one of the snowshoeing tours with an expert guide through Lake Louise Ski Resort, Discover Banff Tours, or one of the others.
Taking one of these snowshoeing tours will allow you to see parts of Banff National Park that you may not otherwise see and will give you an opportunity to get off the beaten track to explore this amazing landscape.
Several places rent out snowshoes, ice cleats, and ski and snowboard equipment in Banff, Canmore, and Lake Louise, such as Chateau Mountain Sports, which has shops in each location, meaning you can pick up and drop off your gear at any one of them.
14. Try snowmobiling through fresh powder
Paid activity.
If you love speed, then snowmobiling might just be for you.
Banff National Park does not allow snowmobiles, so some tours operate out of Golden and Panorama, British Columbia, instead, which provide transportation from Banff.
Banff Adventures has a minimum age of 16 years old for drivers and 5 years old for passengers.
15. Hit the trails on a fat bike
Paid activity if hiring a bike.
Fat bikes are equipped with large tires designed to allow you to travel over tough terrain, which, of course, includes snow.
Fat biking has really grown in popularity, and it is a great way to explore the area.
You will often see people biking on the well-groomed and maintained trails and in the backcountry around Banff.
Hiring a fat bike is easy, and even if you've never done it before, you'll be given lots of help and advice.
Snowtips-bactrax provides you with a map and tips on where to ride. Your rental will include a helmet and lock.
There are also winter fat bike tours offered by Bikescape that cater to all levels of bikers.
16. Ice skate on the famous Lake Louise
Free (except for skate hire)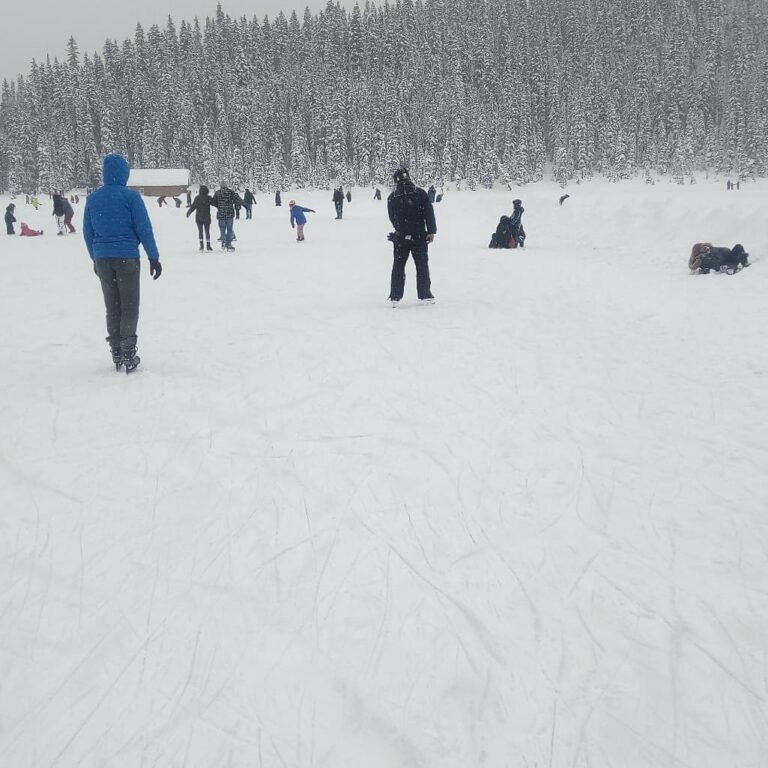 This was definitely on my bucket list of things to do, and I can say, without a doubt, that it is a brilliant experience and I highly recommend it. Even our moody teenagers loved it!
Lake Louise is stunning to look at in all seasons, but ice skating on this world-famous lake while surrounded by mountains and the Victoria Glacier is really unforgettable.
Lake Louise is busy all year, so if you don't want to ice skate during the day, ice skate in the evening when the lake is lit and likely to have fewer visitors.
Skating on Lake Louise is from mid-December to mid-April, depending on conditions.
You can rent ice skates from Chateau Ski and Snow Rentals, located at the Fairmont Chateau Lake Louise Hotel.
You don't have to be staying at the hotel to rent them, but keep in mind that rentals are on a first-come, first-served basis.
We like to go to Lake Louise every January to see the Ice Magic Festival, so if you're visiting in January, then try and combine it with the 12-day Banff Snow Days celebration.
This is when you'll get to witness some amazing sculptures being created.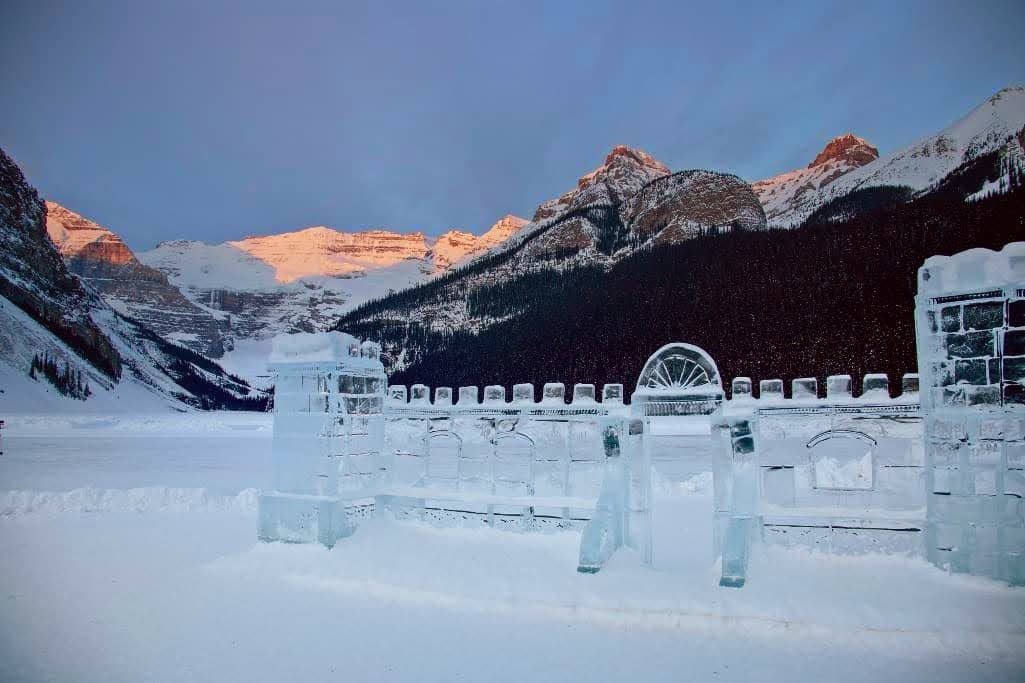 Not only will you be able to ice skate on this magnificent lake and see the meticulously crafted ice sculptures, but you'll also get to see the ice castle that is built directly on Lake Louise itself.
As you can imagine, everyone wants to see this, so expect to wait around for a while to get a photo, but it is definitely worth the wait.
17. Discover Banff National Park's best ice skating spots
Free activity (except for skate hire).
Of course, Lake Louise isn't the only place you can ice skate, although it is probably the most memorable.
Other lakes near Banff that you can ice skate on include Vermillion Lakes, Two Jack Lake, and Lake Minnewanka.
There are some outdoor rinks in town that are maintained, and they can be found at:
Fenlands Meadow
By Fenlands Recreation Centre at 100 Mount Norquay Road. You can rent ice skates if you need them.
Train station
Another area with an ice rink is the west parking lot at the train station at 327 Railway Avenue.
An ice rink is also constructed most years on the field next to Banff Community High School on Banff Avenue, so it's central to most hotels and is lit so you can enjoy it any time of the day.
Canmore
Although Canmore is just outside Banff National Park, it has some great lakes for ice skating while still being surrounded by snow-capped mountains. Here are some places you might want to try out:
Spray Lakes: This huge, man-made, deep reservoir is located south of Canmore along the Smith-Dorrien/Spray Lakes Trail-Highway 742.
Here, you'll have lots of space to yourself to ice skate while taking in the views of the Spray Valley. Bear in mind that as this lake is so deep in places, the ice can be weak.
Gap Lake: You'll find this lake on Highway 1A, around 10 km east of Canmore, and it is also easily accessible from Calgary.
It's a popular place with ice skaters, so parking can be a challenge at times, but it's well worth the visit as the scenery is stunning.
If you're staying in Canmore and you don't fancy venturing out to one of the mountain lakes, then another great option is to head over to the Town of Canmore pond near Main Street on 7th Avenue at Mallard Alley.
This is ideal for the whole family, as it is maintained daily and stays lit until 10 pm. There are seating areas as well as restrooms nearby.
I think you get the idea that there are a lot of areas in this part of the Canadian Rockies suitable for ice skating.
However, it can be very DANGEROUS. It is important to make sure you are prepared and know what to do in case of an emergency, so check the Parks Canada and Canadian Red Cross sites for ice safety and ice conditions beforehand.
18. Sample some unique, local craft beers
Not free, I'm afraid!
Find the perfect craft beer for your taste. Banff's (and I just have to include Canmore's) breweries and distilleries are definitely worth a visit. The craft beer scene has really exploded in Alberta over the past few years, and Banff is no exception.
The town is home to several great breweries where you can take a tour and see how they make their beers.
Whether you're looking for a light and refreshing beer or a hearty and malty brew, each brewery has its own unique style and flavor.
Some local favorites include Banff's first brewery, the Banff Ave Brewing Company, located at 110 Banff Ave.
Don't worry if beer is not your favorite tipple, as they have everything else, wine, cocktails, whiskey, etc.
Another option is to visit the Three Bears Brewery at 205 Bear St. The Three Bears, which is part of the Banff Hospitality Collective, is the newest addition to the Banff breweries that offer craft brews, microbrews, cider, and cocktails in an amazing setting.
Their restaurant menu features items like burgers, pizza, pasta, and salads.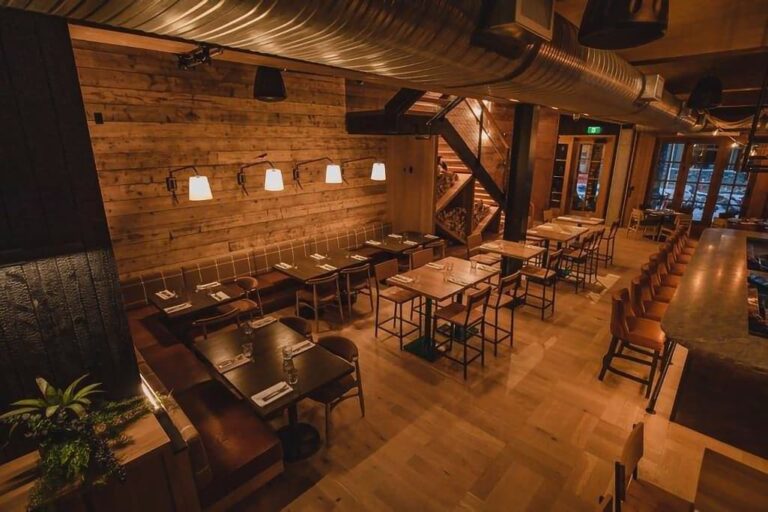 If you're looking for something a little different, then another option is the Park Distillery restaurant and bar at 219 Banff Avenue.
This is the only distillery in the park, and it serves a great range of spirits, including vodka, gin, rum, whisky, bourbon, wine, tequila, and a whole host of non-alcoholic drinks.
Great food and great vodka (if you're a fan), especially the vanilla vodka! You could also tour the distillery itself, where you would learn how they make their award-winning spirits. You can book online through their website.
Outside of Banff National Park, you've got some impressive ones to choose from in Canmore, and right in the heart of the town is the Grizzly Paw Pub and Brewing Company.
Actually, the Grizzly Paw has two locations: the downtown pub is at 622 Main Street, and the brewery, which also has two levels of dining areas with amazing mountain views, is located at 310 Canmore Road.
Canmore Brewing Company and tasting room is a short walk from downtown, situated next to Safeway at 1460 Railway Ave., Canmore, AB
Sheepdog Brewing is at #112 – 105 Bow Meadows Cres. You can bring your dog here in the summer, either on the patio or in the main floor taproom.
Another great thing about this brewery is that if you don't fancy the food snacks they sell, you can order food or just bring your own to eat.
Wild Life Distillery is at #160, 105 Bow Meadows Crescent, Canmore, for all things gin and vodka.
Blake Brewhouse and Distillery are at 810 Bow Valley Trail, Canmore. A converted garage that is now a brewery, distillery, and restaurant all in one place.
19. Race against time at Eureka Escape Room Adventures
Paid activity.
This is a fairly new addition to Banff and is great if you've got some time to spare, or you just want to try something different.
Escape rooms have grown to be really popular, and if you've never been to one before, give this one a go. You only need a couple of hours at most, and it's kid-friendly too.
Eureka is located beneath the Lux Movie Theater, on the lower floor of Wolf and Bear Mall, at 229 Bear Street. It is wheelchair accessible, as are both the escape rooms.
The themes of the rooms are The Warden's Cabin and Marv's Classic Soda Shop, which is actually a real 1950s-style American diner located in the town of Black Diamond, Alberta, just 25 minutes south of Calgary.
Try one of their old-fashioned milkshakes if you happen to go that way.
20. Experience ice climbing a frozen waterfall
Free or paid activity (if hiring equipment and instruction).
It is widely considered that Banff National Park is one of the best places in the world for ice climbing.
So if you haven't done this before and want to give it a go, or if you're an experienced climber, there's no better place to try this winter activity.
The ice-climbing season in Banff and Lake Louise typically runs from November through April, but this depends on the weather conditions as well as elevation.
Several companies provide guided ice-climbing trips in Banff and Lake Louise, and Yamnuska Mountain Adventures appears to be one of the most highly recommended in the area.
While this is not a cheap activity, it is certainly a memorable one.
21. Icewalk on a frozen canyon
Paid activity if going with a tour company, otherwise it's free.
If ice climbing isn't your thing, then maybe an ice walk along a frozen creek is.
We did the Grotto Canyon Icewalk excursion with Banff Tours, and it really was a truly unique experience, and I can't recommend it enough.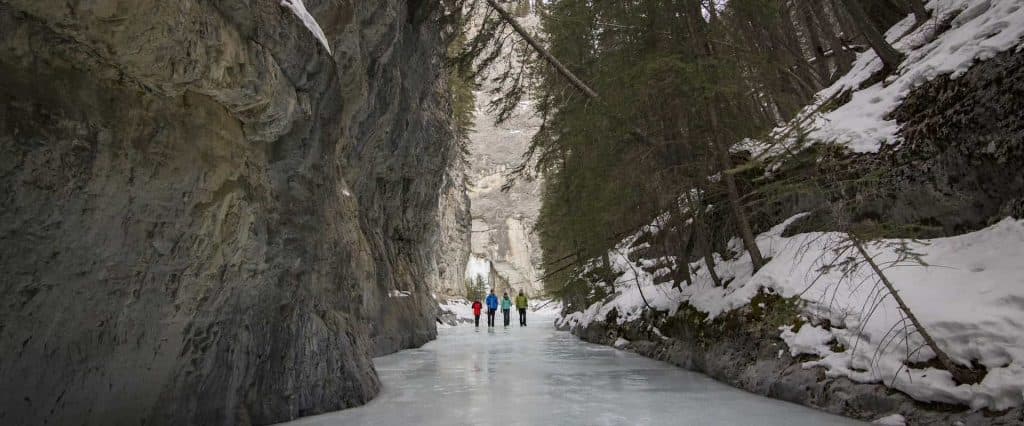 Your guide will supply you with cleats and a walking pole for walking on the frozen creek bed, which is an experience in itself.
But the best part of the tour is seeing the ancient pictographs on the canyon walls, which were created by the indigenous people long ago.
Although they've faded somewhat over time, you still find yourself staring in awe at these rock paintings, which tell stories of hunting, fishing, and spiritual beliefs, you'll also be given a history lesson on how these people lived, as well as learn about the geology of the area and the canyon formation.
Another highlight of the tour is being able to stand close to a frozen waterfall nearby, where you can often see ice climbers making their way up with ice picks and crampons.
It can get quite cold, but your guide has that sorted with a nice hot cup of hot chocolate and a cookie!
This is a family-friendly event that I guarantee you'll be talking about for a long time after.
You can do this ice walk yourself without paying for a tour if you have your own ice cleats, but with a tour, you don't have to worry about transport or equipment as it's all provided for you.
22. Try and spot the local wildlife
Free activity.
Wildlife sightings happen throughout the year, and as you might expect, there are plenty of wild animals in Banff National Park during the winter.
Moose, elk, deer, mountain goats, bighorn sheep (like the two I photographed below), coyotes, and wolves are just some of the animals that call this park home.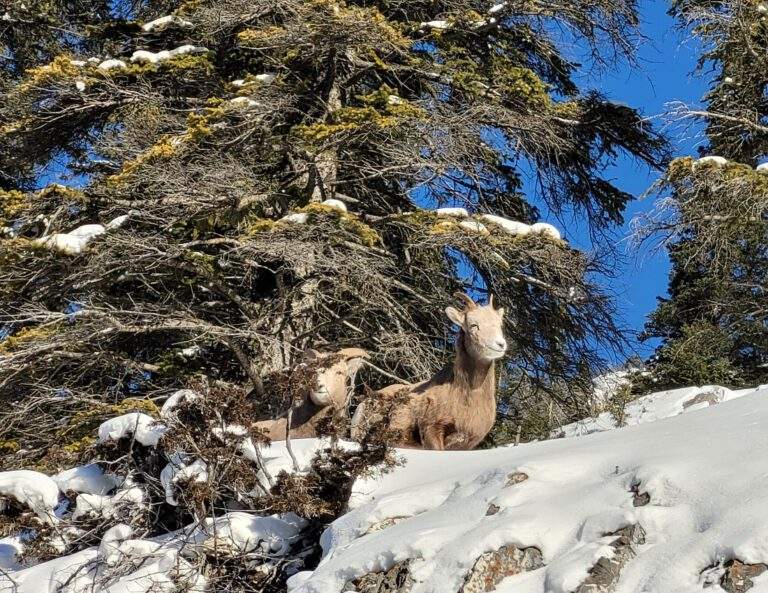 Although the bears will be hibernating, usually from mid-late November onward (but they can wake up and come out during the winter to feed at times), there's still a good chance, but not always, that you'll see some of the other wildlife, especially along the Bow Valley Parkway, which is a scenic road popular for spotting Banff's wildlife.
Travel slowly and keep your eyes peeled for animal sightings along this route.
23. Banff's winter landscapes are a photographer's dream!
Free activity.
Endless photo opportunities await you, and it's impossible to come to Banff and not take hundreds of pictures.
It doesn't matter how many times we come to the park, we always end up taking a ton of photos. You don't need any special equipment; your phone will do.
You could even try and get a photo of the train passing at Morant's Curve on the Bow Valley Parkway, one of the most photographed spots in the area.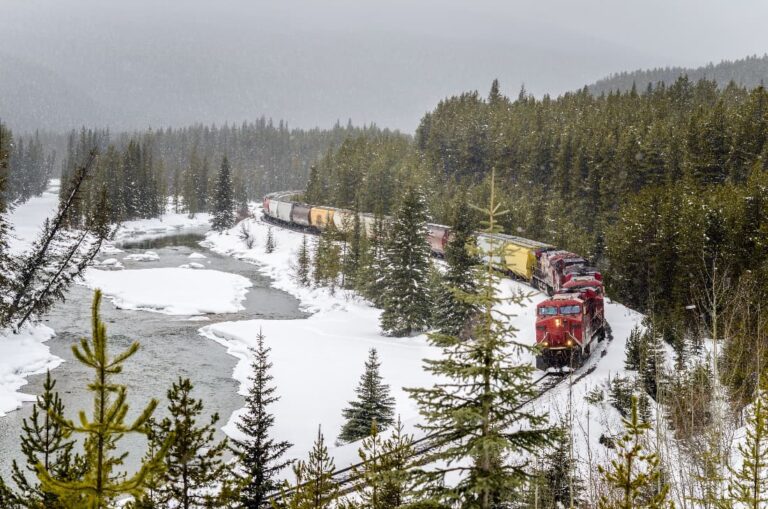 There are so many opportunities to capture the beauty of Banff's winter scenery, which will give you a lifetime of memories.
24. Go ghost hunting at one of Canada's most haunted hotels
If you're looking for something fun to do on your trip, why not stay overnight and go ghost hunting at the Fairmont's Banff Springs Hotel? It's a great way to explore the hotel, and you might even see a ghost or two!
The hotel is said to be one of the most haunted places in Canada, and it's definitely worth a visit if you're interested in things that go bump in the night.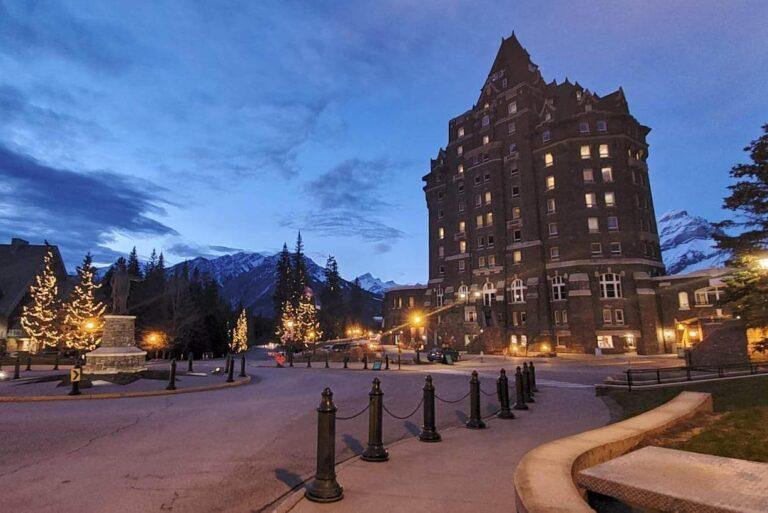 This historic hotel is said to be home to the ghost of the Burning Bride, who died on her wedding day.
You might also meet Sam McAuley, the friendly bellman who's been dead for decades but still likes to help guests with their luggage.
Then there's room 873, which is no longer there but connected to room 875, rumored to be the scene of a grizzly murder.
We did some ghost hunting of our own when we stayed there. Although we didn't see or hear anything, it was definitely a fun evening.
25. Take in the scenery from above at the Banff Gondola
Paid activity.
Located at the end of Mountain Avenue, a short drive from the town, is one of Banff's most popular attractions, the Banff Gondola at Sulphur Mountain.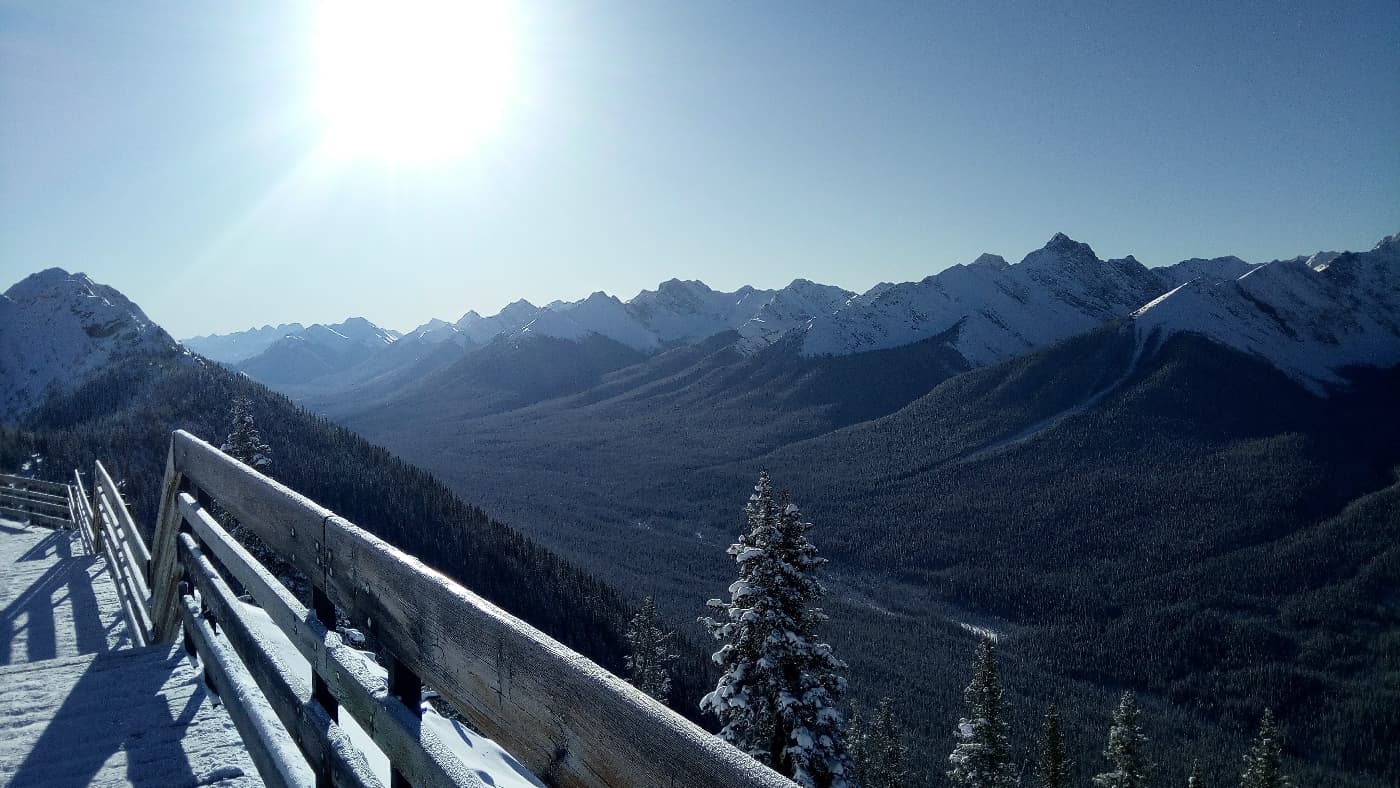 Even if you're afraid of heights (ahem, like I am), you've got to experience a ride in the gondola and see Canada's highest town from the summit.
All the photos of the views you see online really don't compare to what you see when you're there.
The gondola ride is just under 10 minutes one-way, and from the rooftop observation deck, you really are treated to the most magnificent views in every direction.
Take the boardwalk to the Cosmic Ray Station and take in the breathtaking scenery while getting a sense of the enormity of this amazing place.
You can also enjoy a meal or drink at Sky Bistro. Included in the admission price are the interpretive centre, and the multi-sensory Above Banff Theatre, where you get to see the Canadian Rockies from a bald eagle's perspective.
Be sure to download the Agents of Discovery interactive mobile game before you arrive at the interpretive centre.
As this is one of the more popular tourist attractions in Banff, it's not the cheapest, so it can be expensive if there are a few of you.
Also, depending on when you go, expect queues and crowds, and limited parking, so it's always best to book in advance.
We found that going first thing in the morning was the best time because it was less crowded.
Another reason to book ahead is so you know when the gondola is closed for maintenance.
26. Build a snowman and have a snowball fight
Free and fun.
Whether you're coming to Banff with kids or not, just getting outside and doing something like building a snowman together or having a snowball fight is a good way to enjoy the outdoors.
It also doesn't cost anything which is always a bonus.
27. Get up close and personal with a wolfdog
Paid activity.
Although Yamnuska Wolfdog Sanctuary isn't in the park itself but is located outside near the town of Cochrane, it is still definitely worth the trip to visit this amazing non-profit organization.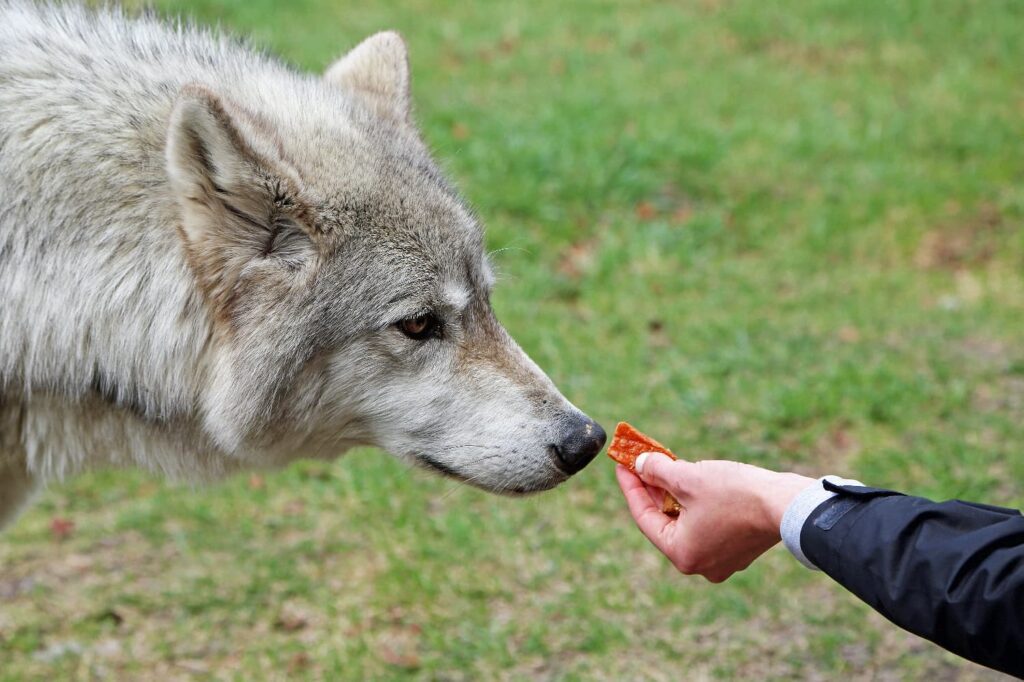 You can choose from three tour options, all of which are educational: the self-guided sanctuary walk, where you walk around at your own pace; the intro tour, which is guided by a member of staff, or, to get the best experience, choose the interactive tour, where you get to interact with the wolfdogs by feeding them treats, petting them, and spending time with them in their enclosure.
This might not be something you'd think about doing on your trip to Banff, but we highly recommend visiting this beautiful facility and supporting them. It really is worth every cent (or penny!).
28. Go for a horse-drawn sleigh ride through the snow
Paid activity.
A popular way to enjoy the winter wonderland surrounding Banff and Lake Louise is to go on a sleigh ride. You can choose a public tour or a private one just for you and your family.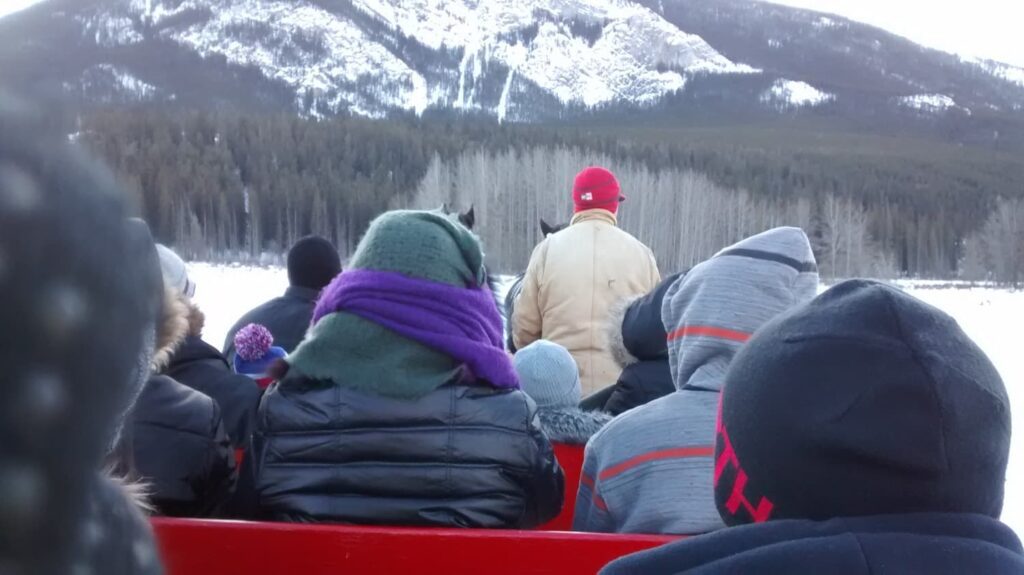 Sleigh rides are available both in Banff and in Lake Louise.
We booked our sleigh ride through Banff Trail Riders, who gave us hot chocolate and a nice, thick blanket to keep warm.
Sleigh rides can also be booked through Banff Tours and Brewster Adventures.
While it is lovely to sit there and just take in the surroundings, I would recommend wearing an extra set of layers, especially socks, because you're not moving around, so you soon start to feel the cold. Well, I did anyway.
I would also try to sit close to the front, as it was difficult to hear what our guide was saying as we sat in the back row.
Rides are around 45 to 60 minutes long.
29. Watch the sunrise at Tunnel Mountain Reservoir
Free!
Tunnel Mountain Reservoir is also known as Tunnel Mountain Meadow, which is a really popular place to get married (as we did).
The meadow is just behind Buffalo Mountain Lodge, and we recommend staying here if you want a log fireplace in your room. The hotel has views of Mount Rundle and the surrounding forest area. It's also one of the many dog-friendly places to stay in Banff if you're traveling with your pup.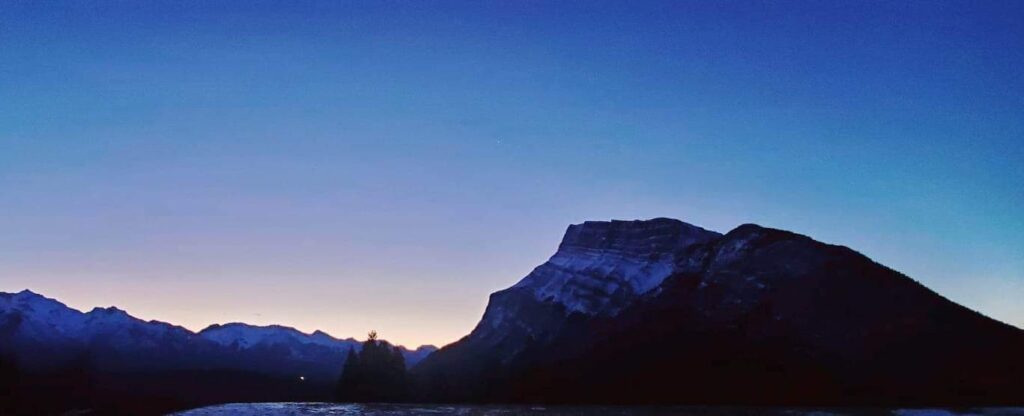 We come here and just enjoy the stillness of the area and watch as an elk or two strolls by while the sun comes up.
The view is spectacular, and the meadow itself is large and flat, making it ideal for watching the sunrise.
And when the sun finally does appear, it lights up the entire mountain range, creating a truly stunning sight, as you can see in the photo I took above – sorry it's a bit on the blurry side.
We often see cougar and bear warning signs in this area, so always remain vigilant and have your bear spray handy.
30. Experience the thrill of snowkiting
Paid activity.
Snow what? You might not have heard of snowkiting or kite skiing before. I certainly hadn't until I saw it featured on a Calgary news channel, and I knew it had to be included in this post.
This is a fairly new sport to Alberta and is on the more expensive side, but if you want to try something truly remarkable, you might want to give snowkiting a go!
This thrilling sport is a mix of skiing, snowboarding, and kite flying, and it lets you soar across the snow and into the air using the power of the wind and a giant kite to propel you.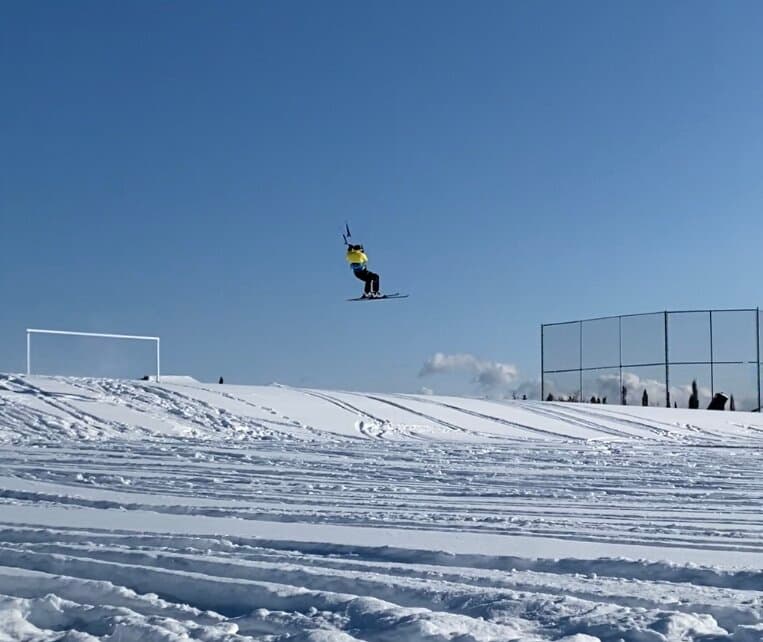 There are beginner lessons available if you're new to the sport and Kite Alberta offers these in Canmore (as well as kiteboarding in the summer).
These guys have over 10 years of experience and great reviews, so you can be sure you're in good hands.
31. Watch a local ice hockey game and cheer on Canada's iconic sport
Paid activity.
This might not be something that you'd think about doing during your winter vacation to Banff, but if you've never experienced the excitement of an ice hockey game, then you don't know what you're missing.
If you're staying in Banff, then pop into the local Roam Transportation office at 221 Beaver Street to buy your tickets.
The good news is that your ticket includes round-trip transportation on the Route 3 Banff/Canmore regional service. Tickets are $20 per adult. $14 for seniors, and $14 for youths (13 – 18) which is really good value.
Alternatively, if you want to drive there yourself, or you're staying in Canmore then you can buy tickets online at canmoreeagles.ca/tickets/.
32. Strikes, pins + a view of the Rockies at Banff's two bowling alleys
If you have an afternoon or evening free, or you fancy doing something different, then have a game of bowling along with a bite to eat and a drink at either of the two bowling alleys in Banff.
High Rollers is right in downtown at 110 Banff Avenue, and it's not only bowling you can do there. They have pool tables, 48 craft beers on tap, and their pizzas are seriously good.
Kids must be out by 10 pm. This lively place is open until 2 am, so if you want to make a night of it in there, you can, or you could go for Happy Hour from 3 – 5 pm Monday to Friday.
Bowling rates start at $49 a lane, per hour for up to 8 players, and doesn't include shoe hire. It's best to reserve a lane as this place gets booked up quickly.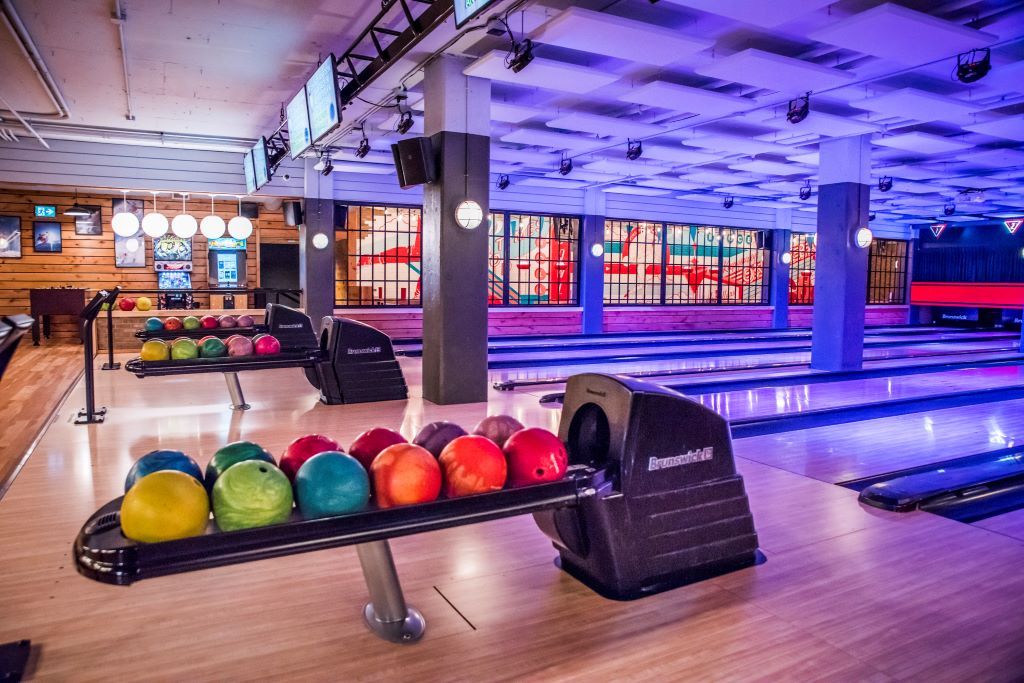 The other bowling alley is actually in the Fairmont Banff Springs Hotel. The rate for 5-pin bowling at Bowl Valley starts at $79 a lane, per hour for up to 7 players. The price includes shoe hire and can be booked here.
You can get a burger and fries and a beer or wine and the menu is quite reasonably priced.
33. Go dog sledding through snow-covered forests.
Paid activity and 100% worth it.
I said I'd save the best for last, and here it is—dog sledding through the Canadian Rockies!
This is one of Canada's most iconic activities, and it is the most exciting and memorable activity we have done in the Banff area.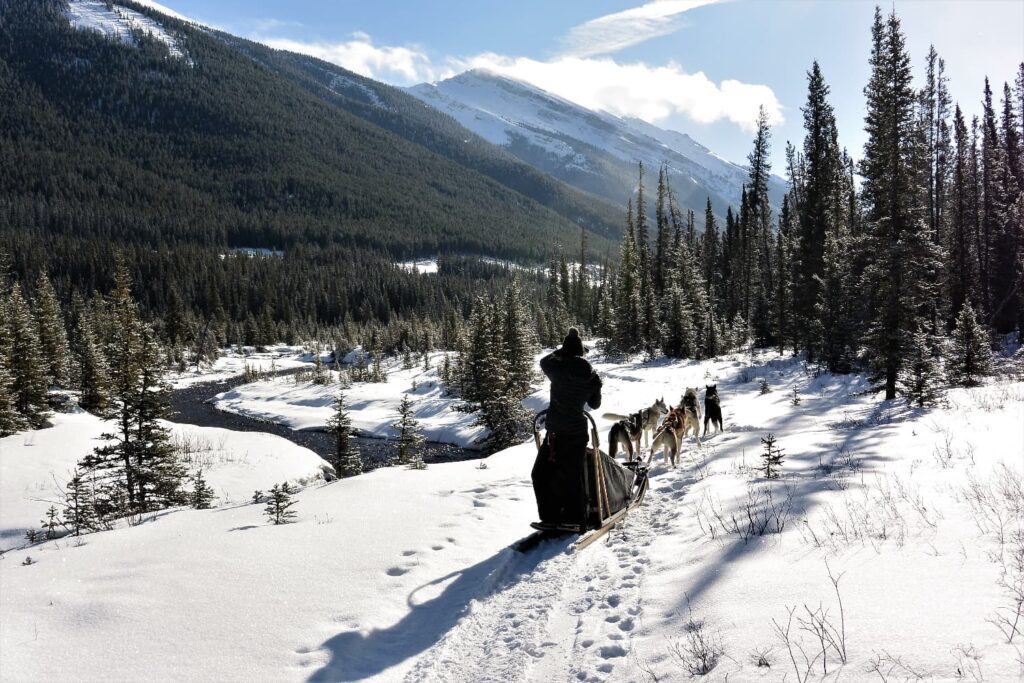 Trust me, dog sledding through the Rockies is the ultimate and exceptional experience.
You glide through some of the most beautiful snow-covered scenery imaginable. Not only is this a unique way to see the Rockies, but it also gives you a chance to spend time with the sled dogs and learn about these amazing animals.
We booked with Snowy Owl Tours in Canmore, and the whole activity, from start to finish, was amazing, and we would love to do it again.
They provide transportation from their office in Canmore to Spray Lakes Provincial Park where you are greeted by the sound of extremely excited dogs.
Our guide was knowledgeable and friendly and made sure we were comfortable throughout. All the staff were great with the dogs and it was clear that they had a lot of respect and love for them.
You can choose from several different tours that have different durations, ranging from 2 hours to a 2-day overnight trip.
You can opt for the instructor-led sled (as we did) or you can have a go and take charge of the sled and huskies or sled dogs yourself.
There really is nothing quite like sitting back in the sled under the thick blankets while a team of eager sled dogs mushes through fresh powder and past the towering mountains.
This will definitely be one, if not the top highlight of your winter trip to Banff.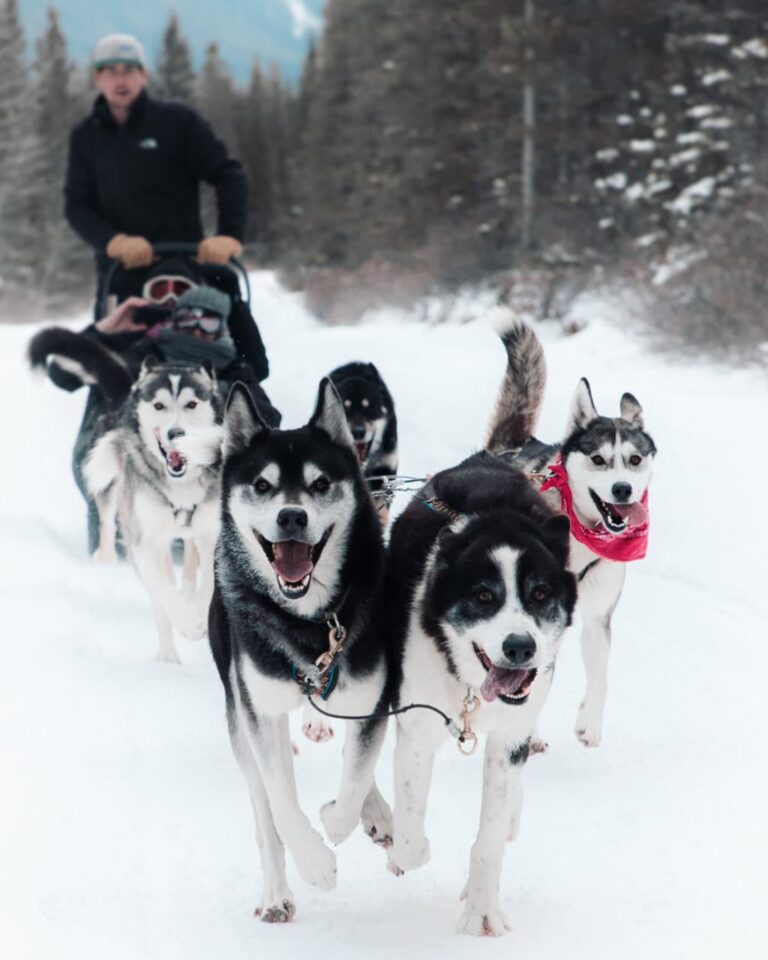 Just remember to dress in layers to keep warm, as it does get cold. I would recommend foot warmers if you get cold toes.
To be honest with you, this can be one heck of an expensive activity, depending on the size of your family and also the tour you go for.
But, when it comes to a once-in-a-lifetime experience, it really is worth the cost and I can't recommend it highly enough.
The other dog sled tour companies also based in Canmore that offer tours at Spray Lakes are Howling Dog Tours and Mad Dogs + Englishmen. Mad Dogs + Englishmen do not offer transportation there.
The other dog sled tour operator is Kingmik which is the only company to offer dog sledding tours in the park itself at Lake Louise.
So, whether it's a romantic excursion, a family activity, or even something to do on your own, you're guaranteed an experience that will stay with you long after your trip is over.
Making the most out of your winter vacation to Banff
If you made it this far, thank you! There's been a lot to read.
Banff in the winter really has something for everyone, whether you're visiting for a weekend or longer; this area of the Canadian Rockies is the perfect winter vacation destination.
We hope this guide has provided you with lots of ideas and inspiration to make the most of your visit to Canada's first national park.
We'd love to hear about any other tips or recommendations you have – please feel free to leave a comment below!
[2] World Ski Awards