If you are thinking of visiting Banff in January, go for it!
Yes, the weather will be cold, but as long as you come prepared with the right gear, you'll be just fine.
And if you love the snow, you'll love all the activities, such as skiing and dog sledding.
Even if skiing isn't your thing, there's still so much to do, and below you'll find out which festivals, events, and outdoor activities you can experience during January in Banff.
We've spent time in Banff every month of the year and can tell you firsthand that you will have a great time as there are plenty of indoor and outdoor things to do, even in the coldest month.
Written by Lou
Some links may be compensated, at no cost to you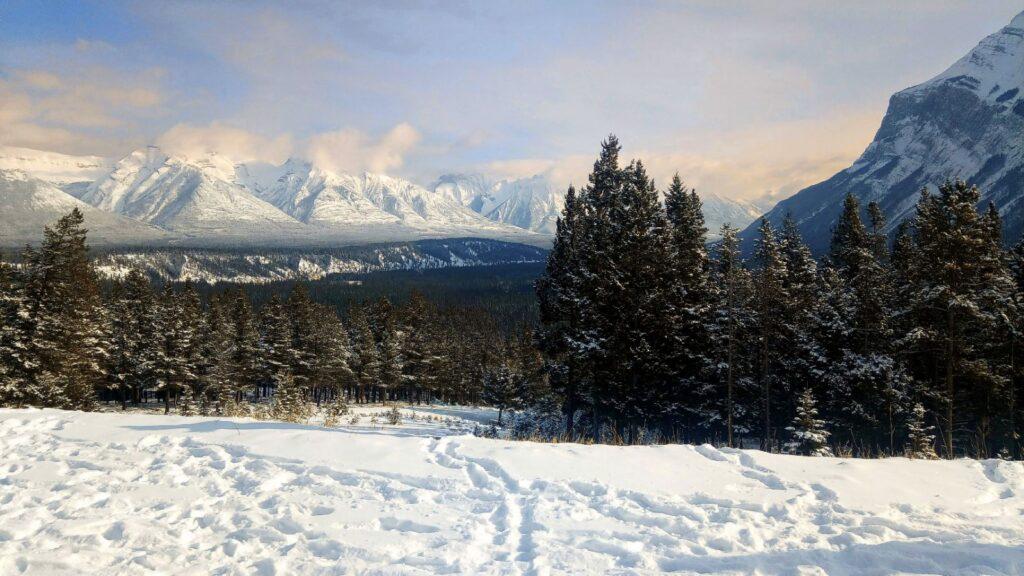 Weather in Banff in January
By the new year, Banff has transformed into a winter wonderland covered in a blanket of snow, with snow-draped mountains and frozen lakes creating the picturesque landscape it's famous for.
But just how cold does Banff get in January?
January is the coldest month in Banff National Park, with average daily temperatures between -5°C and -15°C (23°F and 5°F).
But it can get colder—I'm talking down to the -20s and -30s—but don't let that put you off, as it's still a great time to visit, as you will see!
Lake Louise is usually colder than Banff and has average temperatures between -8°C and -21°C (18°F and 6°F), which freezes the iconic lake ready for ice skating.
But don't worry, it's not always so cold, as the dry air makes it seem a lot warmer, as do the clear blue skies and sunshine, and then there are Chinook winds that raise the temperature.
What is a Chinook?
In southern Alberta, including Banff, Chinook winds can create rapid temperature changes.
Coming from the Pacific Ocean, these dry winds warm over the Rockies and can cause temperatures to rise by over 20°C (68°F) in just one day.
They also melt ice at a rate of 1 inch per hour, leading us Albertans to experience all four seasons in a single day.
How Much Snow Does Banff Get in January?
The average snowfall in Banff during this month is 38 cm (15 inches), making it the second snowiest month of the year after December.
Lake Louise gets a lot more snow, with an average of 63 cm (25 inches).
This amount of snow means you can do all the excellent Banff winter activities, such as skiing, snowshoeing, and ice skating.
Winter Festivals and Events in Banff in January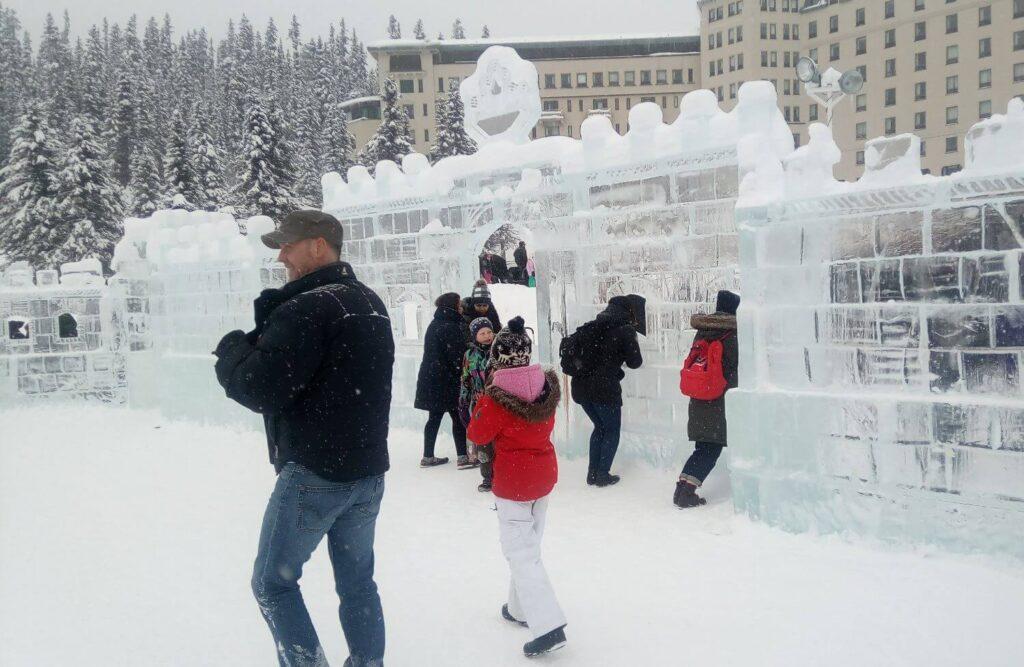 Ice Magic Festival in Lake Louise
One of the biggest events of the winter season is the Ice Magic Festival, which takes place in the last couple of weeks in January at Lake Louise each year (except for 2023).
The festival is held along the frozen Lake Louise shoreline, close to the Fairmont Chateau Lake Louise Hotel.
It features top ice carvers from around the world who compete to create the most impressive sculptures out of crystal-clear blocks of ice.
While you're at Lake Louise, pop into the hotel and see the views from this stunning hotel.
SnowDays Festival in Banff
Snow Days in Banff is a winter celebration over the last two weeks of January.
Ice Sculptures
Just as at Lake Louise, downtown Banff also features some amazing giant ice sculptures crafted by some seriously talented artists.
You can follow the trail of sculptures from outside the Whyte Museum to Bear Street and Banff Avenue Square.
Skijoring
Skijoring is also held in downtown Banff as a part of the festival.
A person on skis teams up with horses to take on a course featuring jumps and other exciting obstacles for the skier to navigate along Banff Avenue.
SnowDays Play Zone
This is another popular attraction with various winter activities for kids and adults in a designated area.
You can slide down the ski hill or try fat biking if you haven't given it a go before.
Live Street Entertainment
Head over to Bear Street afterward between 4 and 8 pm for live music and entertainment, warm up around one of the fire pits, and top it all off with some delicious local food and drinks.
SnowDays Festival is free and is the perfect way to experience winter in the Canadian Rockies.
Best Things to Do in Banff in January
January is an excellent month to visit Banff, Alberta, as it celebrates the winter with the above festivals and events.
But there is still plenty to see and do this month, aside from the festivals.
Ski or Snowboard at Banff Ski Resorts
Skiing and snowboarding in Banff National Park offer some of the best skiing conditions in Canada.
You can ski at any of the three ski resorts in the area: Mount Norquay, Sunshine Village, and Lake Louise Ski Resort.
All three resorts provide downhill skiing and snowboarding for all abilities and levels.
We took our beginner lessons at Sunshine Village, and it was great! Our instructor had the patience of a saint!
For something a little different, you can go night skiing or night tubing at Mt Norquay.
Ice skating on Lake Louise
Ice skating on Lake Louise is a must-do for any winter visit to Banff National Park.
The frozen lake is the perfect setting for outdoor skating, and who doesn't want to say they've ice skated in one of the most iconic places in the world?
Ice skating on Lake Louise is free, and you'll see people of all skill levels skating—we even managed it with our limited skating ability.
Skate rentals are available at the nearby Fairmont Chateau Lake Louise on a first-come, first-served basis.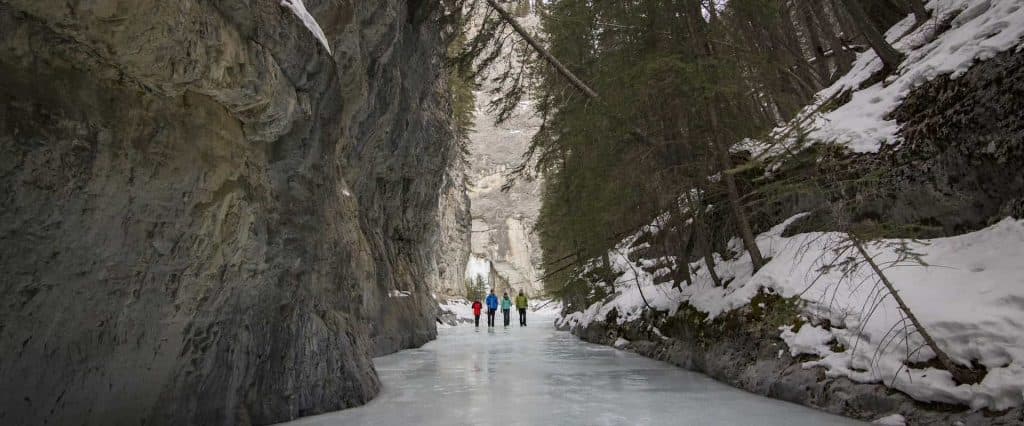 Ice Walk a Frozen Canyon
Johnston Canyon is a popular place to visit all year. But it is particularly stunning in the winter, as the frozen waterfalls, ice formations, and snowy trails make for a beautiful winter hike.
The hike to the lower falls will only take around 30-45 minutes and is doable for anyone with good mobility.
Whether you do the Johnston Canyon icewalk on your own or take a guided tour (Get Your Guide has a morning and afternoon icewalk tour), ice cleats/microspikes will keep you from falling on your backside as the catwalks along the canyon walls are super slippery.
We didn't wear ice cleats when we first visited in the winter years ago, and we were slipping and sliding all over the place. And yes, one of us did end up on our backside!
We did the ice walk at Grotto Canyon and LOVED IT!
Soak in Natural Hot Springs
Nothing beats soaking in the warm mineral waters of Banff Upper Hot Springs on a snowy January day.
Located up Sulphur Mountain, the hot springs offer a relaxing and restorative experience, and due to their elevated position on the mountain, you have the most stunning views of the Canadian Rockies while you relax.
The mineral-rich springs have a temperature range of 37–40 °C (98–104 °F), making them perfect for soothing those muscles after a day of skiing.
Do Some Cross Country Skiing
With numerous trails and loops around Banff National Park, cross-country skiing is one of the most popular winter activities in Banff.
Whether you're a beginner or an expert, there's definitely a trail for you.
Don't forget to explore other options, like snowshoeing and ice skating.
Snowshoe a trail or two
January is the perfect time for snowshoeing at this UNESCO World Heritage Site.
The park has lots of trails that are perfect for any level of hiker, all with spectacular mountain views.
Popular trails in the area include:
Johnson Lake
Spray Lake Loop, which starts near the Fairmont Banff Springs Hotel
and the Tunnel Mountain snowshoe trail.
If you don't have snowshoes, there are several places in Banff (Snowtips Bactrax) and Lake Louise (Wilson Mountain Sports), where you can hire a pair.
Visit Banff Museums
If it's a tad too cold outside, visit Banff museums and spend the day learning about the history and rich culture of the area.
The Whyte Museum of the Canadian Rockies is an excellent starting point.
The museum contains thousands of artifacts, photographs, and artwork exploring the history of the Canadian Rockies.
Other museums are the Banff Park Museum, which features over 5,000 specimens from the area, and the Buffalo Nations Luxton Museum, which showcases First Nations culture.
Take a Dog Sledding Tour
Experience the winter wonderland of Banff National Park on a dog sledding tour.
You'll get to bundle up and ride behind a team of huskies as they pull your sled through snow-covered trails, giving you a fantastic experience.
Dog sledding tours depart from Lake Louise and Canmore—we went with Snowy Owl in Canmore, and it was nothing short of amazing.
The Northern Lights
Although not guaranteed, January occasionally presents the opportunity to see the Northern Lights dancing across the night sky.
At this time of year, the days are short and dark, making it ideal to see this natural phenomenon.
Keep an eye on the Aurora forecast, and if luck is on your side, head out of town after sunset and find a spot with no light, such as Lake Minnewanka or Vermillion Lakes.
Then, keep your eyes on the skies and you might just be lucky enough to catch a glimpse of the Aurora Borealis.
Winter Photography
January in Banff provides picture-perfect postcard moments around every corner.
Don't forget to bring your camera or use your smartphone to capture stunning shots of snow-covered peaks, frozen waterfalls, and wildlife in their winter habitats.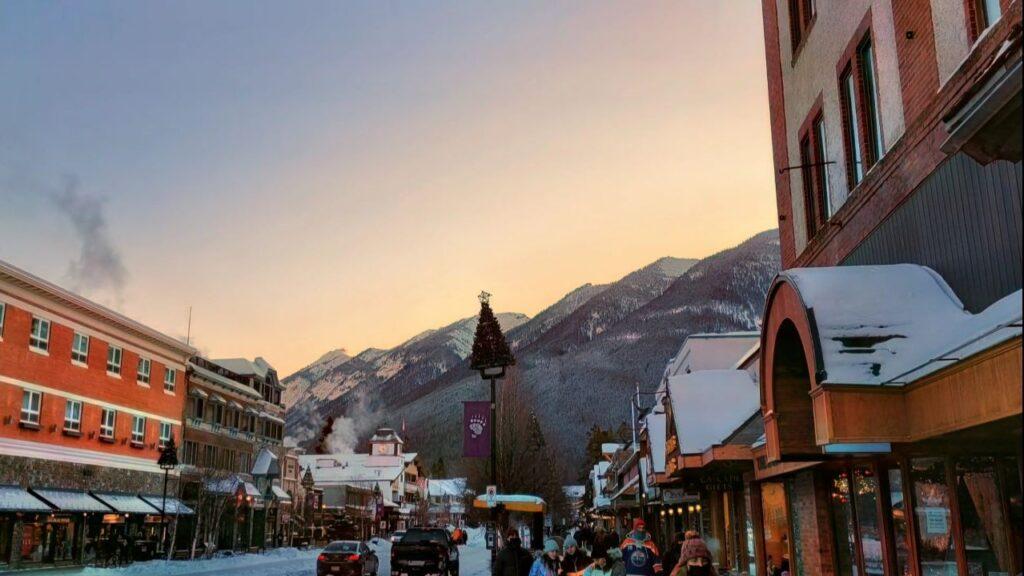 Exploring the Town of Banff
The town of Banff is a great place to explore during the winter.
Stroll down Banff Avenue and explore the shops, restaurants, cafés, galleries, and museums.
At night, cozy up in one of the many pubs or restaurants by a roaring fire and enjoy hot food and drinks.
Nightrise at The Banff Gondola
One of the most popular attractions in Banff National Park is the Banff Gondola (check for tickets here).
From November to March, the summit is transformed for Nightrise.
This night-time event showcases sound and light projections that tell the story of the First Peoples in partnership with the Stoney Nakoda Nation.
Dressing for January weather
It is really important to dress for the weather that a cold January brings.
Temperatures can fluctuate throughout the day, so dress in several layers of lightweight, warm clothing.
Also, wear a waterproof coat and pants, gloves, wool socks, and waterproof boots.
Our page on what to wear for Banff in winter has much more information on how to dress for the cold.
Snow Safety
Visiting Banff during the winter months means you'll have amazing experiences and stunning scenery.
But it's important to be aware that mountain conditions can change quickly.
So always check avalanche bulletins and weather forecasts before going out.
The Parks Canada website is a great resource for keeping up to date with the avalanche and weather conditions in Banff.
Where to Stay in Banff in January
When visiting Banff around this time of year, book your accommodation in advance, especially if you're planning to visit during the SnowDays Festival, as the town gets quite busy.
I always try to book around 8 months ahead, as prices are usually lower the further ahead you book.
Hotel prices are not as expensive as during the Christmas and New Year period, so you might find a great deal.
Choosing a hotel close to the downtown area means you don't have to walk too far to all the events and activities when it's cold outside.
Here are our recommendations for hotels that are walkable to downtown:
Mount Royal Hotel is 0.06 km from Banff Center, so it's right in the heart of it all.
We've stayed here, and it's a nice, clean, and newly renovated hotel with a great location.
Check price on Booking.com
Check price on Expedia
Brewster Mountain Lodge – 0.08 km away, so also located in the downtown area.
This lodge has a rustic feel, and we found the staff so friendly and helpful.
Check price on Booking.com
Check price on Expedia
Banff Park Lodge Resort Hotel + Conference Centre – 0.36 km away.
This is good if you're looking for more budget-friendly accommodation. The hotel is near the river but within easy distance of everything in town. The rooms could do with some TLC, but the short distance to everywhere makes it a great choice—we definitely appreciated it when the temperature dipped into the -20s.
Check price on Booking.com
Check price on Expedia
Elk + Avenue – 0.37 km away.
This is one of our favorites in Banff. It's in the heart of downtown. The decor is nice and modern, and the rooms are big. We also like it because it's pet-friendly. I would recommend it to anyone looking for chic accommodations. The staff were friendly and accommodating too.
Check price on Booking.com
Check price on Expedia
Moose Hotel + Suites – 0.48 km away.
The Moose is one of the more popular hotels in downtown Banff, and it's really close to all the shops and restaurants. If you want a hotel with a swimming pool and rooftop hot pools, this is the hotel for you.
Check price on Booking.com
Check price on Expedia
Fox Hotel & Suites is 1 km away, but still a walkable distance.
The Fox has great service, comfortable beds, and wonderful views of the mountains.
Check price on Booking.com
Check price on Expedia
Visiting Beautiful Banff in January
Although Banff might be colder in January than any other month, it really is a great time to visit.
A trip to Banff in the new year is a great way to experience the full range of winter activities in this beautiful mountain town.
There are plenty of ways to enjoy the outdoors, from skiing, snowshoeing, and ice skating to admiring the frozen waterfalls or trying your hand at dog sledding.
With fewer crowds once Christmas and New Year are over, lower accommodation prices, and festivals such as the SnowDays Festival and Ice Magic Festival, the Canadian Rockies in January are certainly worth a winter trip.