Banff is a great place to visit in March, as the days are getting longer and (slightly) warmer as spring approaches.
While Banff is popular year-round, March has fewer visitors than the peak winter months.
That means you can enjoy the attractions and winter activities like skiing, snowshoeing, and ice skating with fewer crowds.
Hotel rates are crazy expensive during peak seasons, so you'll be pleased to hear that hotel rates are lower in Banff in March, and you can find good deals on accommodations.
Below, we tell you what to expect from the weather, the best things to do, where to stay, and what to pack for a March trip to Banff.
Written by: Lou
Some links may be compensated, at no cost to you
Banff Weather in March
The weather transitions slowly from winter to spring towards the end of March.
Though Banff winter temperatures are still chilly, ranging from an average of -8°C to highs of around 4°C (17.6°F to 39°F), the days start to get longer with an average of 12 hours per day.
Although it's not as cold as in January or February, you still have to be careful of the wind chill factor, as temperatures can feel much colder.
Precipitation is low at only 1.6 mm over the month, so there are clear, bright blue skies and perfect conditions to explore the breathtaking landscapes of Banff National Park.
How Much Snow Does Banff Get in March?
Banff experiences significant snowfall in March, making it look like a true winter wonderland.
The average snowfall is around 27 cm (10.6 inches), so there's enough fresh powder for skiing, snowboarding, and other winter activities.
I've found it gets slushier towards the end of the month, so make sure to have a good pair of waterproof boots.
Weather in Lake Louise in March
The weather in Lake Louise is colder than that in Banff during March.
The average temperature ranges from -14°C (7°F) to a high of around 2°C (35.6°F), with an average of 12 hours of daylight per day.
Just as in Banff, there is a low amount of precipitation at only 1.7 mm over the month, making it ideal for exploring stunning landscapes without worrying about heavy rainfall.
Snowfall in Lake Louise is higher than in Banff and averages 33 cm (13 inches) in March. Again, plenty of fresh snow will keep winter sports enthusiasts busy.
Festivals and Events in Banff in March
This is a quiet month for festivals in the area, as most are during the peak winter months, such as SnoDays in Banff in January.
However, you might be interested in the Masters World Cup of Cross-Country Skiing held at the Canmore Nordic Centre Provincial Park in Canmore, only around a 30-minute drive back on the Trans-Canada Highway.
It's held in either February or March, so click the link above for the exact dates.
What To Do In Banff In March
To give you an idea of why Banff is good to visit in March, below are just a few things you can do for a memorable vacation.
Take The Banff Gondola and Stargaze at 7,500 ft
One of the most incredible experiences you can have in Banff National Park is stargazing from Sulphur Mountain at a height of around 7,500 feet (2,286 m)—it really doesn't get much better than this, especially if you get to see the northern lights make an appearance!
Why not combine a trip on the Banff Gondola with a visit to the Nightrise event (which ends at the end of March) and a meal at the Northern Lights Alpine Kitchen?
The Nightrise event is included with the regular admission ticket for the Banff Gondola and can be booked here.
Soak and Relax in Banff Hot Springs
A visit to the Banff Upper Hot Springs is just what you need after a day of exploring or skiing.
There's nothing better than soaking your tired muscles in a hot spring.
And you don't have to go far to do this, as the hot springs are only a few minutes drive from downtown Banff.
However, parking is limited here, so you're better off getting the Roam Transit Banff Local Route 1( this is the same bus you would take to get to the Banff Gondola).
Banff Upper Hot Springs are in an incredibly scenic setting as they are located halfway up Sulphur Mountain, so you can relax in the naturally warm waters and take in some of the best mountain scenery there is.
The water temperature ranges between 37 – 40°C (99 – 104°F), so it's a perfect way to unwind after spending the day outdoors.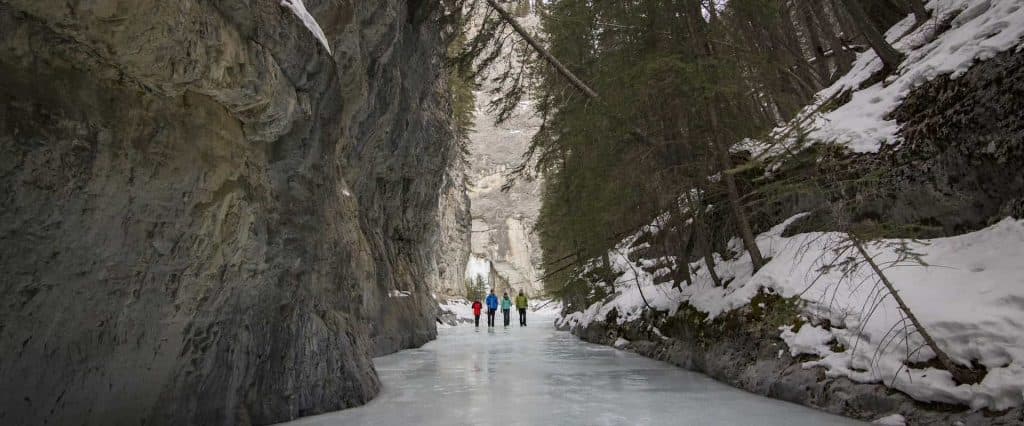 Take an Icewalk Tour on a Frozen Creek
I recommend adding this icewalk tour through Grotto Canyon to your itinerary when visiting Banff in March.
This unique experience allows you to traverse a frozen creek bed, discover ancient native pictographs, and see a stunning frozen waterfall.
You'll hop on the tour bus in Banff and be driven to Grotto Canyon in Canmore. Once there, you'll hike the return 4.2 km journey along the frozen creek bed.
Your guide will point out the ancient native pictographs on the canyon walls.
These fascinating rock paintings offer a glimpse into the rich history and culture of the indigenous people who inhabited the area.
Another highlight of this hike is the frozen waterfall at the end and seeing the ice climbers make their way up it.
It looked way too exhausting to me, and I was happy to stand there with my hot chocolate and cookie that were provided while I watched!
While the hike itself is not overly challenging, dress appropriately for the weather and wear warm and waterproof shoes or boots.
You don't have to worry about ice cleats or poles if you don't have your own, as they are provided for the tour.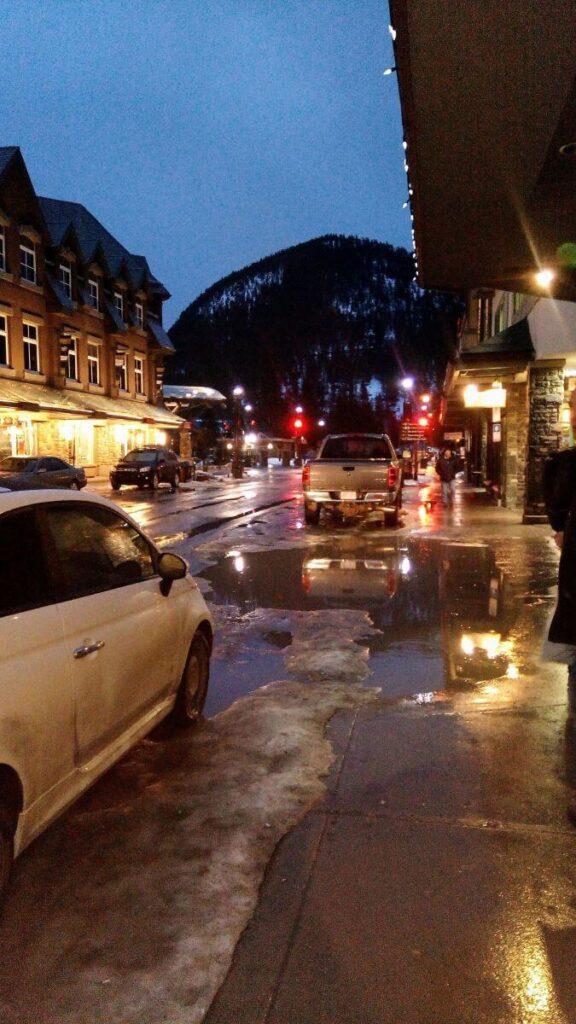 Explore Downtown Banff
Banff has a good choice of food and drink options with dishes made from locally sourced ingredients from Alberta, international cuisine, and locally crafted brews and spirits.
For a livelier evening, head to one of the many bars and pubs in the area. The Rose & Crown Pub is Banff's oldest pub and one of the most popular spots for live music, an extensive selection of local beers, cocktails, and bar food.
Or perhaps one of the breweries, like the Banff Avenue Brewing Co., is more your thing.
With a great selection of beers, cider, cocktails, and wine, it's a great spot to sample some local beers and grab a bite to eat.
The town has no shortage of shops and boutiques if you're after souvenirs, clothing, or outdoor gear.
You'll also find art galleries and museums if you want to explore the local culture.
If you fancy something different to do, or it's just too cold to venture out for long, head to High Rollers for a game of bowling or catch a movie at the historic Lux Cinema.
Underneath the Lux cinema are the Eureka escape rooms, where you can test your problem-solving skills and see if you can escape a locked room within an hour.
Go Tubing at night
A 10-minute drive from downtown Banff is Alberta's largest tube park, Mt Norquay Ski Resort.
Mt Norquay also has night tubing on Fridays and Saturdays from 5 pm to 7.30 pm, so if you're up for some evening fun that's not the norm, then this is one of the best things to do in Banff in March.
Booking ahead is advisable due to the popularity of this activity.
Go on a Cross-Country Ski Tour in Banff or Lake Louise
If speeding down a slope in an inflatable tube is not your thing, why not try cross-country skiing in Banff National Park?
You'll be able to traverse some of the most spectacular terrain in the Canadian Rockies and get a good workout at the same time.
There are plenty of trails for all skill levels, from beginner to expert. The trails are well-maintained and have scenery that is absolutely breathtaking.
Bikescape offers beginner to intermediate-level lessons and cross-country ski tours in Banff and Lake Louise if you've never tried cross-country skiing before.
And don't forget to bring appropriate clothing and equipment, including warm layers, waterproof boots, a hat, and gloves.
Visit the Banff Centre for Arts and Creativity
Whether you're a lover of the arts or simply looking for a unique and enriching experience, you'll enjoy a visit to the Banff Centre for Arts and Creativity.
You can immerse yourself in the vibrant arts scene and participate in workshops and classes to explore your creative side.
Check out their website for upcoming events and activities in March.
Ski at Banff's Three Ski Resorts
Hit the slopes and enjoy some of the best skiing in Canada in March at one of Banff National Park's world-class three ski resorts—there are 362 ski runs available in total!
When visiting Banff in March, the winter conditions are ideal for hitting the slopes, as there are lots of fresh powder and well-groomed trails at Banff Sunshine, Lake Louise Ski Resort, and Mt Norquay.
Where to Stay in Banff in March
March is actually one of the less expensive times to visit Banff as it heads into the off-season.
This means you have a good chance of finding exactly where you want to stay at a lower rate, especially if you book in advance, like 8 months or more, which I always try to do.
Here are some of the hotels we've stayed in and recommend:
Fairmont Banff Springs Hotel
This is Banff's most luxurious hotel, with stunning views of the Canadian Rockies from every angle.
This castle-like hotel is perfect if you're looking for the ultimate in relaxation and sophistication. There are various restaurants, bars, a spa, and pools, so you'll be sure to enjoy every minute of your stay here.
I recommend a dip in the outdoor pool at night and watching the snowflakes drift by.
Check price on Booking.com
Check price on Expedia.com
Elk + Avenue Hotel
If you're looking for comfort and convenience without breaking the bank, check out the Elk + Avenue Hotel.
It's just steps away from downtown's shops, restaurants, and bars.
We like staying here as it's so close to downtown, but it's also clean, modern, and has really good-sized rooms.
Check price on Booking.com
Check price on Expedia.com
Tunnel Mountain Resort
Another great accommodation option to consider is Tunnel Mountain Resort, just a few minutes drive or bus ride from downtown Banff, and complementary transit is offered during your stay.
We love staying at Tunnel Mountain Resort in the winter as it has great scenery to look at while sitting by the wood-burning fireplace.
Check price on Booking.com
Check price on Expedia.com
What to Pack for Your March Trip to Banff
When planning a trip to Banff in March, it's important to pack the right items so you're comfortable and warm.
You'll find a complete list on our What to wear in Banff in winter page, but here are just some of the essential things to pack:
Warm clothing: March in Banff can still be cold, especially on the slopes, so pack for layering, including a breathable base layer, warm sweaters or fleece, waterproof, fleece-lined pants, and a waterproof and windproof jacket to stay cozy outdoors.
Waterproof shoes or boots: As I mentioned above, it can get slushy in March, so waterproof footwear with good traction is also needed for exploring the snowy trails and streets of Banff.
Sunglasses, sunscreen, and lip balm: Banff has cloudless days with lots of sunshine, so it's bright, especially when reflecting off the snow. So don't forget to bring a pair of sunglasses, sunscreen, and lip balm to protect your eyes and skin.
Make sure you bring scarves, gloves, a toque, and (wool) socks—you'll need them!
Is Banff worth visiting in March?
Absolutely!
Although the weather in March can be unpredictable, if you come prepared, you'll find Banff in March is a great time to visit, especially if you're coming for skiing, which is one of the main highlights of visiting the Rockies in March.
Another great reason to visit in March is the low season rates, as hotel prices are much lower now than at Christmas or summer.
Whatever time of year you visit, don't forget you'll still need to buy a Banff Park Pass to visit.