If you're visiting Banff in April, you'll be here for the start of shoulder season. And while it will still snow in Banff National Park, temperatures slowly begin to rise and the days grow longer as spring approaches.
This makes it perfect for outdoor activities like skiing and hiking. But it also means you'll need to dress appropriately, as it's still somewhat on the chilly side.
April in Banff is the ideal time to enjoy all the beauty this part of the Canadian Rockies has to offer, with fewer crowds, deals on hotels, stunning views, and a mix of winter and spring activities.
So, here's our guide on what to expect from the weather, what activities you can do, where to stay, and what to pack for a trip to Banff in April.
Written by Lou
Some links may be compensated, at no cost to you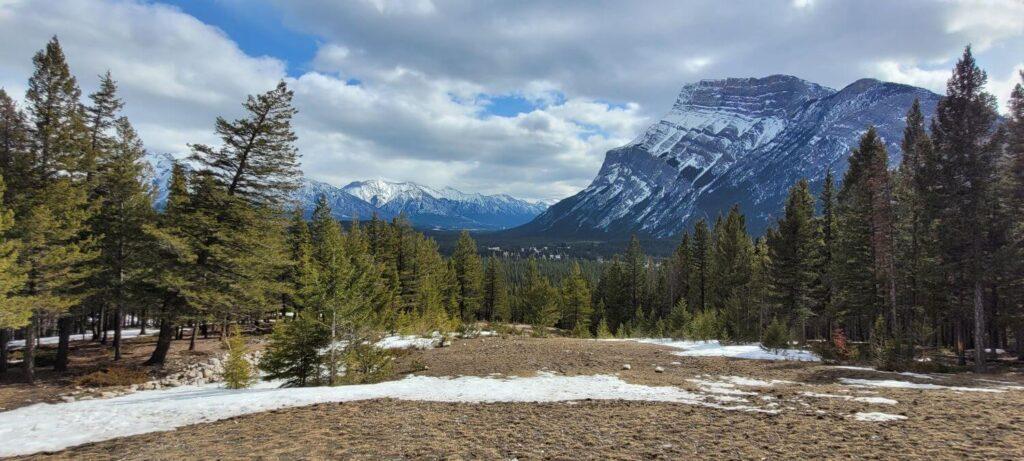 Banff Weather in April
Signs of spring slowly start to appear in Banff in April as temperatures begin to rise and the snow starts to melt away.
But the weather in April is often changeable, with days of sunshine and cool temperatures mixed with snowfall.
Days become warmer and longer as the month progresses towards May.
The average precipitation for April is 10.6 mm (0.4 in) of rainfall.
This amount of rainfall doesn't sound like a lot, but it's actually quite an increase when you compare it to the 1.6 mm that falls on Banff in March.
You can expect partly cloudy skies and intermittent showers, but also plenty of sunny days to explore the beauty of Banff National Park.
Humidity levels are lower in April, so the air starts to feel noticeably drier compared to the winter months.
Temperature in Banff in April
The weather during this time varies, with daily average temperatures of -3°C (27°F) at night to 9°C (48°F) during the day.
These are just averages. It can get colder than this in April, especially at night.
Because the weather is unpredictable in April, you should still come prepared with warm clothing when you visit.
Banff Sunset and Sunrise Times in April
April marks the transition from winter to spring, bringing longer daylight hours.
At the beginning of April, the sun rises around 7.15 am, and sunset is just after 8 pm. As we go further into April, the days become longer, and sunrise begins closer to 6.15 am and sets around 9 pm by the end of the month.
Overall, Banff has around 14 hours of daylight in April and beautiful sunrises and sunsets.
Does it Snow in Banff in April?
Just because it's spring, it doesn't mean there's no more snow, far from it.
April in Banff still sees a good amount of snowfall, so expect the Big3 resorts to be bustling with skiers making the most of the last few weeks of the ski season.
On average, the town of Banff receives around 26 cm (10 inches) of snow throughout the month, so that means there's a good amount of snowfall at the ski resorts.
The Big3 ski resorts actually saw the most snowfall in April out of the entire 22/23 season.
Banff Sunshine saw an impressive 85 cm (33 in) over the second and third weeks of April, while Lake Louise Ski Resort had 47 cm (19 in) of fresh powder in a single day on April 17, 2023.
Whatever you do during your visit to Banff in April, it's still a good idea to check weather forecasts and road conditions as spring conditions do vary, and there's still always the chance of a snowstorm and high winds that seem to come out of nowhere.
Is Banff Busy in April?
For the most part, Banff is less busy in April than during peak season, but you should still expect to hit some crowds, especially as skiers come to enjoy the last few weeks of powder, as I mentioned above.
Between April 1, 2022, and March 31, 2023, there were 4,130,081 visitors to Banff National Park, with the highest numbers visiting between June and August and from December to March for winter.
Weather in Lake Louise in April
Compared to Banff, Lake Louise tends to be slightly colder in April, with average daily temperatures ranging from 7°C (45°F) in the daytime down to -7°C (19°F) at night.
Again, these are only average temperatures as it can be a lot colder and warmer.
Average rainfall amounts are less in Lake Louise, with only 5.5 mm (0.2 in) over the month.
Lake Louise Ski Resort sees an average of 538 cm (212 in) with around 81 snowfall days per year, with an average of 22 cm (9 in) in April.
Even though temperatures are starting to increase, Lake Louise is still frozen over in April, as are the other glacial lakes in Banff National Park.
Festivals and Events in Banff in April
If Easter falls in April and you're visiting with kids, the local ski resorts hold Easter egg hunts and activities over the long weekend.
These events are usually free, but you still need to book tickets.
If you're looking for something a bit more grown-up, then check out the Made with Love festival that runs for just under two weeks (2024 dates and ticket prices coming soon).
This is an outdoor event on Bear Street where local restaurants offer cocktail and mocktail masterpieces along with food at this family-friendly and pet friendly event.
Things to do in Banff in April
While the weather can still be chilly, there's no shortage of activities and attractions to enjoy during the shoulder season.
Ski the Last Few Weeks of Winter
If you're a skiing or snowboarding enthusiast, April is an excellent time to hit the slopes at the SkiBig3 resorts – Mount Norquay, Sunshine Village, and Lake Louise Ski Resort.
These world-class resorts offer a variety of terrain for all skill levels.
Banff is popular with skiers this time of year as it's known for its long ski season. You can ski Sunshine Village from early November through to May.
Hike Some Trails
You can also venture out on a few easy hikes. While trails will still be snow-covered, the lower-elevation trails are accessible with the right gear, such as hiking poles, sturdy footwear, and ice cleats.
A popular hiking trail is Tunnel Mountain, which you can get to right from town. It has great views of Mount Rundle and the Bow Valley.
Johnston Canyon is another great hike to do in April. You just follow the catwalks to the frozen falls and enjoy the beautiful ice formations along the way.
Don't attempt the trails without ice cleats, especially Johnston Canyon, as it's very slippery.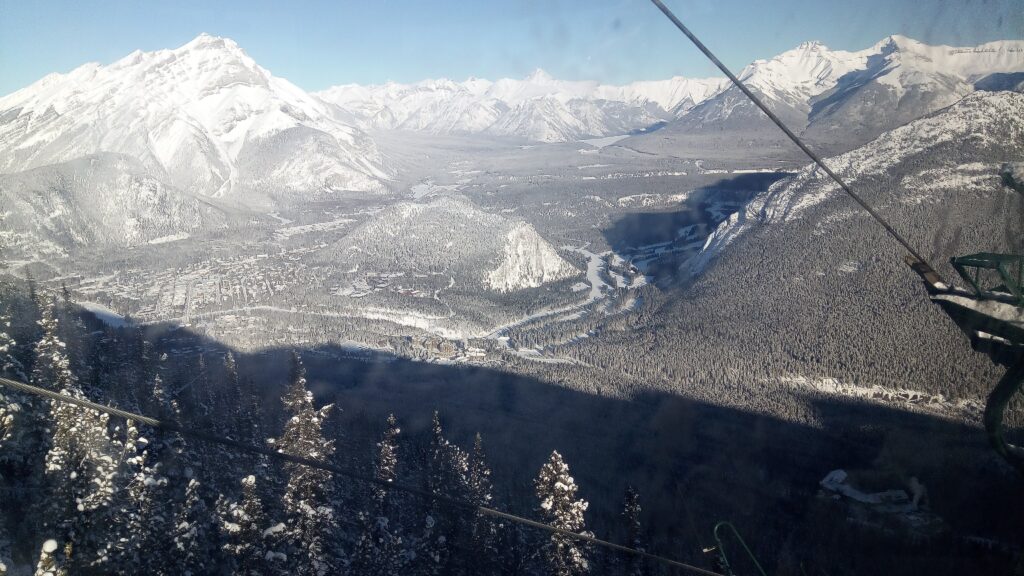 Experience the Banff Gondola
No trip to Banff is complete without an eight-minute cable ride on the Banff Gondola up Sulphur Mountain.
The views of the surrounding Rocky Mountains are simply stunning.
At the summit, you can wander around the discovery center with interactive displays and informative presentations about the natural history of the area.
You can enjoy a meal at one of the on-site restaurants, the Sky Bistro or the Northern Lights Alpine Kitchen. With views of the Bow Valley and the Rocky Mountains as the backdrop, you can't go wrong with either one.
Explore the Shops and Restaurants
Banff is a vibrant town with plenty of activities and attractions to keep you occupied.
You can check out the local shops and restaurants, and the town has some great coffee shops, pubs, and breweries.
If you're looking for something more unique, check out the Banff Centre for Arts and Creativity or take a guided walking tour of the historic town.
A relaxing stroll along the Bow River to Bow Falls is also a great way to spend an afternoon.
From there, you can also explore (and I recommend you do) one of Alberta's most famous landmarks, the Fairmont Banff Springs Hotel.
It's an iconic hotel with stunning architecture and fantastic views of the Bow Valley.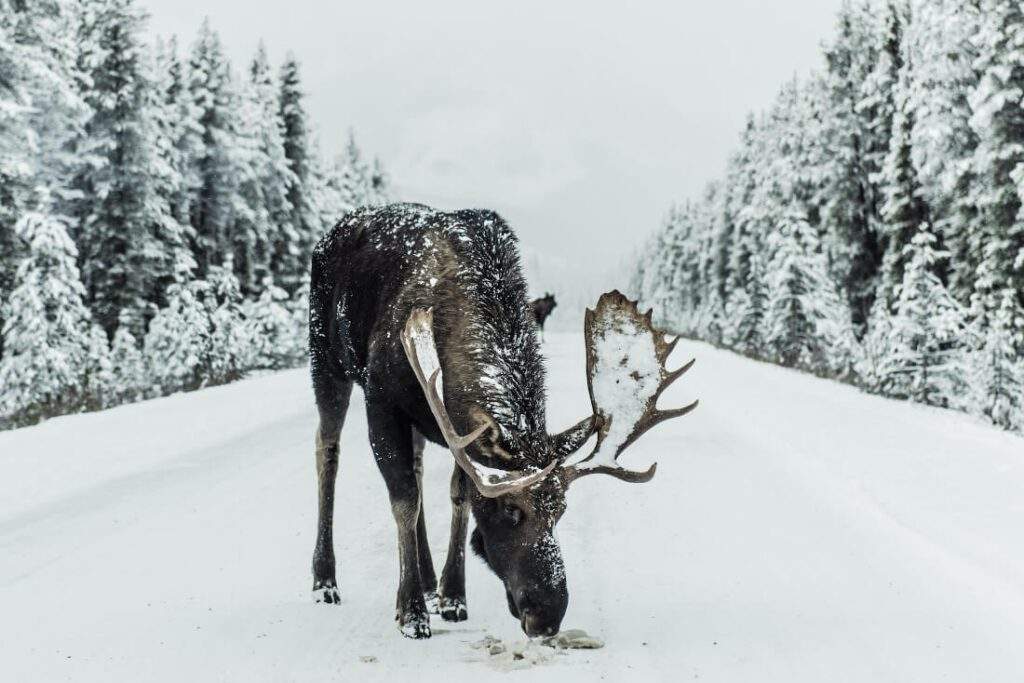 Take a Wildlife Tour
Banff is a great place to spot wildlife in April, and one of the best ways to do this is by taking a guided wildlife tour.
As the bears are just beginning to wake up from hibernation around this time and sightings are posted all over social media, you might be lucky enough to spot one—and who doesn't want to see a bear when they visit Banff?
The tour guides are knowledgeable, so they know where to look for the park's other most iconic wildlife, such as elk, moose, bighorn sheep, and wolves.
You can take a private tour or join a group like this one and learn all about the wildlife in the area while also taking in stunning views of the Canadian Rockies.
Where to Stay in Banff during April
When it comes to finding the perfect place to stay in Banff during the spring shoulder season, you'll find lots of accommodation options available.
Here are some of the hotels we've stayed in and recommend: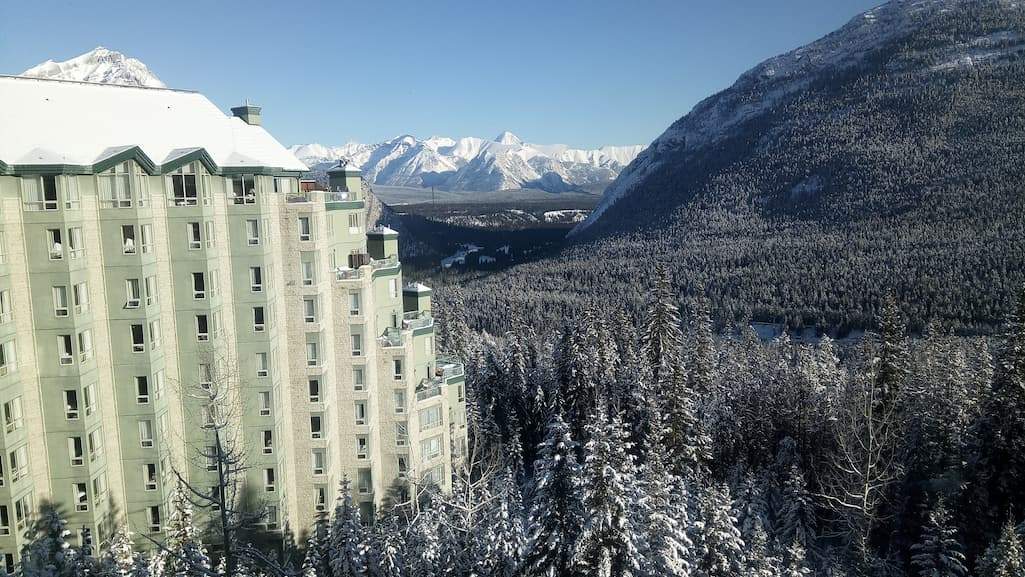 The Rimrock Resort Hotel
This luxurious hotel offers unbelievable views of the surrounding Canadian Rockies and is close to downtown.
This hotel has everything you need, including restaurants, bars, a spa, an indoor swimming pool, and a gym.
Complementary transport to town via Roam Transit picks you up right outside the hotel. And what a scenic ride this is!
Check price on Booking.com
Check price on Expedia.
Buffalo Mountain Lodge
Buffalo Mountain Lodge is a couple of minutes drive from downtown Banff or around a 20-minute walk.
The lodge-style rooms here are so cozy when it's snowing outside and you've got the roaring wood-burning fire going. There is a pile of chopped wood left outside each hotel room for use.
This hotel is ideal if you want to be close to nature and enjoy the outdoors. We like to walk over to the meadow and watch the sunrise over the mountains.
The bathrooms in the Premier rooms have heated slate flooring and an old-fashioned claw-foot tub, which, to be honest, is perfect for a relaxing soak in the evening with a glass of wine.
Check price on Booking.com
Check price on Expedia.
Elk + Avenue Hotel
If you want to stay in downtown Banff, the Elk + Avenue is a good choice.
It has very spacious rooms that are modern and stylish, making it great for couples or families.
This hotel not only offers reasonable prices during the shoulder season, but it's also just a stone's throw from all the restaurants and shops.
You don't have to go far to get a great cup of coffee as the Good Earth Coffeehouse is on your way out of the hotel, where you can sit around the outside firepits with your coffee and enjoy the mountain views.
You won't have to worry about finding parking, as the Elk + Avenue offers underground parking for $5 per night.
However, there is a height restriction of 6.1″, but they do have overflow parking behind the high school across the road, which we've parked in with no problems.
Check price on Booking.com
Check price on Expedia.
What to Pack For a Trip To Banff In April
When visiting Banff during this time of year, you should still pack for the cold weather and wet weather.
So pack layers of lightweight, breathable clothing for warmth during the cooler mornings and evenings.
You'll also want a hat, gloves, scarf, and a warm coat.
You'll also need waterproof boots, as snow is still very much in the forecast in the shoulder season, and it gets slushy as it gets warmer.
Sunscreen is needed to protect yourself from the sun's rays, especially when participating in outdoor activities.
Our page on what to wear in Banff in the winter is also helpful when packing for a visit in April.
Is Banff Worth Visiting in April?
If you're looking for an unforgettable experience in one of Canada's most spectacular national parks, then Banff is definitely worth visiting in April.
One of the main reasons to visit in April is the opportunity for winter sports activities with fewer crowds.
The ski resorts are still open, so you can hit the slopes and enjoy the last bit of the ski season if that's your thing.
Visiting Banff in the shoulder season also allows you to enjoy the beautiful scenery and other outdoor activities before the warm weather starts rolling in.
Another good reason to visit in April is because the hotels are still reasonably priced and you can get some great deals.
So, overall, Banff in April is definitely worth a visit.