Here's why you should visit Banff in May:
The weather is milder, especially toward the end of May.
Hotel prices are lower than during peak season.
The summer activities are opening back up but it's way less crowded than in the summer.
And did you know you can ski and hike on the same day during this spring month?
May in the Canadian Rocky Mountains is a great time to visit, as many activities become available due to the snow melting at lower elevations, even while the ski resorts remain open well into the month.
Here's what you can expect and why we love Banff in May and think you will too.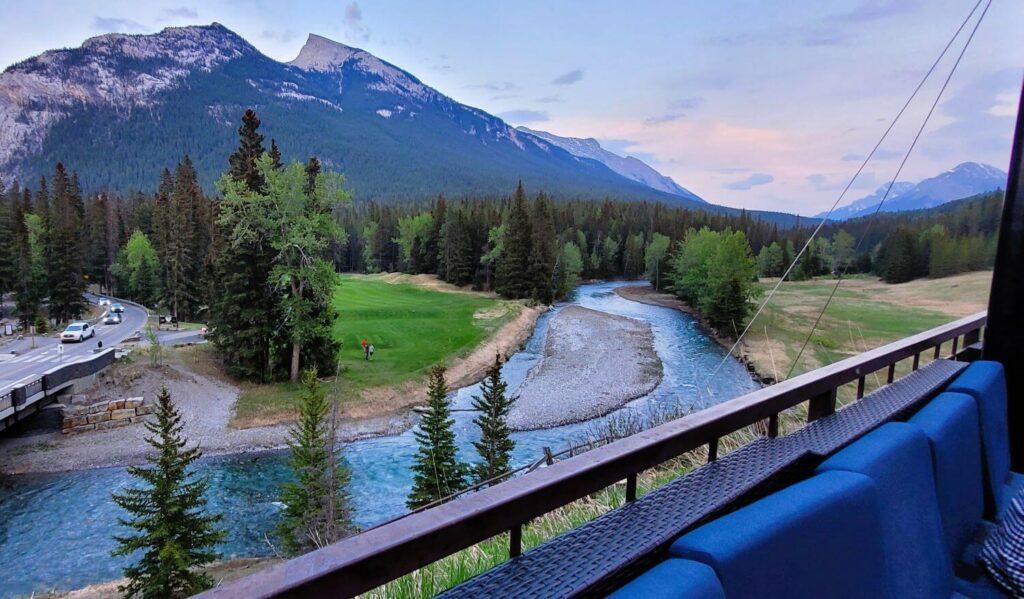 Some links may be compensated, at no cost to you
Written by Lou
Banff Weather in May
Winter starts to pack its bags for good and make way for spring, bringing warmer temperatures and a landscape that can't make up its mind—snowing one day and warm the next.
Even though the mercury is rising, expect unpredictable weather; after all, you are in the mountains.
So with the potential for rainy days and snowfall, you'll want to bring warm, waterproof clothing and boots.
Temperature in Banff in May
You can expect the temperature to dance between a daily low of 1.5°C and a relatively balmy 14°C (35°F to 57°F).
But these are just average temperatures. It can get into the minus figures after the sun goes down.
And it can also be a lot warmer than 14°C during the day, especially toward the end of May.
These spring temperatures make May the perfect time to see the transition from winter to spring at this incredible destination.
May Sunset and Sunrise Times in Banff
At the beginning of May, the sunrise time in Banff is around 6.15 am and 5.30 am by the end of the month.
Sunset occurs around 9 pm at the start of May, and as the month heads closer to June, the days become longer and the sun sets around 9:50 pm.
That's between 15 and 16 hours of daylight—the perfect amount of time to get the most out of your visit to Banff National Park.
Does it Snow in Banff in May?
While the snowfall significantly decreases compared to the winter months and even the previous month of April, it's not uncommon to still see some snowfall, particularly in the early part of May.
On average, Banff receives around 17 cm (7 in) of snowfall in May. But the amount can vary from year to year. Some years may see heavier snowfall, while others will see less.
However, it is important to be aware of the potential impact of snow on travel and outdoor activities during this month.
Road conditions can be affected by snow, so check with Parks Canada or 511 Alberta local authorities for updated trail and road conditions.
Hiking trails may also be snow-covered or muddy, making them more challenging to navigate.
Weather in Lake Louise in May
In May, the weather in Lake Louise can be somewhat unpredictable, with around 22 cm of snowfall throughout the month and 34 mm of rain.
The average daytime temperature in Lake Louise is colder than Banff, at around 13 degrees Celsius.
Nighttime temperatures drop to an average of -1.7°C (29°F).
But as I said before, these are only averages, so it can be warmer, but it can also be a lot colder.
Is Banff busy in May?
May is a great time to visit Banff if you prefer a more tranquil atmosphere, as it is an off-season month.
On average, Banff sees around 23,000 visitors a day, which doubles during the summer months.
We certainly find that it's busier over the Victoria Day (May Long) weekend toward the end of May, but still not nearly as busy as during the summer months.
If you're visiting over Victoria Day, then expect the attractions to be busier than the rest of the month, otherwise, you'll have plenty of opportunities to explore the area without large crowds.
Festivals and Events in Banff in May
May in Banff doesn't have a whole lot going on in terms of festivals, but the following are definitely worth checking out:
Banff Farmers Market
It's May, and that means the Banff Farmers Market is back.
The market starts toward the end of the month and runs every Wednesday from 10am to 6pm at the west parking lot at Central Park.
You can purchase fresh produce, locally-made goods, and unique artisan products. If you're looking for a unique gift or souvenir, this is where you'll find it.
There's plenty of seating, so you can sit and enjoy live music and sample food from local vendors.
The Women's Soap Run in Canmore
The Women's Soap Run in Canmore is an annual race event held over a weekend at the end of May.
This event starts at the Canmore Nordic Centre, and participants can choose from different runs/walks through some of the most breathtaking scenery in the Canadian Rockies.
You don't have to participate, you can just watch and support, but if you want to join in, you can find out more here.
Slush Cup at Banff Sunshine Village
The Slush Cup at Banff Sunshine Village is a great way to end the ski season and welcome spring.
This fun event takes place every year on the May Long weekend at Sunshine Ski Village and sees participants dressed in outrageous costumes skiing or snowboarding across a pool of icy water, trying to make it to the end.
It's a great event to watch that is really popular, so if you're in town late May, this is an activity worth checking out.
Campsites Open
While some campsites are open year-round, most open in May in Banff and Jasper National Parks.
Camping is hugely popular in Banff, and the campgrounds (especially Two Jack Lakeside) fill up quickly.
So if camping is your thing, you'll need to book as soon as reservations open to secure a spot, which is usually in March, so keep an eye on this Parks Canada page for updates.
Things to do in Banff in May
May is a great time to get out and about in Banff, as the freezing temperatures are (mostly) gone, the days are longer, and the snow is melting.
So, what can you do?
Early Season Hiking in Banff National Park
Some of our favorite hikes include Johnston Canyon and Tunnel Mountain.
Johnston Canyon is a popular hiking trail, and it's a great place to start if you're just getting into the swing of things and want to do an easy hike.
The trail at Johnston Canyon takes you through the canyon along a series of catwalks to the lower falls, with stunning views of the canyon along the way.
Another great hike is Tunnel Mountain, with stunning views of the mountains and the town of Banff.
The trail is a fairly easy climb to the summit, and it's well worth it once you get there and see those views of the Rockies.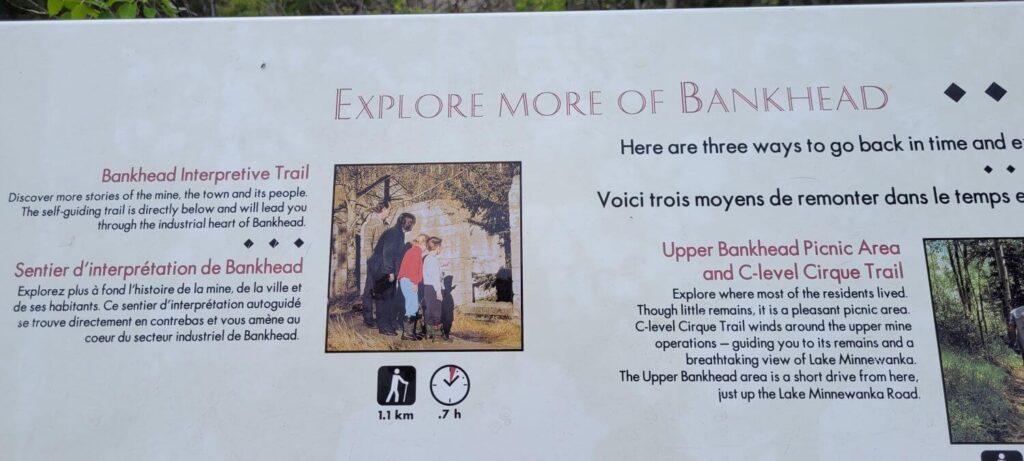 Explore Bankhead's Interpretive Trail
Just a short drive from downtown Banff is Bankhead's Interpretive Trail.
This is an interesting, short, and easy hike that will take you through the area's mining history, giving you some insight into how the town of Bankhead once thrived.
We find this trail less busy than many of the others and is great for an afternoon of exploring.
Mountain Biking in Banff National Park
May is also a great time to get out on two wheels in Banff. With over 190 km (118 miles) of biking trails, you'll be spoiled for choice.
A great place to cycle without worrying about traffic is along the 17 km (11 mile) stretch of the eastern section of the Bow Valley Parkway.
This is a 3-year pilot that started in 2022, where no public vehicles are allowed from the beginning of May to the end of June, so it's a great place to cycle without any traffic worries.
There are several places in and around Banff where you can hire a bike, and Banff Cycle is one of them.
Take a Gondola Ride in Banff National Park
The Banff Gondola is one of the must-do experiences when visiting the Canadian Rockies.
The eight-minute ride takes you to the top of Sulphur Mountain, where you'll have spectacular panoramic views of six mountain ranges.
Once at the summit, you can shop for souvenirs, explore the multi-sensory theater, head over to the historic cosmic ray station, or get a bite to eat at the Sky Bistro restaurant, where you'll have the best views in the whole of Banff National Park.
Last-minute Skiing
Banff Sunshine Village Ski Resort has the longest ski season in all of Canada, which runs from mid-November to late May. This is fantastic if you want to hit the slopes one last time and get your powder fix before the summer comes.
Take the Bow Valley Beer Shuttle in Canmore
For something a bit different on your trip to Banff, why not book the Bow Valley Beer Shuttle and see what the vibrant craft beer and distillery scene in the Canadian Rockies is all about?
They'll take you around Canmore, where you can visit up to three breweries and distilleries. You'll also get exclusive offers at the ones you visit as part of the tour.
We haven't been on the tour yet, but it looks like a fun and tasty way to spend an afternoon in the beautiful town of Canmore, which is 25 km (16 miles) back on the Trans Canada Highway. You can find more info here.
You don't have to worry about driving as Roam Transit goes from Banff to Canmore.
Bow River Canoeing
If you're looking for another way to explore the stunning scenery of Banff, then head to the Bow River and hire a canoe.
You can spend time paddling down the river, passing by the park's beautiful scenery, and having the chance to spot some wildlife along the way.
The river is calm enough to make it suitable for all levels of paddlers, from beginners to experienced ones.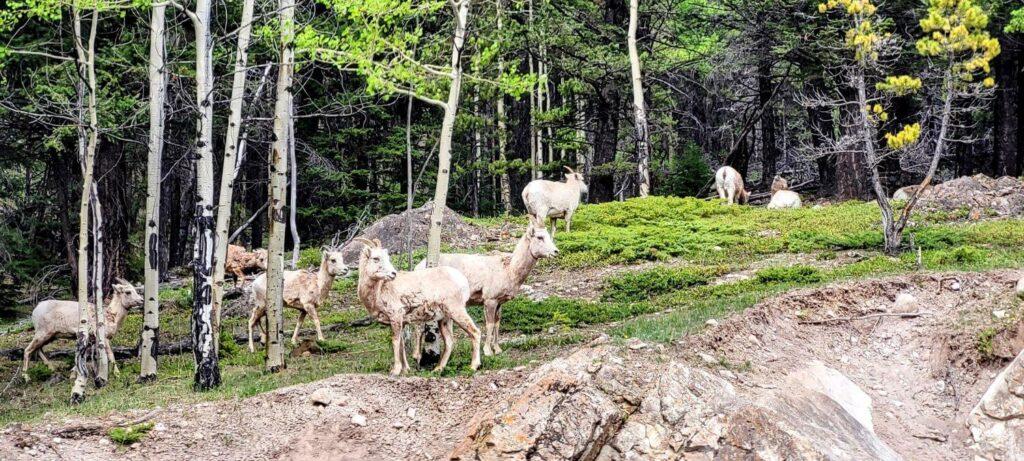 Spot Banff Wildlife
Now that spring is well underway, you can expect to see plenty of wildlife in Banff National Park.
Elk, bears, mountain goats, and bighorn sheep are some of the animals you might see as you explore the park.
Joining a guided wildlife tour like this one through Viator is a great way to increase your chances of seeing the park's wildlife.
The guides will share interesting facts about each species and their natural habitats, providing a deeper appreciation for the incredible wildlife that lives in the park.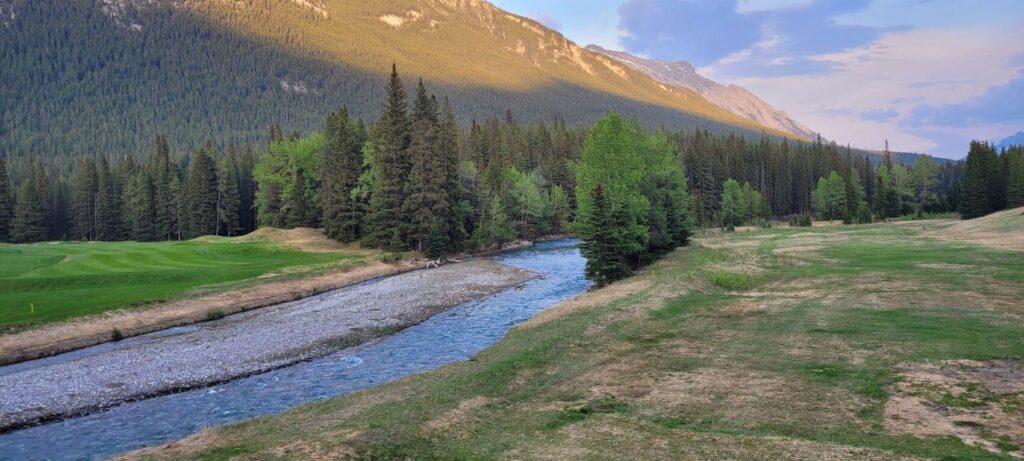 Tee Off at the Fairmont
If you're a golf enthusiast, then the Fairmont Banff Springs Golf Course is one of the most iconic spots to play in Canada.
It's set against a stunning backdrop and offers panoramic views of the Rocky Mountains.
For over 100 years, it has hosted many national and international golf tournaments.
The course opens toward the middle of May, depending on conditions, so if you're looking for a great round during your visit to Banff, this should definitely be on your list.
I recommend having a drink on the patio at the Waldhaus Pub afterward, which overlooks the golf course and has the most amazing views of the mountains.
Tour Banff in Style
From the middle of May, you can see the sites of Banff in an open-top 1930s vintage-style bus with a knowledgeable guide dressed in period costume.
The 90 minute tour covers the most iconic spots, such as Surprise Corner, Vermilion Viewpoint, Tunnel Mountain, and Mount Norquay Viewpoint.
Lake Minnewanka cruise
If you're looking for a more relaxed way to take in the sights of Banff National Park, then a 1-hour cruise on Lake Minnewanka is just what you need.
From mid-May onwards, you can board the boat and enjoy the journey around one of the most beautiful lakes in Canada.
The tour also includes the chance to spot wildlife and learn about its history from your guide.
The views are nothing short of stunning.
This is a popular activity, so book ahead as it fills up quickly. The parking lot, which is around a 5-minute walk to the dock, has limited parking, so get there in plenty of time.
Where to stay during May in Banff
You'll have lots of accommodation options to choose from for a visit in May. But I would add that if you're planning on visiting over the May Long weekend, book several months ahead if you can, as it gets really busy.
So, here are our hotel recommendations based on our stays in Banff:
Fairmont Banff Springs Hotel
One of the best and most luxurious options is the Fairmont Banff Springs Hotel (I mentioned above that you can play golf here).
The Fairmont has stunning mountain views and resort amenities including a large indoor pool and heated outdoor pool and is an ideal choice for a lavish stay.
You can check prices on Booking.com and on Expedia.
Buffalo Mountain Lodge
This hotel is a few minutes drive from downtown Banff, but you can also get the local Roam Transit bus from here into town.
The rustic lodge-style rooms are cozy, and the bathrooms in the Premier rooms have an old-fashioned bear-claw-footed bathtub. There are great views from all the rooms.
The main lodge building has a bar and restaurant. There is also an outdoor heated hot tub.
You can check prices on Booking.com and on Expedia.
Elk + Avenue
If you want to be right in the town area, the Elk + Avenue Hotel is definitely worth considering.
We like this hotel because it has large, modern, comfortable rooms in a convenient location at an affordable price.
It also has underground heated parking, the Farm & Fire restaurant, and the Good Earth Coffeehouse, which you must visit even if you don't stay at the hotel, as their coffee is up there with the best of them.
You can check current prices on Booking.com and Expedia.
What to pack for a trip to Banff in May
When packing for a trip to Banff in May, there are a few essential items to consider so you're ready for the changing weather conditions.
For clothing, pack a variety of options to accommodate the varying temperatures. So lightweight pants and T-shirts for the daytime.
Layering is key, as mornings and evenings can be chilly, but afternoons can warm up significantly.
Waterproof boots or shoes are probably going to be needed due to the melting snow and occasional rainfall. But, if the weather is warm enough leading up to your trip, then sneakers would probably do.
Bring a warm coat and sweater for the cooler nights.
Lastly, don't forget to bring sunglasses and sunscreen.
Is a Banff National Park Pass Needed?
Yes, to explore Banff in May or any other month, you must have a pass.
You can purchase your pass online, at the park gates upon arrival, or at the Visitor Centre.
The pass is required to access the national park and its facilities. There are a couple of different Banff park passes available, from a daily pass to the annual Discovery Pass.
But don't worry, our guide will help you decide which Banff park pass you should get and what else you need to know before buying a pass.
Will You Need Bear Spray?
Yes, if you plan on going on any outdoor activities in Banff, you should bring bear spray.
Bear spray is an important safety measure for any outdoor activity within the park boundaries.
Make sure to read up on how to use bear spray properly before your trip so you know what to do in case of a bear encounter.
You can purchase or hire a canister of bear spray at one of the local stores in Banff.
Is Banff worth visiting in May?
Banff is certainly worth visiting in May, especially toward the end of May when the days are warmer and longer.
Sure, the temperatures might still be a bit chilly, and you might get a dusting of snow, but who cares? This is your chance to experience all the best attractions in the Canadian Rockies without the hordes of tourists.
The ski resorts are still open, so you can hit the slopes for some last-minute spring runs.
And with the ski season coming to an end, you can enjoy the warmer weather and take advantage of the many outdoor activities on offer.
We think a visit to Banff in May is a great way to beat the crowds and enjoy everything this beautiful mountain town offers.