You'll be happy to know that there are plenty of things to do in Banff with your dog, so you don't have to worry about leaving your four-legged friend behind.
Banff is a pet-friendly destination offering plenty of activities that you and your dog will enjoy, such as leisurely hikes with the most stunning views to exciting experiences like paddle boarding and helicopter tours.
Check out our list of some of the best dog-friendly things you can do in Banff below.
Written by Lou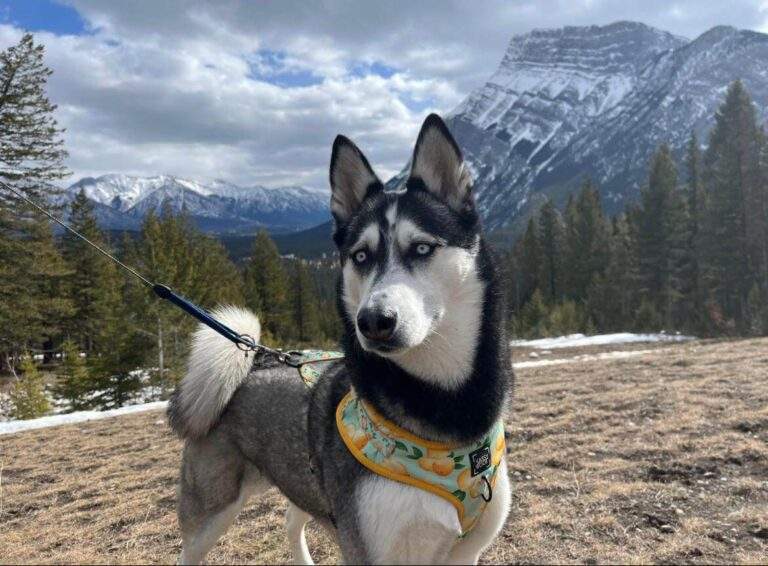 Dog-friendly hikes in Banff
We love taking our dog to Banff National Park with us as most of the hiking trails are well-maintained and welcome on-leash, well-behaved dogs, especially in the summer.
However, it's a good idea to check the Parks Canada website before you set off to see if there are restrictions on the trails due to wildlife or natural hazards.
Some trails do not allow dogs in the winter because they are groomed for skiers and other outdoor activities. Again, before you head out, check the Parks Canada site.
Here are just some of the dog-friendly hikes you can do during your visit to Banff:
On-leash trails
Marsh Loop Trailhead
Location/Trailhead: 161 Cave Ave, Banff, AB T1L 1K2
Distance: 3.4 km (2.1 miles)
Elevation gain: minimal
Time to complete: around 1 hour
Located close to the Cave and Basin National Historic Site, this marshland loop is a popular, easy trail for people (and dogs) of all levels. The loop trail offers some great mountain views along the way and is home to plenty of wildlife, so always be on the lookout.
As dogs are welcome to join you on this hike, they must be on a leash at all times.
Creekside Fenland Trail
Location/Trailhead: Fenland Trailhead, Improvement District No. 9 via Mt Norquay Rd. T1L 1K2
Length: 2.1 km (1.3 miles) loop
Elevation gain: Minimal
Hiking time: 40 minutes or so
This easy, pet-friendly trail takes you through a landscape of woodland and marshland and along the banks of 40 Mile Creek, which your pup will love. As you'd expect, the area has breathtaking views of the surrounding mountains.
The trail is perfect if you're looking for a short but sweet outdoor adventure with your dog.
Location/Trailhead: St. Julien Road parking lot (lower parking area)
Length: 4.8 km (3 miles) return
Elevation gain: 275 m (900 ft)
Hiking time: around 2 hours
This is one of Banff's most popular hikes and the oldest trails in the park. This pet-friendly trail takes you and your furry companion on a more moderate hike as it's an uphill walk. It's only a short walk from downtown and while your dog gets some good exercise, you'll get some great views overlooking the mountains, downtown Banff, and the Fairmont Banff Springs Hotel.
The trail has a few switchbacks and should take around two hours to complete, depending on how much time you want to take in soaking up the views at the peak.
Mistaya Canyon Trail Head
Location/Trailhead: The parking lot is on the west side of the Icefields Parkway (Hwy 93) and 5.2 km south of the David Thompson Highway junction.
Length: 1.9 km (1.2 miles) loop
Elevation gain: 60 m
Hiking time: 40 minutes or so
Mistaya Canyon Trail is an easy hike nestled in the Ice Fields Parkway. You'll see some stunning views of Mt. Sarbach and cascading waterfalls, making it the perfect spot for an outdoor adventure with your pup.
Along the way, you'll pass through the forest before arriving at the narrow bridge, where you can look down into the limestone gorge. There are no barriers at the viewpoints, so keep your dog on a tight leash.
Lake Agnes Teahouse at Lake Louise
Location/Trailhead: Upper Lake Louise Parking area
Length: 6.8 km (4.2 miles) return
Elevation gain: 385 m
Hiking time: approx. 3 hours
This is a great pet-friendly trail to do during your stay in Banff. This moderately challenging hike will take you and your dog up to the picturesque Lake Agnes Teahouse, where you can sit at a table outside, grab a snack, and enjoy the stunning mountain views.
Don't forget to pack water and treats for your dog.
The teahouse is only open from June to October.
Get here early as the parking lot is usually full by around 7am.
Cascade Ponds
Location/Trailhead: Lake Minnewanka Scenic Dr, Banff, AB T0L 2C0
Length: 1.5 km (0.9 miles) loop
Elevation gain: none
Hiking time: 40 minutes or so
Cascade Ponds is a great pet-friendly option if you're looking for an easy hike. This short loop trail will take you and your dog past the beautiful Cascade Ponds, through the wooded areas, and over boardwalks.
This is a popular pet-friendly destination, and we like it because it is only a short drive from downtown Banff. There are plenty of picnic spots and fire pits, so you can stay for hours and really make a day of it.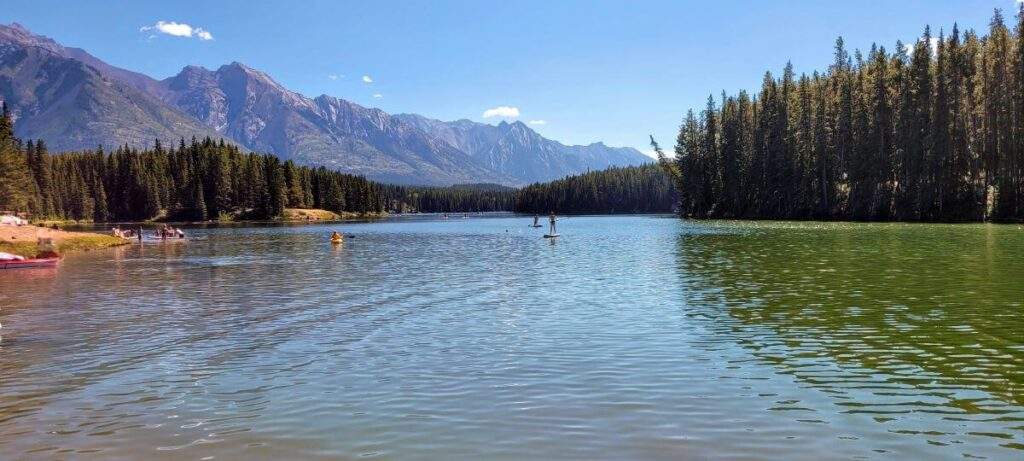 Johnson Lake Loop
Location/Trailhead: 11 km from Banff at the Johnson Lake Day-use area
Length: 2.8 km (1.7 miles) loop
Elevation gain: Minimal
Hiking time: 1-hour round trip
This easy pet-friendly trail takes you and your dog on a loop around Johnson Lake. This trail is great for an afternoon stroll, with its flat terrain, and stunning views of the lake and surrounding mountains, not that our dog noticed!
There's also a picnic site here, so you can stay for lunch or just enjoy a snack on one of the many benches.
Two Jack Lake
Location/Trailhead: 11.4 km (7 miles) Banff via Banff Avenue and Lake Minnewanka Scenic Drive
Length: 3.2 km (2 miles) out and back
Elevation gain: 180 m
Hiking time: up to 2 hours
An easy trail with stunning views, Two Jack Lake which is connected to Lake Minnewanka is the perfect pet-friendly trail to take your pup. Its flat terrain makes it a great option for an afternoon stroll, and you'll be rewarded with stunning lake views along the way.
There's also a picnic area here, so you can stay for lunch or just enjoy a snack on one of the many benches. On hot days, there are shady spots along the shoreline where you can relax with your pup.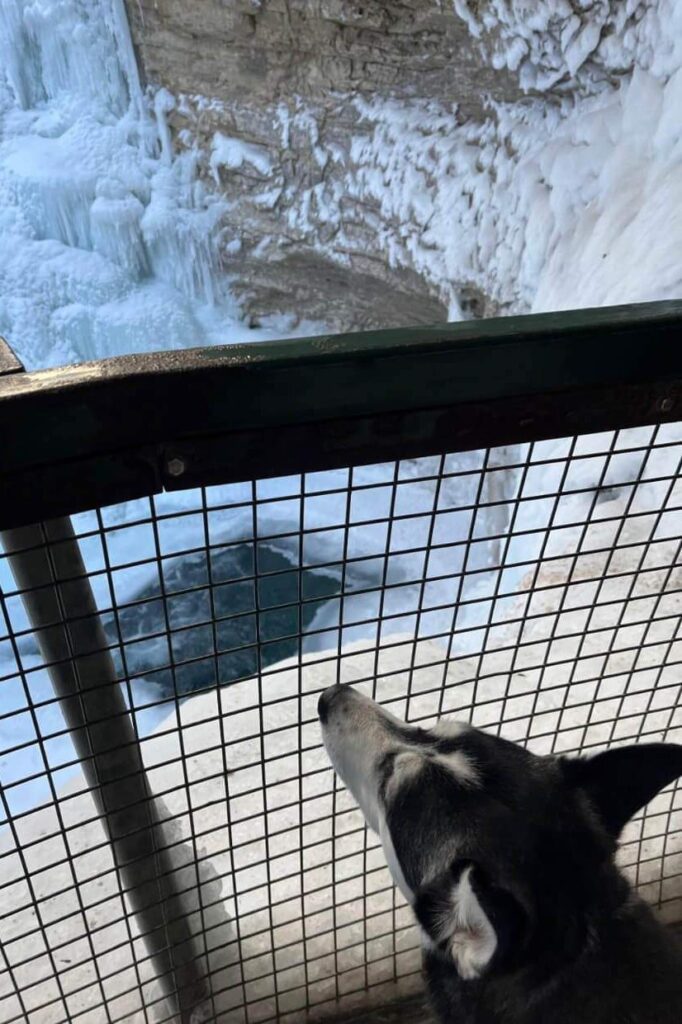 Location/Trailhead: Johnston Canyon day-use area
Length: 2.4 km (1.5 miles) return
Elevation gain: Minimal
Hiking time: 1 hour
Johnston Canyon is one of the most popular pet-friendly hikes in Banff National Park. This easy trail takes you along suspended walkways through a canyon and onto the lower falls.
From the Lower Falls, you can continue to the Upper Falls and also onto the Ink Pots if you want a longer hike.
We've been here with our dog in summer and winter, and it is a spectacular place to hike. If you're coming in winter, be sure to wear micro spikes as it is extremely slippery.
As it is such a popular trail, it gets crowded during the summer months, and parking spots fill up quickly, so it's best to get here early.
Bow Falls Trail
Location/Trailhead: Bow Falls Ave, Banff, T0L 0C0
Length: 1.2 km (0.7 miles) one way
Elevation gain: Minimal
Hiking time: 30 minutes
Bow Falls Trail is a great option if you prefer an easy, pet-friendly hike in Banff. This short, flat trail follows the Bow River and takes you to one of the most photographed locations in Banff, the base of the thundering Bow Falls.
As the trailhead is right in town, it's very convenient to walk to if you don't want to drive and try and find a parking space. You also get a good view of the Fairmont Banff Springs Hotel from the trail.
The scenery is stunning here in every season, especially in summer. This may be a short hike, but be careful in winter as it gets very slippery.
Other dog-friendly things to do in Banff
If you're looking for something other than a hike, try something on the water.
You can rent a canoe, kayak, or SUP at The Banff Canoe Club and Adventure Hub and spend an hour or more floating on the Bow River with your dog. Remember that your dog needs a life jacket.
How about taking your dog on a helicopter tour with you over Banff National Park and Kananaskis? Now that's something to experience!
If you are looking for something more low-key, your dog will love a stroll along the river and around the town, or a drive to one of the many lakes where you and your dog can go for a doggie paddle.
As Banff is such a dog-friendly town, you have a great choice of pet-friendly restaurants with patios – click on the link for our extensive list of where to dine with your dog.
We love that there are also several pet-friendly stores in the town where you can walk around with your dog and do a bit of souvenir shopping.
Off-leash dog parks
Let your dog run around at either of Banff's off-leash dog parks. One is at the industrial area at Hawk Avenue, and the other is at the Recreation Grounds off Sundance Road.
We've only visited the Hawk Avenue off-leash park, and while it is smaller than those in Canmore, the abundance of trees provides ample shade. Plus, it's a great place for your pup to interact with other dogs while getting some exercise.
Pet-friendly services in Banff
Sometimes things happen that you don't plan for, such as needing a vet (hopefully not) or deciding you want to go somewhere where you can't take your pet and need overnight boarding. Banff has a range of pet services available should you need them, and I've included the ones I know of below:
Banff vets
Canmore Veterinary Hospital + Banff Veterinary Services are located at 140 Hawk Avenue, Banff.
They don't open every day of the week in Banff but can be contacted at their Canmore location at 502 Bow Valley Trail, Canmore, T1W 1N9 instead, or call: 403-678-4425.
Mountain Animal Hospital + Mobile Veterinary Care are located in Canmore at #101 – 512 Bow Valley Trail, Canmore.
Jasper Vet Clinic is located at 6 Stan Wright Drive, Jasper, T0E 1E0. As well as veterinary services, they also offer grooming.
Banff pet store
Banff Doghouse, at 138 Banff Ave, Banff, is the pet shop with everything you need, from pet food, bowls, leashes, and treats to everything in between.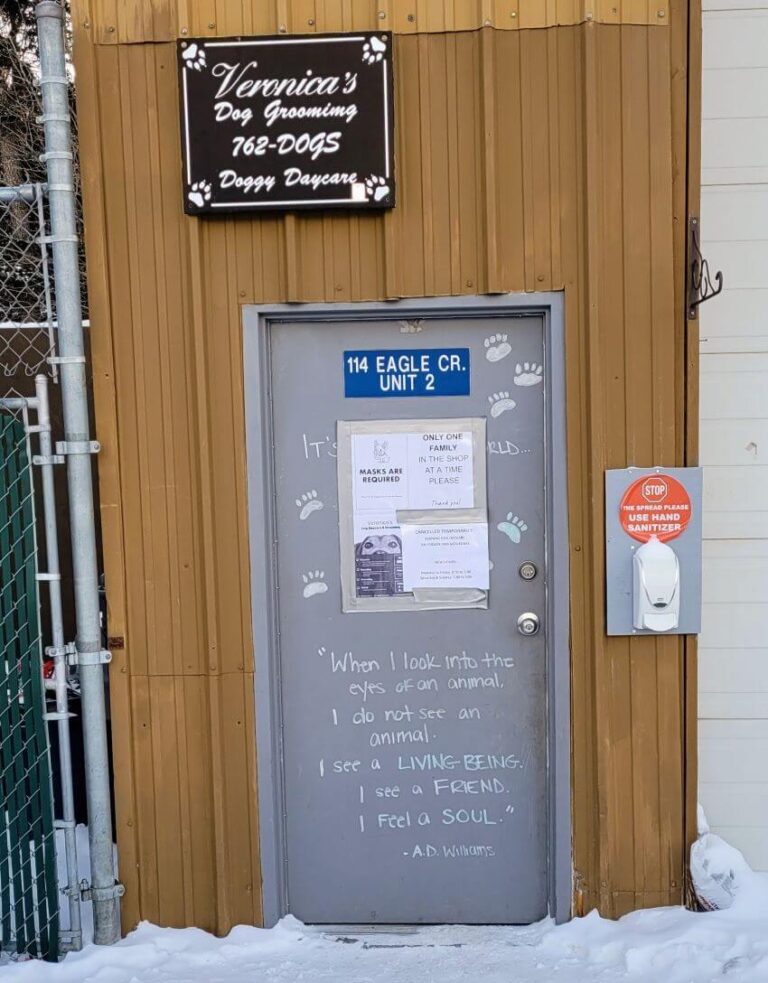 Doggy daycare + boarding in Banff
Veronica's Dog Grooming + Daycare at 114 Eagle Crescent, Unit 2, Banff. Phone: 403-762-3647.
This is where our dog spends the night when we fancy going out for a meal and a few drinks or when we visit in the winter when the patios are closed.
I'm really fussy about where my dog stays, but I have no problem recommending Veronica's.
The staff are great and always give an update on my dog's stay. Your best bet is to call or email them to book, as they tend to take a while to respond to Facebook messages!
They also offer dog grooming, which I haven't used, but I have heard good things about.
Banff National Park's Dog Regulations
While exploring the great outdoors in Banff, it's important to keep in mind the park's regulations. All dogs must be kept on a non-retractable leash no longer than 3 meters (10 feet) and under control at all times.
Additionally, pet owners should be aware of any prohibited areas within the park, such as trails or campsites that do not allow dogs.
Dog-friendly things to do in Banff
I hope this guide shows you that you don't have to leave your four-legged friend behind, as the park offers a range of dog-friendly activities that everyone in the family can join in on.
If you plan on visiting with your dog, then you'll need a place to stay, so check out our list of pet-friendly hotels in Banff and see which ones we recommend. Banff also has a great selection of dog-friendly restaurant patios, so head over to that page and see what sounds good for a meal out.
FAQs
Is the Banff Gondola Pet-Friendly?
Unless your pet is a service animal with the necessary papers, pets are not allowed on the gondola or within its buildings/terminals. You may bring your dog along while you hike up the trail to the Upper Terminal boardwalk, but they must stay outside the building.
Can I take my dog to Lake Louise?
Yes, you can! Lake Louise is pet-friendly. Your dog can join you as you explore the trails around this stunning lake. Just remember to keep them on a leash, pick up after them, and be respectful of other visitors who may not be comfortable around animals.
Are dogs allowed on Banff shuttles?
Pets are allowed on board, but only if they are in a secure, clean carrier that is small enough to be held on your lap. Assistance animals can board, but you must have proof of their training for verification purposes in case you are asked.