A visit to Banff in February, first and foremost, means cold temperatures, plenty of snow, and lots of winter activities.
If you're a fan of winter activities like skiing, snowboarding, and snowshoeing, February is the PERFECT time to visit.
Banff's ski resorts are buzzing with activity during this time, providing you with pristine slopes and the incredible mountain scenery that Banff National Park is famous for.
Below is our guide to visiting Banff in February, including what you can expect from the weather, the best winter activities to try aside from skiing, tips on where to stay, and what to pack.
Whether you're an experienced traveler or getting ready for your first trip to Banff, this guide will help you make the most of your visit to this beautiful winter wonderland.
Written by Lou
Some links may be compensated, at no cost to you
Weather in Banff in February
As you'd probably expect, February in the Canadian Rockies is cold with lots of snow, so you'll need some layers to keep warm.
How Cold Does Banff Get in February?
The average daily temperatures in Banff during February are between 0.1°C to -11°C (32°F and 12°F), but it does get colder than those averages, especially at night.
And just like January temperatures, the thermometer can dip down into the -20s and -30s.
Banff gets around 10 hours of daylight in February, with lots of clear blue skies and plenty of sunshine.
Lake Louise, on the other hand, is colder than Banff, with average temperatures between -2°C and -18°C (28°F and -0.4°F), and also has around 10 hours of daylight.
We think the sight of Banff's snow-covered scenery is undoubtedly worth braving the chilly temperatures. But if you come prepared with the proper clothing, you'll manage the cold just fine.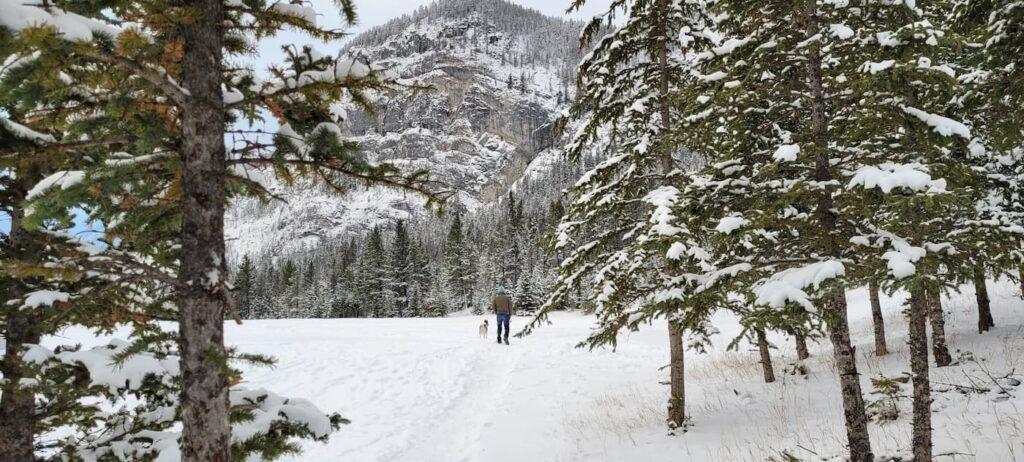 How Much Snow Does Banff Get in February?
Overall, Banff gets an average of 30 cm (12 inches) of snow throughout February.
However, neighboring areas like Lake Louise and the Icefields Parkway get even more snow, averaging 40 cm (16 inches) over the month.
This accumulation of snow creates a picture-perfect setting, with snow-capped mountains and frozen lakes offering spectacular views, and you've no doubt seen these images in Banff countless times online.
Festivals and Events in Banff in February
After Banff's Christmas, New Year, and winter celebrations finish, February is a quiet month for festivals in the park.
The SnoDays Festival, which celebrates all things winter, starts in January in Banff and can run into the first few days of February.
There is the Mountain Madness Relay Race, which you can watch or participate in. The fun race in February begins with a downhill ski at Mt. Norquay, and you can find out how to take part here.
Best Things to Do in Banff in February
Romance in the Rockies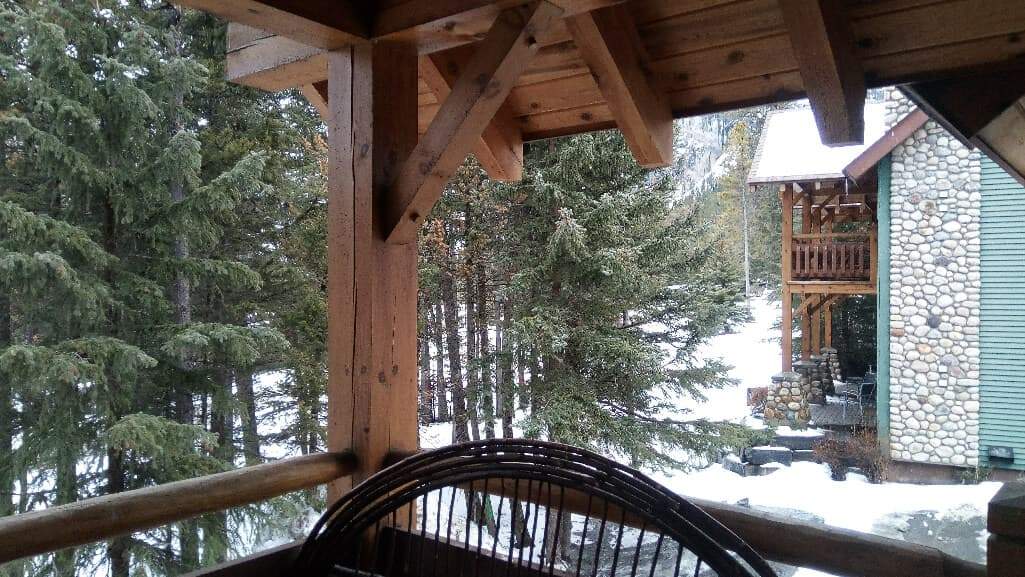 If you're a romantic (or not), spending Valentine's Day in Banff is ideal for a romantic escape.
This picturesque town and its surroundings make it the perfect destination for a memorable Valentine's Day.
Whether it's a romantic dinner for two at one of Banff's renowned restaurants and an overnight stay in a cozy hotel (we think Buffalo Mountain Lodge is great for a romantic stay) or in luxurious accommodations like the Fairmont Banff Springs Hotel.
There are plenty of options for a Valentine's Day getaway.
Take a Ride in the Banff Gondola
Take the Banff Gondola for a breathtaking 8-minute ride to the top of Sulphur Mountain, with stunning views of the Rocky Mountains and the Bow Valley on your way up to the summit.
Explore the Banff Gondola boardwalk, which has panoramic views that must be seen to be believed.
Also, don't miss the chance to visit the interpretive center to learn about the area's history.
Between November and March, there is also the immersive Nightrise multimedia light show experience at the gondola.
Ski Banff's Three Ski Resorts
As Banff is located in the heart of the Canadian Rockies, you'll have fantastic skiing conditions from November to May.
With its three ski resorts:
Banff Sunshine,
Lake Louise,
and Mt. Norquay
You'll not only ski on some of the finest powder, but you'll also have beautiful panoramic views of the surrounding snow-capped mountains and pristine wilderness.
The most popular ski period is between December and March, so expect the resorts to be popular during February.
Banff Sunshine has the longest ski season of the three resorts, thanks to its high altitude and abundant snowfall.
Lake Louise offers world-class terrain and stunning vistas of the frozen lake.
Mt. Norquay, known for its more challenging slopes and family-friendly atmosphere, caters to skiers of all levels. It is also the only ski resort in Banff National Park where you can night ski.
Icefields Parkway Sightseeing
Explore the Icefields Parkway, known as one of the most breathtaking scenic drives in the world, which stretches between Lake Louise in Banff National Park and Jasper National Park.
This 230-kilometer highway has so many must-see stops and points of interest that showcase the natural beauty of the Canadian Rockies with spectacular views of the mountains, glaciers, and pristine wilderness.
It is literally one breathtaking vista after another.
If you don't have any winter driving experience in the snow, it's not advisable to take this drive.
But if you do, check the road conditions on 511 Alberta before you set off and have a full gas tank because there are no services between Lake Louise and Jasper in the winter.
Winter tires are mandatory on the Icefields Parkway from November 1 to April 1.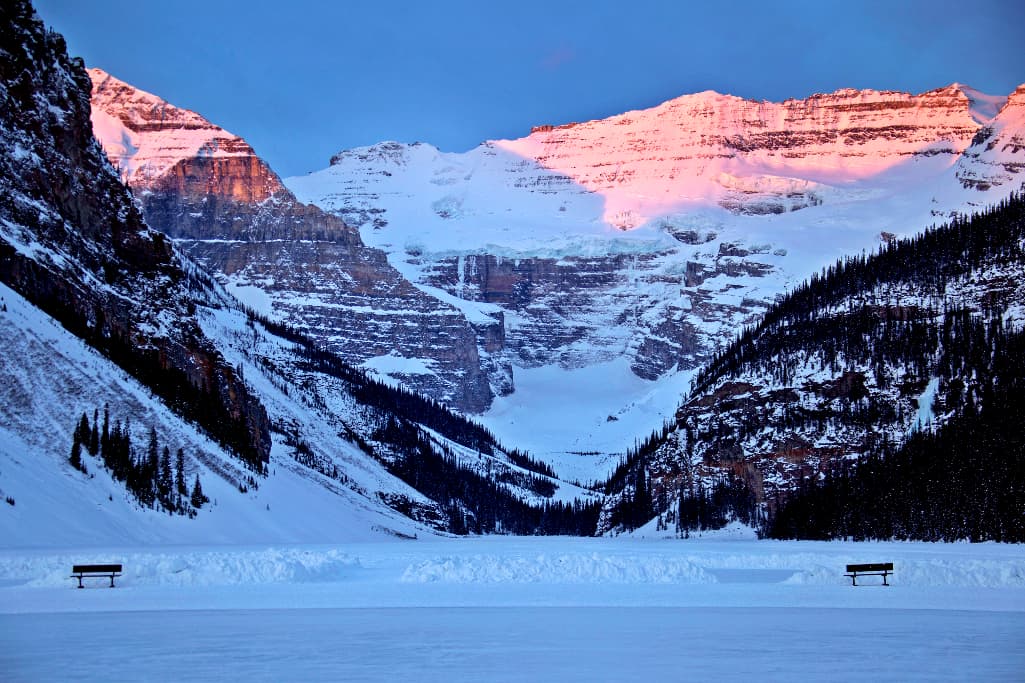 Visit the Frozen Lake Louise
February is a great time to visit Lake Louise as the lake is frozen and has already transformed into a winter wonderland, offering great outdoor activities.
So I highly recommend getting your ice skates on and gliding across this iconic lake—we've done it and loved it.
Skate hire is available at the Fairmont Chateau if you don't have your own.
If ice skating isn't your thing, then take a leisurely stroll along the lakeshore and take in the beautiful views.
How to get to Banff National Park
from Calgary Airport
Learn about Banff's History in the Museum
If you want to know about Banff's history and culture, visit the Whyte Museum of the Canadian Rockies for an insight into the town's unique past.
The museum is dedicated to preserving and presenting the history, art, and culture of the Canadian Rockies.
The museum is on Bear Street and is open daily from 10 am to 5 pm in February.
Explore Johnston Canyon
Another must-see when visiting Banff in winter is Johnston Canyon. This popular hiking trail can be accessed year-round and has fantastic views of frozen waterfalls and ice formations.
You will need to wear proper winter gear, but more importantly, wear socks specifically designed for these temperatures because your toes will feel like blocks of ice on those colder days—well, mine do.
Pick up some foot warmers in one of the downtown stores, or before your visit, get some like those in the photo, which we get from Costco. They work, and your toes will thank you.
You'll also need some ice cleats for an icewalk as the trail gets icy.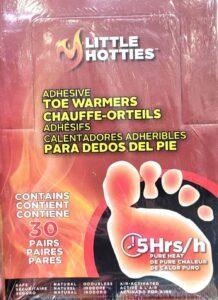 Snowshoe the Trails
One of the most popular activities when visiting Banff and Lake Louise in the winter months is snowshoeing on the various trails in the area.
One of the notable trails to go winter hiking close to downtown Banff is Tunnel Mountain Drive.
Another popular trail is the Lake Louise Lakeshore Trail, a relaxed and scenic option in a stunning location.
This trail provides beautiful views of the frozen lake and the surrounding snow-covered peaks.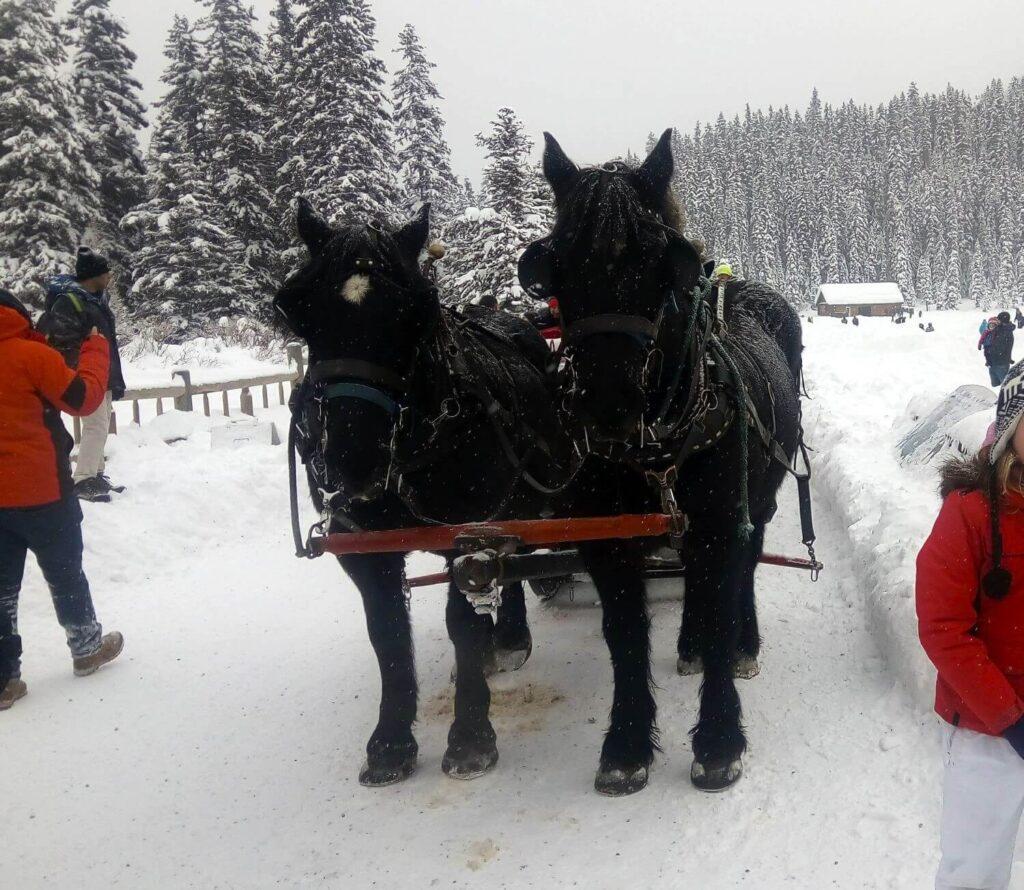 If you don't have winter hiking gear, rent it from White Mountain Adventures on Bear Street, Banff, or Wilson Mountain Sports in Lake Louise.
Enjoy a Horse-Drawn Sleigh Ride
A horse-drawn sleigh ride is always more associated with Christmas, but it's a fun and memorable experience anytime during the winter.
We did our sleigh in Banff, which left from Warner Stables.
You'll be given thick blankets to keep you warm while you enjoy looking at the mountain scenery from your sleigh.
There's also a good chance you'll see some of Banff's wildlife, such as elk.
We sat at the back and found that we couldn't always hear our guide too well, so if you want to listen to what your guide has to say, sit closer to the front.
Places to Stay in Banff in February
Hotel prices are more reasonable in February but expect prices to be higher on Valentine's weekend.
I always try to book months in advance to ensure I get a better price, and it's a good idea if you're doing Banff on a budget.
Below are a few of the best places to stay in and around Banff:
Fairmont Banff Springs Hotel is the most iconic hotel in the Rocky Mountains. There are stunning views from every room and a range of on-site amenities, such as an outdoor heated pool that is great at night for stargazing.
What to Wear for Banff in February?
When planning your February trip to Banff, it is essential to pack the right gear to stay warm and comfortable in the cold temperatures.
Layering helps to regulate body temperature, so pack items like thermal base layers, fleece jackets, and sweaters.
We have a
complete Banff winter packing list,
which you might want to read.
It includes waterproof and insulated clothing, so you stay dry, warm, and protected from the snow and freezing temperatures.
Is Banff worth visiting in February?
Definitely!
Although there isn't much going on in the way of festivals and events during February, overall, it's still a great time to visit Canada's mountain playground.
While the weather is cold, it also means ideal snow conditions if you're a winter sports enthusiast, as you can ski or snowboard on world-class slopes at resorts such as Lake Louise.
If you want a slower pace, not a problem, as there's still so much to do, like taking a ride on the Banff Gondola, snowshoeing the trails, visiting the frozen waterfalls at Johnston Canyon, or just strolling around downtown Banff enjoying the restaurants, pubs, and shops.
Another good thing about visiting Banff in February is that you can get some decent rates on accommodation.
And if you're looking for a quieter visit with fewer crowds than at Christmastime in Banff, then February is perfect.
Don't forget that you'll need to buy a Banff National Park Pass to be able to enter the park.