Why Spend Christmas in Banff?
Christmas in Banff, Canada, is the PERFECT way to celebrate the festive season.
Imagine a classic white Christmas, with untouched snowy forests and frozen alpine lakes, sipping on a cup of hot chocolate (or perhaps something a tad more spirited) beside a crackling fire, surrounded by snow-capped mountains.
That's Banff at Christmas!
But Banff is so much more than just beautiful scenery.
Banff at Christmas means you'll be spoiled for choice with all the fantastic things you can do, and it can be hard to decide where to start.
But don't worry as our ultimate guide below will help you make the most of the festive season in Banff.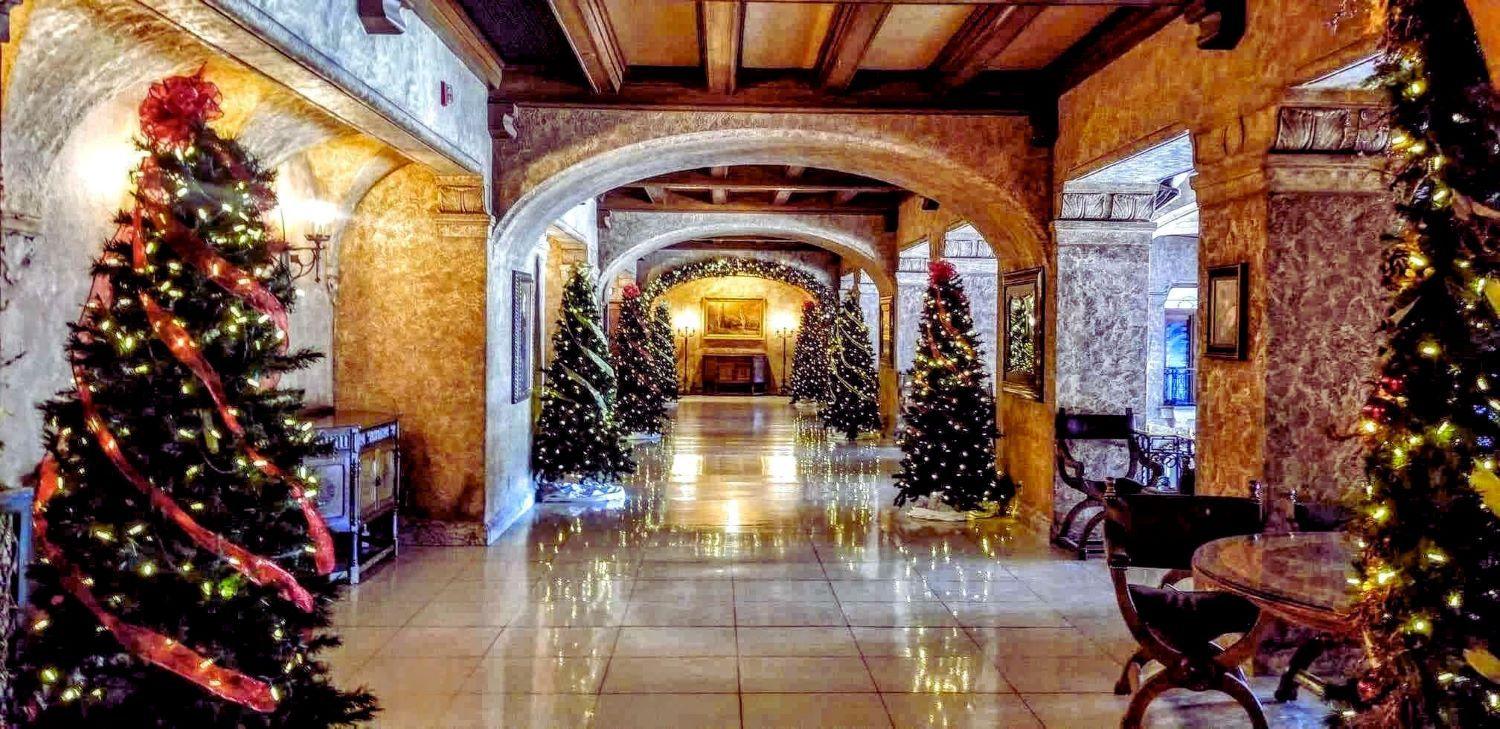 Written by Lou
Some links may be compensated, at no cost to you
Banff Christmas Activities
1. Santa Claus Celebration of Lights
When: November 18, 2023
Time: 11 am to 7 pm
Where: Free event at 100-200 Block Banff Avenue.
Formerly the Santa Claus Parade, the Celebration of Lights promises to be bigger and better than before.
The revamped Christmas celebrations take place in downtown Banff to officially usher in the festive season.
This year (2023) marks the first return since 2019. Although there is no longer the traditional parade, this event promises to be a full day of celebrations starting at 11 am through to 7 pm.
Talented local and Albertan artists will perform live music on the main stage throughout the day.
Street performers will entertain you, while Santa's workshop will keep the children busy and happy.
On 100-200 block of Banff Avenue, 200 block of Bear Street, and parts of Caribou and Wolf Street, there will be patio/sidewalk cafe areas where you can sit and enjoy a hot chocolate from the Hot Chocolate Trail and a bite to eat.
There will also be stationary festive floats and interactive activities for the whole family along the 100-200 block of Banff Avenue.
2. Light Up Banff
Dates: November 18, 2023
Time: Late afternoon/sunset
Where: Banff Avenue
Santa, Mrs. Claus, the elves, and the performers head down Banff Avenue to the stage area, where Santa will officially light up downtown Banff for the holiday season!
The stores in Banff also celebrate the start of the Christmas season by turning on their festive lights to showcase their beautiful storefront displays.
3. In Search of Christmas Spirit, Banff
Dates: November 17–December 31st, 2023
Time: 4.30 – 9.30 pm
Free event: Although free, tickets must be booked in advance. Tickets are available starting October 23, 2023.
A visit to Banff in Christmastime wouldn't be complete without visiting the 'In Search of Christmas Spirit' event in the Cascade of Time Garden on Cave Avenue.
The garden becomes a walking trail, illuminated warmly by the glow of giant animals from Banff National Park who tell a festive story.
Book your tickets early here to secure a spot.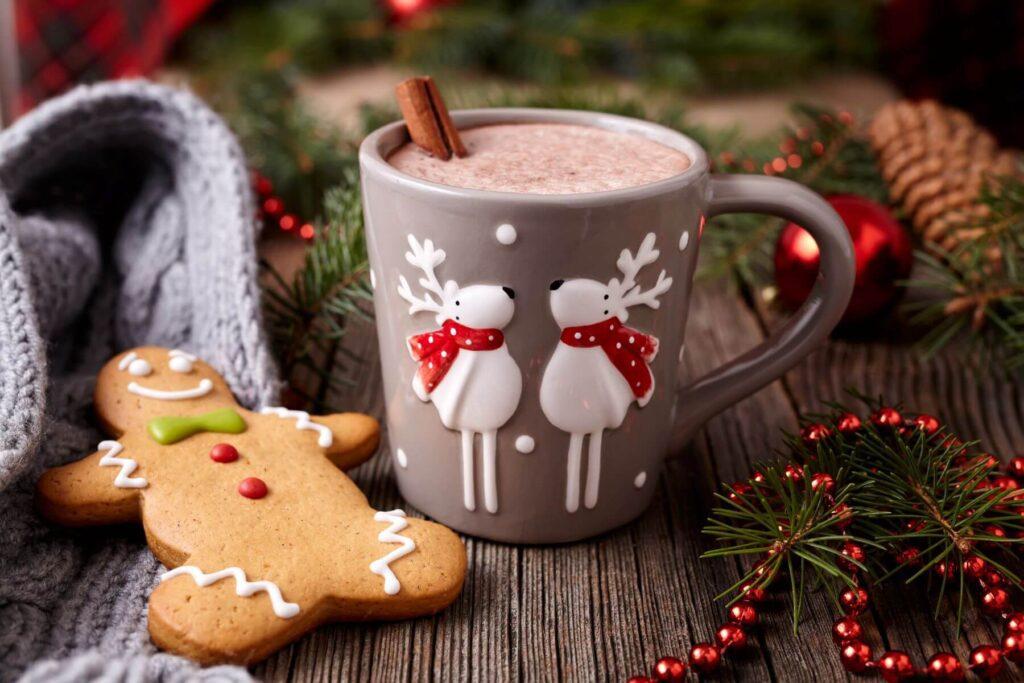 4. Hit The Hot Chocolate Trail
Warm up with Banff's Hot Chocolate Trail, which runs from mid-November to the end of December.
This self-guided Banff Christmas holiday tour takes you on a chocolate adventure through the town, featuring over 20 restaurants and cafes offering Christmas-themed hot chocolates with a festive twist.
Depending on how many days you're staying in Banff, you might be able to complete the entire trail. I'd certainly give it a try!
Try the boozy hot chocolate from Farm + Fire, as this will add a little extra holiday spirit to your day!
5. Banff Christmas Market
Dates: November 17–19, 24–26, and December 1-3, 2023.
Time: Starts at 10 am.
Support local artisans at the Banff Christmas Market in the big red barn at Warner Stables (at 100 Sundance Road).
Local stalls sell unique and lovely handmade goods, including art, pet treats, locally-made soaps, and body care products.
Tickets must be bought online as you can't pay at the entrance.
The market runs on weekends from mid-November to early December. The exact dates can be found when buying a ticket.
6. Visit Canmore Christmas Market
You don't have to be spending Christmas in Canmore to visit the Canmore Christmas Artisans Market at the Canmore Recreation Centre (1900 8th Avenue).
There are lots of holiday gifts and crafts made by local vendors to buy, so you won't be stuck for any last minute gifts.
You can get more information on dates and times on their Facebook page.
7. Ride The Banff Gondola
Enjoy breathtaking views of Banff National Park by taking a Banff Gondola trip up 698 metres (2,292 feet) on an 8-minute journey to the top of Sulphur Mountain.
This popular attraction offers an unforgettable experience with its incredible panoramic views of the Rocky Mountains.
Over the Christmas period, there'll be other events, such as Mountaintop Christmas or Nightrise, or you can just take a leisurely stroll along the viewing platform and admire the scenery.
As the gondola takes you up to the summit, you'll have the most amazing views of snow-covered peaks and the town of Banff.
Inside the Banff Gondola Summit are dozens of interactive exhibits to learn more about the area's natural history.
You can book a table at the Sky Bistro for lunch or dinner with a view.
Dress warmly as it's cold at the top. Bundle up in layers, bring a hat and gloves, and don't forget to wear sturdy footwear.
8. Nightrise at the Banff Gondola
Nightrise at the Banff Gondola is an immersive sound and sight experience where you're taken on a journey learning about the land and its people through time via a combination of four digital art installations, including vibrant lighting and video projections.
The Nightrise experience starts as soon as you step foot in the gondola. Narrations and music fill your cabin for the 8-minute journey to the top.
Tickets sell out quickly and can be bought online.
9. Banff Gondola Mountaintop Christmas
Take the gondola to the top of Sulphur Mountain where everyone, especially younger kids, enjoys this event.
Meet Santa at the top of the mountain and capture the perfect holiday photo with the festive decorations as your backdrop.
You can visit the festive bar, where you can warm up with a cup of hot chocolate or a festive cocktail.
There are holiday movie screenings, creating a cozy and Christmassy atmosphere.
Mountaintop Christmas takes place from mid-November until the end of December.
10. The Spirit of Christmas Store
When visiting Banff during the holiday season, one thing you must do is make a stop at this Christmas shop on Banff Avenue.
This fantastic store is open all year, and we pop in during all seasons. However, you'll definitely get that Christmas feel when you step inside this time of year.
The Spirit of Christmas Store is divided into various themed sections, and it is beautifully decorated with twinkling lights and festive displays.
Here you'll find that special ornament for your tree or a great holiday gift that isn't in any other shop in town.
11. Country Christmas Dinner
Dates: December 23, 27, 30, 2023
Times: Sleighs leave Chateau Lake Louise Hotel at 6 pm and 6:30 pm
Price: CAD $120 per adult
CAD $80 per child (ages 6–12)
Children 5 and under are free
One of the most festive and unique events during the holiday season in Banff has to be the Country Christmas Dinner in Lake Louise.
You'll be picked up from the Fairmont Chateau in a horse-drawn sleigh and taken to a cozy barn, where the festivities kick off!
You can enjoy live entertainment and eat good food that captures the essence of a country Christmas.
There's a live band playing festive country Christmas music, and you can sing along and dance the night away.
This Lake Louise Christmas event is only available on select dates in December.
Find out more information and book your spot here.
12. Ski With Santa
During the festive season in Banff, Santa makes an appearance on the slopes at Banff's ski resorts.
All three ski resorts in the area are open on Christmas Day.
Banff Sunshine Village has a festive tradition where if you dress up like Santa on Christmas Day and hit the slopes, you ski at a reduced rate.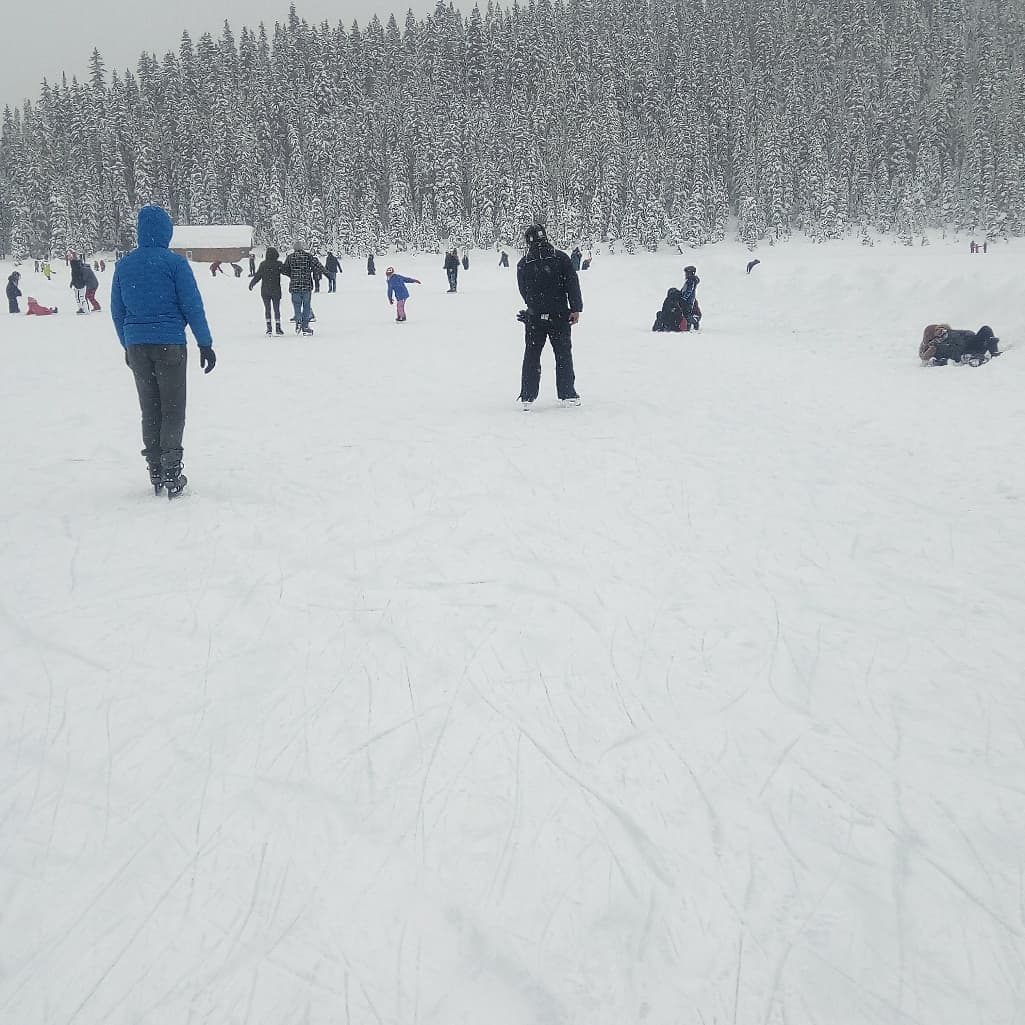 13. Ice Skate on Lake Louise
I definitely recommend ice skating on the famous Lake Louise.
This stunning spot in the Canadian Rockies is home to one of the most breathtaking outdoor ice rinks you'll ever experience.
With views of Victoria Glacier and the surrounding mountains, take in all that is beautiful about Canada at Christmas.
Ice skates can be rented in Lake Louise here.
14. Go Snowshoeing
As you know, Banff National Park is a winter wonderland offering a range of activities for everyone.
And one of the best ways to experience the stunning landscape is through snowshoeing.
It doesn't matter if you've never snowshoed before, as Banff has a trail for everyone, such as Johnson Lake, which is a great starting point.
15. Cross Country Skiing
As far as Banff winter activities go, cross-country skiing, or Nordic skiing, is another popular option at Christmas time.
There are plenty of trails for all skill levels, and if you don't have your own equipment, there are lots of places to rent what you need.
A popular trail close to downtown Banff is Tunnel Mountain Village II, which is lit up until 10pm.
16. Snow Tubing
Dates: Tube park opens December 15, 2023 (depending on conditions)

Night tubing opens December 22, 2023 (depending on conditions)

2023 – 2024 prices: Adults 18+: $45
Ages 13-17: $38
Ages 4-12: $29
Age 65+: $38
Snow tubing at Mt Norquay or Lake Louise at Christmas might not have crossed your mind, but it is a great way to have fun.
Both ski resorts have tube parks where you can enjoy the experience of sliding down the slopes on an inflatable tube.
Even better is that Mt Norquay has the longest tube lane in Alberta.
It also has night tubing so that you can enjoy the adrenaline rush under the stars.
While snow tubing is suitable for most ages, there are minimum age and height requirements for safety reasons.
So, if you're looking for an adrenaline-pumping winter activity, don't miss the chance to try snow tubing.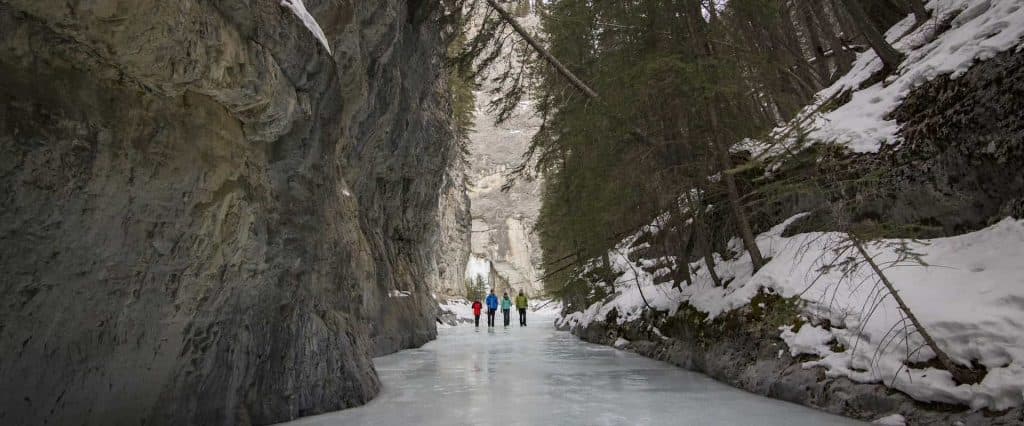 17. Ice Walk a Frozen Canyon
Experience a one-of-a-kind outdoor adventure in Banff this Christmas with an ice walk.
You'll explore stunning landscapes and frozen waterfalls at iconic spots like Johnston Canyon or Grotto Canyon.
You have a couple of options to enjoy this experience.
You can go on your own with some spikes to help you navigate the icy surfaces.
Or, you can join a guided tour for a safer and even more immersive adventure.
We did this guided ice walk at Grotto Canyon, and it was one of the most memorable experiences we've had in Banff!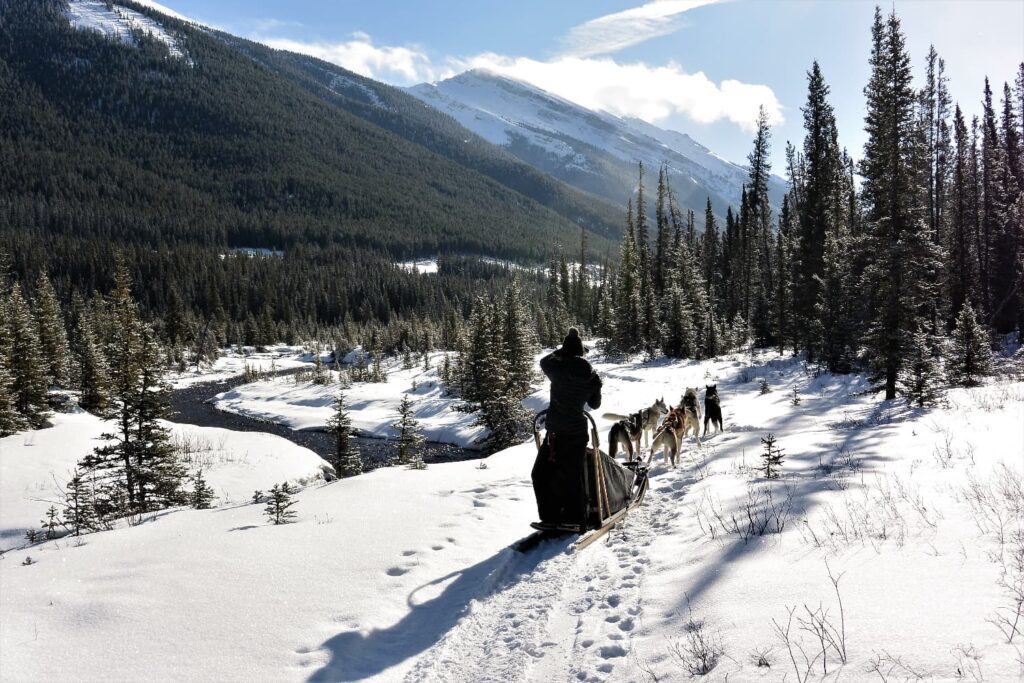 18. Dog Sledding
If you're looking for an unforgettable adventure in Banff during Christmas, you've got to try dog sledding.
There are a couple of dog sledding tours to choose from—if you're spending Christmas in Lake Louise, then Kingmik Dog Sled Tours are the closest.
Otherwise, there are Snowy Owl Dog Sled Tours in Canmore.
We went with Snowy Owl, and it was the most amazing experience!
You'll meet the huskies, learn how they live, and then be pulled through the stunning winter scenery of snow-covered mountains and forests.
I'll be honest, dog sledding is pricey, but it is worth it.
It's a unique way to explore Banff's beautiful winter landscapes during Christmas.
19. Christmas Day Dinner Buffet
Celebrate Christmas at Banff's iconic Fairmont Banff Springs Hotel and treat yourself to a Christmas Day dinner buffet with all the trimmings.
This grand hotel, fondly known as the Castle in the Rockies, is beautifully decorated for Christmas.
And when you think of Christmas in Banff, this is it!
Tickets get sold out quickly, so book well in advance.
20. Go Tobogganing
Grab a sled and head to the hill behind the Fairmont Banff Springs Hotel or Cascade Ponds for some old-fashioned sledding.
I can assure you that sledding is not just for kids!
It is great fun for all ages, and there's no better place to do it than Banff, especially at Christmastime.
You can rent a sled at the Fairmont for around $10 a day if you don't have your own.
21. Fat Biking
If you want to try something different this Christmas in Banff, why not go for a fat bike ride along the frozen Bow River?
Fat bikes are mountain bikes with large tires that allow you to ride on snow and ice.
You can rent a fat bike in Banff and explore on your own, or book a guided tour if you want the expertise of a guide.
22. Dine Out For Christmas Dinner
When it comes to Christmas dinner in Banff, there are plenty of restaurant options.
One of the most highly recommended dining experiences for a memorable Christmas is the Banff Springs Hotel's 360 Dome.
A more affordable option is the Christmas at the Castle dining experience, which also offers a festive buffet (as mentioned).
If you prefer to explore other restaurants in Banff, you won't be disappointed.
The town is known for its diverse culinary scene, with options ranging from cozy pubs to fine dining establishments.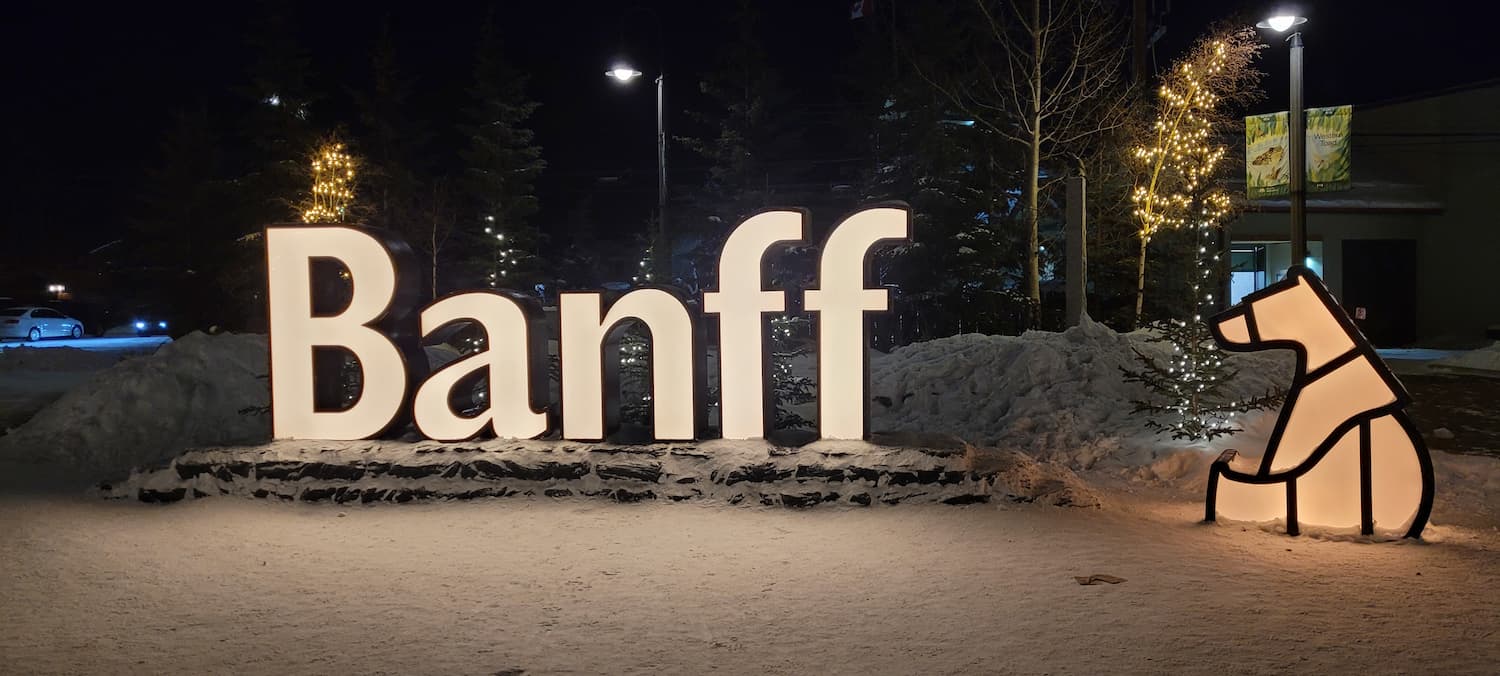 23. Banff Christmas Lights
Downtown Banff is especially beautiful during the holiday season, with the streets lined with twinkling lights and decorations.
Grab a hot chocolate from the Hot Chocolate Trail and take a walk around the town to see the Christmas displays and decorations in the shops, hotels, and outside the houses in nearby streets.
I recommend going for a stroll up to the Fairmont Hotel to see all the trees lining the road lit up in Christmas lights – it's a stunning sight.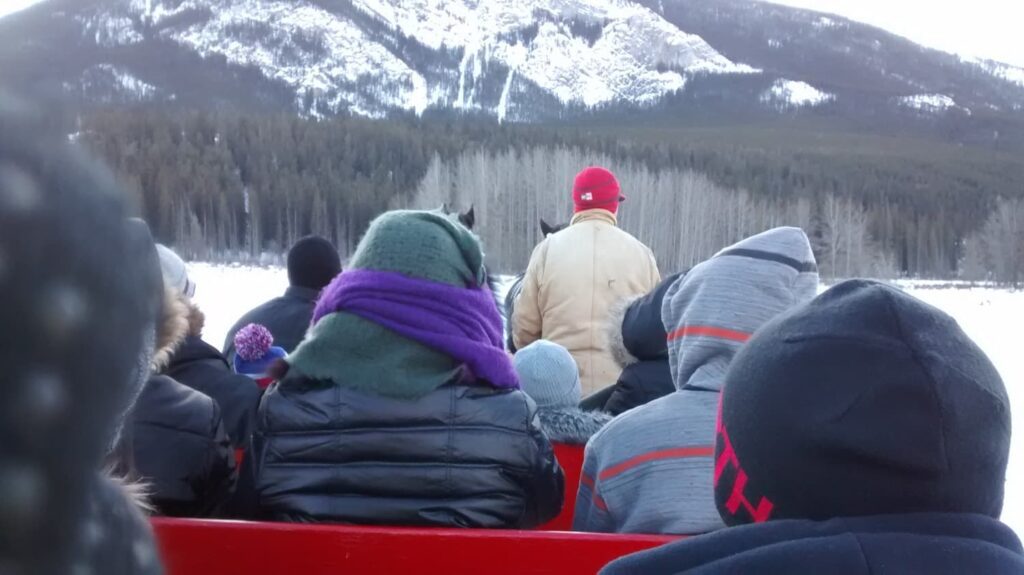 24. Cozy Up on a Sleigh Ride
One of the best ways to experience the Christmas spirit in Banff is to take a sleigh ride.
Head to Warner Stables and hop on a horse-drawn sleigh that will take you through the snow-covered meadows with amazing mountain views.
The ride lasts around an hour and includes a campfire and hot chocolate, making it the perfect way to warm up and enjoy this festive experience.
There are also sleigh rides at Lake Louise, where you'll have stunning views of the iconic lake.
25. Banff Upper Hot Springs
The Banff Upper Hot Springs are a must-visit during Christmas in Banff National Park.
Take a break from the cold weather, relax in the soothing hot springs, and enjoy the views of the mountains.
The hot springs are open on Xmas Day, so if you're looking for something different to do on Christmas Day, this is the perfect choice.
You can check the opening and closing times here.
26. Photos with Santa
Experience the magic of Christmas in Banff by getting your picture taken with Santa himself!
There are several options to choose from, and one that I've already mentioned is to head up the Banff Gondola for a Mountaintop Christmas adventure, where you'll also have the opportunity to meet Santa in his workshop.
Another option is to visit The Spirit of Christmas store on Banff Avenue.
Here, you can step into a winter wonderland and take your picture with Santa in a cozy, holiday-themed setting.
Santa is also at the Banff Christmas Market for photos in November.
27. Afternoon Tea at The Fairmont
Indulge in a delightful Afternoon Tea experience in Banff or Lake Louise, where you can treat yourself to a selection of loose-leaf teas, freshly baked scones, finger sandwiches, and pastries.
The Fairmont Chateau Lake Louise and the Fairmont Banff Springs Hotel offer this traditional British pastime.
The Fairmont in Banff also has a Festive Afternoon Tea, which can be booked in November.
28. Festival of Trees in Canmore
During the festive season, visiting the Festival of Trees in Canmore in December is worth visiting.
The Rotary Club of Canmore organizes the festival, which is held at the stunning Malcom Hotel, which provides the perfect setting for the festivities.
You'll walk through a forest of trees decorated in creative and unique ways.
This annual festival is a hit with locals and tourists. In addition to attending the festival for free, you can purchase tickets for other events like wine tastings or breakfast with Santa.
You might be interested in:
29. The CP Holiday Train
The CP Holiday Train is a beloved Canadian holiday tradition.
As the Christmas train rolls into the Banff Train Station, you'll see a fantastic display of lights and live performances by talented musicians.
This popular free event is great for the whole family.
In the spirit of giving during the holiday season, guests are encouraged to bring non-perishable food items to local food banks.
To stay updated on the dates and times of the CP Holiday Train's visit to Banff, check the official website.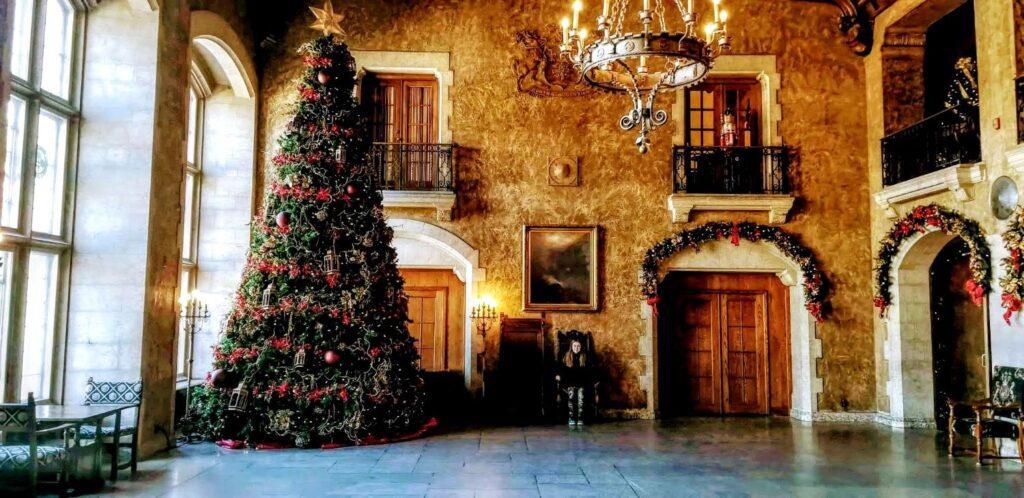 30. Visit Fairmont Banff Springs Hotel
Located in the heart of Banff National Park, the Fairmont Banff Springs is a luxurious hotel that is the perfect place to stay during Christmas.
This historic hotel is known for its grand architecture and stunning views.
During Christmas, the Fairmont Banff Springs is beautifully decorated with festive lights and decorations.
You can enjoy special events such as caroling on Christmas Eve, a festive theatre production, and the New Year's Eve gala.
You can also indulge in delicious holiday menus at the Fairmont Banff Springs restaurants.
Even if you don't stay here, you can still walk around much of the hotel, and I recommend you do.
31. Yamnuska Wolfdog Sanctuary
Just a short drive from Banff National Park is the Yamnuska Wolfdog Sanctuary.
This sanctuary offers a unique and interactive tour where you can hand-feed the wolfdogs and hear about the sanctuary's mission to spread awareness about these incredible animals.
It's an educational and eye-opening experience, allowing you to gain a deeper appreciation for the wolfdogs and their natural environment.
The Yamnuska Wolfdog Sanctuary is the perfect place to visit for an unforgettable and meaningful Christmas experience near Banff National Park.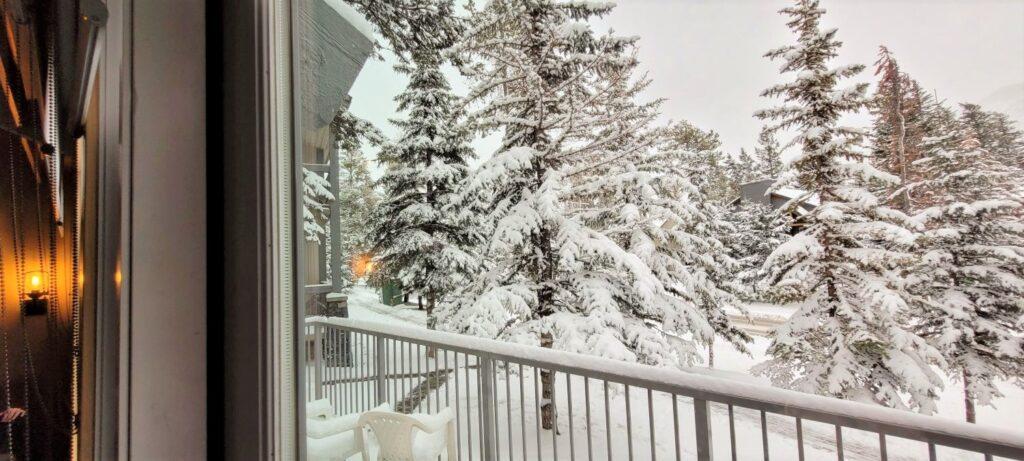 32. Stay In a Cabin With A Log Fire
Is spending Christmas in a cabin in the stunning Canadian Rockies your idea of a perfect Christmas in Banff?
Well, Castle Mountain Chalets might be just what you're looking for.
Tunnel Mountain Resort is just outside of downtown Banff, where you can spend Christmas inside a cozy snow-covered cabin, beside a crackling fire, surrounded by a postcard-perfect mountain setting.
Spending Christmas in a Banff National Park cabin will be a memorable vacation.
Check price on Booking.com.
Check price on Expedia.
33. Banff Craft Beer Festival
The Banff Craft Beer Festival is a highly anticipated event, as it brings together the top craft beers from all over Alberta, showcasing the best in the province.
It's held at the Cave and Basin National Historic Site at 311 Banff Avenue, where you can enjoy many unique and delicious brews.
So, whether you're a serious beer connoisseur or just looking for an excuse to get festive in Banff, the Banff Craft Beer Festival is a great way to spend your Christmas holiday in Banff.
34. Norquay Torchlight Parade
Date: December 31, 2023
Time: 7 pm
The Mt. Norquay Torchlight Parade is a beloved New Year's Eve tradition in Banff.
This magical event sees instructors and staff from Mt. Norquay ski down the mountain with torches, creating a light show you can see from the town.
Every New Year's Eve, locals and visitors gather in downtown Banff and look towards Mt. Norquay to see the parade of flickering torches illuminate the night sky.
If you're looking for a unique way to ring in the New Year, this is definitely worth checking out.
35. Carols in the Park
This free Banff Christmas event is held on various Saturday nights in Banff Avenue Square throughout the Christmas season.
There are traditional Christmas carols and seasonal songs, and you can join in on the singing or just listen and enjoy.
This festive event is perfect for everyone.
36. See the Northern Lights
One of the most incredible experiences you can have while visiting Banff at Christmas is catching a glimpse of the Northern Lights.
This natural phenomenon is often visible over the Canadian Rockies during the winter, so if you're lucky, you might spot them while you're in Banff.
Look for optimal conditions and locations to see the Northern Lights in Banff.
Many go to Lake Minnewanka, where the dark skies provide the ideal backdrop for seeing the auroras.
Alternatively, Vermillion Lakes is a great spot to set up your camera and capture the mesmerizing display.
37. See Frozen Ice Bubbles At Abraham Lake
A two-hour drive north of Banff is Abraham Lake, known for its thousands of frozen bubbles trapped beneath the ice.
As temperatures drop, the freezing process creates pockets of trapped methane gas within the lake, leading to these incredible bubble formations.
You'll need ice cleats/microspikes to walk on the lake as it's super slippery, or you could bring ice skates if you're up for some wild ice skating.
Remember that ice conditions can change rapidly, so always exercise caution.
38. Munch on a Beaver Tail
For those of you who haven't heard of BeaverTails, they are a Canadian specialty, and you haven't experienced Canada until you've sunk your teeth into one.
BeaverTails are deep-fried pastries topped with sweet toppings like Nutella, chocolate chips, or cinnamon sugar.
But that's not all they do—there are smoothies and hot chocolate, and they make a good Poutine.
If you want the ultimate Canadian experience, try a combo of a BeaverTail and poutine called the Poutail—our teens highly recommend it!
So grab a Poutail and a hot chocolate at BeaverTails on Banff Avenue while going on your self-guided tour of Banff's Christmas lights and displays.
39. Attend a Christmas Service
If you're interested in attending a Christmas church service with carols and festive stories, Rundle Memorial United Church on Banff Avenue holds one on Christmas Eve and Christmas Day.
You don't have to be religious to attend.
What To Pack For Christmas In Banff
You'll definitely need some winter gear.
It's important to come prepared for the cold temperatures that December brings.
Layering is vital to staying warm and comfortable during your visit.
You'll need a good winter jacket to protect you from the chill.
Underneath, a sweater and thermal underwear will provide extra warmth and insulation.
Don't forget to pack Merino wool socks to keep your toes warm and waterproof winter boots to navigate the snowy terrain.
You won't want to forget your gloves and hat, either.
Check out our list of winter packing essentials for more ideas.
Banff Restaurants Open Christmas Day
If you're looking for a place to eat, there are numerous restaurants open on December 25th in Banff, such as:
The Fairmont Banff Springs Hotel has a festive buffet on Christmas Eve and Christmas Day.
Other options include the Fairmont Chateau Lake Louise, where you can enjoy festive dishes while admiring views of the frozen lake and mountains.
The Grizzly House on Banff Avenue.
The Maple Leaf in downtown Banff.
Chuck's Steakhouse on Banff Avenue has an a la carte menu and opens at 5 pm.
The Bison on Bear St starts celebrations at around 4.30pm.
Banff Maple Leaf on Banff Avenue opens at 5pm.
Three Bears Brewery on Bear Street.
Park Distillery on Banff Avenue.
Elk + Oarsman on Banff Avenue
St. James Gate on Wolf Street – great pub any time of the year, not just Christmas.
High Rollers on Banff Avenue opens at 5pm.
Magpie + Stump and El Patio on Caribou Street opens from noon, and food is served until 10.30pm.
Eddie Burger + Bar on Banff Avenue is open from noon on December 25th.
The Keg – both the downtown and Caribou Lodge + Spa hotel locations are open.
Pacini – Italian restaurant inside the Moose Hotel + Suites on Banff Avenue.
Most of the above will need to be booked in advance.
FAQs About Banff at Christmas
Does it snow in Banff at Christmas?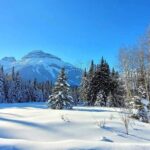 It sure does snow! Banff typically has the most snowfall in December, with an average of 43.9 cm (17 inches).
Banff gets cold – the average daily low is -14°C / 7°F. According to Accuweather, the average nightly temperature is -14 / 7°F. , but it gets a hell of a lot colder than that—usually in the -20s and -30s, but with the right winter clothing, it's definitely manageable.
Of course, this means you have a very good chance of a white Christmas in Banff!
Is Banff good at Christmas?
Banff is the perfect place to spend Christmas. The town is decked with festive lights and there's plenty to do, like taking a sleigh ride around Lake Louise, or skiing at the three ski resorts.
You can stay in a cozy cabin with a roaring fire, or a luxury hotel. There are great restaurants and incredible winter scenery. So yes, Banff is a great place to spend Christmas.
Things to do in Banff at Christmas
So why spend Christmas in Banff?
Well, besides the fact that it's the perfect excuse to wear your favorite ugly Christmas sweater, it's a place where you can experience a snowy Christmas in one of the best places in the world!
We hope this guide has helped you plan your Banff, Canada, Christmas holidays.
If you're looking for other things to do in the winter months, check out our Banff winter activities page for even more ideas.